Abstract
Strain rate has critical influence on rock and coal strength. Understanding and controlling rock failure is critical in many geological projects, such as mining, tunneling and other underground engineering project. The mechanical and failure characteristics of rock-coal-rock sandwich structures under different strain rates of uniaxial compression were numerically investigated. And detailed analysis of uniaxial compressive strength (UCS), elastic modulus, full scale stress-strain curves and acoustic emission (AE) characteristics of roof rock-coal-floor rock combined body is presented. The results show that with the increase of strain rate, the peak strain, peak strength and crack number all show an increasing trend. However, elastic modulus decreases with increasing strain rate. And with the increase of strain rate, the AE event count of rock-coal-rock combined body increases accordingly. The failure of rock-coal-rock combined body extends from the rock on both sides of coal to the whole rock on both sides, and the failure is more serious. This study provides an explanation for the strength and deformation of the rock-coal-rock combined sample in engineering from a micro perspective.
This is a preview of subscription content, log in to check access.
Access options
Buy single article
Instant access to the full article PDF.
US$ 39.95
Price includes VAT for USA
Subscribe to journal
Immediate online access to all issues from 2019. Subscription will auto renew annually.
US$ 99
This is the net price. Taxes to be calculated in checkout.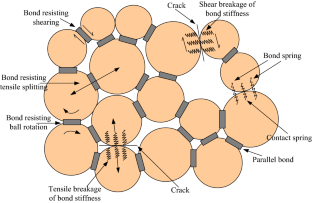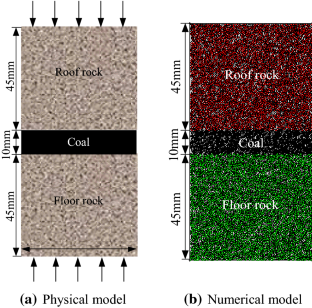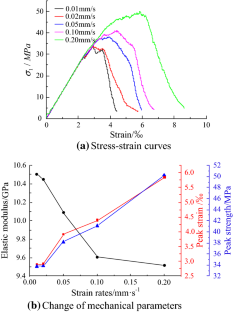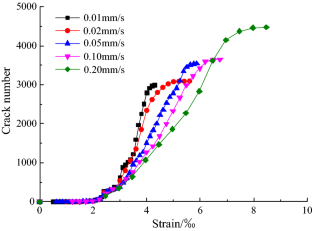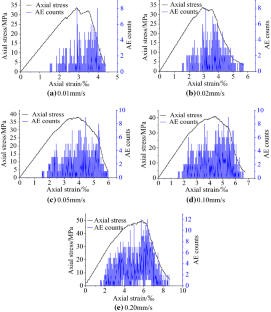 References
Chen L, Xu XL, Xu YH (2016) Effect of temperature and loading rate on mechanical properties of rock. J Guangxi Univ (Nat Sci Ed) 41(001):170–177

Chen YL, Zhang Y (2018) Influence of loading rate on the Kaiser effect for different lithological rocks. J China Coal Soc 43(04):62–69

Chen YL, Zuo JP, Liu D et al (2018) Deformation failure characteristics of coal-rock combined body under uniaxial compression: experimental and numerical investigations. Bulletin of Engineering Geology & the Environment 3:1–16

Chen SJ, Yin DW, Jiang N et al (2019) Simulation study on effects of loading rate on uniaxial compression failure of composite rock-coal layer. Geomech Eng 17(4):333–342

Cundall PA, Strack ODL (1980) Discussion: a discrete numerical model for granular assemblies. Géotechnique 30(3):331–336

Fan MJ, Kang HP, Lin J et al (2015) Study on comprehensive control technology of roadway surroundings with large-dip angle compound strata in coal mine with depth of 1300m. Journal of Mining & Safety Engineering 32(5):706–713

Guo WY, Tan YL, Yu FH et al (2018) Mechanical behavior of rock-coal-rock specimens with different coal thicknesses. Geomechanics and Engineering 15(4):1017–1027

Huang BX, Liu JW (2013) The effect of loading rate on the behavior of samples composed of coal and rock. International Journal of Rock Mechanics & Mining Sciences 61:23–30

Liu J, Wang EY, Song DZ et al (2015) Effect of rock strength on failure mode and mechanical behavior of composite samples. Arabian Journal of Geosciences 8(7):4527–4539

Potyondy DO, Cundall PA (2004) A bonded-particle model for rock. International Journal of Rock Mechanics & Mining Sciences 41(8):1329–1364

Song LS, Zhao SK, Liu J et al (2014) Experimental research on rules of rock burst tendency evolution and mechanical properties of "roof-coal" structure body. Journal of the China Coal Society 39(S1):23–30

Tan YL, Guo WY, Gu QH et al (2016) Research on the rock burst tendency and AE characteristics of inhomogeneous coal-rock combination bodies. Shock and Vibration 9271434, 11pages.

Xu P, Yang SQ (2018) Numerical analysis of creep mechanical property for bedded composite rock. Journal of Mining & Safety Engineering 035(001):179–187

Yin DW, Meng XX (2019) Numerical simulation on uniaxial compression failure of a roof rock-coal-floor rock composite sample with coal persistent joint. Geotechnical & Geological Engineering 37:13–23

Zdeněk PB, Bai SP, Ravindra G (2016) Fracture of rock: Effect of loading rate. Engineering Fracture Mechanics 45(3):393–398

Zhang C, Liu JB, Zhao YX et al (2020) Numerical simulation of broken coal strength influence on compaction characteristics in goaf. Natural Resources Research. https://doi.org/10.1007/s11053-019-09613-2

Zhao ZH, Wang WM (2013) Deformation and failure behavior of three-body model composed of weak rock and strong coal. Electronic Journal of Geotechnical Engineering 18:3867–3880

Zhao ZH, Wang WM, Yan JX (2013) Strain localization and failure evolution analysis of soft rock-coal-soft rock combination model. Journal of Applied Sciences 13(7):1094–1099

Zhao ZH, Wang WM, Dai CQ et al (2014) Failure characteristics of three-body model composed of rock and coal with different strength and stiffness. Transactions of Nonferrous Metals Society of China 24(5):1538–1546

Zhao ZH, Wang WM, Wang LH et al (2015) Compression-shear strength criterion of coal-rock combination model considering interface effect. Tunnelling and Underground Space Technology 47(5):193–199

Zuo JP, Chen Y, Cui F (2018) Investigation on mechanical properties and rockburst tendency of different coal-rock combined bodies. Journal of China University of Mining & Technology 47(1):81–87

Zuo JP, Wang ZF, Zhou HW et al (2013) Failure behavior of a rock-coal-rock combined body with a weak coal interlayer. International Journal of Mining Science and Technology 23:907–912
Acknowledgements
This study was supported by Key project of open fund of Shaanxi Key Laboratory of coal mine water disaster prevention and control technology;Key project of Shaanxi Natural Science Basic Research Plan (2020jz-52);Nationa Natural Science Foundation of China (41402265).
Additional information
Publisher's Note
Springer Nature remains neutral with regard to jurisdictional claims in published maps and institutional affiliations.
About this article
Cite this article
Dong, S., Li, A., Ji, Y. et al. Mechanical and Failure Characteristics of Rock-coal-rock Combined Body under Different Strain Rates: A Numerical Study from Micro Perspective. Geotech Geol Eng (2020). https://doi.org/10.1007/s10706-020-01485-1
Received:

Accepted:

Published:
Keywords
Particle flow code

Strain rate

Rock-coal-rock combined body

Failure characteristics

AE counts