Abstract
In this paper, based on the field test of No.S3012 working face of Shan Mushu Coal Mine in Sichuan Coal Group, monitoring the abutment pressure and gas drainage flow during the mining process, studying the change law of the abutment pressure and gas drainage flow of the coal seam, and using the numerical simulation method research on the evolution of abutment pressure and displacement of coal seam during the mining process. The results shown that: with the advance of coal mining face, the abutment pressure of coal seam can be divided into stress decreasing area, stress increasing area and original stress area, and the stress state of coal seam and the pore, crack structure and permeability of coal body are obviously changed. With the advance of the mining face, the abutment pressure in front and back of the coal mining face is the moving abutment pressure, and the coal mining face to be in the pressure relief area, the front abutment pressure peak value deep into the coal body 5–10 m, the influence scope reaches the front coal mining face to 90–100 m, this area is the stress increasing area. And the evolution law of the roof displacement of goaf is similar to the elliptical with the axial ratio changes, when the ratio is close to 1, the roof subsidence affected area is similar to the shape of "O".
This is a preview of subscription content, log in to check access.
Access options
Buy single article
Instant access to the full article PDF.
US$ 39.95
Price includes VAT for USA
Subscribe to journal
Immediate online access to all issues from 2019. Subscription will auto renew annually.
US$ 99
This is the net price. Taxes to be calculated in checkout.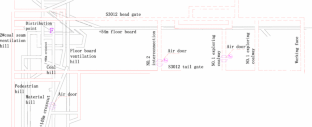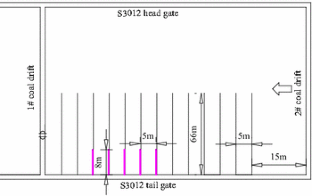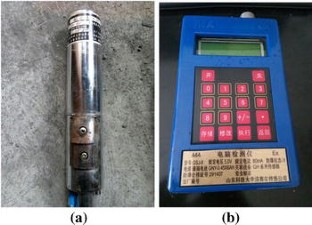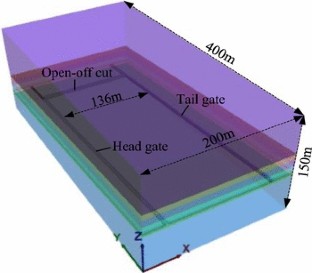 References
Baghbanan A, Jing LR (2007) Hydraulic properties of fractured rock masses with correlated fracture length and aperture. Int J Rock Mech Min Sci 44:704–719

Hu GZ, Wang HT, Tan HX, Fan XG, Yuan ZG (2008) Gas seepage equation of deep mined coal seams and its application. Int J Min Sci Technol 18(4):483–487

Hu GZ, Xu JL, Wang HT, Jin ZY, Wu RL (2011) Research on a dynamically coupled deformation and gas flow model applied to low-permeability coal. J China Univ Min Technol 40(1):1–6

Jiang J, Wang H, Wang ZQ et al (2011a) Numerical simulation of seepage field of gas extraction drilling of single bedding of mining-coal bed. J Chongqing Univ 34(4):24–29

Jiang CB, Yin GZ, Huang QX et al (2011b) Experiment of deformation property and gas permeation of containing gas coal under confining pressure unloading process. J China Coal Soc 36(5):802–807

Kong L (2014) Relationship between microseismic events and abutment pressure distribution in coal mining. J Min Saf Eng 31(4):525–531

Li N, Wang EY, Ge MC, Liu J (2015) The fracture mechanism and acoustic emission analysis of hard roof: a physical modeling study. Arab J Geosci 8:1895–1902

Liang B, Yuan X, Sun W (2014) Seepage coupling model of in-seam gas extraction and its applications. J China Univ Min Technol 43(2):208–213

Liu J, Jiang F, Zhu S (2015) Study of dynamic and static abutment pressure around long wall face and its application. Chin J Rock Mech Eng 34(9):1815–1827

Lu Y, Shen H, Qin B, Mao T (2015) Gas drainage radius and borehole distance along seam. J Min Saf Eng 32(1):156–162

Qin W, Xu JL, Peng XY (2012) Experimental study of coupling between solid and gas during drainage by advance pressure relief in mining-coal seam. J China Univ Min Technol 41(6):900–905

Tu M, Fu BJ (2009) Extraction mechanism of relieved gas from low permeability seam. J Min Saf Eng 26(4):433–436

Wang SW, Mao DB, Pan JF et al (2015) Measurement on the whole process of abutment pressure evolution and microseismic activities at the lateral strata of goaf. J China Coal Soc 40(12):2772–2779

Xie GX, Hu ZX, Wang L (2014) The coupling effect of the coal seam gas pressure and mining stress in working face. J China Coal Soc 39(6):1089–1093

Yin GZ, Jiang CB, Li XQ et al (2011) An experimental study of gas permeabilities of outburst and nonoutburst coals under complete stress-strain process. Rock Soil Mech 32(6):1613–1619

Zhang DM, Qi XH, Song RQ et al (2015) Coupling mechanism of rock mass stress and gas flow in coal mining fissures. J China Coal Soc 40(4):774–780

Zhao HB (2011) Numerical simulation on pressure behavior of mining field under the conditions of hard roof. Disaster Adv 4:15–20

Zhou G, Li Y, Zhang Q et al (2016) Research on monitoring technique and evolution law of the disturbance stress in Chen silou Colliery. J China Coal Soc 41(5):1087–1092
Acknowledgements
This study was financially supported by the Study on Outburst Prevention and Roof Control Technology of "Three Soft" Thick Coal Seam in Synclinal Axis Project of Sichuan FuRong Group Industrial Co. Ltd (2017001).
Author Contributions
Dongming Zhang had the original idea for this study, all co-authors were involved in data analytics work, as well as Yushun Yang writing and revising all parts of this manuscript.
Ethics declarations
Conflict of interest
The authors declare no conflict of interest.
About this article
Cite this article
Yang, Y., Zhang, D., Bai, X. et al. Research on Correlation Between Abutment Pressure and Gas Drainage Flow of Coal Seam. Geotech Geol Eng 36, 2087–2095 (2018). https://doi.org/10.1007/s10706-018-0450-x
Received:

Accepted:

Published:

Issue Date:
Keywords
Abutment pressure

Gas drainage flow

Correlation

Numerical simulation