Abstract
Red clay has obvious nonlinear dynamic characteristics during dynamic compaction. In this paper, based on equal energy level, the dynamic compaction model tests on red clay under different testing programs were conducted. Dynamic stress, duration of dynamic compaction and crater depth were measured. During dynamic compaction, the distribution and the variation of dynamic stress and the reinforcement effect were analyzed. The best fitting equation of crater depth was established. Test results show that during dynamic compaction, the peak dynamic stress decreased with the depth. In addition, dynamic stress at each point had obvious time lag. By increasing drop numbers, the peak dynamic stress in soil also increased. Until the peak dynamic stress variation fluctuated within a certain range and also the depth, the optimum number of the drop was achieved. When single tamping energy was the same, the peak dynamic stress with heavier tamper was larger than that with lighter tamper at same point. Dimensional analysis was applied to obtain the fitting equation of crater depth. The parameters of fitting equation demonstrated that the influence of the weight of tamper on crater depth was greater than that of the drop height under the identical tamping energy. Consequently, the utilization efficiency and reinforcement effects of heavier tamper with lower drop height are greater than that of lighter tamper with higher drop height at an identical energy level.
Access options
Buy single article
Instant access to the full article PDF.
US$ 39.95
Tax calculation will be finalised during checkout.
Subscribe to journal
Immediate online access to all issues from 2019. Subscription will auto renew annually.
US$ 79
Tax calculation will be finalised during checkout.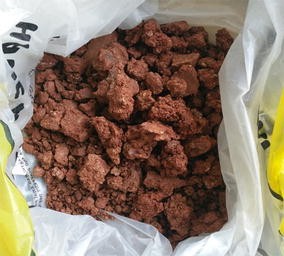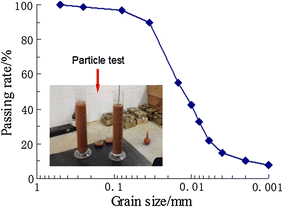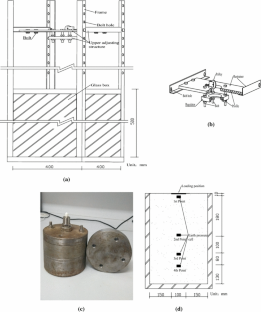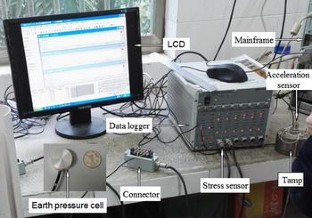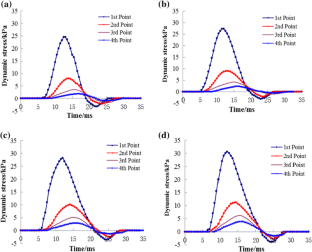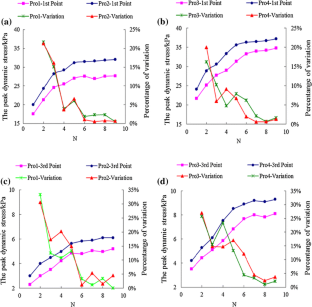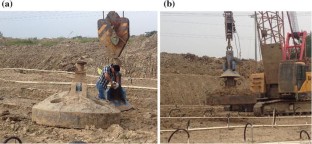 References
Asaka Y (2016) Improvement of fine-grained reclaimed ground by dynamic compaction method. Japanese Geotech Soc Spec Publ 2(59):2038–2042

Cai J, Wang YY, Luo MD (2013) Model tests on the layout of punning position in dynamic compaction for loess. Appl Mech Mater 405–408(11):304–309

Ding JH, Liang JG, Wang W (2014) Dynamic characteristics analysis on wind-blown sand ground under dynamic compaction vibration. World J Eng Technol 2:171–178

Feng SJ, Du FL, Shi ZM, Shu WH, Tan K (2015) Field study on the reinforcement of collapsible loess using dynamic compaction. Eng Geol 185:105–115

Hajialilue-Bonab M, Zare FS (2014) Investigation on tamping spacing in dynamic compaction using model tests. Proc Inst Civ Eng Ground Improv 167(3):219–231

Han YH, Dong YL, Wang TL (2015) Experiment study of loess-filled embankment under dynamic compaction. Open Civ Eng J 9:644–649

Jafarzadeh F (2006) Dynamic compaction method in physical model tests. Scientia Iranica 13(2):187–192

Jia MC, Zhao Y, Zhou XJ (2016) Field studies of dynamic compaction on marine deposits. Mar Georesour Geotechnol 34(4):313–320

Kundu S, Viswanadham BVS (2016) Studies to evaluate the impact of tamper on the depth of improvement in dynamic compaction. Japanese Geotech Soc Spec Publ 2(59):2033–2037

Liu JH, Yuan JB, Xiong H (2008) Dynamic compaction treatment technology research of red clay soil embankment in southern mountains. J Cent South Univ Technol 15(s2):050–057

Ma ZY, Dang FN, Liao HJ (2014) Numerical study of the dynamic compaction of gravel soil ground using the discrete element method. Granular Matter 16:881–889

Meng QJ, Ma WH, Qiao JS (2011) Model test study on vibration transferring of dynamic compaction and the measures of reducing vibration. Adv Mater Res 368–373:3121–3126

Pan JL, Selby AR (2002) Simulation of dynamic compaction of loose granular soils. Adv Eng Softw 33:631–640

Pan XH, Yao ZY, Jin Z (2013) Highway subgrade dynamic response model test study on foundation-broaden dynamic compaction consolidation. Appl Mech Mater 353–356:842–846

Parvizi M (2009) Soil response to surface impact loads during low energy dynamic compaction. J Appl Sci 9(11):2088–2096

Picoux B, El Ayadi A, Petit C (2009) Dynamic response of a flexible pavement submitted by impulsive loading. Soil Dyn Earthq Eng 29:845–854

Qiao J, Li L (2011) Model test study on vibration transferring of dynamic compaction of hydraulic filling foundation reinforcement. Syst Eng Procedia 1(2):61–68

Wang YX, Ying L (2012) Experiment research of the lateral properties and density variation of loess subgrade to dynamic compaction for mountainous highway. Appl Mech Mater 204–208:1571–1574

Zhou SH, Shi L, Deng TF (2015) Simplified calculation of dynamic compaction. China Architecture & Building Press, Beijing, p 70

Zou JF, Luo H, Yang XL (2008) Effective depth of dynamic compaction in embankment built with soils and rocks. J Cent South Univ Technol 15(s2):034–037
Acknowledgements
The work is supported by the Open Research Fund Program of Hunan Province Key Laboratory of Safe Mining Techniques of Coal Mines (Hunan University of Science and Technology, 201505), the National Natural Science Foundation of China (51004007, 51409074, 51409076, 51774107), the Science and Technology Project of Ministry of Housing (2014K5002), and the Construction Industry Science and Technology Project of Anhui Province (2014YF12, 2013YF-27). All financial support is gratefully acknowledged.
About this article
Cite this article
Yuan, Hp., Liu, M., Li, W. et al. Dynamic Compaction Model Tests for the Characteristics of Red Clay Under equal Energy Level. Geotech Geol Eng 36, 1873–1883 (2018). https://doi.org/10.1007/s10706-017-0409-3
Received:

Accepted:

Published:

Issue Date:
Keywords
Dynamic compaction

Tamping energy

Model tests

Dynamic characteristics

Red clay