Abstract
This work presents the natural and anthropogenic drivers of a landslide event in the city of São José dos Campos, Brazil. By using stability analysis coupled with transient flux in non-saturated soil, it was found that an early warning for the event would be unfeasible with just the use of pluviometric data, given the local anthropic changes on the terrain. Rainfall was not the main trigger of the landslide after taking into account local characteristics, such as the high vertical section, a water tank leakage and surcharge over the slope. Considering that similar conditions are found in most areas of landslides in Brazil, numerical modeling that integrates such drivers, as well as monitoring of rainfall, soil moisture and soil suction, is a promising tool for the establishment of thresholds for landslides in early warning systems.
Access options
Buy single article
Instant access to the full article PDF.
USD 39.95
Price excludes VAT (USA)
Tax calculation will be finalised during checkout.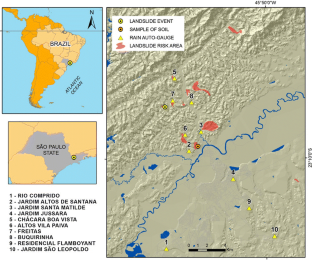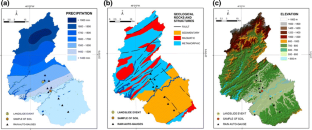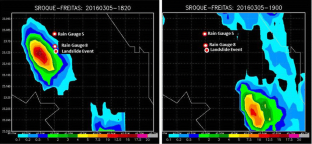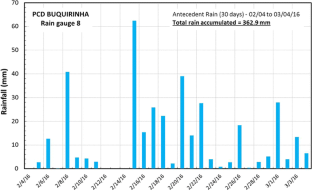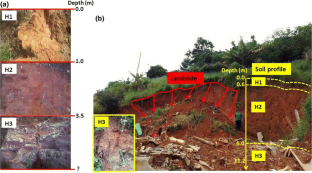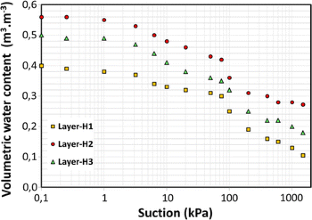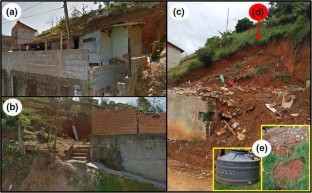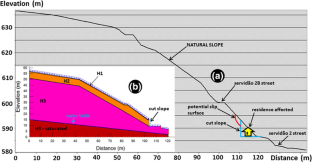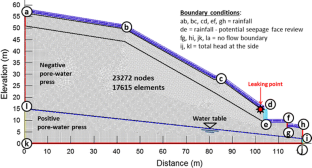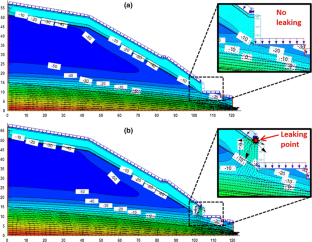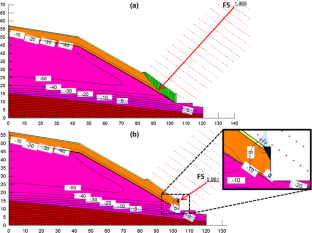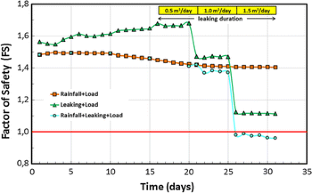 References
Alvares CA, Stape JL, Sentelhas PC, Gonçalves JLM, Sparovek G (2013) Köppen's climate classification map for Brazil. Meteorol Z 22(6):711–728. doi:10.1127/0941-2948/2013/0507

Camera CAS, Apuani T, Masetti M (2014) Mechanisms of failure on terraced slopes: the Valtellina case (northern Italy). Landslides 11:43–54. doi:10.1007/s10346-012-0371-3

Casagli N, Dapporto S, Ibsen ML, Tofani V, Vannocci P (2006) Analysis of the landslide triggering mechanism during the storm of 20th–21st November 2000, in Northern Tuscany. Landslides 3:13–21. doi:10.1007/s10346-005-0007-y

Cascini L, Ciurleo M, Nocera S (2015) Soil depth reconstruction for the assessment of the susceptibility to shallow landslides in fine-grained slopes. Landslides. doi:10.1007/s10346-016-0720-8

CEPED (2013) Brazilian Atlas of natural disasters 1991 to 2012. University Centre for Studies and Research on Disaster-CEPED, 2 ed, 126p. IOP Publishing Physics Web. http://www.ceped.ufsc.br/atlas-brasileiro-de-desastres-naturais-1991-a-2012/. Accessed 20 July 2016

CPRM (2006) Geological map of the Sao Paulo State. Geological chart of the Brazil to millionth—Geological program of the Brazil. Geological service of the Brazil, Sao Paulo, map, scale 1:750.000 (in Portuguese)

Dykes AP, Welford MR (2007) Landslides in the Tandayapa Valley, northern Andes, Ecuador: implications for landform development in humid and tectonically active mountain ranges. Landslides 4:177–187. doi:10.1007/s10346-006-0076-6

Embrapa (2013) National Centre of Soil Research. Brazilian soil classification system. 3 ed. rev., Rio de Janeiro: Embrapa Soils, 353p

Fisch G, Vendrame IF, Hanaoka PCM (2007) Rainfall space variability during the LBA/TRMM experiment 1999 in Amazônia. Acta Amaz 37(4):583–590. doi:10.1590/S0044-59672007000400013

Geo-Slope (2012a) Stability modeling with SLOPE/W: an engineering methodology. User manual. Geo-Slope International, Calgary, p 238p

Geo-Slope (2012b) Seepage modeling with SEEP/W: an engineering methodology. User manual. Geo-Slope International, Calgary, p 199p

Huang QX, Wang JL, Xue X (2015) Interpreting the influence of rainfall and reservoir infilling on a landslide. Landslides. doi:10.1007/s10346-015-0644-8

IBGE (1973) Charts of the Brazil: Camanducaia, Igarata, Jacarei, Monteiro Lobato, Paraibuna, Sao Jose dos Campos and Taubate Maps. Brazilian Institute of Geography and Statistics, Rio de Janeiro, topographic charts, scale 1:50.000

IPT/CEDEC (2005) Mapping of risk areas of municipalities of the Sao Paulo State—municipality of Sao Jose dos Campos-SP. http://www.sidec.sp.gov.br/producao/map_risco/pesqpdf3.php. (in Portuguese)

IPT/CPRM (2014) Chart of susceptibility to landslides and flooding—municipality of Sao Jose dos Campos-SP. http://www.sidec.sp.gov.br/producao/map_risco/pesqpdf3.php. (in Portuguese)

Li WC, Dai FC, Wei YQ, Wang ML, Min H, Lee LM (2015) Implication of subsurface flow on rainfall-induced landslide: a case study. Landslides. doi:10.1007/s10346-015-0619-9

Liu ZJ (2015) Numerical study of subgrade humidity field evolution under different initial groundwater depths. Geotech Geol Eng 33(1):79–86. doi:10.1007/s10706-014-9824-x

Mendes RM (2014) Study of experimental fields monitoring geotechnical and climatic variables for the implementation of the warning systems for landslides in the State of Sao Paulo. Research Report (Grant number 11/22577-2). IOP Publishing Physics Web. http://www.bv.fapesp.br/36971. Accessed 13 June 2016

Mendes RM, Valério Filho M (2015) Real-time monitoring of climactic and geotechnical variables during landslides on the slopes of Serra do Mar and Serra da Mantiqueira (Sao Paulo State, Brazil). Engineering. doi:10.4236/eng.2015.73012

Moharrami A, Moradi G, Bonab MH, Katebi J, Moharrami G (2015) Performance of cutoff walls under hydraulic structures against uplift pressure and piping phenomenon. Geotech Geol Eng 33(1):95–103. doi:10.1007/s10706-014-9827-7

Nocentini M, Tofani V, Gigli G, Fidolini F, Casagli N (2015) Modeling debris flows in volcanic terrains for hazard mapping: the case study of Ischia Island (Italy). Landslides 12:831–846. doi:10.1007/s10346-014-0524-7

Nourani B, Salmasi F, Abbaspour A, Bakhshayesh BO (2016) Numerical investigation of the optimum location for vertical drains in gravity dams. Geotech Geol Eng. doi:10.1007/s10706-016-0144-1

Pagano L, Picarelli L, Rianna G, Urciuoli G (2010) A simple numerical procedure for timely prediction of precipitation-induced landslides in unsaturated pyroclastic soils. Landslides 7:273–289. doi:10.1007/s10346-010-0216-x

Rahardjo H, Ong TH, Rezaur RB, Leong EC (2007) Factors controlling instability of homogeneous soil slopes under rainfall. J Geotech Geoenviron Eng. doi:10.1061/(ASCE)1090-0241(2007)133:12(1532)

SABESP (1993) Water reduction program not charged. Synthetic report, Sao Paulo: Lyonnaise des Eaux Services Associés—LYSA (in Portuguese)

SABESP (2016) Leak tests. http://site.sabesp.com.br/site/interna/Default.aspx?secaoId=244. Accessed 4 Apr 2016

Seluchi ME, Chou SC (2009) Synoptic patterns associated with landslides events in the Serra do Mar, Brazil. Theor Appl Climatol 98(1):67–77. doi:10.1007/s00704-008-0101-x

Valério Filho M, Mendes RM, Faria DGM, Fantin M, Bertoldo MA, Melo FN, Silva MF, Cunha RP (2014) Mapping of the risk areas associated with landslide of slopes in municipality of the Sao Jose dos Campos-SP. Final Technical Report, Agreement UNIVAP/PMSJC (Process number 53.366/2013), 60p+attachments

Van Genuchten MTh (1980) A closed-form equation for predicting the hydraulic conductivity of unsaturated soils. Soil Sci Soc Am J 44:892–898
Acknowledgements
The authors are grateful to the Civil Defense in São José dos Campos for the support in field activities, and to Jojhy Sakuragi for the interpretation of meteorological radar data.
About this article
Cite this article
Mendes, R.M., de Andrade, M.R.M., Graminha, C.A. et al. Stability Analysis on Urban Slopes: Case Study of an Anthropogenic-Induced Landslide in São José dos Campos, Brazil. Geotech Geol Eng 36, 599–610 (2018). https://doi.org/10.1007/s10706-017-0303-z
Received:

Accepted:

Published:

Issue Date:

DOI: https://doi.org/10.1007/s10706-017-0303-z
Keywords