Abstract
An effective crop yield prediction is critical for making precise nitrogen (N) management decisions. A multi-site-year study was conducted across eastern Canada with the objectives to (1) construct machine-learning random forest regression (RFR) models for canola yield prediction; and (2) develop site-specific N recommendations using the RFR modelling approach. Soil characteristics, weather, plant growth and spectral index data collected from 2013 to 2015 were used to train the RFR models and the 2016 data for model validation in terms of making N decisions. Results showed that canola yields responded positively to N application rates in 16 out of the 18 site-year environments, with sometimes higher yields and an average of 8% higher N use efficiency for the split-N strategy than for the same amount of N applied only at preplant. Heat stress and precipitation distribution were identified as of critical importance in total yield variation. The RFR model by combining weather, soil and plant growth features with the spectral indices displayed highly improved prediction reliability, up to 85%, with 53–57% lower root mean square errors, compared with the model based only on leaf chlorophyll or normalized difference vegetation index. Based on the RFR algorithm, an average economic optimum N rate of 150 kg N ha−1 was recommended for most canola production scenarios in the test year. This study demonstrated that the machine learning-based RFR modelling approach can be used to implement optimal nutrient management strategies for sustainable crop production, which is sensitive and better adapted to environment-induced abiotic stresses.
Access options
Buy single article
Instant access to the full article PDF.
USD 39.95
Price includes VAT (USA)
Tax calculation will be finalised during checkout.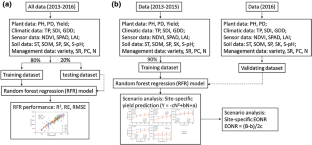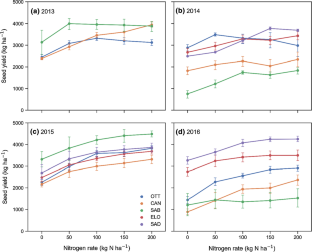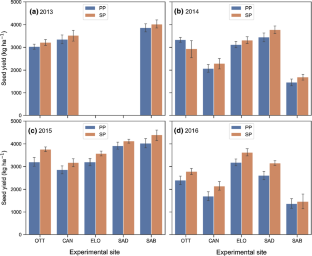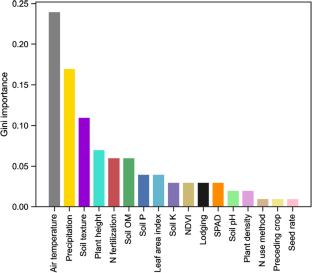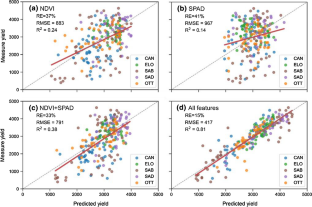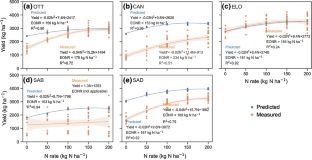 References
Angadi SV, Cutforth HW, McConkey BG, Gan Y (2003) Yield adjustment by canola grown at different plant populations under semiarid conditions. Crop Sci 43:1358–1366. https://doi.org/10.2135/cropsci2003.1358

Balasubramanian V, Morales AC, Cruz RT, Thiyagarajan TM, Nagarajan R, Babu M, Abdulrachman S, Hai LH (2000) Adaptation of the chlorophyll meter (SPAD) technology for real-time N management in rice: a review. Int Rice Res Notes 25(1):4–8

Brandt SA, McGregor DI (1997) Canola response to growing season climatic conditions. In: Presented at the proceedings of the soils and crops workshop. University of Saskatchewan, Saskatoon, pp 322–328

Bullied WJ, Acker RCV, Marginet AM, Kenkel NC (2006) Agronomic and environmental factors influence weed composition and canola competitiveness in southern Manitoba. Can J Plant Sci 86(25):591–599. https://doi.org/10.4141/P05-042

Djaman K, O'Neill M, Owen C, Smeal D, West M, Begay D, Angadi SV, Koudahe K, Allen S, Lombard K (2018) Seed yield and water productivity of irrigated winter canola (Brassica napus L.) under semiarid climate and high elevation. Agronomy 8(6):90. https://doi.org/10.3390/agronomy8060090

Everingham Y, Sexton J, Skocaj D, Inman-Bamber G (2016) Accurate prediction of sugarcane yield using a random forest algorithm. Agron Sustain Dev 36(2):27. https://doi.org/10.1007/s13593-016-0364-z

Guo X, Ma BL, McLaughlin NB, Wu X, Chen B, Gao Y (2021) Nitrogen utilization-efficient oilseed rape genotypes exhibit stronger growth attributes from flowering stage onwards. Funct Plant Biol. https://doi.org/10.1071/FP20263

Hendershot WH, Lalande H, Duquette M (2008) Soil reaction and exchangeable acidity. In: Carter MR, Gregorich EG (eds) Soil sampling and methods of analysis. Canadian Society of Soil Science, CRC Press, Boca Raton, pp 173–178

Herath A, Ma BL, Shang J, Liu J, Dong T, Jiao X, Kovacs JM, Walters D (2017) On-farm spatial characterization of soil mineral nitrogen, crop growth, and yield of canola as affected by different rates of nitrogen application. Can J Soil Sci 98(1):1–14. https://doi.org/10.1139/cjss-2017-0024

Holzapfel CB, Lafond GP, Brandt SA, Bullock PR, Irvine RB, Morrison MJ, May WE, James DC (2009) Estimating canola (Brassica napus L.) yield potential using an active optical sensor. Can J Plant Sci 98(6):1149–1160. https://doi.org/10.4141/CJPS09056

Jeong JH, Resop JP, Mueller ND, Fleisher DH, Yun K, Butler EE, Timlin DJ, Shim KM, Gerber JS, Reddy VR, Kim SH (2016) Random forests for global and regional crop yield predictions. PLoS ONE 11(6):e0156571. https://doi.org/10.1371/journal.pone.0156571

Johnson MD, Hsieh WW, Cannon AJ, Davidson A, Bédard F (2016) Crop yield forecasting on the Canadian Prairies by remotely sensed vegetation indices and machine learning methods. Agric for Meteorol 218–219:74–84. https://doi.org/10.1016/j.agrformet.2015.11.003

Kamir E, Waldner F, Hochman Z (2020) Estimating wheat yields in Australia using climate records, satellite image time series and machine learning methods. ISPRS J Photogramm Remote Sens 160:124–135. https://doi.org/10.1016/j.isprsjprs.2019.11.008

Kauser R, Athar HUR, Ashraf M (2006) Chlorophyll fluorescence: a potential indicator for rapid assessment of water stress tolerance in canola (Brassica napus L.). Pak J Bot 38(5):1501–1509

Khanal S, Fulton J, Klopfenstein A, Douridas N, Shearer S (2018) Integration of high resolution remotely sensed data and machine learning techniques for spatial prediction of soil properties and corn yield. Comput Electron Agric 153:213–225. https://doi.org/10.1016/j.compag.2018.07.016

Li H, Zhang Y, Lei Y, Antoniuk V, Hu C (2020) Evaluating different non-destructive estimation methods for winter wheat (Triticum aestivum L.) nitrogen status based on canopy spectrum. Remote Sens 12(1):95. https://doi.org/10.3390/rs12010095

Ma BL, Biswas DK (2015) Precision nitrogen management for sustainable corn production. In: Lichtfouse E, Goyal A (eds) Sustainable agriculture reviews 16. Springer International Publishing, Springer, Cham, Switzerland, pp 33–62. https://doi.org/10.1007/978-3-319-16988-0_2

Ma BL, Dwyer LM (1999) Within plot variability in available soil mineral N in relation to leaf greenness and yield. Commun Soil Sci Plant Anal 30:1919–1928. https://doi.org/10.1080/00103629909370342

Ma BL, Herath AW (2016) Timing and rates of nitrogen fertiliser application on seed yield, quality and nitrogen-use efficiency of canola. Crop Pasture Sci 67(2):167–180. https://doi.org/10.1071/CP15069

Ma BL, Zheng ZM (2016) Relationship between plant nitrogen and phosphorus accumulations in a canola crop as affected by nitrogen management under ample phosphorus supply conditions. Can J Plant Sci 96(5):853–866. https://doi.org/10.1139/cjps-2015-0374

Ma BL, Morrison MJ, Dwyer LM (1996) Canopy light reflectance and field greenness to assess nitrogen fertilization and yield of maize. Agron J 88(6):915–920. https://doi.org/10.2134/agronj1996.00021962003600060011x

Ma BL, Dwyer LM, Costa C, Cober ER, Morrison MJ (2001) Early prediction of soybean yield from canopy reflectance measurements. Agron J 93(6):1227–1234. https://doi.org/10.2134/agronj2001.1227

Ma BL, Subedi KD, Zhang TQ (2007) Pre-sidedress nitrate test and other crop-based indicators for fresh market and processing sweet corn. Agron J 99:174–183. https://doi.org/10.2134/agronj2006.0028

Ma BL, Wu TY, Tremblay N, Deen W, McLaughlin NB, Morrison MJ, Stewart G (2010) Rate and timing effects of fertilizer nitrogen application to corn on ammonia volatilization in cool and humid regions. Agron J 102:134–144. https://doi.org/10.2134/agronj2009.0021

Ma BL, Liang BC, Biswas DK, Morrison MJ, McLaughlin NB (2012) The carbon footprint of maize production as affected by nitrogen fertilizer and maize-legume rotations. Nutr Cycl Agroecosyst 94(1):15–31. https://doi.org/10.1007/s10705-012-9522-0

Ma BL, Wu TY, Shang J (2014) On-farm comparison of variable rates of nitrogen with uniform application to maize on canopy reflectance, soil nitrate, and grain yield. J Plant Nutr Soil Sci 177(2):216–226. https://doi.org/10.1002/jpln.201200338

Ma BL, Biswas DK, Herath AW, Whalen JK, Ruan SQ, Caldwell C, Earl H, Vanasse A, Scott P, Smith DL (2015) Growth, yield, and yield components of canola as affected by nitrogen, sulfur, and boron application. J Plant Nutr Soil Sci 178(4):658–670. https://doi.org/10.1002/jpln.201400280

Ma BL, Zhao H, Zheng Z, Caldwell C, Mills A, Vanasse A, Earl H, Scott P, Smith DL (2016) Optimizing seeding dates and rates for canola production in the humid eastern Canadian agroecosystems. Agron J 108(5):1869–1879. https://doi.org/10.2134/agronj2015.0209

Ma BL, Zheng ZM, de Silva N, Whalen JK, Pageau D, Vanasse A, Caldwell C, Earl H, Smith DL (2020) Graphical analysis of nitrogen and sulfur supply on yield and related traits of canola in eastern Canada. Nutr Cycl Agroecosyst 118:293–309. https://doi.org/10.1007/s10705-020-10097-3

Mahli SS, Brandt S, Ulrich D, Lafond GP, Johnston AM, Zentner RP (2011) Comparative nitrogen response and economic evaluation for optimum yield of hybrid and open-pollinated canola. Can J Plant Sci 87(3):449–460. https://doi.org/10.4141/P05-180

Meskini-Vishkaee F, Mohammadi MH, Neyshabouri MR, Shekari F (2015) Evaluation of canola chlorophyll index and leaf nitrogen under wide range of soil moisture. Int Agrophys 29(1):83–90. https://doi.org/10.1515/intag-2015-0014

Naser MA, Khosla R, Longchamps L, Dahal S (2020) Using NDVI to differentiate wheat genotypes productivity under dryland and irrigated conditions. Remote Sens 12(5):824. https://doi.org/10.3390/rs12050824

Pieruschka R, Schurr U (2019) Plant phenotyping: past, present, and future. Plant Phenom 2019:1–6. https://doi.org/10.34133/2019/7507131

Puntel LA, Sawyer JE, Barker DW, Thorburn PJ, Castellano MJ, Moore KJ, VanLoocke A, Heaton EA, Archontoulis SV (2018) A systems modeling approach to forecast corn economic optimum nitrogen rate. Front Plant Sci 9:436. https://doi.org/10.3389/fpls.2018.00436

Qin Z, Myers DB, Ransom CJ, Kitchen NR, Liang SZ, Camberato JJ, Carter PR, Ferguson RB, Fernandez FG, Franzen DW, Laboski CAM, Malone BD, Nafziger ED, Sawyer JE, Shanahan JF (2018) Application of machine learning methodologies for predicting corn economic optimal nitrogen rate. Agron J 110(6):2596–2607. https://doi.org/10.2134/agronj2018.03.0222

Rambo L, Ma BL, Xiong YC, da Silvia PRF (2010) Leaf and canopy optical characteristics as crop-need based indicators for field nitrogen management in corn. J Plant Nutr Soil Sci 173:434–443. https://doi.org/10.1002/jpln.200900022

Rathke GW, Behrens T, Diepenbrock W (2006) Integrated nitrogen management strategies to improve seed yield, oil content and nitrogen efficiency of winter oilseed rape (Brassica napus L.): a review. Agric Ecosyst Environ 117(2–3):80–108. https://doi.org/10.1016/j.agee.2006.04.006

Seger C (2018) An investigation of categorical variable encoding techniques in machine learning: binary versus one-hot and feature hashing [Internet Dissertation]. (TRITA-EECS-EX). http://urn.kb.se/resolve?urn=urn:nbn:se:kth:diva-237426

St. Luce M, Ziadi N, Zebarth J, Whalen JK, Grant CA, Gregorich EG, Lafond GP, Blackshaw RE, Johnson EN, O'Donovan JT, Harker KN (2013) Particulate organic matter and soil mineral nitrogen concentrations are good predictors of the soil nitrogen supply to canola following legume and non-legume crops in western Canada. Can J Soil Sci 93(5):607–620. https://doi.org/10.4141/cjss2013-005

St. Luce M, Grant CA, Zebarth BJ, Ziadi N, O'Donovan JT, Blackshaw RE, Harker KN, Johnson EN, Gan Y, Lafond GP, May WE, Khakbazan M, Smith EG (2015) Legumes can reduce economic optimum nitrogen rates and increase yields in a wheat–canola cropping sequence in western Canada. Field Crops Res 179(1):12–25. https://doi.org/10.1016/j.fcr.2015.04.003

Statistics Canada (2020) Estimated areas, yield and production of principal field crops by small area data regions, in metric and imperial units. Table 32-10-0002-01. https://doi.org/10.25318/3210000201-eng

Sulik JJ, Long DS (2016) Spectral considerations for modeling yield of canola. Remote Sens Environ 184:161–174. https://doi.org/10.1016/j.rse.2016.06.016

Tang F, Ishwaran H (2017) Random forest missing data algorithms. Stat Anal Data Min ASA Data Sci J 10:363–377. https://doi.org/10.1002/sam.11348

Tremblay N, Bouroubi YM, Bélec C, Mullen RW, Kitchen NR, Thomason WE, Ebelhar S, Mengel DB, Raun WR, Francis DD, Vories ED, Ortiz-Monasterio I (2012) Corn response to nitrogen is influenced by soil texture and weather. Agron J 104(6):1658–1671. https://doi.org/10.2134/agronj2012.0184

Wu W, Ma BL (2018) Assessment of canola crop lodging under elevated temperatures for adaptation to climate change. Agric for Meteorol 248:329–338. https://doi.org/10.1016/j.agrformet.2017.09.017

Wu W, Duncan RW, Ma BL (2017) Quantification of canola root morphological traits under heat and drought stresses with electrical measurements. Plant Soil 415:229–244. https://doi.org/10.1007/s11104-016-3155-z

Wu W, Ma BL, Whalen JK (2018) Enhancing rapeseed tolerance to heat and drought stresses in a changing climate: perspectives for stress adaptation from root system architecture. In: Sparks DL (ed) Advances in agronomy, vol 151. Academic Press, Cambridge, pp 87–157. https://doi.org/10.1016/bs.agron.2018.05.002

Wu W, Shah F, Duncan RW, Ma BL (2020) Grain yield, root growth habit and lodging of eight oilseed rape genotypes in response to a short period of heat stress during flowering. Agric for Meteorol 287:107954. https://doi.org/10.1016/j.agrformet.2020.107954

Wu W, Duncan RW, Ma BL (2021) The stage sensitivity of short-term heat stress to lodging-resistant traits and yield determination in canola (Brassica napus L.). J Agron Crop Sci 207(1):74–87. https://doi.org/10.1111/jac.12464

Zentner RP, Wall DD, Nagy CN, Smith EG, Young DL, Miller PR, Campbell CA, McConkey BG, Brandt SA, Lafond GP, Johnston AM, Derksen DA (2002) Economics of crop diversification and soil tillage opportunities in the Canadian Prairies. Agron J 94(2):216–230. https://doi.org/10.2134/agronj2002.2160

Zhou G, Yin X (2018) Assessing nitrogen nutritional status, biomass and yield of cotton with NDVI, SPAD and petiole sap nitrate concentration. Exp Agric 54(4):531–548. https://doi.org/10.1017/S0014479717000229
Acknowledgements
This study was financially supported, in part, by the Eastern Canada Oilseed Development Alliance (ECODA) and the Canola Council of Canada through the Agriculture and Agri-Food Canada (AAFC) Growing Forward II Project J-000292 and Canadian Agricultural Partnership AgriScience Program Project J-001959. We thank Lynne Evenson and Scott Patterson (retired) at the Ottawa Research and Development Centre (ORDC) of AAFC, Dr. Selvakumari Arunachalam of McGill University, Marie-Eve Bernard of Laval University, and Doug Macdonald of Dalhousie University, for their excellent technical assistance in the field and lab work for this study. AAFC-ORDC contribution no. 21-048.
Additional information
Publisher's Note
Springer Nature remains neutral with regard to jurisdictional claims in published maps and institutional affiliations.
Supplementary Information
Below is the link to the electronic supplementary material.
About this article
Cite this article
Wen, G., Ma, BL., Vanasse, A. et al. Machine learning-based canola yield prediction for site-specific nitrogen recommendations. Nutr Cycl Agroecosyst 121, 241–256 (2021). https://doi.org/10.1007/s10705-021-10170-5
Received:

Accepted:

Published:

Issue Date:
Keywords
Random forest regression model

Yield estimation

Vegetation index

Precision N fertilization

Brassica napus