Abstract
Applying phosphorus (P)-rich wastewater to land can significantly enrich P in topsoil and consequently increase the risk of P losses in surface runoff and leaching. We collected 654 samples (0–7.5, 7.5–15, and 15–30 cm depths) of wastewater-irrigated and non-irrigated soils at seven sites across New Zealand to assess the potential P mobility in irrigated soils. The risk of P loss to surface runoff was tested by water extractable P (WEP) whereas the risk of P loss by leaching was tested by calcium chloride extractable P (CaCl2–P). These environmental P tests are rarely analysed; hence, a published relationship was used to determine if the risk of P losses could be predicted using anion storage capacity (ASC) and Olsen P, two agronomic tests used in New Zealand. The magnitude of WEP and CaCl2-P could be predicted using the published relationship, but only in non-irrigated soils. Additionally, the mixed model analysis that compared soils and irrigated treatments showed that wastewater-irrigated soils had a greater pH, WEP and CaCl2–P concentration to 30 cm depth. However, in both irrigated and non-irrigated soils a change point or threshold in ASC was found that could be used to show an increased likelihood of enhanced P leaching (as CaCl2–P) to deeper layers. In addition, the WEP and CaCl2-P thresholds, can be used to signal the need for management changes to decrease the risk of P losses to surface water and groundwater.
Access options
Buy single article
Instant access to the full article PDF.
USD 39.95
Price includes VAT (USA)
Tax calculation will be finalised during checkout.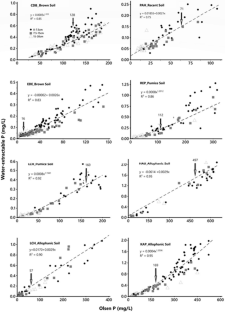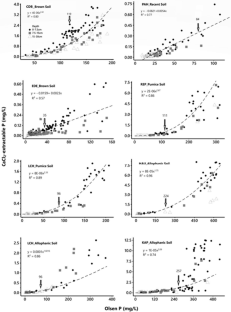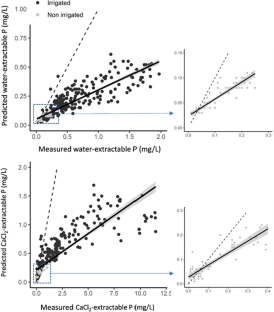 References
Blackmore LC, Searle, P.L., Daly., B. K. (1981) Methods for chemical analysis of soils. https://doi.org/10.7931/DL1-SBSR-10A

Britz TJ, van Schalkwyk C, Hung Y-T (2006) Treatment of dairy processing wastewaters. waste treat FOOD process. Ind 1–28

Brown J. Improving nutrient management for dairy factory wastewater land treatment systems., Occasional Report No. 29 edn. Fertilizer and Lime Research Center, Massey University, Palmerston North, New Zealand; 2016.

Cameron KC, Di HJ, Anwar MR, Russell JM, Barnett JW (2003) The "critical" ESP value: Does it change with land application of dairy factory effluent? N Z J Agric Res 46:147–154. https://doi.org/10.1080/00288233.2003.9513541

Degens B, Schipper L, Claydon J, Russell J, Yeates G (2000) Irrigation of an allophanic soil with dairy factory effluent for 22 years: responses of nutrient storage and soil biota. Soil Research 38:25–36. https://doi.org/10.1071/SR99063

Demirel B, Yenigun O, Onay TT (2005) Anaerobic treatment of dairy wastewaters: a review. Process Biochem 40:2583–2595. https://doi.org/10.1016/j.procbio.2004.12.015

Dodd R, McDowell R, Condron L (2012) Predicting the changes in environmentally and agronomically significant phosphorus forms following the cessation of phosphorus fertilizer applications to grassland. Soil Use Manag 28:135–147. https://doi.org/10.1111/j.1475-2743.2012.00390.x

Genstat Committee (2015) Genstat v17.0. VSNI, Hemel Hempstead, UK

Haygarth P, Heathwaite A, Jarvis S, Harrod T (1999) Hydrological factors for phosphorus transfer from agricultural soils. Adv Agron 69:153–178. https://doi.org/10.1016/S0065-2113(08)60949-9

Hewitt AE (2010) New Zealand soil classification. Landcare Research Science Series, 3rd edn. Manaaki Whenua Press, Landcare Research, Lincoln

Hu C, Zhang T, Kendrick D, Huang Y, Dahab M, Surampalli R (2006) Muskegon wastewater land treatment system: fate and transport of phosphorus in soils and life expectancy of the system Eng. Life Sci 6:17–25. https://doi.org/10.1002/elsc.200620118

Jaiswal D, Elliott HA (2011) Long-term phosphorus fertility in wastewater-irrigated cropland. J Environ Qual 40:214–223. https://doi.org/10.2134/jeq2010.0215

Klute A (1986) Methods of soil analysis. Part 1. Physical and mineralogical methods; Part 2. Chemical and microbiological properties. vol BOOK. American Society of Agronomy, Inc., United States

Laurenson S, Bolan N, Smith E, McCarthy M (2012) Review: Use of recycled wastewater for irrigating grapevines. Austral J Grape Wine Res 18:1–10. https://doi.org/10.1111/j.1755-0238.2011.00170.x

Lindsay WL (1979) Chemical equilibria in soils. Wiley, Chichester

Liu Y-Y, Haynes RJ (2010) Long-term irrigation with dairy factory wastewater influences soil quality World Academy of Science. Eng Technol Int Sci Index 46(4):524–528

Liu YY, Haynes RJ (2011) Origin, nature, and treatment of effluents from dairy and meat processing factories and the effects of their irrigation on the quality of agricultural soils. Crit Rev Environ Sci Technol 41:1531–1599. https://doi.org/10.1080/10643381003608359

Livestock Improvement Corporation (LIC), Dairy NZ (2016) New Zealand Dairy Statistics 2015–16. https://www.dairynz.co.nz/media/5416078/nz-dairy-statistics-2015-16.pdf.

McDowell R, Biggs B, Sharpley A, Nguyen L (2004) Connecting phosphorus loss from agricultural landscapes to surface Water Quality. Chem Ecol 20:1–40. https://doi.org/10.1080/02757540310001626092

McDowell R, Sharpley A (2001) Approximating phosphorus release from soils to surface runoff and subsurface drainage. J Environ Qual 30:508–520. https://doi.org/10.2134/jeq2001.302508x

McDowell RW, Condron LM (2004) Estimating phosphorus loss from New Zealand grassland soils N Z. J Agric Res 47:137–145. https://doi.org/10.1080/00288233.2004.9513581

McDowell RW, Gray CW, Cameron KC, Di HJ, Pellow R (2019) The efficacy of good practice to prevent long-term leaching losses of phosphorus from an irrigated dairy farm Agric. Ecosyst Environ 273:86–94. https://doi.org/10.1016/j.agee.2018.12.007

McDowell RW, Norris M (2014) The Use of Alum to Decrease Phosphorus Losses in Runoff from Grassland Soils. J Environ Qual 43:1635–1643. https://doi.org/10.2134/jeq2013.12.0479

Menneer JC, McLay CDA, Lee R (2001) Effects of sodium-contaminated wastewater on soil permeability of two new zealand soils. Soil Res 39:877–891. https://doi.org/10.1071/SR99082

Minitab, (2018) Minitab 18 Statistical Software, v18 edn. Minitab Inc, State College

Moir J, Jordan P, Moot D, Lucas R (2016) Phosphorus response and optimum pH ranges of twelve pasture legumes grown in an acid upland New Zealand soil under glasshouse conditions. J Soil Sci Plant Nutr 16:438–460. https://doi.org/10.4067/S0718-95162016005000038

Murphy J, Riley JP (1962) A modified single solution method for the determination of phosphate in natural waters. Anal Chim Acta 27:31–36

Murphy PNC, Stevens RJ (2010) Lime and gypsum as source measures to decrease phosphorus loss from soils to water water. Air Soil Pollut 212:101–111. https://doi.org/10.1007/2Fs11270-010-0325-0

Olsen SR, Cole CV, Watanbe FS, Dean LA. Estimation of available phosphorus in soils by extraction with sodium bicarbonate United States Department of Agriculture. Circular No. 939; 1954

Robinson BP (2000) The effect of 40 years of effluent irrigation on soil and pasture properties of the Lactose New Zealand land treatment site: a thesis presented in partial fulfilment of the requirements for the degree of Masters of Applied Science, Soil and Earth Sciences Group, Institute of Natural Resources, Massey University. Massey University

Saunders WMH (1965) Phosphate retention by New Zealand soils and its relationship to free sesquioxides, organic matter, and other soil properties. N Z J Agric Res 8:30–57. https://doi.org/10.1080/00288233.1965.10420021

Serrenho A, Fenton O, Murphy PNC, Grant J, Healy MG (2012) Effect of chemical amendments to dairy soiled water and time between application and rainfall on phosphorus and sediment losses in runoff. Sci Total Environ 430:1–7. https://doi.org/10.1016/j.scitotenv.2012.04.061

Sharpley A, Jarvie HP, Buda A, May L, Spears B, Kleinman P (2013) Phosphorus legacy: overcoming the effects of past management practices to mitigate future water quality impairment. J Environ Qual 42:1308–1326. https://doi.org/10.2134/jeq2013.03.0098

Slavov AK (2017) General characteristics and treatment possibilities of dairy wastewater. Rev Food Technol Biotechnol 55:14. https://doi.org/10.17113/ftb.55.01.17.4520

Sparling G, Littler R, Schipper L, Stevenson B, Sherman L, Russell J (2015) Changes in characteristics of soils irrigated with processing wastewater from three new Zealand Dairy Factories. Soil Res 53:448–460. https://doi.org/10.1071/SR14365

Sparling GP, Schipper LA, Russell JM (2001) Changes in soil properties after application of dairy factory effluent to New Zealand volcanic ash and pumice soils. Soil Res 39:505–518. https://doi.org/10.1071/SR00043

Speir T (2002) Soil biochemical properties as indices of performance and sustainability of effluent irrigation systems in New Zealand—a review. J R Soc N Z 32:535–553. https://doi.org/10.1080/03014223.2002.9517708

Taylor MD, Drewry JJ, Curran-Cournane F, Pearson L, McDowell RW, Lynch B (2016) Soil quality targets for Olsen P for the protection of environmental values. In: Paper presented at the Integrated Nutrient and Water Management for Sustainable Farming, Massey University, Palmerston North, New Zealand,

Tian J, Boitt G, Black A, Wakelin S, Condron LM, Chen L (2017) Accumulation and distribution of phosphorus in the soil profile under fertilized grazed pasture Agric. Ecosyst Environ 239:228–235. https://doi.org/10.1016/j.agee.2017.01.022

USEPA (1994) Method 200.2: Sample preparation procedure for spectrochemical analyses of total recoverable elements. EPA,

Walker C, Lin HS (2008) Soil property changes after four decades of wastewater irrigation: a landscape perspective. CATENA 73:63–74. https://doi.org/10.1016/j.catena.2007.09.002

Water U (2015) Wastewater Management-A UN-Water Analytical Brief New York

Watkins M, Nash D (2010) Dairy factory wastewaters, their use on land and possible environmental impacts–a mini review. Open Agric J 4:1–9. https://doi.org/10.2174/1874331501004010001

Zvomuya F, Rosen CJ, Gupta SC (2006) Phosphorus sequestration by chemical amendments to reduce leaching from wastewater applications. J Environ Qual 35:207–215. https://doi.org/10.2134/jeq2005.0172
Acknowledgements
The authors are grateful to Gustavo Boitt, Zachary Simpson, Florencia De Lucca, and Phuong Nguyen for their help during the soil sampling. We also thank Alasdair Noble and Dean O'Connell for advice on statistical analysis. Funding for this study was provided by Fonterra and the Our Land and Water National Science Challenge via the Ministry for Business, Innovation and Employment (contract C10X1507).
Additional information
Publisher's Note
Springer Nature remains neutral with regard to jurisdictional claims in published maps and institutional affiliations.
Supplementary Information
Below is the link to the electronic supplementary material.
About this article
Cite this article
Lizarralde, C.A., McDowell, R.W., Condron, L.M. et al. Potential phosphorus losses from grassland soils irrigated with dairy factory wastewater. Nutr Cycl Agroecosyst 121, 69–84 (2021). https://doi.org/10.1007/s10705-021-10165-2
Received:

Accepted:

Published:

Issue Date:
Keywords
Anion storage capacity

Effluent

Land application

Leaching

Surface runoff