Abstract
The combined application of cattle manure and inorganic fertilizer has been widely recommended in the context of integrated soil fertility management (ISFM) on smallholder farms in sub-Saharan Africa (SSA). However, the conditions under which this combination (hereafter ISFM) improves nutrient and water use efficiency and crop yields have not been systematically studied. Therefore, we undertook a meta-analysis of studies conducted in rain-fed maize production systems across SSA with the objective of (1) quantifying the magnitude of improvement in grain yield, rain use efficiency (RUE), agronomic efficiency of nitrogen (AEN) and phosphorus (AEP) due to ISFM; (2) determining conditions under which ISFM achieves greater yield response, RUE, AEN and AEP; and (3) compare yield responses to the substitutive and additive approaches of ISFM with sole application of cattle manure. Application of high rates of cattle manure in combination with high N fertilizer rates increased yield response only by 27.5%, but it achieved 47% lower AEN and 27% lower AEP relative to a combination of low manure and low N fertilizer rate. The substitutive approach of ISFM achieved 54% greater AEN and 16% greater AEP than the additive ISFM approach. Yield response and AEN also significantly varied with soil type. On most soil types, AEN was 2–195% lower under sole manure than under ISFM or sole fertilizer. We recommend application of moderate rates of cattle manure (5–10 t ha−1) combined with moderate doses of N fertilizer (< 50 kg N ha−1) on responsive soils to optimize AEN and maize yield response.
Access options
Buy single article
Instant access to the full article PDF.
USD 39.95
Price excludes VAT (USA)
Tax calculation will be finalised during checkout.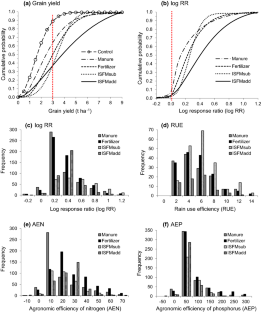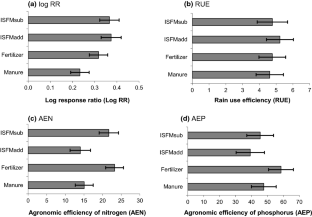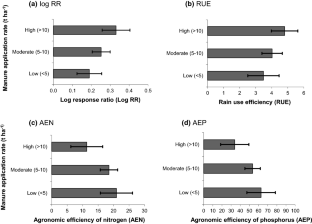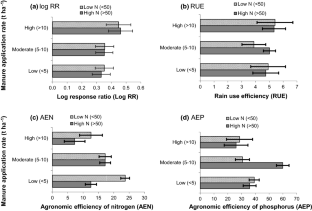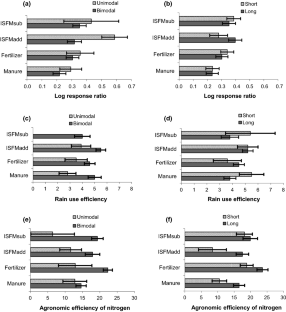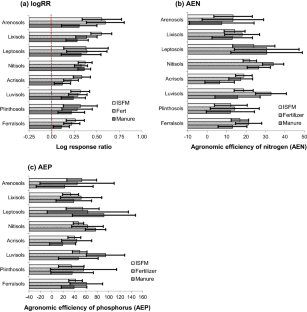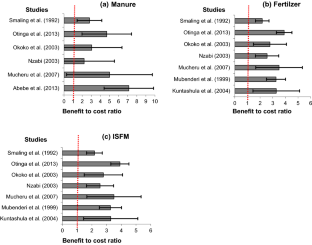 References
Batjes NH (2011) Global distribution of soil phosphorus retention potential. ISRIC—world soil information (with dataset), Wageningen, ISRIC report 2011/06

Chikowo R, Corbeels M, Mapfumo P, Tittonell P, Vanlauwe B, Giller KE (2010) Nitrogen and phosphorus capture and recovery efficiencies, and crop responses to a range of soil fertility management strategies in sub-Saharan Africa. Nutr Cycl Agroecosyst 88:59–77

Chivenge P, Vanlauwe B, Six J (2011) Does the combined application of organic and mineral nutrient sources influence maize productivity? A meta-analysis. Plant Soil 342:1–30

Dick J, Kaya B, Soutoura M, Skiba U, Smith R, Niang A, Tabo R (2008) The contribution of agricultural practices to nitrous oxide emissions in semi-arid Mali. Soil Use Manag 24:292–301

Eghball B,Wienhold BJ, Gilley JE, Eigenberg RA (2002) Mineralization of manure nutrients. Biological Systems Engineering: Papers and Publications. Paper 139. http://digitalcommons.unl.edu/biosysengfacpub/139. Accessed 01 June 2016

Esse PC, Buerkert A, Hiernaux P, Assa A (2001) Decomposition of and nutrient release from ruminant manure on acid sandy soils in the Sahelian zone of Niger, West Africa. Agric Ecosyst Environ 83:55–63

FAO and ITPS (2015) Status of the world's soil resources (SWSR)—main report. Food and Agriculture Organization of the United Nations and Intergovernmental Technical Panel on Soils, Rome, Italy

Feise RJ (2002) Do multiple outcome measures require P value adjustment? BMC Med Res Method 2:8

Gardner JB, Drinkwater LE (2009) The fate of nitrogen in grain cropping systems: a meta-analysis of 15N field experiments. Ecol Appl 19:2167–2184

Garrity D, Dixon J, Boffa J-M (2012) Understanding African farming systems: science and policy implications. Australia Centre for International Agricultural Research (ACIAR), Sydney, p 55

Han Z, Walter MT, Drinkwater LE (2017) N2O emissions from grain cropping systems: a meta-analysis of the impacts of fertilizer-based and ecologically-based nutrient management strategies. Nutr Cycl Agroecosyst 107:335–355

Hatfield JL, Sauer TJ, Prueger JH (2001) Managing soils to achieve greater water use efficiency: a review. Agron J 93:271–280

Heathcote A, Brown S, Wagenmakers EJ, Eidels A (2010) Distribution-free tests of stochastic dominance for small samples. J Math Psychol 54:454–463

Hedges LV, Gurevitch J, Curtis PS (1999) The meta-analysis of response ratios in experimental ecology. Ecology 80:1150–1156

Jama B, Kimani D, Kiwia A, Rebbie H, Sileshi GW (2017) Maize yield response, nitrogen use efficiency and financial returns to fertilizer on smallholder farms in southern Africa. Food Secur 9:577–593

Ju X, Xing G, Chen X et al (2009) Reducing environmental risk by improving N management in intensive Chinese agricultural systems. Proc Natl Acad Sci USA 106:3041–3046

Kihara J, Nziguheb G, Zingore S, Coulibaly A, Esilaba A, Kabambe V, Njoroge S, Palm C, Huising J (2016) Understanding variability in crop response to fertilizer and amendments in sub-Saharan Africa. Agric Ecosyst Environ 229:1–12

Kihara J, Sileshi WG, Nziguheba G, Kinyua M, Zingore S, Sommer R (2017) Application of secondary nutrients and micronutrients increase crop yields in sub-Saharan Africa. Agron Sustain Dev 37:25. https://doi.org/10.1007/s13593-017-0431-0

Kim D-G, Kirschbaum MUF, Beedy TL (2016) Carbon sequestration and net emissions of CH4 and N2O under agroforestry: synthesizing available data and suggestions for future studies. Agric Ecosyst Environ 226:65–78

Ladha JK, Pathak H, Krupnik TJ, Six J, van Kessel C (2005) Efficiency of fertilizer nitrogen in cereal production: retrospect and prospects. Adv Agron 87:85–156

Lekasi JK, Tanner JC, Kimani SK, Harris PJC (2003) Cattle manure quality in Maragua District, Central Kenya: effect of management practices and development of simple methods of assessment. Agric Ecosyst Environ 94:289–298

Linquist BA, Ruark MD, Hill JE (2011) Soil order and management practices control soil phosphorus fractions in managed wetland ecosystems. Nutr Cycl Agroecosyst 90:51–62

Maeda K, Hanajima D, Morioka R, Toyoda S, Yoshida N, Osada T (2013) Mitigation of greenhouse gas emission from the cattle manure composting process by use of a bulk agent. Soil Sci Plant Nutr 59:96–106

Maillard É, Angers DA (2014) Animal manure application and soil organic carbon stocks: a meta-analysis. Glob Change Biol 20:666–679

Mapanda F, Wuta M, Nyamangara J, Rees RM (2012) Nitrogen leaching and indirect nitrous oxide emissions from fertilized croplands in Zimbabwe. Nutr Cycl Agroecosyst 94:85–96

Masaka J, Wuta M, Nyamangara J, Mugabe FT (2013) Effect of manure quality on nitrate leaching and groundwater pollution in wetland soil under field tomato (Lycopersicon esculentum, Mill var. Heinz) rape (Brassica napus, L var. Giant). Nutr Cycl Agroecosyst 96:149–170

Masaka J, Nyamangara J, Wuta M (2016) Nitrous oxide emissions from wetland soil amended with two types of cattle manure. Int J Recycl Org Waste Agric 5:125–140

Mori A, Hojito M (2015) Effect of dairy manure type and supplemental synthetic fertilizer on methane and nitrous oxide emissions from a grassland in Nasu, Japan. Soil Sci Plant Nutr 61:347–358

Mugwira LM, Murwira HK (1997) Use of cattle manure to improve soil fertility in Zimbabwe. Soil fertility network research results working paper 2, CIMMYT, Harare, Zimbabwe

Mujuru L, Rusinamhodzi L, Nyamangara J, Hoosbeek MR (2016) Effects of nitrogen fertilizer and manure application on storage of carbon and nitrogen under continuous maize cropping in Arenosols and Luvisols of Zimbabwe. J Agric Sci 154:242–257

Murwira HR (1994) Synchrony relationships of nitrogen release and plant uptake in a Zimbabwean sand soil amended with manure and fertilize nitrogen. Afr Crop Sci J 2:69–77

Musinguzi P, Tenywa JS, Ebanyat P, Tenywa MM, Mubiru DN, Basamba TA, Leip A (2013) Soil organic carbon thresholds and nitrogen management in tropical agroecosystems: concepts and prospects. J Sustain Dev 6:31–43

Negassa W, Sileshi GW (2018) Integrated soil fertility management reduces termite damage to crops on degraded soils in western Ethiopia. Agric Ecosyst Environ 251:124–131

Nyamangara N, Bergström LF, Piha MI, Giller KE (2003) Fertilizer use efficiency and nitrate leaching in a tropical sandy soil. J Environ Qual 32:599–606

Nziguheba G, Zingore S, Kihara J, Merckx R, Njoroge S, Otinga A, Vandamme A, Vanlauwe B (2016) Phosphorus in smallholder farming systems of sub-Saharan Africa: implications for agricultural intensification. Nutr Cycl Agroecosyst 104:321–340

Petersen SO, Sommer SG (2011) Ammonia and nitrous oxide interactions; roles of manure organic matter management. Anim Feed Sci Technol 166–167:503–513

Rockström J (2003) Water for food and nature in drought–prone tropics: vapour shift in rain-fed agriculture. Philos Trans R Soc B 358:1997–2009

Russo TA, Tully K, Palm C, Neill C (2017) Leaching losses from Kenyan maize cropland receiving different rates of nitrogen fertilizer. Nutr Cycl Agroecosyst 108:195–209

Sanchez PA (2015) En route to plentiful food production in Africa. Nat Plants 1:1–2

Sanchez PA, Denning GL, Nziguheba G (2009) The African Green Revolution moves forward. Food Secur 1:37–44. https://doi.org/10.1007/s12571-009-0011-5

Sileshi GW, Nhamo N, Mafongoya PL, Tanimu J (2017) The stoichiometry of animal manure and its implications for nutrient cycling and agriculture in sub-Saharan Africa. Nutr Cycl Agroecosyst 107:91–105

Sterne JAC, Egger M (2001) Funnel plots for detecting bias in meta-analysis: guidelines on choice of axis. J Clin Epidemiol 54:1046–1055

Vanlauwe B, Aihou K, Aman S, Iwuafor ENO, Tossah BK, Diels J, Sanginga N, Lyasse O, Merckx R, Deckers J (2001) Maize yield as affected by organic inputs and urea in the West African moist savanna. Agron J 93:1191–1199

Vanlauwe B, Kihara J, Chivenge P, Pypers P, Coe R, Six J (2011) Agronomic use efficiency of N fertilizer in maize-based systems in sub-Saharan Africa within the context of integrated soil fertility management. Plant Soil 339:35–50

Vanlauwe B, Descheemaeker K, Giller KE, Huising J, Merckx R, Nziguheba G, Wendt J, Zingore S (2015) Integrated soil fertility management in sub-Saharan Africa: unravelling local adaptation. Soil 1:491–508

Wang X, Jia Z, Liang L, Yang B, Ding R, Nie J, Wang J (2016) Impacts of manure application on soil environment, rainfall use efficiency and crop biomass under dryland farming. Sci Rep 6:20994. https://doi.org/10.1038/srep20994

Zhang W, Liu K, Wang J, Shao X, Xu M, Li J, Wang X, Murphy DV (2015) Relative contribution of maize and external manure amendment to soil carbon sequestration in a long term intensive maize cropping system. Sci Rep 5:10791. https://doi.org/10.1038/srep10791
Acknowledgements
We would like to thank the Bill and Melinda Gates Foundation for the generous funding for this work. We are also grateful to anonymous reviewers for their constructive comments on the draft manuscript.
Ethics declarations
Conflict of interest
The authors declare that they have no conflict of interest.
Additional information
Publisher's Note
Springer Nature remains neutral with regard to jurisdictional claims in published maps and institutional affiliations.
Electronic supplementary material
Below is the link to the electronic supplementary material.
About this article
Cite this article
Sileshi, G.W., Jama, B., Vanlauwe, B. et al. Nutrient use efficiency and crop yield response to the combined application of cattle manure and inorganic fertilizer in sub-Saharan Africa. Nutr Cycl Agroecosyst 113, 181–199 (2019). https://doi.org/10.1007/s10705-019-09974-3
Received:

Accepted:

Published:

Issue Date:

DOI: https://doi.org/10.1007/s10705-019-09974-3
Keywords
Additive ISFM

Agronomic efficiency

Substitutive ISFM

Water use efficiency