Abstract
To improve synchronicity between nutrients released from the decomposing manure with millet nutrient requirement under zaï technique, a 2-year field experiment was conducted at the International Crops Research Institute for the Semi-Arid Tropics Research Station, Sadoré, Niger. The treatments consisted of factorial combination of two rates of cattle manure (200 and 300 g per zaï hole), three periods of manure application (before planting, at planting and 15 days later) and two rates of mineral fertilizer [nitrogen (N), phosphorus (P) and potassium (K) 15–15–15] applied at 6 g per zaï hole and a control, without mineral fertilizer). Manure dry mass losses did not significantly differ among manure application periods in 2013. However, in 2014 the highest manure dry mass loss occurred when manure was applied before planting with 70% of manure applied being decomposed at millet maturity stage (115 days after litterbag installation) followed by manure applied at planting with almost 50% of dry mass losses. The quantities of N and P absorbed by millet at tillering stage represented, 61, 52 and 33% of N released and 15, 12 and 15% of P released at the same time when manure was applied before planting, at planting and 15 days after planting, respectively. Application of manure before planting increased on an average millet grain yield by 16 and 20% and N utilization efficiency by 25 and 31% compared to application of manure at planting and 15 days after planting respectively. Addition of mineral fertilizer induced a synergetic effect on millet grain yield (p = 0.002). Millet grain yields increased on average by 5, 17 and 57% when 6 g per zaï pit of NPK fertilizer were added to plots receiving manure application before planting, at planting and 15 days after planting, respectively. We conclude that application of manure prior to planting satisfies better millet nutrients demand, thereby increasing nutrient use efficiency and grain yield under zai pits.
Access options
Buy single article
Instant access to the full article PDF.
US$ 39.95
Tax calculation will be finalised during checkout.
Subscribe to journal
Immediate online access to all issues from 2019. Subscription will auto renew annually.
US$ 119
Tax calculation will be finalised during checkout.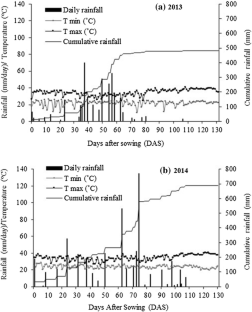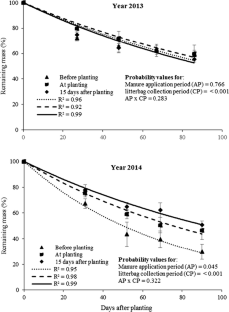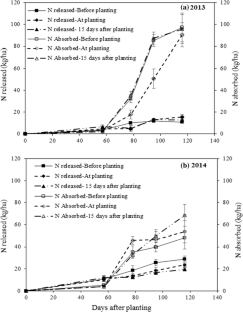 References
Akponikpé PBI, Michels K, Bielders CL (2008) Integrated nutrient management of pearl millet in the Sahel combining cattle manure, crop residues and mineral fertilizer. Exp Agric 44:453–472

Boubacar MM, Abdoulaye D, Salamatou IA, Jørgen AA, Ambouta KJM, Mahamane A (2016) Combined traditional water harvesting (Zaï) and mulching techniques increase available soil phosphorus content and millet yield. J Agric Sci 8(4):126

Bouzou MI, Dan Lamso N (2004) Le «tassa»: une technique de conservation des eaux et des sols bien adaptée aux conditions physiques et socio-économiques des glacis des régions semi-arides (Niger). Rev Geogr Alp 92:61–70

Brockett BF, Prescott CE, Grayston SJ (2012) Soil moisture is the major factor influencing microbial community structure and enzyme activities across seven biogeoclimatic zones in western Canada. Soil Biol Biochem 44:9–20

Cassman KG, Dobermann A, Walters DT (2002) Agroecosystems, nitrogen-use efficiency, and nitrogen management. AMBIO J Hum Environ 31:132–140

Djodjic F, Börling K, Bergström L (2004) Phosphorus leaching in relation to soil type and soil phosphorus content. J Environ Qual 33:678–684

Esse P, Buerkert A, Hiernaux P, Assa A (2001) Decomposition of and nutrient release from ruminant manure on acid sandy soils in the Sahelian zone of Niger, West Africa. Agric Ecosyst Environ 83:55–63

Fatondji D, Martius C, Bielders C, Vlek PLG, Bationo A, Gerard B (2006) Effect of planting technique and amendment type on pearl millet yield, nutrient uptake, and water use on degraded land in Niger. Nutr Cycl Agroecosyst 76:203–217

Fatondji D, Martius C, Zougmore R, Vlek PL, Bielders C, Koala S (2009) Decomposition of organic amendment and nutrient release under the zai technique in the Sahel. Nutr Cycl Agroecosyst 85:225–239

Gandah M, Brouwer J, Hiernaux P, Duivenbooden NV (2003) Fertility management and landscape position: farmers' use of nutrient sources in western Niger and possible improvements. Nutr Cycl Agroecosyst 67(55):66

Gascho GJ, Menezes RS, Hanna WW, Hubbard RK, Wilson JP (1995) Nutrient requirement of Pearl Millet. In: First national grain Pearl Millet symposium, Conference Proceedings. University of Georgia, Cooperative Extension Service, Tifton, pp 92–97

Gonda A, Ewusi Mensah N, Maman N, Francis Marthy T, Ebnezer Yeboah S, Robert Clement A (2016) Nutrient release patterns of compost and its implication on crop yield under Sahelian conditions of Niger. Nutr Cycl Agroecosyst 105:1–14

Good AG, Shrawat AK, Muench DG (2004) Can less yield more? Is reducing nutrient input into the environment compatible with maintaining crop production? Trends Plant Sci 9:598–605

Güsewell S, Gessner MO (2009) N:P ratios influence litter decomposition and colonization by fungi and bacteria in microcosms. Funct Ecol 23:211–219

Harris F (2002) Managment of manure in farming systems in Semi-Arid West Africa. Exp Agric 38:131–148

Houba V, Van der Lee J, Novozamsky I (1995) Soil analysis procedures; other procedures (soil and plant analysis, part 5B). Department of Soil Science and Plant Nutrition, Wageningen Agricultural University

Ibrahim A, Abaidoo RC, Fatondji D, Opoku A (2015a) Determinants of fertilizer micro-dosing-induced yield increment of pearl millet on an acid sandy soil. Exp Agric 52:1–17

Ibrahim A, Abaidoo RC, Fatondji D, Opoku A (2015b) Hill placement of manure and fertilizer micro-dosing improves yield and water use efficiency in the Sahelian low input millet-based cropping system. Field Crops Res 180:29–36

Kaboré D, Reij C (2004) The emergence and spreading of an improved traditional soil and water conservation practice in Burkina Faso. Environment and Production Technology Division discussion paper 114. http://www.ifpri.org/event/conferences/2003/120103/papers/paper10.pdf

Kirchmann H (1985) Losses, plant uptake and utilisation of manure nitrogen during a production cycle [cattle manure, poultry manure, NH3 volatilisation, denitrification, nonsymbiotic N2 fixation] Sveriges Lantbruksuniv

Kolawole GO (2014) Effect of time of poultry manure application on the performance of maize in Ogbomoso, Oyo State, Nigeria. J Appl Agric Res 6:253–258

Kurzatkowski D, Martius C, Hoefer H, Garcia M, Forster B, Beck L, Vlek P (2004) Litter decomposition, microbial biomass and activity of soil organisms in three agroforestry sites in central Amazonia. Nutr Cycl Agroecosyst 69:257–267

Lahmar R, Bationo BA, Dan Lamso N, Guéro Y, Tittonell P (2012) Tailoring conservation agriculture technologies to West Africa semi-arid zones: building on traditional local practices for soil restoration. Field Crops Res 132:158–167

Lawes Agricultural Trust (2007) Genstat. Lawes Agricultural Trust (Rothamsted ExperimentalStation), Rothamsted

Mafongoya PL, Giller KE, Palm CA (1998) Decomposition and nitrogen release patterns of tree prunings and litter. Agrof Syst 38:77–97

Mando A, Brussaard L (1999) Contribution of termites to the breakdown of straw under Sahelian conditions. Biol Fertil Soils 29:332–334

Mkhabela TS, Materechera SA (2013) Influence of kraal manure application time on emergence, growth and grain yield of maize grown in two soils with contrasting textures. J Food Agric Environ 11:422–427

Ouattara B, Hien V, Lompo F (1999) Development of water management technologies for rainfed crops in Burkina Faso. In: van Duivenbooden N et al. (eds). Efficient soil water use: the key to sustainable crop production in the dry areas of West Asia and North and Sub-Saharan Africa. Proceedings of the 1998 (Niger) and 1999 (Jordan) Workshops of the optimizing soil water use (OSWU) Consortium, Aleppo, Syria, ICARDA, and Patancheru, India, ICRISAT, pp 265–281

Palm CA, Gachengo CN, Delve RJ, Cadisch G, Giller KE (2001) Organic inputs for soil fertility management in tropical agroecosystems: application of an organic resource database. Agric Ecosys Environ 83:27–42

Pasternak D, Senbeto D, Nikiema A, Kumar S, Fatondji D, Woltering L, Ratnadass A, Ndjeunga J (2009) Bioreclamation of degraded African lands with women empowerment. Chronica Hortic 49:24–27

Roose E, Kabore V, Guenat C (1993) Le zaï: fonctionnement, limites et amélioration d'une pratique traditionnelle africaine de réhabilitation de la végétation et de la productivité des terres dégradées en région soudano-sahélienne (Burkina Faso). Cahiers-ORSTOM. Pédologie 28:159–173

Roose E, Kaboré V, Guenat C (1999) Zai practice: a West African traditional rehabilitation system for semiarid degraded lands, a case study in Burkina Faso. Arid Soil Res Rehabil 13:343–355

Schlecht E, Buerkert A, Tielkes E, Bationo A (2006) A critical analysis of challenges and opportunities for soil fertility restoration in Sudano-Sahelian West Africa. Nutr Cycl Agroecosyst 76:109–136

Sileshi GW, Nhamo N, Mafongoya PL, Tanimu J (2016) Stoichiometry of animal manure and implications for nutrient cycling and agriculture in sub-Saharan Africa. Nutr Cycl Agroecosyst 106:1–15

Stevenson FJ, Cole MA (1999) Cycles of soils: carbon, nitrogen, phosphorus, sulphur, micronutrients. Wiley, New York

Tabo R, Bationo A, Amadou B, Marchal D, Lompo F, Gandah M, Hassane O, Diallo MK, Ndjeunga J, Fatondji D, Gerard B, Sogodogo D, Taonda JBS, Sako K, Boubacar S, Abdou A, Koala S (2011) Fertilizer microdosing and "warrantage" or inventory credit system to improve food security and farmers' income in West Africa. In: Bationo A, Waswa B, Okeyo JM, Maina F, Kihara JM (eds) Innovations as key to the green revolution in Africa. Springer, Netherlands, pp 113–121

van Reeuwijk LP (1993) Procedures for soil analysis. Technical paper No 9, Fourth Edition edited by the International Soil Reference and Information Center (ISRIC)

Vigil MF, Spark D (2004) Factors affecting the rate of crop residue decomposition under field conditions. Conservation tillage Fact Sheet 33-95. USDA-ARS and USDA-NRCS, Akron, Colorado

Voortman RL (2010) Exploration into African land ecology on the chemistry between soils, plants and fertilizers, Ph.D. Dissertation, Wageningen Unversity

Walkley A, Black IA (1934) An examination of the Degtjareff method for determining soil organic matter, and a proposed modification of the chromic acid titration method. Soil Sci 37:29–38

Wider RK, Lang GE (1982) A critique of the analytical methods used in examining decomposition data obtained from litter bags. Ecology 63:1636–1642

Wildemeersch JCJ, Garba M, Sabiou M, Steven S, Cornelis W (2015) The effect of water and soil conservation (WSC) on the soil chemical, biological and physical quality of a plinthosol in Niger. Land Degrad Dev 73:773–783

Zingore S, James M, Beverly A, Lulseged T, Kihara J (2015) Soil degradation in sub-Saharan Africa and crop production options for soil rehabilitation. Better Crops Plant Food 99:24–26

Zougmoré R, Zida Z, Kambou N (2003) Role of nutrient amendments in the success of half-moon soil and water conservation practice in semiarid Burkina Faso. Soil Tillage Res 71:143–149
Acknowledgements
We thank Dr. Robert Zougmoré and Dr. Ajeigbe Hakeem for reviewing the draft version of this manuscript. We are also grateful to Moustapha Amadou and Laouali Issaka for their assistance in data collection. We express our gratitude to the reviewers for the very thorough review which address all aspects of this manuscript.
About this article
Cite this article
Fatondji, D., Ibrahim, A. Improving nutrient use efficiency from decomposing manure and millet yield under Plinthosols in Niger. Nutr Cycl Agroecosyst 110, 485–499 (2018). https://doi.org/10.1007/s10705-018-9910-1
Received:

Accepted:

Published:

Issue Date:
Keywords
Degraded soil

Manure

Nutrient release

Nutrient uptake

Synchronicity

Millet