Abstract
In Pakistan, low crop yields are a common problem of sandy-loam arid and semi-arid agroecosystems. Poor nitrogen use efficiency (NUE) and widespread soil nitrogen (N) deficiency resulting from higher N losses are the main reasons for low yields. Compost may offer a nutrient source in this context as it is relatively stable, has a high NUE and crop N uptake, and may contribute to lower N losses in this region. This research conducted during 2011 and 2012, focused on application of N from poultry manure compost (PMC) and pressmud compost (PrMC) with urea in different ratios (0:0, 100:0, 75:25, 50:50, 25:75, 0:100) for sustainable maize production under the semi-arid conditions of Faisalabad. Overall, combined use of PMC and PrMC with urea in the 2 years increased the grain yield relative to the application of PMC and PrMC on their own. The greatest plant N uptake during the two years from PMC and urea at 25:75 was equivalent to mineral N management (0:100), and it resulted in maximum total grain yield (218.6%) and grain protein (19.8%). This resulted in the lowest N loss from the soil, and the largest NUE (19.1 kg kg−1). Economically, this treatment also provided the greatest net income (932 US$ ha−1), and a benefit cost ratio (2.1). Based on these results, PMC and urea at 25:75 was considered highly beneficial in increasing maize yield while reducing the loss of less-stable N from the soil, increasing NUE and N uptake in inherently poor soils. However, further evaluation is needed to decide whether this N nutrition strategy can be adopted on a wider scale.
Access options
Buy single article
Instant access to the full article PDF.
USD 39.95
Price includes VAT (USA)
Tax calculation will be finalised during checkout.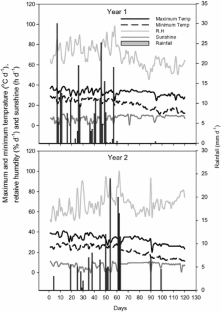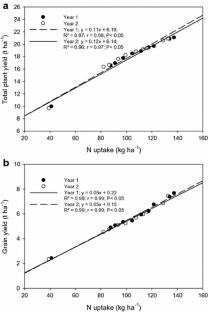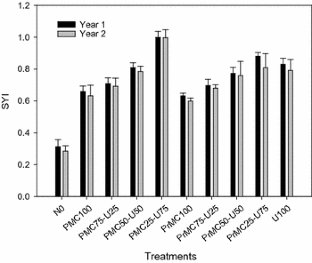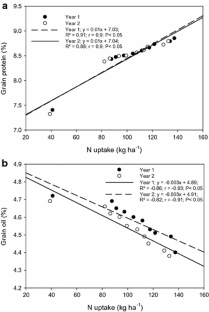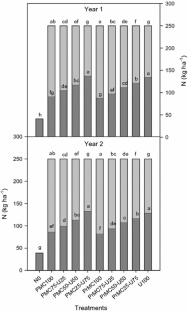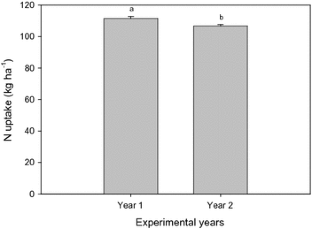 References
Abdel-Rahman G (2009) Impact on soil properties and crop productivity in the Sahel North Burkina Faso. Am Eurasian J Agric Environ Sci 6:220–226

Abdou G, Ewusi-Mensah N, Nouri M, Tetteh FM, Safo EY, Abaidoo RC (2016) Nutrient release patterns of compost and its implication on crop yield under Sahelian conditions of Niger. Nut Cycl Agroecosyst 105:117–128

Afzal I, Basra SMA, Ahmad N, Cheema MA, Warraich EA, Khaliq A (2002) Effect of priming and growth regulator treatments on emergence and seedling growth of hybrid maize (Zea mays L.). Int J Agric Biol 4:303–306

Ahmad N (2000) Fertilizer scenario in Pakistan policies and development. Proceeding of the conference Agriculture and Fertilizer Use held in Islamabad, Feb. Government of Pakistan, NFDC, Islamabad, pp 15–16

Akongwubel AO, Ewa UB, Prince A, Jude O, Martins A, Simon O, Nicholas O (2012) Evaluation of agronomic performance of maize (Zea mays L.) under different rates of poultry manure application in an ultisol of Obubra, cross river state, Nigeria. Int J Agric For 2:138–144

Alemayehu Y, Shewarega M (2015) Growth and yield responses of maize (Zea mays L.) to different nitrogen rates under rain-fed condition in Dilla area, Southern Ethiopia. J Nat Sci Res 5:40–46

Amin MGM, Simunek J, Lægdsmand M (2014) Simulation of the redistribution and fate of contaminants from soil-injected animal slurry. Agric Water Manag 131:17–29

Arif M, Ali K, Jan MT, Shah Z, Jones DL, Quilliam RS (2016) Integration of biochar with animal manure and nitrogen for improving maize yields and soil properties in calcareous semi-arid agroecosystems. Field Crops Res 195:28–35

Ayoola OT, Makinde EA (2009) Maize growth, yield and soil nutrient changes with N-enriched organic fertilizers. Afr J Food Agric Nutr Dev 9:580–592

Baskar M, Kayalvizhi C, Bose MSC (2003) Eco-friendly utilization of distillery effluent in agriculture—a review. Agric Rev 24:16–30

Cassman KG, Dobermann A, Walters DT, Yang H (2003) Meeting cereal demand while protecting natural resources and improving environmental quality. Annu Rev Environ Resour 28:315–358

Chaudhary DP, Kumar S, Yadav OP (2013) Nutritive value of maize: improvements, applications and constraints. In: Chaudhary DP, Kumar S, Langyan S (eds) Maize: nutrition dynamics and novel uses. Springer, New York, pp 3–17

Chen X, Cui Z, Fan M, Vitousek P, Zhao M, Ma WQ, Wang ZL, Zhang WJ, Yan XY, Yang JC, Deng XP, Gao Q, Zhang Q, Guo SW, Ren J, Li SQ, Ye YL, Wang ZH, Huang JL, Tang QY, Sun YX, Peng XL, Zhang JW, He MH, Zhu YJ, Xue JQ, Wang GL, Wu L, An N, Wu LQ, Ma L, Zhang WF, Zhang FS (2014) Producing more grain with lower environmental costs. Nature 514:486–489

Ciampitti IA, Vyn TJ (2011) A comprehensive study of plant density consequences on nitrogen uptake dynamics of maize plants from vegetative to reproductive stages. Field Crops Res 121:2–18

CIMMYT (1988) From agronomic data to farmer recommendation: an economics training manual. Completely Revised edition; Mexico, DF

Ding L, Wang KJ, Jiang GM, Biswas DK, Xu H, Li LF, Li YH (2005) Effects of nitrogen deficiency on photosynthetic traits of maize hybrids released in different years. Ann Bot 96:925–930

Duan YH, Xu MG, Gao SD, Yang XY, Huang SM, Liu HB, Wang BR (2014) Nitrogen use efficiency in a wheat–corn cropping system from 15 years of manure and fertilizer applications. Field Crops Res 157:47–56

Eberhart SA, Russell WA (1966) Stability parameters for comparing varieties. Crop Sci 6:36–40

Erisman JW, Sutton MA, Galloway J, Klimont Z, Winiwarter W (2008) How a century of ammonia synthesis changed the world. Nat Geosci 1:636–639

Evanylo G, Sherony C, Spargo J, Starner D, Brosius M, Haering K (2008) Soil and water environmental effects of fertilizer-, manure, and compost-based fertility practices in an organic vegetable cropping system. Agric Ecosyst Environ 127:50–58

FAO (1998) World reference base for soil resources. Food and Agriculture Organization of the United Nations, Rome

FAO (2014) Pakistan. Food and Agriculture Organization of the United Nations, Rome www.fao.org/countryprofiles/index/en/?iso3=PAK Accessed 29 July 2016

Farhad W, Cheema MA, Saleem MF, Hammad HM, Bilal MF (2011) Response of maize hybrids to composted and non-composted poultry manure under different irrigation regimes. Int J Agric Biol 13:923–928

Galloway JN, Townsend AR, Erisman JW, Bekunda M, Cai ZC, Freney JR, Matyinelli LA, Seitinger SP, Sutton MA (2008) Transformation of the nitrogen cycle: recent trends, questions, and potential solutions. Science 320:889–892

GOP (2005) Pakistan statistical pocket book. Federal Bureau of Statistics, Government of Pakistan, Statistics Division, Islamabad

Gudugi IAS, Isah MK, Giragi AN (2012) Effect of different rates of poultry manure on the growth and yield of sweet corn (Zea mays sacharata). Indian J Sci Res 3:13–16

Guntiñas ME, Leirós MC, Trasar-Cepeda C, Gil-Sotres F (2012) Effects of moisture and temperature on net soil nitrogen mineralization: a laboratory study. EurJ Soil Biol 48:73–80

Hanan S, Siam G, Abd-El-L-Kader M, El-Alia HI (2008) Yield and yield components of maize as affected by different sources and application rates of nitrogen fertilizer. Res J Agric Biol Sci 4:399–412

Hartmann TE, Yue SC, Schulz R, Chen XP, Zhang FS, Müller T (2014) Nitrogen dynamics, apparent mineralization and balance calculations in a maize–wheat double cropping system of the North China Plain. Field Crops Res 160:22–30

Helrich K (1990) Official methods of analysis of the association of official analytical chemists. Association of Official Analytical Chemists Inc, Virginia

Hunt R (1978) Plant growth analysis. The Institute of Biology's Studies in Biology, Edward Arnold, London, pp 26–38

Hurburgh C (2003) Corn and soybean quality affected by late season drought. Current Newsletter. Integrated Crop Management, IC-490 (22)—October 6, 2003 http://www.ipm.iastate.edu/ipm/icm/2003/10-6-2003/droughteffects.html. Accessed 19 Aug 2016

Iqbal S, Khan HZ, Shaheen H, Ali A, Ullah E (2010) Growth and yield response of spring maize (Zea mays L.) to different sources of nitrogen. Int J Agric Appl Sci 3:111–124

Iqbal S, Guber AK, Khan HZ (2016) Estimating nitrogen leaching losses after compost application in furrow irrigated soils of Pakistan using HYDRUS-2D software. Agric Water Manag 168:85–95

James B (2004) Soybean cultivar differences on light interception and leaf area index during seed filling. Agron J 96:305–310

Jimenez B, Wang L (2006) Sludge treatment and management. In: Ujang Z, Henze M (eds) Developing countries: principles and engineering. IWA Publishing, London, pp 237–292

Jones DL, Healey JR (2010) Organic amendments for remediation: putting waste to good use. Elements 6:369–374

Jones C, Koenig RT, Ellsworth JW, Brown BD, Jackson GD (2007) Factors affecting nitrogen fertilizer volatilization. Montana State University, Extension Bulletin-EB173, USA

Jones C, Brown BD, Engel R, Horneck D, Olson-Rutz K (2013) Factors affecting nitrogen fertilizer volatilization. Montana State University, Extension Bulletin-EB0208, USA http://landresources.montana.edu/soilfertility/documents/PDF/pub/UvolfactEB0208.pdf. Accessed 11 Aug 2016

Jorgensen SE (1993) Removal of heavy metals from compost and soil by ecotechnological methods. Ecol Eng 2:89–100

Joshi N, Sharma S (2014) Growth and yield of Zea mays in sulphitation pressmud, its compost, vermicompost and NPK. Rep Opin 6:80–85

Ju XT, Xing GX, Chen XP, Zhang SL, Zhang LJ, Liu XJ, Cui ZL, Yin B, Christie P, Zhu ZL, Zhang FS (2009) Reducing environmental risk by improving N management in intensive Chinese agricultural systems. Proc Nat Aca Sci U S A 106:3041–3046

Juang TC (1993) Effect of combined applications of compost and chemical fertilizer on soil fertility and crop yield under a rice-corn rotation, vol 371. Extension Bulletin—ASPAC Food and Fertilizer Technology Center, pp 14–31

Karasahin M (2015) The effects of poultry manure and inorganic fertilizer applications on nitrogen and irrigation water use efficiency in forage corn cultivars. J Agric Fac Gaziosmanpasa Univ 32:104–111

Keeney DR (1982) Nitrogen management for maximum efficiency and minimum pollution. In: Stevenson FJ (ed) Nitrogen in agricultural soils. Agron Monogr 22, ASA, CSSA and SSSA, Madison

Khaled AS, Abd-El-Kader MG, El-Khadrawy SM (2011) Evaluation of organic farm and compost combined with urea fertilizers on fertility and maize productivity in newly reclaimed. Res J Agric Biol Sci 7:388–397

Khan MA, Shah SAA (2011) Food insecurity in Pakistan: causes and policy response. J Agric Environ Ethics 24:493–509

Khan HZ, Iqbal S, Akbar N, Saleem MF, Iqbal A (2013) Integrated management of different nitrogen sources for maize production. Pak J Agric Sci 50:55–61

Kliese YJ, Dalal RC, Strong WM, Menzies NW (2005) Piggery pond sludge as a nitrogen source for crops: mineral N supply estimated from laboratory incubations and field application of stockpiled and wet sludge. Aust J Agric Res 56:245–255

Kumar B, Kumar S, Prakash D, Singh SK, Mishra M, Jain PK, Lal RB, Sharma CS, Mukherjee DP (2011) A study on sugar mill pressmud compost for some heavy metal content and their bio-availability. Asian J Plant Sci Res 1:115–122

Ladoni M, Kravchenko AN, Robertson GP (2015) Topography mediates the influence of cover crops on soil nitrate levels in row crop agricultural systems. PLoS ONE 10:E0143358

Lincoln T, Edvardo Z(2006) Assimilation of mineral nutrition. In: Plant physiology (4th ed) Sinaur Associates, Inc. Pub. Sunderland

Loecke TD, Cambardella CA, Liebman M (2012) Synchrony of net nitrogen mineralization and maize nitrogen uptake following applications of composted and fresh swine manure in the Midwest U.S. Nutr Cycl Agroecosyst 93:65–74

Low NH (1990) Food analysis, 417/717: laboratory manual. University of Saskatchewan, Department of Applied Microbiology and Food Science, Canada

Memonl M, Memonl KS, Mirani S, Jamro GM (2014) Comparative evaluation of organic wastes for improving maize growth and NPK content. Afr J Biotechnol 11:9343–9349

Mikkelsen R (2009) Ammonia emissions from agricultural operations: fertilizer. Better Crops 93:9–11

Mikkelsen R, Hartz TK (2008) Nitrogen sources for organic crop production. Better Crops 92:16–19

Monneveux P, Zaidi PH, Sanchez C (2005) Population density and low nitrogen affects yield-associated traits in tropical maize. Crop Sci 45:535–545

Nazli RI, Inal I, Kusvuran A, Demirbas A, Tansi V (2015) Effects of different organic materials on forage yield and nutrient uptake of silage maize (Zea mays L.). J Plant Nutr. doi:10.1080/01904167.2015.1109103

NFDC (2004) Fertilizer use in Pakistan. Planning and Development Division, National Fertilizer Development Center, Islamabad

Overdahl CJ, Rehm GW, Meredith HL (2016) Fertilizer urea: nitrogen: nutrient management. University of Minnesota, Extension, USA http://www.extension.umn.edu/agriculture/nutrient-management/nitrogen/fertilizer-urea/. Accessed 12 July 2016

PARC (2016) Irrigation in Pakistan. Pakistan Agricultural Research Council, Islamabad

Rastgou B, Ebadi A, Vafaie A, Moghadam SH (2013) The effects of nitrogen fertilizer on nutrient uptake, physiological traits and yield components of safflower (Carthamus tinctorius L.). Int J Agron Plant Prod 4:355–364

Reddy DD, Rao AS, Reddy KS, Takkar PN (1999) Yield sustainability and phosphorus utilization in soybean–wheat system on Vertisols in response to integrated use of manure and fertilizer phosphorus. Field Crops Res 62:181–190

Salvagiotti F, Castellarin JM, Miralles DJ, Pedrol HM (2009) Sulfur fertilization improves nitrogen use efficiency in wheat by increasing nitrogen uptake. Field Crops Res 113:170–177

Sarangi BK, Mudliar SN, Bhatt P, Kalve S, Chakrabarti T, Pandey RA (2008) Compost from sugar mill pressmud and distillery spentwash for sustainable agriculture. Dyn Soil Dyn Plant 2:35–49

Sarwar G, Schmeisky H, Hussain N, Muhammad S, Ibrahim M, Safdar E (2008) Improvement of soil physical and chemical properties with compost application in rice–wheat cropping system. Pak J Bot 40:275–282

Senesi N (1989) Composted materials as organic fertilizers. Sci Total Environ 81–82:521–542

Shah A, Shafi M, Bakht J, Mohammad W, Shah M, Jan MT, Khan MJ, Shah Z, Raziuddin (2010) Effect of integrated use of nitrogen on yield and N uptake of maize crop. Pak J Bot 42:3633–3638

Shah AH, Gill KH, Syed NI (2011) Sustainable salinity management for combating desertification in Pakistan. Int J Water Res Arid Environ 1:312–317

Singh RP, Das SK, Rao UMB, Reddy MN (1996) Towards sustainable dryland agriculture practices. Bulletin, CFUDA, Hyderabad, India, pp 5–9

Siyal AA, Bristow KL, Simunek J (2012) Minimizing nitrogen leaching from furrow irrigation through novel fertilizer placement and soil surface management strategies. Agric Water Manag 115:242–251

Stanford G, Smith SJ (1972) Nitrogen mineralization potentials of soils. Soil Sci Soc Am Proc 36:465–472

Steel RGD, Torrie JH, Dickey DA (1997) Principles and procedures of statistics: a biometrical approach. McGraw Hill Book Companies, New York

Suganya K, Rajannan G (2009) Effect of one time post-sownand pre-sown application of distillery spentwash on the growth and yield of maize crop. Bot Res Int 2:288–294

Sutton MA, Oenema O, Erisman JW, Leip A, Van Grinsven H, Winiwarter W (2011) Too much of a good thing. Nature 472:159–161

Tafteh A, Sepaskhah AR (2012) Application of HYDRUS-1D model for simulating water and nitrate leaching from continuous and alternate furrow irrigated rapeseed and maize fields. Agric Water Manag 113:19–29

Thierfelder C, Matemba-Mutasaa R, Bunderson WT, Mutenjea M, Nyagumbo I, Mupangwaa W (2016) Evaluating manual conservation agriculture systems in southern Africa. Agric Ecosyst Environ 222:112–124

Thomison PR, Geyer AB (2004) Nitrogen fertility effects on grain yield, protein, and oil of corn hybrids with enhanced grain quality traits. Plant Manag Netw 15:24–27

Unkovich M, Baldock J, Forbes M (2010) Variability in harvest index of grain crops and potential significance for carbon accounting: examples from Australian agriculture. Adv Agron 105:173–219

Uwah DF, Undie UL, John NM (2014) Comparative evaluation of animal manures on soil properties, growth and yield of sweet maize (Zea mays L. saccharata Strut.). J Agric Environ Sci 3:315–331

Vanlauwe B, Kihara J, Chivenge P, Pypers P, Coe R, Six J (2011) Agronomic use efficiency of N fertilizer in maize-based systems in sub-Saharan Africa within the context of integrated soil fertility management. Plant Soil 339:35–50

Veeral DK (2014) Effect of lignite flyash and press mud on maize based intercropping system. Int J Curr Res 6:6968–6971

Waddell JT, Weil RR (2006) Effect of fertilizer placement on solute leaching under ridge tillage and no till. Soil Till Res 90:194–204

Wiese AF, Sweeten JM, Bean BW, Salisbury CD, Chenault EW (1998) High temperature composting of cattle feedlot manure kills weed seed. Appl Eng Agric 14:377–380

Witte CP (2011) Urea metabolism in plants. Plant Sci 180:431–438

Wolkowski RP, Kelling KA, Bundy LG (1998) Nitrogen management on sandy soils. University of Wisconsin, Extension UWEX Fact Sheet A3634, USA http://www.soils.wisc.edu/extension/pubs/A3634.pdf. Accessed 11 June 2016

Bremner JM, Mulvaney CS (1982) Nitrogen-total. In: Page et al. AL (ed) Methods of soil analysis: chemical and micrototal plant properties. Part 2 (Monograph Number 9). ASA, Madison, pp 595–624

Zafar M, Abbasi MK, Arjumend T, Jabran K (2012) Impact of compost, inorganic phosphorus fertilizers and their combination on maize growth, yield, nutrient uptake and soil properties. J Anim Plant Sci 22:1036–1041

Zhang Y, Li C, Wang Y, Hu Y, Christie P, Zhang J, Li X (2016) Maize yield and soil fertility with combined use of compost and inorganic fertilizers on a calcareous soil on the North China Plain. Soil Tillage Res 155:85–94

Zhou MH, Zhu B, Butterbach-Bahl K, Zheng XH, Wang T, Wang YQ (2013) Nitrous oxide emissions and nitrate leaching from a rain-fed wheat–maize rotation in the Sichuan Basin, China. Plant Soil 362:149–159

Zhou MH, Zhu B, Bruggemann N, Bergmann J, Wang YQ, Butterbach-Bahl K (2014) N2O and CH4 emissions, and NO3 leaching on a crop-yield basis from a subtropical rain-fed wheat–Maize rotation in response to different types of nitrogen fertilizer. Ecosystems 17:286–301

Zhou M, Zhub B, Brüggemann N, Dannenmann M, Wang Y, Butterbach-Bahl K (2016) Sustaining crop productivity while reducing environmental nitrogen losses in the subtropical wheat–maize cropping systems: a comprehensive case study of nitrogen cycling and balance. Agric Ecosyst Environ 231:1–14

Zia MS, Aslam M, Nizami MI, Ali A, Saeed Z (1996) Rainfed agriculture: problems and their management. Pak J Soil Sci 11:164–171

Zia MS, Ali A, Aslam M, Baig MB, Saeed Z, Khan MB, Mann RA (1997) Fertility issues and fertilizer management in rice wheat system. FAO Publication, Farm Research Notes for Asia and Far East, Bangkok, pp 36–50
Acknowledgements
The authors are thankful to the Higher Education Commission of Pakistan for providing funds under the Grant: Indigenous 5000 Ph.D. Fellowship (Pin No. 117-6089-AV7-073), which supported this study. We are also grateful to the CGIAR Research Program on Maize, which provided time for Dr. Christian Thierfelder to contribute to the study.
About this article
Cite this article
Iqbal, S., Thierfelder, C., Khan, H.Z. et al. Maximizing maize quality, productivity and profitability through a combined use of compost and nitrogen fertilizer in a semi-arid environment in Pakistan. Nutr Cycl Agroecosyst 107, 197–213 (2017). https://doi.org/10.1007/s10705-017-9829-y
Received:

Accepted:

Published:

Issue Date:
Keywords
Compost

Nitrogen

Income

Nitrogen use efficiency

Pakistan