Abstract
Sub-Saharan Africa (SSA) is plagued by low productivity and little research is available on the attainable responses and profitability to applied nutrients under variable environments. The objective of this study was to determine the attainable maize grain response to and potential of profitability of N, P and K application in SSA using boundary line approaches. Data from experiments conducted in SSA under AfSIS project (2009–2012) and from FAO trials database (1969–1996) in 15 countries and constituting over 375 different experimental locations and 6600 data points are used. Both response to fertilizer and value cost ratio (VCR) are highly variable and no more than 61 % cases for N, 43 % for P and 25 % for K attain VCR of 2 or more. Also, based on the recent AfSIS data, VCR exceeds 1 in just 67 % (N), 57 % (P) and 40 % (K) of the cases, even when best management practices are applied on a research farm, and interest rates are zero. Chances for profitability are highest when soil organic carbon is 1–2 % and control maize grain yield is 1–3 t ha−1 but also depends on relatively static soil properties (primarily texture and mineralogy) that are not under farmer control. We conclude that return on investment of macronutrient fertilizer is highly variable and can be substantially increased by helping farmers decide where to apply the fertilizers. Consequently, farmers need access to information on factors influencing economic returns of fertilizer use in order to make the right decisions.
Access options
Buy single article
Instant access to the full article PDF.
US$ 39.95
Tax calculation will be finalised during checkout.
Subscribe to journal
Immediate online access to all issues from 2019. Subscription will auto renew annually.
US$ 119
Tax calculation will be finalised during checkout.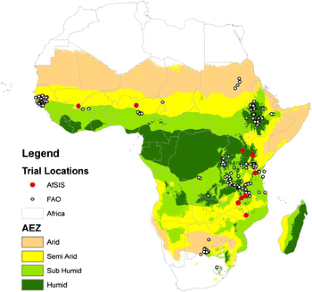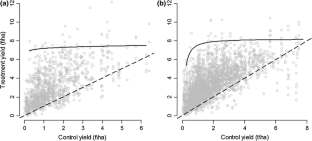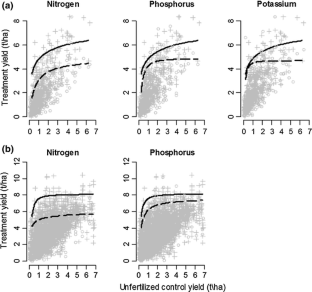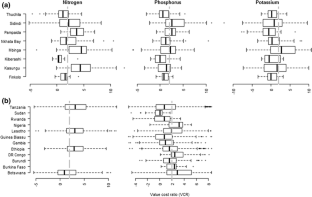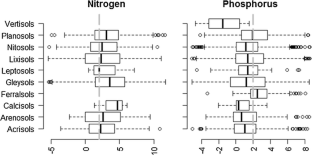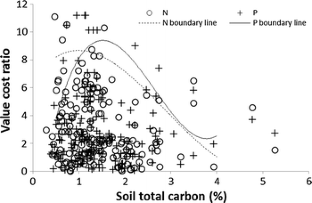 References
Adediran JA, Banjoko VA (1995) Response of Maize to nitrogen, phosphorus and potassium fertilizers in the savanna zones of Nigeria. Commun Soil Sci Plant Anal 261:593–606

Akinnifesi FK, Ajayi OC, Sileshi G, Chirwa PW, Chianu J (2010) Fertilizer trees for sustainable food security in the maize-based production systems of East and Southern Africa. A review. Agron Sustain Dev 30:615–629

Ariga J, Jayne TS, Nyoro JK (2006). Factors driving the growth in fertilizer consumption in Kenya, 1990–2005: Sustaining the Momentum in Kenya and Lessons for Broader Replicability in sub-Saharan Africa. Working paper, Tegemeo Institute of Egerton University. http://ageconsearch.umn.edu/bitstream/55167/2/wp24.pdf

Chikoye D, Schulza S, Ekeleme F (2004) Evaluation of integrated weed management practices for maize in the northern Guinea savanna of Nigeria. Crop Prot 23:895–900

Diwani NT, Folkard A, Becker M, Mussgnug M (2013) Characterizing farming systems around Kakamega Forest, Western Kenya, for targeting soil fertility–enhancing technologies. J Plant Nutr Soil Sci 176:585–594

Donovan C, Damaseke M, Govereh J, Simumba D (2002) Framework and initial analyses of fertilizer profitability in maize and cotton in Zambia. working paper no. 5, Food security research project. http://ageconsearch.umn.edu/bitstream/54460/2/wp5zambia.pdf

Druilhe Z, Barreiro-Hurle J (2012) Fertilizer subsidies in sub-Saharan Africa. ESA working paper no. 12-04. Rome, FAO

FAO Nutrient Response Database: FERTIBASE http://www.fao.org/ag/agl/agll/nrdb/

Holford ICR, Doyle AD (1993) The recovery of fertilizer phosphorus by wheat, its agronomic efficiency, and their relationship to soil phosphorus. Aust J Agric Res 44:1745–1756

Huising J, Zingore S, Kihara J, Nziguheba G (2012) Diagnostic trials: a practical guide and instruction manual. African Soil Information Service, Nairobi

Imhoff S, Kay BD, Da Silva AP, Hajabbasi MA (2010) Evaluating responses of maize (Zea mays L.) to soil physical conditions using a boundary line approach. Soil Tillage Res 106(2):303–310

Kenya Agricultural Research Institute (KARI) (1994) Fertilizer Use Recommendations Project: vols 1–22. KARI, Nairobi, Kenya

Kihara J, Njoroge S (2013) Phosphorus agronomic efficiency in maize-based cropping systems: a focus on western Kenya. Field Crops Res 150:1–8

Kihara J, Tamene LD, Massawe P, Bekunda M (2015) Agronomic survey to assess crop yield, controlling factors and management implications: a case-study of Babati in northern Tanzania. Nutr Cycl Agro-ecosyst 102:5–16

Koning NBJ, Van Ittersum MK, Becx GA, Van Boekel MAJS, Brandenburg WA, Van Den Broek JA, Goudriaan J, Van Hofwegen G, Jongeneel RA, Schiere JB, Smies M (2008) Long-term global availability of food: continued abundance or new scarcity? NJAS 55:229–292

Lal R (2010) Enhancing eco-efficiency in agro-ecosystems through soil carbon sequestration. Crop Sci 50:120–131

Ngome FA, Mtei MK, Ijang PT (2010) Mucuna pruriens differentially affect maize yields in three soils of Kakamega District. Int J Biolog Chem Sci 6:941–949

Ngome AF, Becker M, Mtei KM, Mussgnug F (2011) Fertility management for maize cultivation in some soils of Western Kenya. Soil Tillage Res 117:69–75

Ngwira A, Sleutel S, De Neve S (2012) Soil carbon dynamics as influenced by tillage and crop residue management in loamy sand and sandy loam soils under smallholder farmers' conditions in Malawi. Nutr Cycl Agroecosyst 92:315–328

Olorede KO, Mohammed IW, Adeleke LB (2013) Economic selection of efficient level of NPK 16:16:16 Fertilizer for Improved Yield Performance of a Maize Variety in the South Guinea Savannah Zone of Nigeria. International Institute for Science, Technology and Education

Phiri AT, Njoloma JP, Kanyama-Phiri GY, Snapp S, Lowole MW (2010) Maize yield response to the combined application of Tundulu rock phosphate and pigeon pea residues in Kasungu, Central Malawi. Afr J Agric Res 5:1235–1242

Roy RN, Misra RV, Lesschen JP, Smaling EM (2003). Assessment of soil nutrient balance: approaches and methodologies. FAO fertilizer and plant nutrition bulletin 14. FAO, Rome, p 83

Shater TM, Mcbratney AB (2004) Boundary-line analysis of field-scale yield response to soil properties. J Agricult Sci 142:553–560

Subedi KD, Ma BL (2009) Assessment of some major yield-limiting factors on maize production in a humid temperate environment. Field Crops Res 110:21–26

Tasistro A (2012) Use of boundary lines in field diagnosis and research for Mexican farmers. Better Crops 96:11–13

The R Project for Statistical Computing. www.r-project.org

Tittonell P, Giller KE (2012) When yield gaps are poverty traps: the paradigm of ecological intensification in African smallholder agriculture. Field Crops Res 143:76–90

Tittonell P, Shepherd KD, Vanlauwe B, Giller KE (2008a) Unravelling the effects of soil and crop management on maize productivity in smallholder agricultural systems of western Kenya—an application of classification and regression tree analysis. Agric Ecosyst Environ 123:137–150

Tittonell P, Vanlauwe B, Corbeels M, Giller KE (2008b) Yield gaps, nutrient use efficiencies and response to fertilisers by maize across heterogeneous smallholder farms of western Kenya. Plant Soil 313:19–37

Vanlauwe B, Zingore S (2011) Integrated soil fertility management: an operational definition and consequences for implementation and dissemination. Better Crops 95:4–7

Vanlauwe B, Kihara J, Chivenge P, Pypers P, Coe R, Six J (2011) Agronomic use efficiency of N fertilizer in maize-based systems in sub-Saharan Africa within the context of integrated soil fertility management. Plant Soil 339:35–50

Vitale J, Boyer T, Uaiene R, Sanders JH (2007a) The economic impacts of introducing Bt technology in smallholder cotton production systems in West Africa: a case study of Mali. J Agrobiotechnol Manag Econ 10:71–84

Vitale J, Boyer T, Uaiene R, Sanders JH (2007b) The economic impacts of introducing Bt technology in smallholder cotton production systems in West Africa: a case study of Mali. J Agrobiotechnol Manag Econ 10:71–84

Wale M, Schulthess F, Kairu EW, Omwega CO (2006) Cereal yield losses caused by lepidopterous stemborers at different nitrogen fertilizer rates in Ethiopia. J Appl Entomol 130:220–229

Wokabi SM (1994) Quantified land evaluation for maize yield analysis. At three sites on the eastern sides of Mount Kenya, PhD thesis. International Institute for Aerospace Survey and Earth Sciences (ITC), The Netherlands. ISBN 90 6164 102 0

Wopereis MCS, Tamélokpo A, Ezui K, Gnakpénou D, Fofana B, Breman H (2006) Mineral fertilizer management of maize on farmer fields differing in organic inputs in the West African savanna. Field Crops Res 96:355–362

Xu W, Guan Z, Jayne TS, Black R (2009) Factors influencing the profitability of fertilizer use on maize in Zambia. Agric Econ 40:437–446

Yanggen D, Kelly V, Reardon T, Naseem A (1998) Incentives for fertilizer use in sub-Saharan Africa: a review of empirical evidence on fertilizer response and profitability. MSU Agricultural Economics. Web site: http://www.aec.msu.edu/agecon/; MSU Food Security II Web Site: http://www.aec.msu.edu/agecon/fs2/index.htm

Zingore S (2011) Maize productivity and response to fertilizer use as affected by soil fertility variability, manure application and cropping system. Better Crops 95:1–6

Zingore S, Murwira HK, Delve RJ, Giller KE (2007) Influence of nutrient management strategies on variability of soil fertility, crop yields and nutrient balances on smallholder farms in Zimbabwe. Agric Ecosyst Environ 119:112–126
About this article
Cite this article
Kihara, J., Huising, J., Nziguheba, G. et al. Maize response to macronutrients and potential for profitability in sub-Saharan Africa. Nutr Cycl Agroecosyst 105, 171–181 (2016). https://doi.org/10.1007/s10705-015-9717-2
Received:

Accepted:

Published:

Issue Date:
Keywords
Boundary analysis

Attainable yield

Fertilizer profitability

Macronutrients