Abstract
Vegetable is important cash crop in Dianchi lake's catchment, but the non-point source (NPS) pollution from the intensive agricultural production systems is a critical hurdle on the alleviation of serious eutrophication in Dianchi lake. Our objectives were to quantify soil erosion and NPS pollution in rain-fed vegetable production systems at the area. The experiment was a randomized complete factorial design with two plastic mulch treatments (narrow vs. wide plastic mulch) and two rotation treatments (broccoli–zucchini–winter wheat vs. broccoli–zucchini–fallow). The narrow-plastic-mulch system has significantly (P < 0.05) increased runoff and soil loss than wide-plastic-mulch system. Results indicated that plastic mulch substantially accelerated runoff generation and soil erosion at vegetable seedling stages, whereas runoff and soil loss were apparently alleviated in furrow with residue mulch. The sediment transport played a predominant role in soil nitrogen (N) and phosphorus (P) movement by surface runoff. The annual losses of N and P via surface runoff in the vegetable field were ranged from 2.0 to 5.1 kg/ha and 0.3 to 1.1 kg/ha respectively in the three considerably drier rain season, but their losses never exceeded 1 % of the annual fertilizer application. Removal of crop residues was the major causes of N and P export from the soil in the vegetable fields, which exceeded 20 and 8 % of the annual nitrogen and phosphorus fertilizer application respectively. This implicated that inappropriately discarding of the residues would pose serious consequences for water contamination of Dianchi lake. As under appropriate discarding of residues, the wide-plastic-mulch system could improve NPS pollution control and crop production in vegetable field at Dianchi lake's catchment.
Access options
Buy single article
Instant access to the full article PDF.
USD 39.95
Price excludes VAT (USA)
Tax calculation will be finalised during checkout.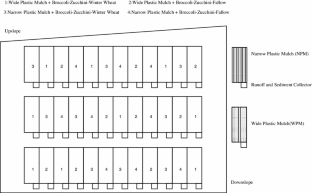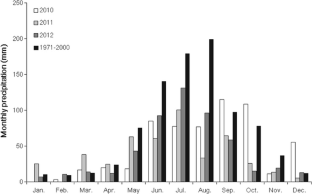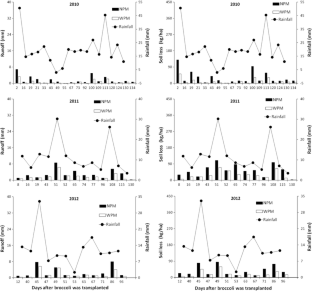 References
Bao SD (1998) Analyzing plant tissue samples. In: Shi RH, Bao SD (eds) Soil and agricultural chemistry analysis, 2nd edn. China Agricultural Press, Beijing, pp 33–35

Barton AP, Fullen MA, Mitchell DJ et al (2004) Effects of soil conservation measures on erosion rates and crop productivity on subtropical Ultisols in Yunnan Province. China Agric Ecosyst Environ 104:343–357

Chen JN, Zhang TZ, Du PF (2002) Assessment of water pollution control strategies: a case study for the Dianchi Lake. J Environ Sci 14:76–78

Conan C, Bouraoui F, Turpin GN et al (2003) Modeling flow and nitrate fate at catchment scale in Brittany (France). J Environ Qual 32:2026–2032

Dawson JJ, Smith P (2007) Carbon losses from soil and its consequences for land-use management. Sci Total Environ 382(2):165–190

Fisher PD (1995) An alternative plastic mulching system for improved water management in dryland maize production. Agric Water Manage 27:155–166

Gutezeit B (2004) Yield and nitrogen balance of broccoli at different soil moisture levels. Irrig Sci 23:21–27

Jin K, Cornelis WM, Schiette W et al (2008) Redistribution and loss of soil organic carbon by overland flow under various soil management practices on the Chinese loess plateau. Soil Use Manage 24:181–191

Kelly JR, Levin SA (1986) A comparison of aquatic and terrestrial nutrient cycling and production processes in natural ecosystems, with reference to ecological concepts of relevance to some waste disposal issues. In: Kullenberg G (ed) The role of the oceans as a waste disposal option. NATO Advanced Research Workshop Series. D. Reidel Publishing, Dordrecht, pp 165–203

Li LX, Yang QF, Liu GC et al (2009) Application of the techniques of whole plastic-film mulching on double ridges and planting in arid agriculture in Gansu. Modern Agric Sci Tech 17:55–57

Logan TJ (1993) Agricultural best management practices for water pollution control: current issues. Agric Ecosyst Environ 46:223–231

Lu WJ, Wang HT (2008) Role of rural solid waste management in non-point source pollution control of Dianchi Lake catchments. China Front Environ Sci Eng China 2(1):15–23

McKeown A, Warland J, McDonald MR (2005) Long-term marketable yields of horticultural crops in southern Ontario in relation to seasonal climate. Can J Plant Sci 85:431–438

Qin HY (1998) Analyzing plant tissue samples. In: Shi RH, Bao SD (eds) Soil and agricultural chemistry analysis, 2nd edn. China Agricultural Press, Beijing, pp 213–217

Rice PJ, Harman-Fetcho JA, Teasdale JR et al (2004) Use of vegetative furrows to mitigate copper loads and soil loss in runoff from polyethylene (plastic) mulch vegetable production systems. Environ Toxicol Chem 23(3):719–725

Rice PJ, Harman-Fetcho JA, Sadeghi AM et al (2007) Reducing insecticide and fungicide loads in runoff from plastic mulch with vegetative-covered furrows. J Agric Food Chem 55:1377

Richards RP, Baker DB, Creamer NL et al (1996) Well water quality, well vulnerability, and agricultural contamination in the Mid Western United States. J Environ Qual 25:389–402

Standard Methods for the Examination of Water and Wastewater (1999) American Public Health Association; American Water Works Association; Water Environment Federation, 20th ed. Washington DC

Sun B, Zhang LX, Yang LZ et al (2012) Agricultural non-point source pollution in China: causes and mitigation measures. Ambio 41:370–379

Wan Y, El-Swaify SA (1999) Runoff and soil erosion as affected by plastic mulch in a Hawaiian pineapple field. Soil Till Res 52:29–35

Yunnan Province Hydrological and Water Resources Bureau (2007) Water resources bulletin of Yunnan province, Kunming

Zhang GS, Zhang XX, Hu XB (2013) Runoff and soil erosion as affected by plastic mulch patterns in vegetable field at Dianchi lake's catchment. China Agric Water Manage 122:20–27
Acknowledgments
The authors gratefully acknowledge financial support from National Key Sciences and Technology Programme for Water Solutions (2008ZX07102-004, 2012ZX07102-003) and NSFC (31060085).
About this article
Cite this article
Zhang, G.S., Li, J.C., Hu, X.B. et al. On-farm assessment of soil erosion and non-point source pollution in a rain-fed vegetable production system at Dianchi lake's catchment, southwestern China. Nutr Cycl Agroecosyst 96, 67–77 (2013). https://doi.org/10.1007/s10705-013-9577-6
Received:

Accepted:

Published:

Issue Date:

DOI: https://doi.org/10.1007/s10705-013-9577-6
Keywords