Abstract
Greenhouse vegetable cultivation has greatly increased productivity but has also led to a rapid accumulation of nitrate in soils and probably in plants. Significant losses of nitrate–nitrogen (NO3-N) could occur after heavy N fertilization under open-field conditions combined with high precipitation in the summer. It is urgently needed to improve N management under the wide spread greenhouse vegetable production system. The objective of this study was to evaluate the effects of a summer catch crop and reduced N application rates on N leaching and vegetable crop yields. During a 2-year period, sweet corn as an N catch crop was planted between vegetable crops in the summer season under 5 N fertilizer treatments (0, 348, 522, 696, and 870 kg ha−1) in greenhouse vegetable production systems in Tai Lake region, southern China. A water collection system was installed at a depth of 0.5 m in the soil to collect leachates during the vegetable growing season. The sweet corn as a catch crop reduced the total N concentration from 94 to 59 mg l−1 in leached water and reduced the average soil nitrate N from 306 to 195 mg kg−1 in the top 0.1-m soil during the fallow period of local farmers' N application rate (870 kg ha−1). Reducing the amount of N fertilizer and using catch crop during summer fallow season reduced total N leaching loss by 50 and 73%, respectively, without any negative effect on vegetable yields.
Access options
Buy single article
Instant access to the full article PDF.
USD 39.95
Price excludes VAT (USA)
Tax calculation will be finalised during checkout.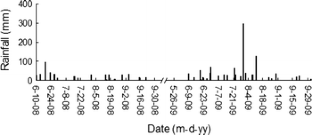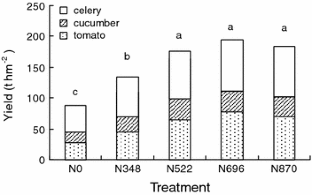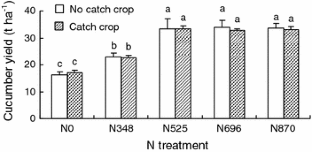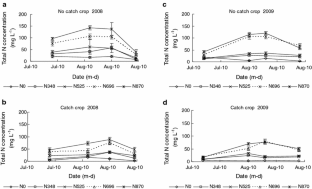 Similar content being viewed by others
References
Askegaard M, Eriksen J (2007) Growth of legume and nonlegume catch crops and residual-N effects in spring barley on coarse sand. J Plant Nutr Soil Sci-Zeitschrift Fur Pflanzenernahrung Und Bodenkunde 170:773–780

Askegaard M, Eriksen J (2008) Residual effect and leaching of N and K in cropping systems with clover and ryegrass catch crops on a coarse sand. Agric Ecosyst Environ 123:99–108

Askegaard M, Olesen JE, Kristensen K (2005) Nitrate leaching from organic arable crop rotations: effects of location, manure and catch crop. Soil Use Manag 21:181–188

Bergstrom S, Brandt M, Gustafson A (1987) Simulation of runoff and nitrogen leaching from 2 fields in Southern Sweden. Hydrol Sci J Des Sci Hydrol 32:191–205

Berntsen J, Olesen JE, Petersen BM, Hansen EM (2006) Long-term fate of nitrogen uptake in catch crops. Eur J Agron 25:383–390

Blomback K, Eckersten H, Lewan E, Aronsson H (2003) Simulations of soil carbon and nitrogen dynamics during seven years in a catch crop experiment. Agric Syst 76:95–114

Bodner G, Himmelbauer M, Loiskandl W, Kaul HP (2010) Improved evaluation of cover crop species by growth and root factors. Agron Sustain Develop 30:455–464

Byrnes BH (1990) Environmental-effects of N fertilizer use—an overview. Fertil Res 26:209–215

Chen Q, Zhang XS, Zhang HY, Christie P, Li XL, Horlacher D, Liebig HP (2004) Evaluation of current fertilizer practice and soil fertility in vegetable production in the Beijing region. Nutr Cycl Agroecosyst 69:51–58

Conrad Y, Fohrer N (2009) Modelling of nitrogen leaching under a complex winter wheat and red clover crop rotation in a drained agricultural field. Phys Chem Earth 34:530–540

Constantin J, Mary B, Laurent F, Aubrion G, Fontaine A, Kerveillant P, Beaudoin N (2010) Effects of catch crops, no till and reduced nitrogen fertilization on nitrogen leaching and balance in three long-term experiments. Agric Ecosyst Environ 135:268–278

Crews TE, Peoples MB (2005) Can the synchrony of nitrogen supply and crop demand be improved in legume and fertilizer-based agroecosystems? A review. Nutr Cycl Agroecosyst 72:101–120

Eriksen J, Askegaard M, Soegaard K (2008) Residual effect and nitrate leaching in grass-arable rotations: effect of grassland proportion, sward type and fertilizer history. Soil Use Manag 24:373–382

Garwood TWD, Davies DB, Hartley AR (1999) The effect of winter cover crops on yield of the following spring crops and nitrogen balance in a calcareous loam. J Agric Sci 132:1–11

Guo RY, Li XL, Christie P, Chen Q, Jiang RF, Zhang FS (2008) Influence of root zone nitrogen management and a summer catch crop on cucumber yield and soil mineral nitrogen dynamics in intensive production systems. Plant Soil 313:55–70

Hao ZP, Christie P, Zheng F, Li JL, Chen Q, Wang JG, Li XL (2009) Excessive nitrogen inputs in intensive greenhouse cultivation may influence soil microbial biomass and community composition. Commun Soil Sci Plant Anal 40:2323–2337

He FF, Chen Q, Jiang RF, Chen XP, Zhang FS (2007) Yield and nitrogen balance of greenhouse tomato (Lycopersicum esculentum Mill.) with conventional and site-specific nitrogen management in northern China. Nutr Cycl Agroecosyst 77:1–14

Helander CA (2004) Residual nitrogen effects on a succeeding oat (Avena sativa L.) crop of clover species and ryegrass (Lolium perenne l.) undersown in winter wheat (Triticum aestivum L.). Acta Agric Scand Sect B-Soil Plant Sci 54:67–75

Henriksen CB, Rasmussen J, Molgaard JP (2007) Potato tuber yield and quality and soil inorganic nitrogen as affected by timing of ridging with and without catch crops. Soil Tillage Res 94:36–46

Knudsen MT, Kristensen IBS, Berntsen J, Petersen BM, Kristensen ES (2006) Estimated N leaching losses for organic and conventional farming in Denmark. J Agric Sci 144:135–149

Kramberger B, Gselman A, Janzekovic M, Kaligaric M, Bracko B (2009) Effects of cover crops on soil mineral nitrogen and on the yield and nitrogen content of maize. Eur J Agron 31:103–109

Kristensen HL, Thorup-Kristensen K (2004) Root growth and Nitrate uptake of three different catch crops in deep soil layers. Soil Sci Soc Am J 68:529–537

Kuo S, Jellum EJ (2000) Long-term winter cover cropping effects on corn (Zea mays L.) production and soil nitrogen availability. Biol Fertil Soils 31:470–477

Lewan E (1994) Effects of a catch crop on leaching of nitrogen from a sandy soil—simulations and measurements. Plant Soil 166:137–152

Liu GD, Wu WL, Zhang J (2005) Regional differentiation of non-point source pollution of agriculture-derived nitrate nitrogen in groundwater in northern China. Agric Ecosyst Environ 107:211–220

Min J, Shi WM, Wang JR, Hu ZJ (2007) A new installation for collecting seepage of greenhouse soil. Soils 39:1009–1011 (in Chinese)

Olfs HW, Blankenau K, Brentrup F, Jasper J, Link A, Lammel J (2005) Soil- and plant-based nitrogen-fertilizer recommendations in arable farming. J Plant Nutr Soil Sci-Zeitschrift Fur Pflanzenernahrung Und Bodenkunde 168:414–418

Pedersen A, Thorup-Kristensen K, Jensen LS (2009) Simulating nitrate retention in soils and the effect of catch crop use and rooting pattern under the climatic conditions of Northern Europe. Soil Use Manag 25:243–254

Ren T, Christie P, Wang JH, Chen Q, Zhang FS (2010) Root zone soil nitrogen management to maintain high tomato yields and minimum nitrogen losses to the environment. Sci Hortic 125:25–33

Shi WM, Yao J, Yan F (2009) Vegetable cultivation under greenhouse conditions leads to rapid accumulation of nutrients, acidification and salinity of soils and groundwater contamination in South-Eastern China. Nutr Cycl Agroecosyst 83:73–84

Snapp SS, Swinton SM, Labarta R, Mutch D, Black JR, Leep R, Nyiraneza J, O'Neil K (2005) Evaluating cover crops for benefits, costs and performance within cropping system niches. Agron J 97:322–332

Svensson KS, Lewan E, Clarholm M (1994) Effects of a ryegrass catch crop on microbial biomass and mineral nitrogen in an arable soil during winter. Swedish J Agric Res 24:31–38

Thorup-Kristensen K, Nielsen NE (1998) Modelling and measuring the effect of nitrogen catch crops on the nitrogen supply for succeeding crops. Plant Soil 203:79–89

Thorup-Kristensen K, Magid J, Jensen LS (2003) Catch crops and green manures as biological tools in nitrogen management in temperate zones. Adv Agron 79:227–302

VanScholl L, VanDam AM, Leffelaar PA (1997) Mineralisation of nitrogen from an incorporated catch crop at low temperatures: experiment and simulation. Plant Soil 188:211–219

Vos J, van der Putten PEL (1997) Field observations on nitrogen catch crops.1. Potential and actual growth and nitrogen accumulation in relation to sewing date and crop species. Plant Soil 195:299–309

Wang Q, Li Y, Klassen W (2005) Influence of summer cover crops on conservation of soil water and nutrients in a subtropical area. J Soil Water Conserv 60:58–63

Zhang WL, Tian ZX, Zhang N, Li XQ (1996) Nitrate pollution of groundwater in northern China. Agric Ecosyst Environ 59:223–231

Zhu JH, Li XL, Christie P, Li JL (2005) Environmental implications of low nitrogen use efficiency in excessively fertilized hot pepper (Capsicum frutescens L.) cropping systems. Agric Ecosyst Environ 111:70–80
Acknowledgments
We are grateful to the National Basic Research Program of China (2007CB109303), the NSFC–JST project (No. 30821140542) and the Major Science and Technology Program of China for Water Pollution Control and Treatment (No. 2008ZX07101-005) for financial supports.
About this article
Cite this article
Min, J., Shi, W., Xing, G. et al. Effects of a catch crop and reduced nitrogen fertilization on nitrogen leaching in greenhouse vegetable production systems. Nutr Cycl Agroecosyst 91, 31–39 (2011). https://doi.org/10.1007/s10705-011-9441-5
Received:

Accepted:

Published:

Issue Date:

DOI: https://doi.org/10.1007/s10705-011-9441-5
Keywords