Abstract
Ecosystem models are increasingly used to guide natural resource management policy decisions. In this study, we build on available agroecosystem policy modeling tools by testing two methodologies for applying the Denitrification-Decomposition (DNDC) model to naturally-drained, temperate grain cropping systems. We used long-term observations from the Rodale Institute Farming Systems Trial (FST) to validate the DNDC model for application to grain cropping systems on silty clay loam soils typical of mid-Atlantic farmlands. Based on modeling efficiency (EF), Theil's Inequality (U 2), and correlation coefficient (r) metrics, the DNDC model showed moderate fit between observations and simulations at annual time scales for drainage (EF = 0.34, U 2 = 0.12, r = 0.74) and nitrate leaching (EF = −0.05, U 2 = 0.4, r = 0.86). Replication of observed seasonal water flux and nitrate leaching trends were difficult to capture in model simulations, resulting in a weak fit between observations and simulations for drainage (EF = −1.2, U 2 = 0.89, r = 0.28) and nitrate leaching (EF = −2.5, U 2 = 2.1, r = 0.3). Our comparison of observations and model outcomes highlights the challenge of scaling up belowground fluxes to farm or watershed scales. Ecosystem model representation of water transport generally assumes highly homogeneous soil conditions. In contrast, data from lysimeter sampling represents a small percentage of the total study area and is unlikely to capture average soil field properties. Additionally, our Rodale work highlights the limitation of biogeochemistry models which use vertical mass movement to describe water drainage and nitrate leaching. The application of the DNDC model to the Rodale FST demonstrates that model studies are not a simple substitute for field observation. The predictive utility of model outcomes can only be broadened through rigorous testing against long-term field observations.
Access options
Buy single article
Instant access to the full article PDF.
US$ 39.95
Tax calculation will be finalised during checkout.
Subscribe to journal
Immediate online access to all issues from 2019. Subscription will auto renew annually.
US$ 119
Tax calculation will be finalised during checkout.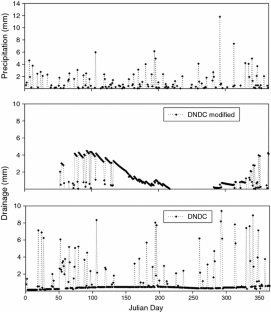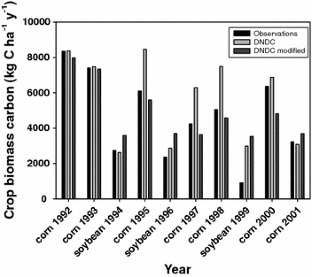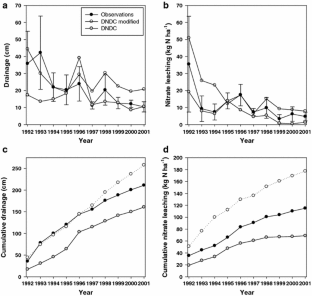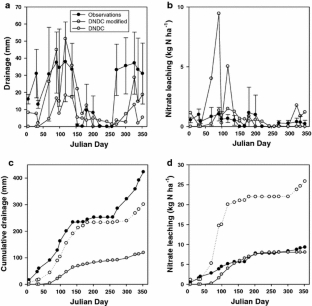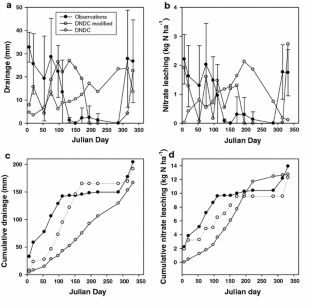 References
Addiscott TM (1996) Measuring and modelling nitrogen leaching: parallel problems. Plant Soil 181:1–6

Arnold JG, Srinivasan R, Muttiah RS, Williams JR (1998) Large area hydrologic modeling and assessment—part 1: model development. J Am Water Resour Assoc 34(1):73–89

David MB, Del Grosso SJ, Hu X et al (2009) Modeling denitrification in a tile-drained, corn and soybean agroecosystem of illinois, USA. Biogeochemistry 93(1–2):7–30

U.S.DOE, USDA (2009) Sustainability of biofuels future research opportunities: Report from the October 2008 workshop. DOE/SC-0114 U.S. DOE and USDA

Drinkwater LE, Snapp SS (2007) Nutrients in agroecosystems: rethinking the management paradigm. Adv Agron 92:163

Gassman PW, Williams JR, Benson VW et al. (2005) Historical development and applications of the EPIC and APEX models. Working paper 05-WP 397 Center for Agricultural and Rural Development, Iowa State University Ames. Iowa

Heaton EA, Dohleman FG, Long SP (2008) Meeting US biofuel goals with less land: the potential of miscanthus. Glob Chang Biol 14(9):2000–2014

Howell TA, Tolk JA, Schneider AD, Evett ST (1998) Evapotranspiration, yield, and water use efficiency of corn hybrids differing in maturity. Agron J 90:3–9

Jabro JD, Jabro AD, Fox RH (2006) Accuracy and performance of three water quality models for simulating nitrate nitrogen losses under corn. J Environ Qual 35:1227–1236

Jemison JM Jr, Jabro JD, Fox RH (1994) LEACHM evaluation: II. Simulation of nitrate leaching from nitrogen-fertilized and manured corn. Agron J 86:852–859

Jones CA, Kiniry JR (1986) CERES-Maize. A simulation model of maize growth and development. Texas A&M University Press, College Station, Texas

Li CS, Frolking S, Frolking TA (1992) A model of nitrous-oxide evolution from soil driven rainfall events. 1. model structure and sensitivity. J Geophys Res-Atmos 97(D9):9759–9776

Li CS, Aber J, Stange F, Butterbach-Bahl K, Papen H (2000) A process-oriented model of N2O and NO emissions from forest soils: 1. model development. J Geophys Res-Atmos 105(D4):4369–4384

Li C, Mosier A, Wassmann R, Cai Z, Zheng X, Huang Y, Tsuruta H, Boonjawat J, Lantin R (2004) Modeling greenhouse gas emissions from rice-based production systems: sensitivity and upscaling. Global Biogeochem Cycles 18:GB1043. doi:10.1019/2003GB002045

Li C, Frolking S, Xiao X, Moore B III, Boles S, Qiu J, Huang Y, Salas W, Sass R (2005) Modeling impacts of farming management alternatives on CO2, CH4, and N2O emissions: a case study for water management of rice agriculture of China. Global Biogeochem Cycles 19:GB3010

Li CS, Farahbakhshazad N, Jaynes DB, Dinnes DL, Salas W, McLaughlin D (2006) Modeling nitrate leaching with a biogeochemical model modified based on observationsin a row-crop field in Iowa. Ecol Model 196:116–130

Litaor MI (1988) Review of soil solution sampler. Water Resour Res 24(5):727–733

Malone RW, Ma L, Heilman P, Karlen DL, Kanwar RS, Hatfield JL (2007) Simulated N management effects on corn yield and tile-drainage nitrate loss. Geoderma 140:272–283

Mayer DG, Butler DG (1993) Statistical validation. Ecol Model 68(1–2):21–32

Neitsch SL, Arnold JG, Kiniry JR, Williams JR, King KW (2005) Soil and water assessment tool user's manual. TWRI Report TR-191 Texas Water Resources Institute College Station, Texas

Parton WJ, Scurlock JMO, Ojima DS et al (1993) Observations and modeling of biomass and soil organic-matter dynamics for the grassland biome worldwide. Global Biogeochem Cycles 7(4):785–809

Parton WJ, Hartman M, Ojima D, Schimel D (1998) DAYCENT and its land surface submodel: description and testing. Glob Planet Change 19(1–4):35–48

Peters S, Wander M, Saporito L, Harris G, Friedman D (1997) Management impacts on SOM and related soil properties in a long-term farming systems trial in Pennsylvania: 1981–1991. In: Paul E, Paustian K, Elliott E, Cole C (eds) Soil organic matter in temperate acroecosystems: long-term experiments in North America. CRC Press, Boca Raton, p 432p

Pimentel D, Hepperly P, Hanson J, Douds D, Seidel R (2005) Environmental, energetic, and economic comparisons of organic and conventional farming systems. Bioscien 55(7):573–582

Power M (1993) The predictive validation of ecological and environmental-models. Ecol Model 68(1–2):33–50

Ritchie JT, Godwin DC, Otter-Nache S (1988) CERES-Wheat. A simulation model of wheat growth and development. Texas A&M University Press, College Station, Texas

Skaggs RW (1978) A water management model for shallow water table soils. University of North Carolina Water Resources Research Institute Raleigh, NC

Smith P, Smith JU, Powlson DS et al (1997) A comparison of the performance of nine soil organic matter models using datasets from seven long-term experiments. Geoderma 81(1–2):153–225

Sogbedji JM, van Es HM, Hutson JL (2001) N fate and transport under variable cropping history and fertilizer rate on loamy sand and clay loam soils: I. Calibration of the LEACHMN model. Plant Soil 229:57–70

Tonitto C, David MB, Drinkwater LE, Li C (2007a) Application of the DNDC model to tile-drained illinois agroecosystems: model calibration, validation, and uncertainty analysis. Nutr Cycl Agroecosyst 78(1):51–63

Tonitto C, David MB, Li C, Drinkwater LE (2007b) Application of the DNDC model to tile-drained Illinois agroecosystems: model comparison of conventional and diversified rotations. Nutr Cycl Agroecosyst 78:65–81

Williams JR, Dyke PT, Jones CA (1983) EPIC: a model for assessing the effects of erosion on soil productivity. In: Laurenoth WK et al (eds) Analysis of ecological systems: state-of-the-art in ecological modeling. Amsterdam, The Netherlands, pp 553–572

Yang CC, Prasher SO, Wang S, Kim SH, Tan CS, Drury C, Patel RM (2007) Simulation of nitrate-N movement in southern Ontario, Canada with DRAINMOD-N. Agric Water Manag 87:299–306

Youssef MA, Skaggs RW, Chescheir GM, Gilliam JW (2005) The nitrogen simulation model, DRAINMOD-N II. Trans ASAE 48(2):611–626

Zhang Y, Li C, Zhou X, Moore B III (2002) A simulation model linking crop growth and soil biogeochemistry for sustainable agriculture. Ecol Model 151(1):75–108
Acknowledgments
Support for this research was provided by an NSF Biocomplexity in the Environment/Coupled Natural-Human Cycles Program (Grant # 0508028 to Drinkwater et al.) and a modeling grant from the Cornell University Agricultural Ecosystems Program: Understanding Sources and Sinks of Nutrients and Sediment in the Upper Susquehanna River Basin funded by the USDA CSREES program (award # 2005-34244-15740). The authors are grateful to Mark B. David and anonymous reviewers for insightful comments on an earlier draft of the manuscript.
About this article
Cite this article
Tonitto, C., Li, C., Seidel, R. et al. Application of the DNDC model to the Rodale Institute Farming Systems Trial: challenges for the validation of drainage and nitrate leaching in agroecosystem models. Nutr Cycl Agroecosyst 87, 483–494 (2010). https://doi.org/10.1007/s10705-010-9354-8
Received:

Accepted:

Published:

Issue Date:
Keywords
Agroecosystem modeling

DNDC model

Farming Systems Trial

Nitrate leaching

Rodale Institute