Abstract
Mulching with vegetative materials is a highly beneficial and widely-investigated agro-technique in rainfed areas but the adoption of this practice has been constrained due to non-availability of mulch biomass locally. Live mulching with fast-growing annual green manure legumes like sunnhemp (Crotalaria juncea) or prunings of Leucaena leucocephala grown as hedge rows can be done for moisture conservation as well as nutrient cycling in the maize–wheat cropping system, which is predominantly followed in the high rainfall sub-mountainous region of north-western India. A field experiment was conducted at Selakui, Dehradun during 2000–2004 to study the effect of legume mulching, viz. in situ grown sunnhemp and Leucaena prunings, along with varying N levels, viz. 0, 30, 60 and 90 kg N ha−1 (to maize), and 0, 40 and 80 kg N ha−1 (to wheat) on productivity, soil moisture conservation and soil physico-chemical properties. Intercropped sunnhemp added 0.75–1.45 t dry matter and 21.6–41.3 kg N ha−1 at 30–35 days, while Leucaena twigs added 1.89–4.15 t dry matter and 75.2–161.3 kg N ha−1 at 60–65 days of maize growth. Live mulching with sunnhemp or Leucaena biomass improved soil moisture content at maize harvest (+1.15–1.57%) and crop productivity by 6.8–8.8% over no mulching. Combined use of both the mulching materials was more effective in improving the soil moisture content (+2.08–2.29%) and grain yield (15.1%) over their single application. Response of maize to N fertilizer application was significant up to 90 kg N ha−1, and it was relatively more pronounced under the mulching treatments. Residual effect of mulching on wheat showed an increase in yield of 10.2% with sunnhemp or Leucaena, and 27.9% with sunnhemp + Leucaena. There was an improvement in organic C and total N status of soil, and a decrease in bulk density associated with an increase in infiltration rate due to mulching at the end of 4 cropping cycles. It was concluded that legume mulching is a highly beneficial practice for enhanced moisture and nutrient conservation, leading to increased productivity and soil health of maize–wheat cropping system under Doon valley conditions of north-western India.
Access options
Buy single article
Instant access to the full article PDF.
USD 39.95
Price excludes VAT (USA)
Tax calculation will be finalised during checkout.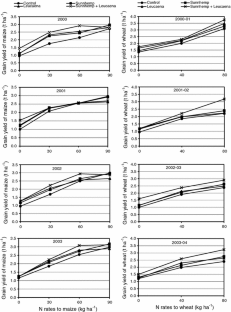 References
Acharya CL, Kapur OC (1993) In situ moisture conservation for wheat (Triticum aestivum) through mulching previous maize (Zea mays) crop with wild sage (Lantana camara). Indian J Agric Sci 63(8):461–466

Acharya CL, Sharma AR (2008) Integrated input management for improving nitrogen-use efficiency and crop productivity. Indian J Fertil 4(2):33–43, 43–40

Acharya CL, Kapur OC, Dixit SP (1998) Moisture conservation for rainfed wheat production with alternative mulches and conservation tillage in hills of north-west India. Soil Tillage Res 46:153–163

Akkinifesi FK, Kang BT, Sanginga N, Tijani-Eniola H (1996) Nitrogen use efficiency and N competition between Leucaena hedge rows and maize in an alley cropping system. Nutr Cycl Agroecosyst 47(1):71–80

Bhardwaj SP, Sindwal NS (1998) Zero tillage and weed mulch for erosion control on sloping land in Doon valley. Indian J Soil Conserv 26(2):76–80

Buresh RJ, De Datta SK (1991) Nitrogen dynamics and management in rice-legume cropping systems. Adv Agron 45:1–59

Ghosh PK, Bandyopadhyay KK, Wanjari RH, Manna MC, Mishra AK, Mohanty M et al (2007) Legume effect for enhancing productivity and nutrient use efficiency in major cropping systems–an Indian perspective: a review. J Sustan Agric 30(1):61–86

Guevarra AB (1976) Management of Leucaena leucocephala for maximum yield and nitrogen contribution to intercropped corn. PhD thesis, University of Hawai

Jones RB, Wendt JW, Bunderson WT, Itimu OA (1996) Leucaena + maize alley cropping in Malawi. Part 1: effects of N, P and leaf application on maize yields and soil properties. Agrofor Syst 33(3):281–294

Karachi M (1998) Variation in nutritional value of leaf and stem fractions in 19 Leucaena lines. Anim Feed Sci Technol 70:305

Ladha JK, Pathak H, Krupnik TJ, Six J, van Kessel C (2005) Efficiency of fertilizer nitrogen in cereal production: retropects and prospects. Adv Agron 87:85–143

Lehria SK, Bali SV, Singh B (2006) Effect of green leaf manure of subabul (Leucaena leucocephala Lam. De Wit) on maize crop and its residual effect on wheat crop. In: Verma KS, Khurana DK, Christersson L (eds) Proceedings of the IUFRO-ISTS-UHF international conference on world perspective on short rotation forestry for industrial and rural development, Nauni, Solan, India, pp 316–319

Lupwayi NZ, Kennedy AC (2007) Grain legumes in northern plains: impacts on selected biological processes. Agron J 99:1700–1709

Mafongoya PL, Mugendi DN, Pendreira CGS (1997) Evaluation of Leucaena leucocephala leaf prunings as a source of nitrogen for maize. Afr Crop Sci J 5(2):249–255

Mittal SP, Grewal SS, Agnihotri Y, Sud AD (1992) Substitution of nitrogen requirement of maize through leaf biomass of Leucaena leucocephala: agronomic and economic considerations. Agrofor Syst 19(3):207–216

Mureithi JG, Tayler RS, Thorpe W (1994) The effects of Leucaena leucocephala and of different management practices on the productivity of maize and soil chemical properties in lowland coastal Kenya. Agofor Sys 27(1):31–51

Sharma PK, Acharya CL (2000) Carry-over effect of residual soil moisture with mulching and conservation tillage practices for sowing of rainfed wheat (Triticum aestivum L.) in north-west India. Soil Tillage Res 57:43–52

Sharma AR, Behera UK (2009a) Recycling of legume residues for nitrogen economy and higher productivity in maize (Zea mays)–wheat (Triticum aestivum) cropping system. Nutr Cycl Agroecosyst 83:197–210

Sharma AR, Behera UK (2009b) Green leaf manuring with prunings of Leucaena leucocephala for nitrogen economy and improved productivity of maize (Zea mays)–wheat (Triticum aestivum) cropping system. Nutr Cycl Agroecosyst. doi: 10.1007/s10705-009-9272-9

Sharma PK, Kharwara PC, Tewatia RK (1990) Residual soil moisture and wheat yield in relation to mulching and tillage during preceding rainfed crop. Soil Tillage Res 15:279–284

Sharma NK, Singh PN, Tyagi PC, Mohan SC (1998) Effect of Leucaena mulch on soil-water use and wheat yield. Agric Water Manag 35(3):191–200

Sharma NK, Singh PN, Tyagi PC, Mohan SC (2000) Effect of application of Leucaena mulch on soil moisture conservation and productivity of rainfed wheat. Indian J Soil Conserv 29(2):143–147

Sharma AR, Singh R, Dhyani SK (2005) Conservation tillage and mulching for optimizing productivity in maize–wheat cropping system in the western Himalayan region. Indian J Soil Conserv 33(1):35–53

Soltan SA, El-Ghandour IA, Abdel-Aziz HA (2001) Contribution of Leucaena prunings in providing nutrients to maize grown with Leucaena trees in an alley cropping system. Ann Agric Sci 39(3):1853–1864

Sur HS, Mastana PS, Hadda MS (1992) Effect of rates and modes of mulch application on runoff, sediment and nitrogen loss on cropped and uncropped fields. Trop Agric 69(4):319–322
About this article
Cite this article
Sharma, A.R., Singh, R., Dhyani, S.K. et al. Moisture conservation and nitrogen recycling through legume mulching in rainfed maize (Zea mays)–wheat (Triticum aestivum) cropping system. Nutr Cycl Agroecosyst 87, 187–197 (2010). https://doi.org/10.1007/s10705-009-9327-y
Received:

Accepted:

Published:

Issue Date:

DOI: https://doi.org/10.1007/s10705-009-9327-y
Keywords