Abstract
Nutrient budgeting is a useful tool in determining present and future productivity of agricultural land as well as undesirable effects of nutrient mining and environmental pollution. Budgets of N, P, and K were calculated for India for 2000–2001 taking into consideration the inputs through inorganic fertilizer, animal manure, compost, green manure, leguminous fixation, non-leguminous fixation, crop residues, rain and irrigation water and outputs through crop uptake and losses through leaching, volatilization and denitrification. Inorganic fertilizer was the dominant source contributing 64% of N and 78% of P inputs in Indian agriculture, whereas K input through inorganic fertilizer was 26%. Removals of N, P, and K by major agricultural crops in the country were 7.7, 1.3 and 7.5 Mt, respectively. There were positive balances of N (1.4 Mt) and P (1.0 Mt) and a negative balance of K (3.3 Mt). It was projected that N, P, and K requirement by Indian agriculture would be 9.78, 1.57 and 9.52 Mt, respectively, to meet the food demand of 1.3 billion people by 2020. The study identified the 'hotspots' of excess nutrient loads as well as of nutrient mining regions in India to improve our ability to predict environmental degradation due to imbalanced fertilizer use. However, there are some uncertainties in India's nutrient budget and more research is required to reduce these uncertainties.
Access options
Buy single article
Instant access to the full article PDF.
US$ 39.95
Tax calculation will be finalised during checkout.
Subscribe to journal
Immediate online access to all issues from 2019. Subscription will auto renew annually.
US$ 119
Tax calculation will be finalised during checkout.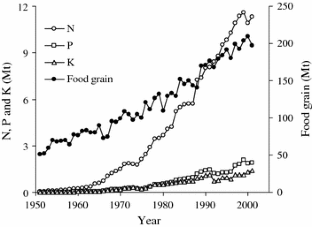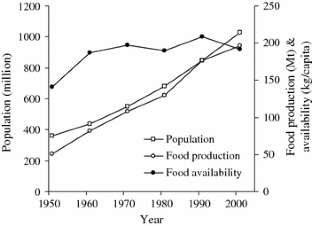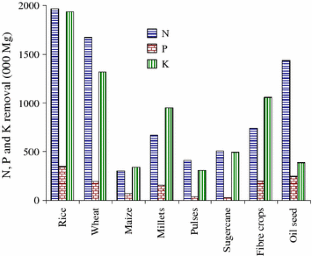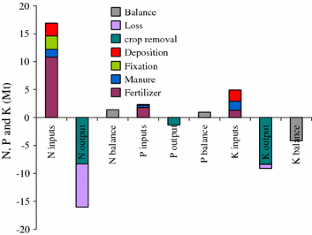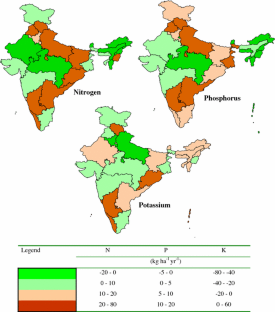 References
Aulakh MS, Singh B (1997) Nitrogen losses and fertilizer N use efficiency in irrigated porous soils. Nutr Cycl Agroecosys 7:1–16

Banerjee B, Pathak H, Aggarwal PK (2002) Effects of dicyandiamide, farmyard manure and irrigation on ammonia volatilization from an alluvial soil in rice (Oryza sativa L.)-wheat (Triticum aestivum L.) cropping system. Biol Fertil Soils 36:207–214

Bhatia A, Pathak H, Aggarwal PK (2004) Inventory of methane and nitrous oxide emissions from agricultural soils of India and their global warming potential. Curr Sci 87(3):317–324

DES (1998) Directorate of Economics and Statistics, Govt. of India, New Delhi, India

Dobermann A, Fairhurst T (2000) Rice: nutrient disorders and nutrient management. International Rice Research Institute, The Philippines

FAI (2000–2007) Fertilizer statistics. Fertilizer Association of India, New Delhi

Frolking S, Yeluripati JB, Douglas E (2006) New district-level maps of rice cropping in India: a foundation for scientific input into policy assessment. Field Crops Res 98:164–177

IPCC (Intergovernmental Panel on Climate Change) (2006) Guidelines for national greenhouse gas inventories, IGES, Japan (www.ipcc.ch)

Jain MC, Kumar S (1995) Recycling of animal wastes in agriculture. In: Tandon HLS (ed) Recycling of crop, animal, human and industrial wastes in agriculture. Fertilizer Development and Consultation Organization, New Delhi, India, pp 50–67

Joshi PK, Acharya SS, Chand R, Anjani K (2009) Agricultural sector: status and performance. In: Rai M (ed) State of Indian agriculture. National Academy of Agricultural Sciences, New Delhi, pp 1–34

Krishna Prasad V, Badarinath KVS (2006) Soil surface nitrogen losses from agriculture in India: a regional inventory within agroecological zones (2000–2001). Inter J Sustain Dev 13:173–182

Krishna Prasad V, Badarinath KVS, Yonemura S, Tsuruta H (2004) Regional inventory of soil surface nitrogen balances in Indian agriculture (2000–2001). J Environ Manage 73:209–218

Ladha JK, Dawe D, Pathak H, Padre AT, Yadav RL, Singh B, Singh Y, Singh P, Kundu AL, Sakal R, Ram N, Regmi AP, Gami SK, Bhandari AL, Amin R, Yadav CR, Bhattarai EM, Das S, Aggarwal HP, Gupta RK, Hobbs PR (2003) How extensive are yield declines in long-term rice-wheat experiments in Asia? Field Crops Res 81:159–180

Ladha JK, Pathak H, Krupnik TJ, Six J, van Kessel C (2005) Efficiency of fertilizer nitrogen in cereal production: retrospect and prospects. Adv Agron 87:85–156

Lesschen JP, Stoorvogel JJ, Smaling EMA, Heuvelink GBM, Veldkamp A (2007) A spatially explicit methodology to quantify soil nutrient balances and their uncertainties at the national level. Nutrient Cycl Agroecosys 78:111–131

Motsara MR, Bhattacharya P, Srivastava V (1995) Bio-fertilizer technology, marketing and uses. FDCO, New Delhi

Murugan AV, Dadhwal VK (2007) Indian agriculture and nitrogen cycle. In: Abrol YP, Raghuram N, Sachdev MS (eds) Agricultural nitrogen use, its environmental implications. IK International Publishing House Pvt. Ltd, New Delhi, pp 9–28

Panda D, Samantaray RN, Misra AK, Senapati HK (2007) Nutrient balance in rice. Indian J Fertil 3:33–38

Parashar DC, Kulshreshtha UC, Sharma C (1998) Anthropogenic emissions of NOx, NH3 and N2O in India. Nutr Cycl Agroecosys 52:255–259

Paroda RS, Kumar P (2000) Food production and demand situations in South Asia. Agric Econ Res Rev 13(1):1–24

Pathak H, Aggarwal PK, Roetter R, Kalra N, Bandyopadhaya SK, Prasad S, Van Keulen H (2003) Modelling the quantitative evaluation of soil nutrient supply, nutrient use efficiency, and fertilizer requirements of wheat in India. Nutr Cycl Agroecosys 65(2):105–113

Pathak H, Li CS, Wassmann R (2005) Greenhouse gas emissions from Indian rice fields: calibration and upscaling using the DNDC model. Biogeosciences 2:113–123

Pathak H, Li C, Wassmann R, Ladha JK (2006a) Simulation of nitrogen balance in the rice-wheat systems of the Indo-Gangetic plains. Soil Sci Soc Am J 70:1612–1622

Pathak H, Singh R, Bhatia A, Jain N (2006b) Recycling of rice straw to improve crop yield and soil fertility and reduce atmospheric pollution. Paddy Water Environ 4:111–117

Planning Commission, India (1998) Agro-climatic regional planning unit., 1998. ARPU Working Paper No. 19, August 1998. Agro-climatic regional planning. Recent developments. Planning Commission of India, New Delhi

Rastogi N, Sarin M (2006) Atmospheric abundances of nitrogen species in rain and aerosols over a semi-arid region, sources and deposition fluxes. Aerosol Air Quality Res 64:406–417

Regmi AP, Ladha JK, Pathak H, Pasuquin E, Dawe D, Hobbs PR, Joshy D, Maskey SL, Pandey SP (2002) Analyses of yield and soil fertility trends in a 20-year rice–rice–wheat experiment in Nepal. Soil Sci Soc Am J 66:857–867

Sheldrick W, Syers JK, Lingard JA (2002) Conceptual model for conducting nutrient audits at national, regional and global scales. Nutr Cycl Agroecosys 62:61–72

Smaling EMA, Fresco LO (1993) A decision support model for monitoring nutrient balances under agricultural land use, NUTMON. Geoderma 60:235–256

Statistical Abstract of Haryana (1999) Economic and statistical organization, planning department, Government of Haryana, India

Subrian P, Annadurai K, Palaniappan SP (2000) Agriculture facts and figures. Kalyani Publishers, New Delhi, pp 133–134

TERI (2001) Energy data directory and year book, 2000–01. The Energy and Resources Institute (TERI), New Delhi

Tiwari KN (2003) India's soil and crop need for potassium. Better Crops Inter 17:26–29

Witt C, Dobermann A, Abdulrachman S, Gines HC, Guanghuo W, Nagarajan R, Satawathananont S, Son TT, Tan PS, Van Le T, Simbahan G, Olk DC (1999) Internal nutrient efficiencies in irrigated lowland rice of tropical and subtropical Asia. Field Crops Res 63:113–138

World Bank (2003) India: sustaining reform, reducing poverty. World Bank, Washington DC
Acknowledgments
The authors thank Dr. J. K. Ladha, International Rice Research Institute, India Office, New Delhi; and Dr. P. K. Aggarwal and Dr. R. Prasad, Indian Agricultural Research Institute, New Delhi for their comments and suggestions on the manuscript.
About this article
Cite this article
Pathak, H., Mohanty, S., Jain, N. et al. Nitrogen, phosphorus, and potassium budgets in Indian agriculture. Nutr Cycl Agroecosyst 86, 287–299 (2010). https://doi.org/10.1007/s10705-009-9292-5
Received:

Accepted:

Published:

Issue Date:
Keywords
Ammonia volatilization

Denitrification

Fertilizer

Leaching

Manure

Nutrient balance

Nutrient uptake