Abstract
A rapidly growing body of scholarship shows that we can gain new insights into theories and policies by understanding and increasing their systemic structure. This paper will present an overview of this expanding field and discuss how concepts of structure are being applied in a variety of contexts to support collaboration, decision making, learning, prediction, and results. Next, it will delve into the underlying structures of logic that may be found within those theories and policies. Here, we will go beyond Toulmin's logics of claim and proof that have not proven useful for advancing the social sciences and focus on five structures of "causal logic." The results suggest a useful and more comprehensive approach to developing deeper understanding of our conceptual systems such as theory and policy.
Access options
Buy single article
Instant access to the full article PDF.
US$ 39.95
Tax calculation will be finalised during checkout.
Subscribe to journal
Immediate online access to all issues from 2019. Subscription will auto renew annually.
US$ 79
Tax calculation will be finalised during checkout.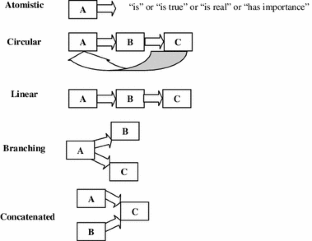 References
Appelbaum, R. P. (1988). Karl Marx (Vol. 7, Masters of Social Theory). Thousand Oaks, CA: Sage.

Axelrod, R. (1976). Structure of decision: The cognitive maps of political elites. Princeton: Princeton Universtiy Press.

Bateson, G. (1979). Mind in nature: A necessary unity. New York: Dutton.

BonJour, L., & and Sosa, E. (2003). Epistemic justification: Internalism vs. externalism, foundations vs. virtues (Great Debates in Philosophy). Malden, MA: Blackwell.

Bozeman, B., & Landsbergen, D. (1989). Truth and credibility in sincere policy analysis: Alternative approaches for the production of policy-relevant knowledge. Evaluation Review, 13(4), 355–379.

Carolan, M. S. (2006). Science, expertise, and the democratization of the decision making process. Society and Natural Resources, 19, 661–668.

Casti, J. L. (1995). Complexification: Explaining a paradoxical world through the science of surprise. New York: Harper Perennial.

Curseu, P., Schalk, R., & Schruijer, S. (2010). The use of cognitive mapping in eliciting and evaluating group cognitions. Journal of Applied Social Psychology, 40(5), 1258–1291.

Dubin, R. (1978). Theory building (Revised ed.). New York: The Free Press.

Gleick, J. (1987). Chaos: Making a new science. New York: Penguin Books.

Goodier, C. I., Austin, S. A., Soetanto, R., & Dainty, A. R. J. (2010). Causal mapping and scenario building with multiple organisations. Futures, 42(3), 219–229.

Greenhalgh, T., Robert, G., Macfarlane, F., Bate, P., Kyriakidou, O., & Peacock, R. (2005). Storylines of research in diffusion of innovation: A meta-narrative approach to systematic review. Social Science and Medicine, 61, 417–430.

Kaplan, A. (1964). The conduct of inquiry: Methodology for behavioral science (Chandler Publications in Anthropology and Sociology). San Francisco: Chandler Publishing Company.

Kelley, K. T., & Mayo-Wilson, C. (2012). Causal conclusions that flip repeatedly and their justification. http://arxiv.org/ftp/arxiv/papers/1203/1203.3488.pdf. Accessed August 25, 2013.

Kelly, KT. (2007). Simplicity, truth, and the unending game of science. In S. Bold, B. Löwe, T. Räsch, & J. v. Benthem (Eds.), Foundations of the formal sciences V: Infinite games (pp. 368, Studies in Logic: Volume 11). London: College Publications.

Kingdon, J. W. (1997). Agendas, alternatives, and public policies (2nd ed.). Upper Saddle River, NJ: Pearson Education.

Lewis, M. W., & Grimes, A. J. (1999). Metatriangulation: Building theory from multiple paradigms. Academy of Management Review, 24(4), 627–690.

March, J. G., & Simon, H. A. (1993). Organizations (2nd ed.). Hoboken, NJ: Wiley.

Mathieson, G. (2004). Full spectrum analysis: Practical OR in the face of the human variable. Emergence: Complexity and Organization, 6(4), 51–57.

McLaughlin, J. A., & Jordan, G. B. (1999). Logic models: A tool for telling your program's performance story. Evaluation and Program Planning, 22(1), 65–72.

Meehl, P. E. (2002). Cliometric metatheory II: Criteria scientists use in theory appraisal and why its is rational to do so. Psychological Reports, 91(2), 339.

Nechval, N. A., Nechval, K. N., Purgailis, M., & Rozevskis, U. (2010). Selection of the best subset of variables in regression and time series models. In S. E. Wallis (Ed.), Cybernetics and systems Theory in management (pp. 303–320). Hershey, PA: IGI Global.

Quine, W. V. O. (1969). Ontological relativity and other essays. New York: Columbia University Press.

Raphael, T. D. (1982). Integrative complexity theory and forecasting international crises: Berlin 1946–1962. The Journal of Conflict Resolution, 26(3), 423–450.

Roe, E. (1998). Taking complexity seriously: Policy analysis, triangulation and sustainable development. New York: Kluwer.

Rogers, P. J. (2008). Using programme theory to evaluate complicated and complex aspects of interventions. Evaluation, 14(1), 29.

Rothwell, W. J., Sullivan, R., & McLean, G. N. (Eds.). (1995). Practicing organization development: A guide for consultants. San Diego, CA: Pfeiffer.

Sabatier, P. A. (Ed.). (1999). Theories of the policy process (Vol. 1, Theoretical Lenses on Public Policy). Boulder, CO: Westview Press.

Salmon, W. C. (1984). Scientific explanation and the causal structure of the world. New Jersey: Princeton University Press.

Saunders, C. S., Carte, T. A., Jasperson, J., & Butler, B. S. (2003). Lessons learned from the trenches of metatriangulation research. Communications of AIS, 11, 245–269.

Schiele, H., & Krummaker, S. (2010). Consortial benchmarking: Applying an innovative industry-academic collaborative case study approach in systemic management research. In S. E. Wallis (Ed.), Cybernetics and systems theory in management: Tools, views, and advancements (pp. 93–107). Hershey, PA: IGI Global.

Schmidt, R. E., Scanlon, J. W., & Bell, J. B. (1979). Evaluability assessment: Making public programs work better (Vol. 14, Human Services Monograph Series). Washington, D.C.: Department of Health, Education, and Welfare-Project Share.

Seligman, J., Liu, F., & van Benthem, J. (2011). Models of reasoning in ancient China. Studies in Logic, 4(3), 57–81.

Senge, P. (1990). The fifth discipline: The art and practice of the learning organization. New York: Currency Doubleday.

Senge, P., Kleiner, K., Roberts, S., Ross, R. B., & Smith, B. J. (1994). The fifth discipline fieldbook: Strategies and tools for building a learning organization. New York: Currency Doubleday.

Sloman, S. A., & Hagmayer, Y. (2006). The causal psycho-logic of choice [Opinion]. Trends in Cognitive Science, 10(9), 407–412.

Speech. (1984). Just say no: Words to the nation. Public address by President Ronald Regan and Nancy Regan

Stacey, R. D. (1992). Managing the unknowable: Strategic boundaries between order and chaos. San Francisco: Jossey-Bass.

Stinchcombe, A. L. (1987). Constructing social theories. Chicago: University of Chicago Press.

Suedfeld, P., & Rank, A. D. (1976). Revolutionary leaders: Long-term success as a function of changes in conceptual complexity. Journal of Personality and Social Psychology, 34(2), 169–178.

Suedfeld, P., Tetlock, P. E., & Streufert, S. (1992). Conceptual/integrative complexity. In C. P. Smith (Ed.), Handbook of thematic content analysis (pp. 393–400). New York: Cambridge University Press.

Toulmin, S. E. (2003/1958). The uses of argument. New york: Cambridge University Press.

UN. (1945). Charter of the United Nations and statute of the international court of justice. New York: United Nations.

van Benthem, J. (2012). The logic of empircal theories revisited. Synthese, 186(3), 775–792. doi:10.1007/s11229-011-9916-6.

Van de Ven, A. H. (2007). Engaged scholarship: A guide for organizational and social research. New York: Oxford University Press.

Wallis, S. E. (2008). Validation of theory: Exploring and reframing Popper's worlds. Integral Review, 4(2), 71–91.

Wallis, S. E. (2009a). Seeking the robust core of organisational learning theory. International Journal of Collaborative Enterprise, 1(2), 180–193.

Wallis, S. E. (2009b). Seeking the robust core of social entrepreneurship theory. In J. A. Goldstein, J. K. Hazy, & J. Silberstang (Eds.), Social entrepreneurship & complexity. Litchfield Park, AZ: ISCE Publishing.

Wallis, S. E. (2010a). The structure of theory and the structure of scientific revolutions: What constitutes an advance in theory? In S. E. Wallis (Ed.), Cybernetics and systems theory in management: Views, tools, and advancements (pp. 151–174). Hershey, PA: IGI Global.

Wallis, S. E. (2010b). Towards developing effective ethics for effective behavior. Social Responsibility Journal, 6(4), 536–550.

Wallis, S. E. (2010c). Towards the development of more robust policy models. Integral Review, 6(1), 153–160.

Wallis, S. E. (2011). Avoiding policy failure: A workable approach. Litchfield Park, AZ: Emergent Publications.

Wallis, S. E. (2012a). Existing and emerging methods for integrating theories within and between disciplines. In 56th Annual meeting of the international society for systems sciences (ISSS), San Jose, CA, July 15–22, 2012, pp. 23.

Wallis, S. E. (2012b). Theories of psychology: Evolving towards greater effectiveness or wandering, lost in the jungle, without a guide? In 30th International congress of psychology: Psychology serving humanity, Cape Town, South Africa, July 22–27, 2012.

Wallis, S. E. (2013a). How to choose between policy proposals: A simple tool based on systems thinking and complexity theory. ECO-Emergence: Complexity & Organization, 15(3), 94–120.

Wallis, S. E. (2013b). Propositional analysis for evaluating explanations through their conceptual structures. Paper presented at the International Society for Complexity and Emergence (ISCE) "Modes of Explanation" Paris, France, May 22–24, 2013.

Wallis, S. E. (2014). A systems approach to understanding theory: Finding the core, identifying opportunities for improvement, and integrating fragmented fields. Systems Research and Behavioral Science, 31(1), 23–31.

Wallis, S. E. (under submission). Are theories of conflict improving? Using propositional analysis to determine the structure of conflict theories over the course of a century. Availible on request.

Wheatley, M. J. (1992). Leadership and the new science. San Francisco: Barrett-Koehler.
Additional information
This paper is based, in part, on a presentation at the 56th annual meeting of the International Society for Systems Sciences (ISSS). July 15–22, 2012, at San Jose State University, California.
I am indebted to three anonymous reviewers whose suggestions have resulted in a stronger and more understandable paper.
About this article
Cite this article
Wallis, S.E. Structures of Logic in Policy and Theory: Identifying Sub-systemic Bricks for Investigating, Building, and Understanding Conceptual Systems. Found Sci 20, 213–231 (2015). https://doi.org/10.1007/s10699-014-9360-4
Keywords
Conceptual system

Theory

theory building

Metatheory

Policy

Metapolicy

Causal logic

Structures of logic