Abstract
A methodology is proposed to provide a guided process for modularization of manufacturing system components within the broader design process. The application focus is on manufacturing systems, including flow processes. Component clusters are formed by simultaneously considering physical-functional and strategic drivers that are fundamental to a more holistic partitioning of the system. The clustering algorithm now includes the ability to compel component unification or separation. A broad review of modularization methods was conducted to improve upon the state-of-the-art. Current methodologies can be difficult to use, are disjoint in their goals, lack objectivity, and do not produce externally repeatable solutions. The proposed methodology aims to improve upon these limitations by providing a step-by-step framework and integrating strategic and technical perspectives when clustering. The methodology is structured to guide the user toward a deeper understanding of the system, whether or not one is an expert, whereby the designer can focus more on the technical and strategic issues that should inform the modularization. A realistic case study for the modularization of a transportable fast pyrolysis plant was performed to evaluate the meaningfulness of the methodology's results. The methodology clustered components into modules consistent with the information provided to the model, reflecting what would be expected from a deep understanding of the system.
This is a preview of subscription content, log in to check access.
Access options
Buy single article
Instant access to the full article PDF.
US$ 39.95
Price includes VAT for USA
Subscribe to journal
Immediate online access to all issues from 2019. Subscription will auto renew annually.
US$ 99
This is the net price. Taxes to be calculated in checkout.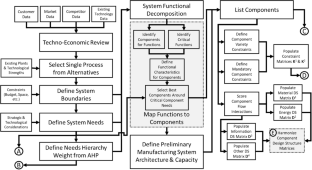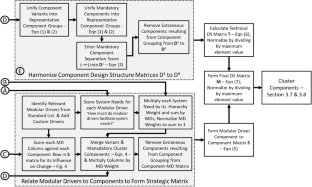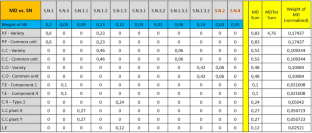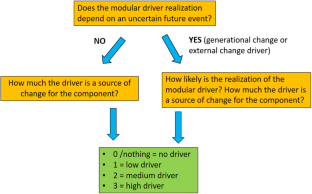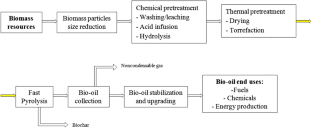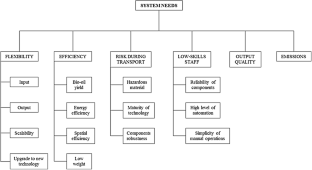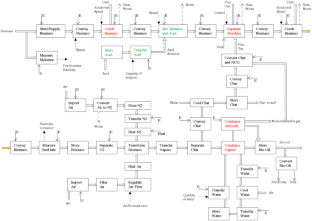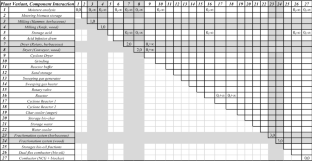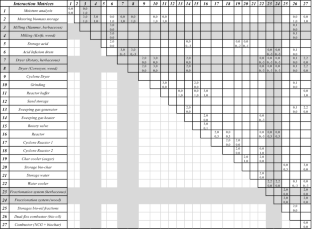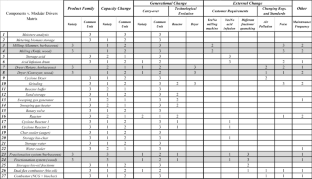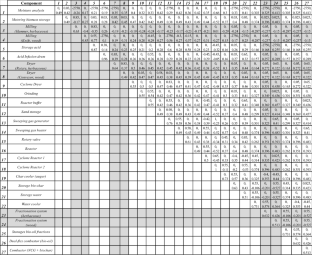 References
Arfelli S, Rossi F (2016) A methodology for the modularization of flow processes and its application to a case study of a transportable fast pyrolysis plant. Master's thesis, Politecnico di Milano, Sept 2016. http://hdl.handle.net/10589/125983. Accessed 28 Sep 2016

Arts L, Chmarra MK, Tomiyama T (2008) Modularization method for adaptable products. In: ASME international design engineering technical conferences & computers and information in engineering conference, Brooklyn, New York, 2008

Blackenfelt M (2001) Managing complexity by product modularization: balancing the aspects of technology and business during the design process. Doctoral thesis, Department of Machine Design, Royal Institute of Technology, S-100 44 Stockolm, Sweden, 2001

Blees C, Krause D (2008) On the development of modular product structures: a differentiated approach. In: International design conference: design, Dubrovnik—Croatia, 2008

Brun A, Zorzini M (2009) Evaluation of product customization strategies through modularization and postponement. Int J Prod Econ 120(1):205–220

Chandler G (2013) Smaller, better, faster: Fred Haney's vision turns modular construction theory on its head. Oilsands Rev 2013:15–18

El Maraghy H, Schuh G, El Maraghy W, Piller F, Schönsleben P, Tseng M, Bernard A (2013) Product variety management. CIRP Ann 62(2):629–652

Ericsson A, Erixon G (1999) Controlling design variants: modular product platforms. ASME Press, New York

Erixon G, Yxkull A, Arnstroem A (1996) Modularity: the basis for product and factory reengineering. Ann ClRP 45(1):1–6

Falkenaur E (1998) Genetic algorithms for grouping problem. Wiley, New York

Feldmann S, Legat C, Vogel-Heuser B (2015) An analysis of challenges and state of the art for modular engineering in the machine and plant manufacturing domain. IFAC-PapersOnLine 48(10):87–92

Fernandez CI (1998) Integration analysis of product architecture to support effective team co-location. Master's thesis, Massachusetts Institute of Technology, June 1998

Friedrich J, Scheifele S, Verl A, Lechler A (2015) Flexible and modular control and manufacturing system. Procedia CIRP 33:115–120

Gershenson JK, Prasad GJ, Allamneni S (1999) Modular product design: a lifecycle view. Trans SDPS 3(4):13–26

Gershenson JK, Prasad GJ, Zhang Y (2003) Product modularity: definitions and benefits. J Eng Des 14(3):295–313

Gershenson JK, Prasad GJ, Zhang Y (2004) Product modularity: measures and design methods. J Eng Des 15(1):33–51

Gu P, Sosale S (1999) Product modularization for life cycle engineering. Robot Comput Integr Manuf 15:387–401

Gu P, Hashemian M, Sosale S (1997) An integrated modular design methodology for life-cycle engineering. Ann CIRP 46(1):71–74

Holmqvist TKP, Persson ML (2003) Analysis and improvement of product modularization methods: their ability to deal with complex products. Syst Eng 6(3):195–209

Hölttä K, Salonen M (2003) Comparing three modularity methods. In: ASME design engineering technical conferences and computers and information in engineering conference Chicago, Illinois USA, 2003

Hölttä-Otto K (2005) Modular product platform design. TKK dissertations 10, Espoo

http://www.avellobioenergy.com/en/technology/fast_pyrolysis/. Accessed 8 Sept 2016

Huang C, Kusiak A (1998) Modularity in design of products and systems. IEEE Trans Syst Man Cybern Part A Syst Hum 28(1):66–77

Huang GQ, Simpson TW, Pine BJ II (2005) The power of product platforms in mass customisation. Int J Mass Cust 1(1):1–13

Jiao JR, Simpson TW, Siddique Z (2007) Product family design and platform-based product development: a state-of-the-art review. J Intell Manuf 18(1):5–29

Jose A, Tollenaere M (2005) Modular and platform methods for product family design: literature analysis. J Intell Manuf 16:371–390

Kong FB, Ming XG, Wang L, Wang XH, Wang PP (2009) On modular products development. Concurr Eng Res Appl 17(4):291–300

Koren Y, Heisel U, Jovane F, Moriwaki T, Pritschow G, Ulsoy G, Van Brussel H (1999) Reconfigurable manufacturing systems. CIRP Ann 48(2):527–540

Kreng VB, Lee T (2004) Modular product design with grouping genetic algorithm—a case study. Comput Ind Eng 46:443–460

Lier S, Grünewald M (2011) Net present value analysis of modular chemical production plants. Chem Eng Technol 34(5):809–816

MAMMOET WORLD (2015) Unlocking the modular revolution. MAMMOET WORLD 22(14). http://www.mammoet.com/siteassets/expertise/modular-construction/unlocking-the-modular-revolution.pdf. Accessed 16 Apr 2016

Martin MV, Ishii K (2002) Design for variety: developing standardized and modularized product platform architectures. Res Eng Des 13:213–235

Otto K, Hölttä-Otto K (2007) A multi-criteria assessment tool for screening preliminary product platform concepts. J Intell Manuf 18(1):59–75

Pimmler TU, Eppinger SD (1994) Integration analysis of product decompositions. In: ASME design theory and methodology conference, Minneapolis, MN, Sept 1994

Rajan PP, Van Wie M, Campbell MI, Wood KL, Otto KN (2005) An empirical foundation for product flexibility. Des Stud 26(4):405–438

Rogers GG, Bottaci L (1997) Modular production systems: a new manufacturing paradigm. J Intell Manuf 8(2):147–156

Saaty T (1980) The analytic hierarchy process. McGraw-Hill, New York

Sanchez R (1994) Towards a science of strategic product design. In: 2nd international product development management conference, Goteborg, pp 564–578

Sanchez R (2004) Creating Modular platforms for strategic flexibility. Des Manag Rev 15:58–67

Sand JC, Gu P, Watson G (2002) HOME: house of modular enhancement—a tool for modular product redesign. Concurr Eng Res Appl 10(2):153–164

Seifert T, Sievers S, Bramsiepe C, Schembecker G (2012) Small scale, modular and continuous: a new approach in plant design. Chem Eng Process 52:140–150

Seol H, Kim C, Lee C, Park Y (2007) Design process modularization: concept and algorithm. Concurr Eng Res Appl 15(2):175–186

Shaik AM, Rao VVSK, Rao CS (2015) Development of modular manufacturing systems—a review. Int J Adv Manuf Technol 76:789–802

Smith PG, Reinertsen DG (1995) Developing products in half the time. Van Nostrand Reinhold, New York

Sosale S, Hashemian M, Gu P (1997) Product modularization for reuse and recycling. Concurr Prod Des Environ Conscious Manuf 94:195–206

Stake RB (2000) On conceptual development of modular products. Doctoral thesis, Division of Assembly Systems, Department of Production Engineering, Royal Institute of Technology, Stockholm

Steward D (1981) The design structure system: a method for managing the design of complex systems. IEEE Trans Eng Manag 28(3):71–74

Stone RB, Wood KL (2000) Development of a functional basis for design. J Mech Des 122:359–370

Thebeau RE (2001) Knowledge management of system interfaces and interactions for product development processes. Master's thesis, Massachusetts Institute of Technology, February 2001

Tolio T (2015) Material from the course of "reconfigurable manufacturing systems". Politecnico di Milano, Milan

Ulrich K (1995) The role of product architecture in the manufacturing firm. Res Policy 24:419–440

Ulrich K, Eppinger SD (1995) Product design and development. McGraw-Hill, New York

Ulrich K, Tung K (1991) Fundamentals of product modularity. Sloan School of Management, Massachusetts Institute of Technology, Cambridge

Umeda Y, Fukushige S, Tonoike K, Kondoh S (2008) Product modularity for life cycle design. CIRP Ann Manuf Technol 57:13–16

Xiaogang X, Chao L, Jian Y, Yahua C (2006) An analytical method based on design structure matrix for modular identification. In; Computer-aided industrial design and conceptual design, 2006

Yan J, Feng C, Cheng K (2012) Sustainability-oriented product modular design using kernel-based fuzzy c-means clustering and genetic algorithm. Proc Inst Mech Eng B J Eng Manuf 226(10):1635–1647

Yu S, Yang Q, Tao J, Tian X, Yin F (2011) Product modular design incorporating life cycle issues—group genetic algorithm (GGA) based method. J Clean Prod 19:1016–1032

Zhang Y, Gershenson JK (2003) An initial study of direct relationships between life-cycle modularity and life-cycle cost. Concurr Eng 11:121–128
Additional information
Publisher's Note
Springer Nature remains neutral with regard to jurisdictional claims in published maps and institutional affiliations.
About this article
Cite this article
Rossi, F., Arfelli, S., Hu, S.J. et al. A systematic methodology for the modularization of manufacturing systems during early design. Flex Serv Manuf J 31, 945–988 (2019). https://doi.org/10.1007/s10696-019-09338-7
Keywords
Modularization

Clustering

Decomposition

Manufacturing systems

Flow processes

Design process