Abstract
The number of complex and unique mass casualty incidents has increased due to natural and technological disasters as well as man-made disasters such as political instabilities, economic recession, and terrorism. Thus, health care policy-makers such as the Austrian Samaritan Organization have been continuously improving the training of emergency staff to enable them to quickly evacuate an emergency site, to minimize the number of fatalities at the incident site, and to decrease the patients' waiting time for treatment. We developed a policy management game to provide a training tool for emergency staff to support such policy-makers. In addition, with this game students can be educated on scheduling and planning techniques such as simulation, queuing theory, and resource allocation. To investigate the potential of our policy management game, we conducted an experimental study with 96 participants including students, practitioners from health care services, and researchers. They acted as incident commanders to decide on sending medical staff to triage, to different treatment rooms for care and to on-site transportation, as well as to transportation to hospitals during three game runs. The participants rated the general structure and organization of the experiment as high. The performance was also improved by many participants during the experiment. We found differences in performance among the different participant groups.
Access options
Buy single article
Instant access to the full article PDF.
US$ 39.95
Tax calculation will be finalised during checkout.
Subscribe to journal
Immediate online access to all issues from 2019. Subscription will auto renew annually.
US$ 79
Tax calculation will be finalised during checkout.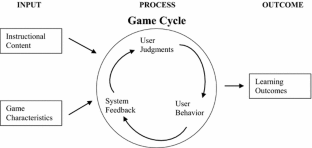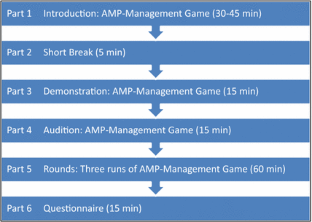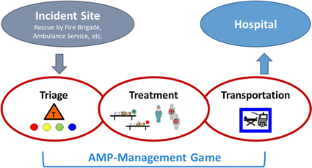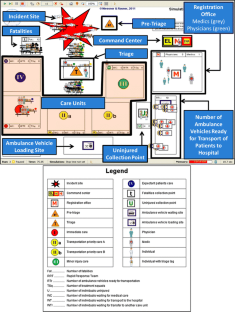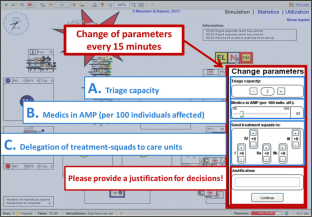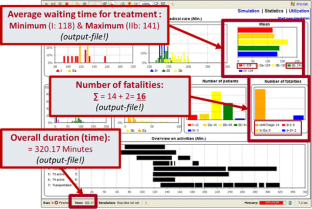 References
Batty M (2008) The size, scale, and shape of cities. Science 319:769–777

Becker O, Feit T, Hofer V, Leopold-Wildburger U, Selten R (2007) Educational effects in an experiment with the management game SINTO-Market. Cent Eur J Oper Res Econ 15(4):301–308

Benesch T (2008) Der Schlüssel zur Statistik: datenbeurteilung mithilfe von SPSS. Facultas Verlag

Blötz U (2005) Planspiele in der beruflichen Bildung. W. Bertelsmann Verlag, Bielefeld

Brailsford S, Kozan E, Rauner MS (2012) Health care management. Flex Serv Manuf J 24(4):375–378

Brandl B, Leopold-Wildburger U, Mietek A, Pickl S (2010) How do commission rates influence a firm's success? Statistical analysis of a corporate strategy simulation experiment. CEJOR 18(4):553–566

Brandt H (2008) Planung und entwicklung von psychologischen tests und fragebogen. Testtheorie und Fragebogenkonstruktion. Springer, Berlin, pp 27–72

Camerer CF (2007) Neuroeconomics: using neuroscience to make economic predictions. Econ J 117(519):C26–C42

Carriere JSA, Cheyne JA, Smilek D (2008) Everyday attention lapses and memory failures: the affective consequences of mindlessness. Conscious Cogn 17(3):835–847

Center for Research on the Epidemiology of Disasters - CRED (2013) EM-DAT: the international disaster database. Retrieved October 21, 2013, from http://www.emdat.be/

Dieleman H, Huisingh D (2006) Games by which to learn and teach about sustainable development: exploring the relevance of games and experiential learning for sustainability. J Clean Prod 14(9):837–847

Dill WR, Doppelt N (1963) The acquisition of experience in a complex management game. Manage Sci 10(1):30–46

Drucker PF (2006) Classic drucker: essential wisdom of peter drucker from the pages of harvard business review. Harvard Business Press, Harvard

Fischer KW (2009) Mind, brain, and education: building a scientific groundwork for learning and teaching. Mind Brain Educ 3(1):3–16

Garris R, Ahlers R, Driskell J (2002) Games, motivation, and learning: a research and practice model. Simul Gaming 33(4):441–467

Geier B (2006) Evaluation eines netzbasierten unternehmensplanspiels—Eine problemorientierte lernumgebung für die kaufmännische Aus- und Weiterbildung. Doktorarbeit, LMU, München

Hans E, Nieberg T (2007) Operating room manager game. Inf Trans Educ 8(1):25–36

Hansak P, Petutschnigg B, Böbel M, Hündorf H-P, Lipp R, Veith J (2003) LPN-San österreich—lehrbuch für rettungssanitäter, betriebssanitäter und bundesheersanitäter. Stumpf and Kossendey, Edewecht

Horsman J, Furlong W, Feeny D, Torrance G (2003) The health utilities index (HUI): concepts, measurement properties and applications. Health Qual Life Outcomes 1:54

Koehler G, Foley D, Jones M (1992) A computer simulation of a California casualty collection point used to respond to a major earthquake. Prehosp Disaster Med 7(4):339–347

Kolb D (1984) Experiential learning: experience as the source of learning and development. Englewood Cliffs, New Jersey

Kotz D (2013) Injury toll from Marathon bombs reduced to 264. The Boston Globe, Boston

Kraus M, Rauner MS, Schwarz S (2010) Hospital management games: a taxonomy and extensive review. CEJOR 18(4):567–591

Lane J, Slavin S, Ziv A (2001) Simulation in medical education: a review. Simul Gaming 32(3):297–314

Lown BA (2013) Reflections on compassion in the midst of violence. J Gen Intern Med 28(12):1554–1555

Marot J (2013) Zugunglück in Spanien: Lokführer viel zu schnell unterwegs. Der Standard

Marx F, Binsfeld M, Franke T (2013) Medizinischer Einsatz bei der Loveparade 2010 in Duisburg. Der Anaesthesist 62(12):1010–1019

Ozcan YA (2008) Health care benchmarking and performance evaluation, an assessment using data envelopment analysis (DEA). Springer, New York

Ozcan YA (2009) Quantitative methods in health care management: techniques and applications. Jossey-Bass/Wiley, San Francisco

Österreichisches Rotes Kreuz (2007) Vorschriften. Retrieved November 26, 2013, from http://vorschriften.roteskreuz.at

Paseka A (2008) Wie Kinder zu Mädchen und Buben werden. Einige Erkenntnisse aus der Sozialisations-und Geschlechterforschung. In Geschlecht lernen. Innsbruck: Studienverlag, pp 15–31

Peric N, Herdlicka T (2012) Das SanHiSt-Planspiel für den Aufbau einer Sanitätshilfsstelle bei Großschadenseinsätzen—Eine experimentelle Analyse des simulationsbasierten Managementplanspiels zur Unterstützung des effektiven und effizienten Einsatzes von Rettungsdiensten. Vienna: Master Thesis, University of Vienna

Pfaff MS, Drury JL, Klein GL, More LD, Moon SP, Liu Y (2010) Weighing decisions: aiding emergency response decision making via option awareness. Proceedings of the 2010 IEEE Technologies for Homeland Security Conference, Waltham, MA, pp 251–257

Pfaff MS, Klein GL, Drury JL, Moon SP, Liu Y, Entezari SO (2013) Supporting complex decision making through option awareness. J Cogn Eng Decis Mak 7(2):155–178

Pidd M (2004) Computer simulation in management science. Wiley, Chichester

Pidgeon N, O'Leary M (2000) An-made disasters: why technology and organizations (sometimes) fail. Saf Sci 34(1):15–30

Pinedo M (2008) Scheduling: theory, algorithms, and systems. Springer, Newton

Rabin R, de Charro F (2001) EQ-5D: a measure of health status from the EuroQol group. Annu Med 33(5):337–343

Rapoport A, Dale PS (1966) The "end" and "start" effects in iterated prisoner's dilemma. J Confl Resolut 10(3):363–366

Rauner MS, Kraus M, Schwarz S (2008) Competition under different reimbursement systems: the concept of an internet-based hospital management game. Eur J Oper Res 185(3):948–963

Rauner MS, Schaffhauser-Linzatti M, Niessner H (2012) Resource planning for ambulance services in mass casualty incidents: a DES-based policy model. Health Care Manag Sci 15(3):254–269

Rempe A, Klösters K (2006) Das Planspiel als Entscheidungstraining. W. Kohlhammer-Verlag, Stuttgart

Rinaldi SM, Peerenboom JP, Kelly TK (2001) Identifying, understanding, and analyzing critical infrastructure interdependencies. Control Syst IEEE 21(6):11–25

Schulmeister R (1996) Grundlagen hypermedialer Lernsysteme. Theorie - Didaktik - Design. Addison-Wesley, Bonn

Sefrin P (2005) Die Rolle des Behandlungsplatzes bei Massenanfall von Verletzten. Der Notarzt 21(06):189–194

Smith SW, Portelli I, Narzisi G, Nelson LS, Menges F, Rekow ED, Mincer JS, Mishra B, Goldfrank LR (2009) A novel approach to multihazard modeling and simulation. Disaster Med Public Health Prep 3(2):75–87

Solecki W, Seto KC, Marcotullio PJ (2013) It's time for an urbanization science. Environ: Sci Policy Sustain Dev 55(1):12–17

Solga H, Pfahl L (2009) Doing Gender Im Technisch-Naturwissen-Schaftlichen Bereich. Förderung des Nachwuchses In Technik und Naturwissenschaft. Springer, Berlin Heidelberg, pp 155–218

Streufert S, Satish U, Barach P (2001) Improving medical care: the use of simulation technology. Simul Gaming 32(2):164–174

Vissers J, Beech R (eds) (2005) Health operations management: patient flow logistics in health care (routledge health management). Routledge Chapman and Hall, New York

XJ Technologies Company (2007) AnyLogic 6—user's guide
About this article
Cite this article
Rauner, M.S., Niessner, H., Leopold-Wildburger, U. et al. A policy management game for mass casualty incidents: an experimental study. Flex Serv Manuf J 28, 336–365 (2016). https://doi.org/10.1007/s10696-014-9205-z
Keywords
Policy simulator

Management game

Health care

Mass casuality incidents

Experimental study