Abstract
Mobile Harbor (MH) is a type of mobile floating port system with an on-board crane for off-shore container handling capability. Due to its unique operational features, it creates a new type of operational scheduling problem. Container loading and unloading sequence schedule for the MH on-board crane is one such problem. An optimal schedule should minimize the on-board crane's moves in a stem-to-stern direction while satisfying MH's stability constraint. This paper presents a mathematical programming model to formally define the problem, and two heuristic methods, Genetic Algorithm (GA) method and local search method, are developed. Experimental results show that both GA and the local search method generate solutions of similar quality when the stability constraint is loose and that the local search method is not effective in finding a feasible solution for problems with a tight stability constraint.
Access options
Buy single article
Instant access to the full article PDF.
US$ 39.95
Tax calculation will be finalised during checkout.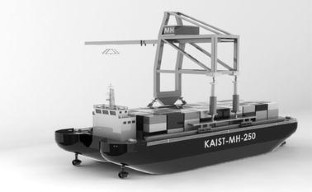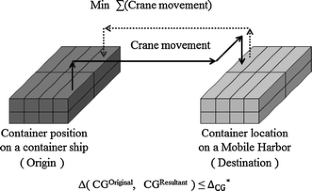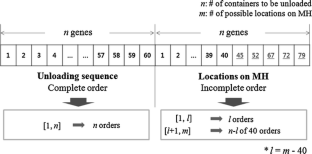 References
Bierwirth C, Meisel F (2010) A survey of berth allocation and quay crane scheduling problems in container terminals. Eur J Oper Res 202:615–627. doi:10.1016/j.ejor.2009.05.031

Goldberg DE (1989) Genetic Algorithms in search, optimization, and machine learning. Addison Wesley, MA, USA

Kim KY, Kim KH (2003) Heuristic algorithms for routing yard-side equipment for minimizing loading times in container terminals. Nav Res Logist 50:498–514. doi:10.1002/nav.10076

Kim KH, Park Y (2004) A crane scheduling method for port container terminals. Eur J Oper Res 156:752–768. doi:10.1016/S0377-2217(03)00133-4

Lee T, Sung I, Shin K, Nam H (2010) Optimal planning for Mobile Harbor system operation. Conference of society of CAD/CAM engineers

Meisel F, Wichmann M (2010) Container sequencing for quay cranes with internal reshuffles. OR Spectr 32:569–591. doi:10.1007/s00291-009-0191-6

Michalewicz Z (1999) Genetic Algorithms + Data structures = Evolution programs. Springer-Verlag, 3rd, revised and extended edition

Moccia L, Cordeau J-F, Gaudioso M, Laporte G (2006) A branch-and-cut algorithm for the quay crane scheduling problem in a container terminal. Nav Res Logist 53:45–59. doi:10.1002/nav.20121

Sammarra M, Cordeau J-F, Laporte G, Monaco MF (2007) A tabu search heuristic for the quay crane scheduling problem. J Sched 10:327–336. doi:10.1007/s10951-007-0029-5

Shin K, Lee T (2010a) Container unloading scheduling optimization problem with Mobile Harbor's stability constraint: near optimal solution searching method based on rule-based heuristic and local search method. In: Proceedings of spring joint conference of Korean institute of industrial engineers and Korean operations research and management science society

Shin K, Lee T (2010b) A GA-based approach for container unloading scheduling problem with Mobile Harbor's stability constraint. The 2010 international conference on logistics and maritime systems

Suh NP (2008) Mobile Harbor to improve ocean transportation system. China Patent 200810175215.1

van Kampen A, Strom C, Buydens L (1996) Lethalization, penalty and repair functions for constraint handling in the genetic algorithm methodology. Chemom Intell Lab Syst 34:55–68. doi:10.1016/0169-7439(96)00010-X

Whitley D (1994) A genetic algorithm tutorial. Stat Comput 4:65–85. doi:10.1007/BF00175354
About this article
Cite this article
Shin, K., Lee, T. Container loading and unloading scheduling for a Mobile Harbor system: a global and local search method. Flex Serv Manuf J 25, 557–575 (2013). https://doi.org/10.1007/s10696-012-9134-7
Keywords
Genetic Algorithm

Local search method

Mobile Harbor

Loading and unloading sequence