Abstract
A 45-day feeding trial was conducted to evaluate the effect of dietary jamun tree leaf (JL) on the antioxidant defence system-based disease resistance in juveniles of Trachinotus blochii. The juveniles of snubnose pompano were distributed into four treatment groups in triplicates. Each treatment was fed with a diet containing either 0 (0JL), 0.5 (0.5JL), 1 (1JL) and 1.5% JL (1.5JL) in the feed. After feeding trial, the fishes were experimentally infected with Vibrio parahaemolyticus. The activities of oxidative stress enzymes such as superoxide dismutase and catalase were found to be increasing with increasing level of dietary JL incorporation, and the lower value was witnessed in control group in pre- and post-challenge. After challenge, the alanine and aspartate aminotransferase activities in all the treatments were significantly increased (P < 0.05) than the pre-challenge condition and exhibited reverse trend with the antioxidant enzymes. The alkaline and acid phosphatase activities were found higher in 1.5JL group and showed significant difference (P < 0.05) among the treatments. The respiratory burst activity and liver glycogen content showed an increasing trend as the level of inclusion of JL increased in the diet. The acetylcholinesterase activity was significantly plunged (P < 0.05) after experimental infection, and JL diet fed groups showed better activity. After experimental infection with V. parahaemolyticus, the highest relative percentage of survival was observed in 1JL and 1.5JL groups. Hence, dietary supplementation of jamun tree leaf at the level of 1% is adequate to reduce the oxidative stress and improved the innate immune status through antioxidant defence system.
Access options
Buy single article
Instant access to the full article PDF.
US$ 39.95
Tax calculation will be finalised during checkout.
Subscribe to journal
Immediate online access to all issues from 2019. Subscription will auto renew annually.
US$ 79
Tax calculation will be finalised during checkout.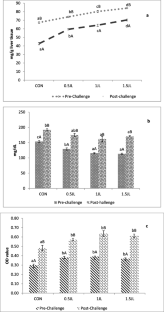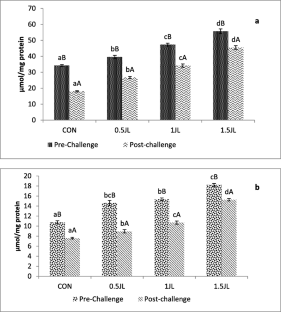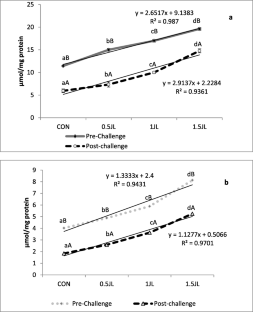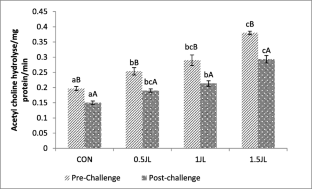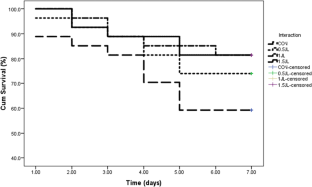 Availability of data and material (data transparency)
The data made available upon request
Code availability (software application or custom code)
References
Abdel-Daim MM, Dawood MA, Aleya L, Alkahtani S (2020) Effects of fucoidan on the hematic indicators and antioxidative responses of Nile tilapia (Oreochromis niloticus) fed diets contaminated with aflatoxin B 1. Environ Sci Pollut Res 27:12579–12586

Aliko V, Qirjo M, Sula E, Morina V, Faggio C (2018) Antioxidant defense system, immune response and erythron profile modulation in gold fish, Carassius auratus, after acute manganese treatment. Fish Shellfish Immunol 76:101–109

Amend DF (1981) Potency testing of fish vaccines. Dev Biol Stand 49:447–454

AOAC (1995) Official Methods of Analysis of AOAC International, vol 1, 16th edn. Association of Official Analytical Chemists, Arlington

Atli G, Alptekin O, Tukel S, Canli M (2006) Response of catalase activity to Ag+, Cd2+, Cr6+, Cu2+ and Zn2+ in five tissues of freshwater fish Oreochromis niloticus. Comp Biochem Physiol 143:218–224

Attwood EM, Weich DJ, Oosthuizen JM (1996) The influence of carbon particles on the concentration of acid phosphatase and lysozyme enzymes within alveolar macrophages during the killing and degradation of Mycobacterium bovis. Tuber Lung Dis 77:341–347

Ayyanar M, Subash-Babu P (2012) Syzygium cumini (L.) Skeels: A review of its phytochemical constituents and traditional uses. Asian Pac J Trop Biomed 2:240–246

Baba E, Acar Ü, Öntaş C, Kesbiç OS, Yilmaz S (2016) The use of Avena sativa extract against Aeromonas hydrophila and its effect on growth performance, hematological and immunological parameters in common carp (Cyprinus carpio). Ital J Anim Sci 15:325–333

Baker H, De Frank O, Angelis B, Feingold S (1980) Plasma tocopherol in man at various times after ingesting trace or acetylated tocopherol. Nutr Rep Int 21:531–536

Baldissera MD, Souza CF, Júnior GB, de Vargas AC, Boligon AA, de Campos MM, Stefani LM, Baldisserotto B (2017) Melaleuca alternifolia essential oil enhances the non-specific immune system and prevents oxidative damage in Rhamdia quelen experimentally infected by Aeromonas hydrophila: effects on cholinergic and purinergic systems in liver tissue. Fish Shellfish Immunol 61:1–8

Baldissera MD, Souza CF, Doleski PH, Moreira KLS, da Veiga ML, da Rocha MIUM, Santos RCV, Baldisserotto B (2018) Involvement of cholinergic and adenosinergic systems on the branchial immune response of experimentally infected silver catfish with Streptococcus agalactiae. J Fish Dis 41:27–32

Banerjee A, Dasgupta N, De B (2005) In vitro study of antioxidant activity of Syzygium cumini fruit. Food Chem 90:727–733

Barnes AC, Balebona MC, Horne MT, Ellis AE (1999) Superoxide dismutase and catalase in Photobacterium damselae subsp. piscida and their roles in resistance to reactive oxygen species. Microbiol 145:483–494

Birben E, Sahiner UM, Sackesen C, Erzurum S, Kalayci O (2012) Oxidative stress and antioxidant defense. World Allergy Org 5:9–19

Burgeois C (1992) Determination of vitamin E: Tocopherols and Tocotrienols. Elsevier Applied Science, London, New York

Buttke TM, Sandstorm PA (1994) Oxidative stress as a mediator of apoptosis. Immunol Today 15:7–10

Chandrasekar S, Linga Prabu D, Syama Dayal J, Ambasankar K, Arun Sudhagar S, Ebeneezar S, Nazar AA, Vijayagopal P (2017) Effect of dietary supplementation of Cassia auriculata leaf powder on growth and immune responses of milkfish, Chanos chanos. Bioscan 12:1911–1916

Chatterjee N, Pal AK, Das T, Mohammed MS, Sarma K, Venkateshwarlu G, Mukherjee SC (2006) Secondary stress responses in Indian major carps Labeo rohita (Hamilton), Catla catla (Hamilton) and Cirrhinus mrigala (Hamilton) fry to increasing packing densities. Aquac Res 37:472–476

Chen J, Liu N, Zhang H, Zhao Y, Cao X (2020) The effects of Aeromonas hydrophila infection on oxidative stress, nonspecific immunity, autophagy, and apoptosis in the common carp. Dev Comp Immunol 105:103587

Cheng W, Wang CH (2001) The susceptibility of the giant freshwater prawn Macrobrachium rosenbergii to Lactococcus garvieae and its resistance under copper sulfate stress. Dis Aquat Org 47:137–144

Conklin PL, Pallanca JE, Last RL, Smirnoff N (1997) L-ascorbic acid metabolism in the ascorbate-deficient Arabidopsis mutant vtc1. Plant Physiol 115:1277–1285

Da Silva AS, Boiago MM, Bottari NB, do Carmo GM, Alves MS, Boscato C, Morsch VM, Schetinger MRC, Casagrande RA, Stefani LM (2016) Hepatic cholinesterase of laying hens naturally infected by Salmonella gallinarum (fowl typhoid). Microb Pathog 98:93–97

Dandapat J, Chainy GB, Rao KJ (2000) Dietary vitamin-E modulates antioxidant defence system in giant freshwater prawn, Macrobrachium rosenbergii. Comp Biochem Physiol C 127:101–115

Das BK, Debnath C, Patnaik P, Swain DK, Kumar K, Misrhra BK (2009) Effect of β-glucan on immunity and survival of early stage of Anabas testudineus (Bloch). Fish Shellfish Immunol 27:678–683

Demeal NA (1978) Some characteristics of carbohydrate metabolism in fish. Oceanis, DOC. Oceacanogr 4:35–365

Di Giulio RT, Benson WH, Sanders BM, Van Veld PA (1995) Biochemical mechanisms: metabolism, adaptation, and toxicity. In: Rand GM (ed) Fundamentals of Aquatic Toxicology: Effects, Environmental Fate and Risk Assessment. Taylor & Francis, Bristol, pp 523–561

Doumas BT, Watson W, Biggs HG (1971) Albumin standards and the measurement of serum albumin with bromcresol green. Clin Chim Acta 31:87–96

Duncan DB (1955) Multiple Range and Multiple F-Test. Biometrics 11:1–5

Ebeneezar S, Vijayagopal P, Srivastava PP, Gupta S, Varghese T, Prabu DL, Chandrasekar S, Varghese E, Sayooj P, Tejpal CS, Wilson L (2019) Dietary lysine requirement of juvenile Silver pompano, Trachinotus blochii (Lacepede, 1801). Aquacult 511:734234

Ebeneezar S, Vijayagopal P, Srivastava PP, Gupta S, Varghese T, Prabu DL, Chandrasekar S, Varghese E, Tejpal CS, Anikuttan KK, Sayooj P (2020) Optimum dietary methionine requirement of juvenile silver pompano, Trachinotus blochii (Lacepede, 1801). Anim Feed Sci Technol 268:114592

Elbesthi RTA, Özdemir KY, Taştan Y, Bilen S, Sönmez AY (2020) Effects of ribwort plantain (Plantago lanceolata) extract on blood parameters, immune response, antioxidant enzyme activities, and growth performance in rainbow trout (Oncorhynchus mykiss). Fish Physiol Biochem 46:1295–1307. https://doi.org/10.1007/s10695-020-00790-z

Ellis AE, Hastings TS, Munro ALS (1981) The role of Aeromonas salmonicida extracellular products in the pathology of furunculosis. J Fish Dis 4:41–52

Ellman GL, Courtney KD, Andres V, Feather-Stone RM (1961) A new and rapid colorimetric determination of acetylcholinesterase activity. Biochem Pharmacol 7:88–95

Enes P, Panserat S, Kaushik S, Oliva-Teles AA (2009) Nutritional regulation of hepatic glucose metabolism in fish. Fish Physiol Biochem 35:519–539

FAO (2016-2018) In: McMaster MF, Gopakumar G (eds) Cultured Aquatic Species Information Programme Trachinotus spp. (T. carolinus, T. blochii). FAO Fisheries and Aquaculture Department, Rome

FDA (2004) Bacteriological analytical manual online (http://www.cfsan.fda.gov/~ebam/ bam-toc.html), 8th edn, Revision A, 1998, Chapter 9. Arlington

Garen A, Levinthal C (1960) A fine structure genetic and chemical study of the enzyme alkaline phosphatase of E. coli. Biochim Biophys Acta 38:470–483

Gopakumar G, Nazar AKA, Jayakumar R, Tamilmani G, Kalidas C, Sakthivel M, Rameshkumar P, Rao GH, Premjothi R, Balamurugan V, Ramkumar B, Jayasingh M, Rao GS (2012) Broodstock development through regulation of photoperiod and controlled breeding of silver pompano, Trachinotus blochii (Lacepede, 1801) in India. Ind J Fish 59:53–57

Gopalakannan A, Arul V (2010) Enhancement of the innate immune system and disease-resistant activity in Cyprinus carpio by oral administration of b-glucan and whole cell yeast. Aquac Res 41:884–892

Gora AH, Sahu NP, Sahoo S, Rehman S, Dar SA, Ahmad I, Agarwal D (2018) Effect of dietary Sargassum wightii and its fucoidan-rich extract on growth, immunity, disease resistance and antimicrobial peptide gene expression in Labeo rohita. Inter Aquat Res 10:115–131

Grover JK, Vats V, Rathi SS  (2000) Anti-hyperglycemic effect of Eugenia jambolana and Tinospora cordifolia in experimental diabetes and their effects on key metabolic enzymes involved in carbohydrate metabolism. J Ethnopharmacol 73:461–470

Grover JK, Vats V, Rathi SS, Dawar R (2001) Traditional Indian antidiabetic plants attenuate progression of renal damage in streptozotocin induced diabetic mice. J Ethnopharmacol 76:233–238

Gunter G, Sulya LL, Box BE (1961) Some evolutionary patterns in fishes blood. Biol Bull 121:302–306

Hu B, Li XQ, Leng XJ, Li JL, Wen H (2008) Effects of dietary vitamin C on growth, meat quality and non-specific immunity indices of grass carp, Ctenopharyngodon idellus. J Fish Sci China 15:794–800

Immanuel G, Sivagnanavelmurugan M, Marudhupandi T, Radhakrishnan S, Palavesam A (2012) The effect of fucoidan from brown seaweed Sargassum wightii on WSSV resistance and immune activity in shrimp Penaeus monodon (Fab). Fish Shellfish Immunol 32:551–564

Jha P, Flather M, Lonn E, Farkouh M, Yusuf S (1995) The antioxidant vitamins and cardiovascular disease. A critical review of epidemiologic and clinical trial data. Ann Intern Med 123:860–872

Kasiappan R, Subbaih R, Subramanian S (2005) Antihyperlipidemic effect of Eugenia jambolana seed kernel on streptozotocin induced diabetes rats. Food Chem Toxicol 43:1433–1439

Kawashima K, Fujii T (2003) The lymphocytic cholinergic system and its contribution to the regulation of immune activity. Life Sci 74:675–696

Kumar S, Sahu NP, Pal AK, Subramanian S, Priyadarshi H, Kumar V (2011) High dietary protein combats the stress of Labeo rohita fingerlings exposed to heat shock. Fish Physiol Biochem 37:1005–1019

Kumar S, Raman RP, Kumar K, Pandey PK, Kumar N, Mallesh B, Mohanty S, Kumar A (2013) Effect of azadirachtin on haematological and biochemical parameters of Argulus-infested goldfish Carassius auratus (Linn. 1758). Fish Physiol Biochem 39:733–747

Kumar P, Pal AK, Sahu NP, Jha AK, Priya P (2015) Biochemical and physiological stress responses to heat shock and their recovery in Labeo rohita fingerlings. Proc Nat Acad Sci India B 85:485–490

Kumar S, Raman RP, Prasad KP, Srivastava PP, Kumar S, Rajendran KV (2018) Effects on haematological and serum biochemical parameters of Pangasianodon hypophthalmus to an experimental infection of Thaparocleidus sp. (Monogenea: dactylogyridae). Exp Parasitol 188:1–7

Lavarías S, Heras H, Pedrini N, Tournier H, Ansaldo M (2011) Antioxidant response and oxidative stress levels in Macrobrachium borellii (Crustacea: Palaemonidae) exposed to the water-soluble fraction of petroleum. Comp Biochem Physiol C 153:415–421

Lin HTV, Tsou YC, Chen YT, Lu WJ, Hwang PA (2017) Effects of low-molecular-weight fucoidan and high stability fucoxanthin on glucose homeostasis, lipid metabolism, and liver function in a mouse model of type II diabetes. Mar Drugs 15:113

Lowry OH, Rosebrough NJ, Farr AL, Randall RJ (1951) Protein measurement with folin phenol reagent. J Biol Chem 193:256

Malarvizhi A, Kavitha C, Saravanan M, Ramesh M (2012) Carbamazepine (CBZ) induced enzymatic stress in gill, liver and muscle of a common carp, Cyprinus carpio. J King Saud Univ-Sci 24:179–186

Mansell B, Powell MD, Ernst I, Nowak BF (2005) Effects of the gill monogenean Zeuxapta seriolae (Meserve, 1938) and treatment with hydrogen peroxide on pathophysiology of kingfish, Seriola lalandi Valenciennes, 1833. J Fish Dis 28:253–262

Massaeli H, Sobrattee S, Pierce GN (1999) The importance of lipid solubility in antioxidants and free radical generating systems for determining lipoprotein peroxidation. Free Radic Biol Med 26:1524–1530

Misra HP, Fridovich I (1972) The role of superoxide anion in the autoxidation of epinephrine and a simple assay for superoxide dismutase. J Biol Chem 247:3170–3175

Molina R, Moreno I, Pichardo S, Jos A, Moyano R, Monterde JG, Cameán A (2005) Acid and alkaline phosphatase activities and pathological changes induced in Tilapia fish (Oreochromis sp.) exposed subchronically to microcystins from toxic cyanobacterial blooms under laboratory conditions. Toxicon 46:725–735

Motlagh HA, Javadmanesh A, Safari O (2020) Improvement of non-specific immunity, growth, and activity of digestive enzymes in Carassius auratus as a result of apple cider vinegar administration to diet. Fish Physiol Biochem 46:1387–1395. https://doi.org/10.1007/s10695-020-00797-6

Nelson N, Somogyi M (1965) Determination of glucose. In: Oser BL (ed) Hawk's Physiological Chemistry, 14th edn. McGraw Hill Publication, New York, pp 1054–1055

Ochoa S (1955) Malic dehydrogenase and malic enzyme. In: Caloric SP, Kaplan N (eds) Methods of Enzymology, vol I. Academic Press, New York, pp 735–745

Packer JE, Slater TF, Wilson RL (1979) Direct observation of a free radical interaction between vitamin E and vitamin C. Nature 278:737–738

Pan CH, Chien YH, Hunter B (2003) The resistance to ammonia stress of Penaeus monodon Fabricius juvenile fed diets supplemented with astaxanthin. J Exp Mar Biol Ecol 297:107–118

Panepucci L, Fernandes MN, Sanches JR, Rantin FT (2000) Changes in lactate dehydrogenase and malate dehydrogenase activities during hypoxia and after temperature acclimation in the armored fish, Rhinelepis strigosa (Siluriformes, Loricariidae). Rev Bras Biol 60:353–360

Parvez S, Pandey S, Ali M, Raisuddin S (2006) Biomarkers of oxidative stress in Wallago attu (Bl. and Sch.) during and after a fish-kill episode at Panipat. India Sci Total Environ 368:627–636

Pérez-Jiménez A, Guedes MJ, Morales AE, Oliva-Teles A (2007) Metabolic responses to short starvation and refeeding in Dicentrarchus labrax. Effect of dietary composition. Aquacult 265:325–335

Prabu DL, Sahu NP, Pal AK, Dasgupta S, Narendra A (2016) Immunomodulation and interferon gamma gene expression in sutchi cat fish, Pangasianodon hypophthalmus: effect of dietary fucoidan rich seaweed extract (FRSE) on pre and post challenge period. Aquac Res 47:199–218

Prabu DL, Ebeneezar S, Chandrasekar S, Sayooj P, Vijayagopal P (2017) Indigenous Re-circulatory Aquaculture System (i-RAS) developed for fish nutrition research. Mar Fish Inf Serv Tech Ext Ser 234:20–21

Prabu DL, Chandrasekar S, Ambashankar K, Dayal JS, Ebeneezar S, Ramachandran K, Kavitha M, Vijayagopal P (2018) Effect of dietary Syzygium cumini leaf powder on growth and non-specific immunity of Litopenaeus vannamei (Boone 1931) and defense against virulent strain of Vibrio parahaemolyticus. Aquacult 489:9–20

Prabu DL, Ebeneezar S, Chandrasekar S, Tejpal CS, Kavitha M, Sayooj P, Vijayagopal P (2020) Influence of graded level of dietary protein with equated level of limiting amino acids on growth, feed utilization, body indices and nutritive profile of snubnose pompano, Trachinotus blochii (Lacepede, 1801) reared in low saline water. Anim Feed Sci Technol 269:114685

Priyadarsini KI, Maity DK, Naik GH, Kumar MS, Unnikrishnan MK, Satav JG, Mohan H (2003) Role of phenolic OH and methylene hydrogen on the free radical reactions and antioxidant activity of curcumin. Free Radic Biol Med 35:475–484

Radhakrishnan S, Bhavan PS, Seenivasan C, Shanthi R, Muralisankar T (2014) Replacement of fishmeal with Spirulina platensis, Chlorella vulgaris and Azolla pinnata on non-enzymatic and enzymatic antioxidant activities of Macrobrachium rosenbergii. J Basic Appl Zool 67:25–33

Reinhold JG (1953) Manual determination of serum total protein, albumin and globulin fractions by Biuret method. In: Reiner M (ed) Standard Method of Clinical Chemistry. Academic Press, New York, p 88

Roe JH, Kuether CA (1943) Detection of ascorbic acid in whole blood and urine through 2, 4-DNPH derivative of dehydroascorbic acid. J Biol Chem 147:399–407

Rogatzki MJ, Ferguson BS, Goodwin ML, Gladden LB (2015) Lactate is always the end product of glycolysis. Front Neurosci 9:22

Roy A, Bhattacharya S, Pandey JN, Biswas M (2011) Anti-inflammatory activity of Syzygium cumini leaf against experimentally induced acute and chronic inflammations in rodents. Altern Med Stud 1:e6

Ruan PZ, Zhang LL, Lin MY (2008) Evaluation of the antioxidant activity of Syzygium cumini leaves. Molecules 13:2545–2556

Sahu S, Das BK, Mishra BK, Pradhan J, Samal SK, Sarangi N (2008) Effect of dietary Curcuma longa on enzymatic and immunological profiles of rohu, Labeo rohita (Ham.), infected with Aeromonas hydrophila. Aquac Res 39:1720–1730

Scarabello M, Wood CM, Heigenhauseg RJF (1991) Glycogen depletion in juvenile rainbow trout as an experimental test of the oxygen debt hypothesis. Can J Zool 69:2562–2568

Seifter S, Dayton S, Novic B, Muntwyler E (1950) The estimation of glycogen with the anthrone reagent. Arch Biochem Biophys 25:191–200

Sharma S, Mehta BK, Mehta D, Nagar H, Mishra A (2012) A review on pharmacological activity of Syzygium cumini extracts using different solvent and their effective doses. Inter Res J Pharm 54:12

Sharp GJE, Secombes CJ (1993) The role of reactive oxygen species in the killing of the bacterial fish pathogen Aeromonas salmonicida by rainbow trout macrophages. Fish Shellfish Immunol 3:119–129

Sies H, Murphy ME (1991) Role of tocopherols in the protection of biological systems against oxidative damage. J Photochem Photobiol B 8:211–224

Sony NM, Ishikawa M, Hossain MS, Koshio S, Yokoyama S (2019) The effect of dietary fucoidan on growth, immune functions, blood characteristics and oxidative stress resistance of juvenile red sea bream, Pagrus major. Fish Physiol Biochem 45:439–454

Stasiack AS, Bauman CP (1996) Neutrophil activity as a potent indicator of concomitant analysis. Fish. Shellfish Immunol 37:539–546

Storey KB (1996) Oxidative stress: Animal adaptation in nature. Braz J Med Biol Res 29:1715–1733

Sun Y (1990) Free radicals, antioxidant enzymes, and carcinogenesis. Free Radic Biol Med 8:583–599

Takahara S, Hamilton BH, Nell JV, Kobra TY, Oguna Y, Nishimura ET (1960) Hypocatalesemia a new genesis carrier state. J Clin Invest 29:610–619

Talpur AD, Ikhwanuddin M (2012) Dietary effects of garlic (Allium sativum) on haemato-immunological parameters, survival, growth, and disease resistance against Vibrio harveyi infection in Asian sea bass, Lates calcarifer (Bloch). Aquacult 364–365:6–12

Talpur AD, Ikhwanuddin M, Bolong A-MA (2013) Nutritional effects of ginger (Zingiber officinale Roscoe) on immune response of Asian sea bass, Lates calcarifer (Bloch) and disease resistance against Vibrio harveyi. Aquacult 400-401:46–52

Tan D, Gram L, Middelboe M (2014) Vibriophages and their interactions with the fish pathogen Vibrio anguillarum. Appl Environ Microbiol 80:3128–3140

Tejpal CS, Pal AK, Sahu NP, Kumar JA, Muthappa NA, Vidya S, Rajan MG (2009) Dietary supplementation of L-tryptophan mitigates crowding stress and augments the growth in Cirrhinus mrigala fingerlings. Aquacult 293:272–277

Tkachenko H, Kurhaluk N, Andriichuk A, Gasiuk E, Beschasniu S (2014) Oxidative stress biomarkers in liver of sea trout (Salmo trutta m. trutta L.) affected by ulcerative dermal necrosis syndrome. Turk J Fish Aquat Sci 14:391–402

Tok NC, Jain KK, Prabu DL, Sahu NP, Sukham M, Pal AK, Siddiah GM, Kumar P (2017) Metabolic and digestive enzyme activity of Pangasianodon hypophthalmus (Sauvage, 1878) fingerlings in response to alternate feeding of different protein levels in the diet. Aquac Res 48:2895–2911

Wiegertjes GF, Stet RM, Parmentier HK, van Muiswinkel WB (1996) Immunogenetics of disease resistance in fish: a comparative approach. Dev Comp Immunol 20:365–381

Wise DJ, Tomasso JR, Gatlin DM, Bai SC, Blazer VS (1993) Effects of dietary selenium and vitamin E on red blood cell peroxidation, glutathione peroxidase activity and macrophage superoxideanion production in channel catfish. J Aquat Anim Health 5:177–182

Wootton IDP (1964) Microanalysis in Medical Biochemistry, 4th edn. Grune & Stratton, New York

Wroblewski F, La Due JS (1955) Lactic dehydrogenase activity in blood. Proc Soc Exp Biol Med 90:210–213

Wu CC, Lin CL, Huang CY, Hsieh S, Liu CH, Hsieh SL (2019) α-Phellandrene enhances the immune response and resistance against Vibrio alginolyticus in white shrimp (Litopenaeus vannamei). Fish Shellfish Immunol 84:1108–1114

Xia H, Tang Y, Lu F, Luo Y, Yang P, Wang W, Jiang J, Li N, Han Q, Liu F, Liu L (2017) The effect of Aeromonas hydrophila infection on the non-specific immunity of blunt snout bream (Megalobrama amblycephala). Central-Eur J Immunol 42:239

Zhang G, Gong S, Yu D, Yuan H (2009) Propolis and Herba Epimedii extracts enhance the non-specific immune response and disease resistance of Chinese sucker, Myxocyprinus asiaticus. Fish Shellfish Immunol 3:467–472
Acknowledgements
The authors are thankful to Director, ICAR-CMFRI, Kochi, for their constant support to carry out the research work. The authors are grateful to Dr. L. Ranjith and Dr. C. Kalidas for their support in language and grammar editing. The authors are also indebted to Dr. P. Sayooj and Mr. P. Vishnu for rendering their untiring support in the wet laboratory operation throughout the research work.
Funding
This project was supported by funding from Indian Council of Agricultural research under the project with the code: CMFRI/MBTD/NTN/24 during 2017-2020.
Ethics declarations
Ethical approval
The use of juveniles of snubnose pompano for this experiment was carried out according to the guidelines of animal ethical procedures of ICAR-Central Marine Fisheries Research Institute (ICAR-CMFRI), Kochi by carefully considering the welfare of the fishes.
Conflict of interest
All authors of this manuscript are declared that no conflict of interest present in this manuscript.
Additional information
Publisher's Note
Springer Nature remains neutral with regard to jurisdictional claims in published maps and institutional affiliations.
Supplementary Information
About this article
Cite this article
Prabu, D.L., Ebeneezar, S., Chandrasekar, S. et al. Antioxidant defence system based oxidative stress mitigation through dietary jamun tree leaf in experimentally infected snubnose pompano, Trachinotus blochii. Fish Physiol Biochem 47, 617–637 (2021). https://doi.org/10.1007/s10695-021-00935-8
Received:

Accepted:

Published:

Issue Date:
Keywords
Antioxidant defence system

Stress mitigation

Jamun tree leaf

Snubnose pompano

Relative percentage of survival