Abstract
The wels catfish Silurus glanis is valuable fish for aquaculture. Its production relies mainly on artificial reproduction. One of the crucial steps determining success of the reproduction is elimination of egg stickiness after fertilization. To date, the catfish egg de-adhesion is usually carried out using proteolytic enzymes. Here, we prove a novel method based on oxidation of the egg surface by means of sodium hypochlorite. An effect of different exposure times and concentrations on the egg adhesiveness and damage was tested in the first trial. The selected concentration of sodium hypochlorite 0.3 mg · l−1 with exposure time 40 s was used for comparison with the conventical de-adhesion method using alcalase treatment. The fertilization and hatching rates reached very satisfactory outcome in both treatments (98.3 ± 0.7% vs 97.5 ± 2.2% and 86.6 ± 8.3% vs 91.3 ± 8.5% in alcalase- and sodium hypochlorite-treated embryos, respectively) without any statistical differences. Thus, the de-adhesion method using sodium hypochlorite can be recommended as a suitable method for wels catfish eggs. The method is simple, cheap, very fast, and the treated eggs are disinfected.
Access options
Buy single article
Instant access to the full article PDF.
US$ 39.95
Tax calculation will be finalised during checkout.
Subscribe to journal
Immediate online access to all issues from 2019. Subscription will auto renew annually.
US$ 79
Tax calculation will be finalised during checkout.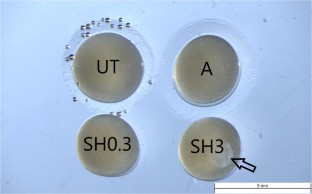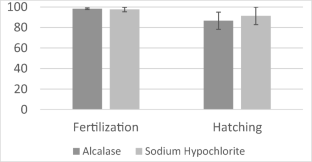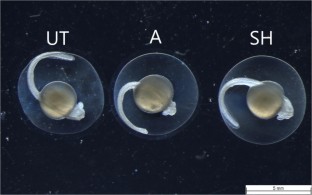 References
Abaham M, Hilge V, Riehl R, Iger Y (1993) Muco-follicle cells of the jelly coat in the oocyte envelope of the sheatfish (Silurus glanis L.). J Morphol 217:37–43. https://doi.org/10.1002/jmor.1052170103

Alp A, Kara C, Üçkardeş F, Carol J, García-Berthou E (2011) Age and growth of the European catfish (Silurus glanis) in a Turkish Reservoir and comparison with introduced populations. Rev Fish Biol Fish 21:283–294. https://doi.org/10.1007/s11160-010-9168-4

Chebanov MS, Galich E V (2013) Sturgeon hHatchery mManual. FAO fFisheries and aAquaculture tTechnical pPaper. No. 558. Ankara (2013)

Copp GH, Robert Britton J, Cucherousset J, García-Berthou E, Kirk R, Peeler E, Stakėnas S (2009) Voracious invader or benign feline? A review of the environmental biology of European catfish Silurus glanis in its native and introduced ranges. Fish Fish 10:252–282. https://doi.org/10.1111/j.1467-2979.2008.00321.x

Horvath L (1980) Use of a proteolytic enzyme to improve incubation of eggs of the european catfish. Progress Fish Cult 42:110–111. https://doi.org/10.1577/1548-8659

Linhart O, Gela D, Rodina M, Kocour M (2004) Optimization of artificial propagation in European catfish, Silurus glanis L. Aquaculture 235:619–632. https://doi.org/10.1016/j.aquaculture.2003.11.031

Linhart O, Štěch L, Švarc J et al (2002) The culture of the European catfish, Silurus glanis, in the Czech Republic and in France. Aquat Living Resour 15:139–144. https://doi.org/10.1016/S0990-7440(02)01153-1

Pšenička M (2016) A novel method for rapid elimination of sturgeon egg stickiness using sodium hypochlorite. Aquaculture 453:73–76. https://doi.org/10.1016/j.aquaculture.2015.11.039

Pšenička M (2018) Rapid de-adhesion of northern pike Esox lucius eggs using sodium hypochlorite. Fish Physiol Biochem 44:1535–1539. https://doi.org/10.1007/s10695-018-0544-7

Siddique MAM, Psenicka M, Cosson J, Dzyuba B, Rodina M, Golpour A, Linhart O (2016) Egg stickiness in artificial reproduction of sturgeon: an overview. Rev Aquac 8:18–29. https://doi.org/10.1111/raq.12070

Takeda N, Kusuda S, Teranishi T et al (2002) Effect of iron concentrations on hatching rates of adhesive-eliminated Osmerid fish (Spirinchus lanceolatus) eggs from the surface. Scientific Reports of the Hokkaido Salmon Hatchery 56:107–113

Ulikowski D, Szczepkowski M, Szczepkowska B (2003) Preliminary studies of intensive wels catfish (Silurus glanis L.) and sturgeon (Acipenser sp.) pond cultivation. Fisheries & Aquatic Life 11:295–300
Acknowledgments
This study was financially supported by the Ministry of Education, Youth and Sports of the Czech Republic—project CENAKVA (LM2018099) and Biodiversity (CZ.02.1.01/0.0/0.0/16_025/0007370), and the Czech Science Foundation (grant number 20-23836S).
Ethics declarations
Conflict of interest
The authors declare that they have no conflict of interest.
Additional information
Publisher's note
Springer Nature remains neutral with regard to jurisdictional claims in published maps and institutional affiliations.
Highlights
Novel method of wels catfish egg de-adhesion was developed.
The method is simple, cheap, effective and fast.
About this article
Cite this article
Pšenička, M., Franěk, R. Brief communication: rapid elimination of egg stickiness using sodium hypochlorite in wels catfish Silurus glanis. Fish Physiol Biochem 47, 681–685 (2021). https://doi.org/10.1007/s10695-020-00843-3
Received:

Accepted:

Published:

Issue Date:
Keywords
Wels catfish

Elimination of egg stickiness

Sodium hypochlorite

Artificial reproduction