Abstract
We aimed to develop a simplified protocol for transplantation of Brycon orbignyanus spermatogonial stem cells (SSCs) into Astyanax altiparanae testes. Brycon orbignyanus testes were enzymatically digested and SSC purified by a discontinuous density gradient. Endogenous spermatogenesis was suppressed in A. altiparanae using busulfan or by incubation at 35 °C water, and SSCs from B. orbignyanus labeled with PKH26 were injected into their testes via the urogenital papilla. Twenty-two hours post-transplantation, labeled spermatogonia were observed in A. altiparanae tubular lumen. After 7 days, spermatogonia proliferated in the epithelium, and 21 days post-transplantation, sperm was observed in the lumen. Of surviving host fish, nearly 67% of those treated with busulfan and 85% of those held in warm water showed labeled cells in host germinal epithelium. The present study standardized, by a simple and accessible method, germ cell transplantation between sexually mature Characiformes fish species. This is the first report of xenogenic SSC transplantation in this fish order.
This is a preview of subscription content, log in to check access.
Access options
Buy single article
Instant access to the full article PDF.
US$ 39.95
Price includes VAT for USA
Subscribe to journal
Immediate online access to all issues from 2019. Subscription will auto renew annually.
US$ 99
This is the net price. Taxes to be calculated in checkout.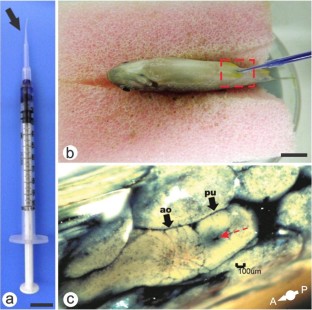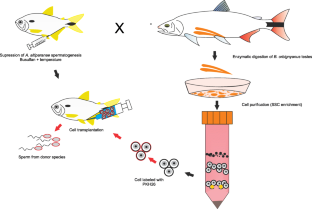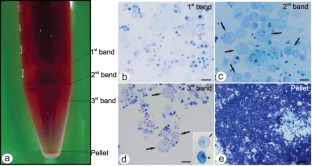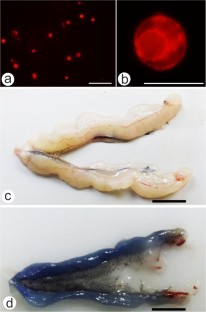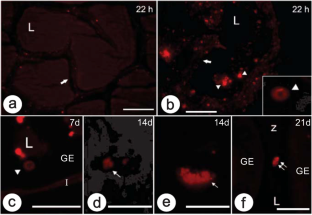 References
Bar I, Smith A, Bubner E, Yoshizaki G, Takeuchi Y, Yazawa R, Elizur A (2015) Assessment of yellowtail kingfish (Seriola lalandi) as a surrogate host. Reprod Fertil Dev 12:2051–2064

Borba MR, Fracalossi DM, Pezzato LE, Menoyo D, Bautista JM (2003) Growth, lipogenesis and body composition of piracanjuba (Brycon orbignyanus) fingerlings fed different dietary protein and lipid concentrations. Aquat Living Resour 16:362–369

Britto SGC (2009) A estratégia reprodutiva dos peixes migradores frente às escadas do Complexo Canoas (Rio Paranapanema, Bacia do Alto Paraná). Thesis, Instituto de Biociências de Botucatu: Universidade Estadual Paulista

De Oliveira DJ, Ashikaga FY, Foresti F, Senhorini JÁ (2015) Indução a reprodução artificial e caracterização espermática da piracanjuba Brycon orbignyanus (Bryconidae, Characiformes), espécie em perigo de extinção. Evol Conserv Biodivers 5:10–19

Ganeco LN, Franceschini-Vicentini IB, Nakaghi LSO (2009) Structural analysis of fertilization in the fish Brycon orbignyanus. Zygote 17:93–99

Gimbo RY, Saita MV, Gonçalves AFN, Takahashi LS (2008) Diferentes concentrações de benzocaína na indução anestésica do lambari-do-rabo-amarelo ("Astyanax altiparanae"). Rev Bras Saúde Prod Anim 9:350–357

Higuchi K, Takeuchi Y, Miwa M, Yamamoto Y, Tsunemoto K, Yoshizaki G (2011) Colonization, proliferation, and survival of intraperitoneally transplanted yellowtail Seriola quinqueradiata spermatogonia in nibe croaker Nibea mitsukurii recipient. Fish Sci 77:69–77

Lacerda SMSN, Batlouni SR, Silva SBG, Homem CSP, França LR (2006) Germ cells transplantation in fish: the Nile-tilapia model. Anim Reprod 3:146–159

Lacerda SMSN, Batlouni SR, Assis LH, Resende FM, Campos-Silva SM, Campos-Silva R, Franca LR (2008) Germ cell transplantation in tilapia (Oreochromis niloticus). Cybium 32:115–118

Lacerda SMSN, Batlouni SR, Costa GM, Segatelli TM, Quirino BR, Queiroz BM, Kalapothakis E, França LR (2010) A new and fast technique to generate offspring after germ cells transplantation in adult fish: the Nile tilapia (Oreochromis niloticus) model. PLoS One 5:e10740

Lin S, Long W, Chen J, Hopkins N (1992) Production of germ-line chimeras in zebrafish by cell transplants from genetically pigmented to albino embryos. PNAS 89:4519–4523

Majhi SK, Hattori RS, Yokota M, Watanabe S, Strüssmann CA (2009) Germ cell transplantation using sexually competent fish: an approach for rapid propagation of endangered and valuable germlines. PLoS One 4:e6132

Majhi SK, Hattori RS, Rahman SM, Strüssmann CA (2014) Surrogate production of eggs and sperm by intrapapillary transplantation of germ cells in cytoablated adult fish. PLoS One 9:e95294

Morita T, Kumakura N, Morishima K, Mitsuboshi T, Ishida M, Hara T, Kudo S, Miwa M, Ihara S, Higuchi K, Takeuchi I, Yoshizaki G (2012) Production of donor-derived offspring by allogeneic transplantation of spermatogonia in the yellowtail (Seriola quinqueradiata). Biol Reprod 86:176–176

Nóbrega RH, Greebe CD, Van De Kant H, Bogerd J, De França LR, Schulz RW (2010) Spermatogonial stem cell niche and spermatogonial stem cell transplantation in zebrafish. PLoS One 5:e12808

Okutsu T, Suzuki K, Takeuchi Y, Takeuchi T, Yoshizaki G (2006) Testicular germ cells can colonize sexually undifferentiated embryonic gonad and produce functional eggs in fish. PNAS 103:2725–2729

Okutsu T, Shikina S, Kanno M, Takeuchi Y, Yoshizaki G (2007) Production of trout offspring from triploid salmon parents. Science 317:1517

Pacchiarini T, Sarasquete C, Cabrita E (2013) Development of interspecies testicular germ-cell transplantation in flatfish. Reprod Fertil Dev 26:690–702

Panda RP, Barman HK, Mohapatra C (2011) Isolation of enriched carp spermatogonial stem cells from Labeo rohita testis for in vitro propagation. Theriogenology 76:241–251

Porto-Foresti F, Castilho-Almeida RB, Senhorini JÁ, Foresti F (2010) In: Baldisserotto B, Gomes LC (eds) Biologia e criação do lambari do rabo amarelo (Astyanax altiparanae). Espécies nativas para piscicultura no Brasil, vol. 1. Editora UFSM, Santa Maria, pp 101–115

Pšenička M, Saito T, Linhartová Z, Gazo I (2014) Isolation and transplantation of sturgeon early-stage germ cells. Theriogenology 83:1085–1092

Rosa RS, Lima FC (2008) Os Peixes Brasileiros Ameaçados de Extinção. In: ABM M, Drummond GM, Paglia AP (eds) Livro Vermelho da Fauna Brasileira Ameaçada de Extinção, Vol. 1. Ministério do Meio Ambiente, Brasília 278p

Saito T, Goto-Kazeto R, Arai K, Yamaha E (2008) Xenogenesis in teleost fish through generation of germ-line chimeras by single primordial germ cell transplantation. Biol Reprod 78:159–166

Saito T, Goto-Kazeto R, Fujimoto T, Kawakami Y, Arai K, Yamaha E (2010) Inter-species transplantation and migration of primordial germ cells in cyprinid fish. Int J Dev Biol 54:1481–1486

Siqueira-Silva DH, Dos Santos Silva AP, Ninhaus-Silveira A, Veríssimo-Silveira R (2015a) The effects of temperature and busulfan (Myleran) on the yellowtail tetra Astyanax altiparanae (Pisces, Characiformes) spermatogenesis. Theriogenology 84:1033–1042

Siqueira-Silva DHD, Silva APDS, Ninhaus-Silveira A, Veríssimo-Silveira R (2015b) Morphology of the urogenital papilla and its component ducts in Astyanax altiparanae Garutti & Britski, 2000 (Characiformes: Characidae). Neotrop Ichthyol 13:309–316

Takeuchi Y, Yoshizaki G, Takeuchi T (2003) Generation of live fry from intraperitoneally transplanted primordial germ cells in rainbow trout. Biol Reprod 69:1142–1149

Takeuchi Y, Higuchi K, Yatabe T, Miwa M, Yoshizaki G (2009) Development of spermatogonial cell transplantation in Nibe croaker, Nibea mitsukurii (Perciformes, Sciaenidae). Biol Reprod 81:1055–1063

Vaz MM, Torquato VC, Barbosa NDC (2000) Guia ilustrado de peixes da bacia do Rio Grande. CEMIG/CETEC, Belo Horizonte 144p

Yamaha E, Saito T, Goto-Kazeto R, Arai K (2007) Developmental biotechnology for aquaculture, with special reference to surrogate production in teleost fishes. J Sea Res 58:8–22

Yano A, Suzuki K, Yoshizaki G (2008) Flow-cytometric isolation of testicular germ cells from rainbow trout (Oncorhynchus mykiss) carrying the green fluorescent protein gene driven by trout vasa regulatory regions. Biol Reprod 78:151–158

Yazawa R, Takeuchi Y, Higuchi K, Yatabe T, Kabeya N, Yoshizaki G (2010) Chub mackerel gonads support colonization, survival, and proliferation of intraperitoneally transplanted xenogenic germ cells. Biol Reprod 82:896–904

Yoshizaki G, Ichikawa M, Hayashi M, Iwasaki Y, Miwa M, Shikina S, Okutsu T (2010) Sexual plasticity of ovarian germ cells in rainbow trout. Development 137:1227–1230

Zaniboni-Filho E, Schulz UH (2003) Migratory fishes of the Uruguay River. In: Carolsfeld J, Harvey B, Ross C, Baer A (eds) Migratory fishes of the South America: biology, social importance, and conservation status. World Fisheries Trust, Victoria, pp 157–194
Acknowledgments
The authors are deeply grateful to Douglas de Castro Ribeiro for help constructing the aquarium system and to Usina Hidrelétrica Engenheiro Souza Dias (Jupiá-CESP) and Centro Nacional de Pesquisa e Conservação da Biota Aquática Continental (CEPTA) for providing the fish used in this study.
Funding
This study was supported by Fundação de Apoio à Pesquisa de São Paulo (FAPESP; Process number: 2013/24218-5) and Conselho Nacional de Desenvolvimento Científico e Tecnológico (CNPq; grant number: 160-380/2011).
Ethics declarations
Experimental procedures were conducted in accordance with the guidance for care and use of animals in the laboratory of Universidade Estadual Paulista (UNESP-Ilha Solteira). The Committee of Ethics and Research of UNESP approved the protocol 006/2012/CONCEA.
Additional information
Publisher's note
Springer Nature remains neutral with regard to jurisdictional claims in published maps and institutional affiliations.
About this article
Cite this article
de Siqueira-Silva, D.H., dos Santos Silva, A.P., da Silva Costa, R. et al. Preliminary study on testicular germ cell isolation and transplantation in an endangered endemic species Brycon orbignyanus (Characiformes: Characidae). Fish Physiol Biochem (2019). https://doi.org/10.1007/s10695-019-00631-8
Received:

Accepted:

Published:
Keywords
Fish chimera

Germ cell technology

Spermatogonial proliferation

Surrogate production