Abstract
Rainbow trout Oncorhynchus mykiss (~ 180 g, 16 °C and < 5 kg m−3) that were feed deprived and kept in total darkness showed a significant increase in critical swimming speed (U crit) between 1 and 12 days of deprivation (from 3.35 to 4.46 body length (BL) s−1) with no increase in maximum metabolic rate (MMR). They also showed a significant decrease in the estimated metabolic rate at 0 BL s−1 over 12 days which leads to a higher factorial aerobic metabolic scope at day 12 (9.38) compared to day 1 (6.54). Routine metabolic rates were also measured in ~ 90 g rainbow trout that were swimming freely in large circular respirometers at 16 °C. These showed decreasing consumption oxygen rates and reductions in the amount of oxygen consumed above standard metabolic rate (a proxy for spontaneous activity) over 12 days, though this happened significantly faster when they were kept in total darkness when compared to a 12:12-h light–dark (LD) photoperiod. Weight loss during this period was also significantly reduced in total darkness (3.33% compared to 4.98% total body weight over 12 days). Immunological assays did not reveal any consistent up- or downregulation of antipathogenic and antioxidant enzymes in the serum or skin mucus of rainbow trout between 1 and 12 days of feed and light deprivation. Overall, short periods of deprivation do not appear to significantly affect the performance of rainbow trout which appear to employ a behavioural energy-sparing strategy, albeit more so in darkness than under a 12:12-h LD regime.
Access options
Buy single article
Instant access to the full article PDF.
USD 39.95
Price excludes VAT (USA)
Tax calculation will be finalised during checkout.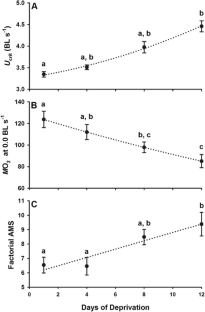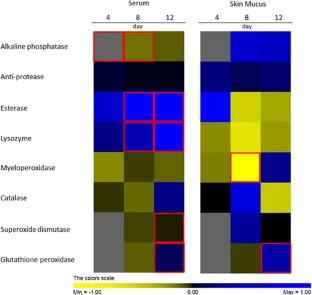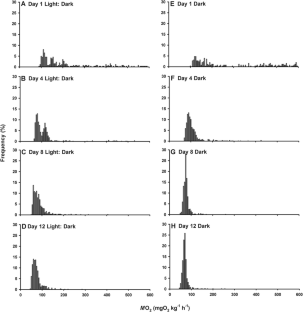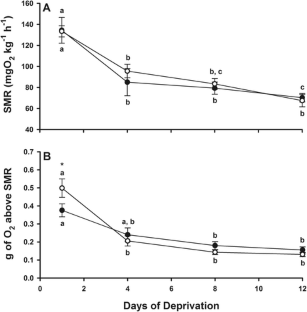 References
Alsop D, Wood C (1997) The interactive effects of feeding and exercise on oxygen consumption, swimming performance and protein usage in juvenile rainbow trout (Oncorhynchus mykiss). J Exp Biol 200:2337–2346

Álvarez A, García BG, Garrido M, Hernández M (2008) The influence of starvation time prior to slaughter on the quality of commercial-sized gilthead seabream (Sparus aurata) during ice storage. Aquaculture 284:106–114

Andersen F, Lygren B, Maage A, Waagbø R (1998) Interaction between two dietary levels of iron and two forms of ascorbic acid and the effect on growth, antioxidant status and some non-specific immune parameters in Atlantic salmon (Salmo salar) smolts. Aquaculture 161:437–451

Ángeles Esteban M, Cuesta A, Rodríguez A, Meseguer J (2006) Effect of photoperiod on the fish innate immune system: a link between fish pineal gland and the immune system. J Pineal Res 41:261–266

Auer SK, Salin K, Rudolf AM, Anderson GJ, Metcalfe NB (2016) Differential effects of food availability on minimum and maximum rates of metabolism. Biol Lett 12:20160586

Beauchamp DA, Stewart DJ, Thomas GL (1989) Corroboration of a bioenergetic model for sockeye salmon. Trans Am Fish Soc 118:597–607

Binuramesh C, Michael RD (2011) Diel variations in the selected serum immune parameters in Oreochromis mossambicus. Fish & Shellfish Immunol 30:824–829

Boeuf G, Le Bail P-Y (1999) Does light have an influence on fish growth? Aquaculture 177:129–152

Bradford R (1993) Differential utilization of storage lipids and storage proteins by Northwest Atlantic herring (Clupea harengus harengus). J Fish Biol 43:811–824

Brett JR (1964) The respiratory metabolism and swimming performance of young sockeye salmon. J Fisheries Board Can 21:1183–1226

Brown E, Bruce M, Pether S, Herbert N (2011) Do swimming fish always grow fast? Investigating the magnitude and physiological basis of exercise-induced growth in juvenile New Zealand yellowtail kingfish, Seriola lalandi. Fish Physiol Biochem 37:327–336

Caipang CMA, Berg I, Brinchmann MF, Kiron V (2009) Short-term crowding stress in Atlantic cod, Gadus morhua L. modulates the humoral immune response. Aquaculture 295:110–115

Caipang CMA, Fatira E, Lazado CC, Pavlidis M (2014) Short-term handling stress affects the humoral immune responses of juvenile Atlantic cod, Gadus morhua. Aquac Int 22:1283–1293

Caraux G, Pinloche S (2005) PermutMatrix: a graphical environment to arrange gene expression profiles in optimal linear order. Bioinformatics 21:1280–1281

Chabot D, Claireaux G (2008) Environmental hypoxia as a metabolic constraint on fish: the case of the Atlantic cod Gadus morhua. Mar Pollut Bull 57:287–294

Clark TD, Sandblom E, Jutfelt F (2013) Aerobic scope measurements of fishes in an era of climate change: respirometry, relevance and recommendations. J Exp Biol 216:2771–2782

Coulson RA, Herbert JD, Thomas H (1978) Energy for amino acid absorption, transport and protein synthesis in vivo. Comp Biochem Physiol A 60:13–20

Einen O, Waagan B, Thomassen MS (1998) Starvation prior to slaughter in Atlantic salmon (Salmo salar): I. Effects on weight loss, body shape, slaughter- and fillet-yield, proximate and fatty acid composition. Aquaculture 166:85–104

Fjelldal PG, Hansen T, Huang T-s (2011) Continuous light and elevated temperature can trigger maturation both during and immediately after smoltification in male Atlantic salmon (Salmo salar). Aquaculture 321:93–100

Franklin CE, Farrell AP, Altimiras J, Axelsson M (2013) Thermal dependence of cardiac function in arctic fish: implications of a warming world. J Exp Biol 216:4251–4255

Frisk M, Skov PV, Steffensen JF (2012) Thermal optimum for pikeperch (Sander lucioperca) and the use of ventilation frequency as a predictor of metabolic rate. Aquaculture 324–325:151–157

Frisk M, Steffensen JF, Skov PV (2013) The effects of temperature on specific dynamic action and ammonia excretion in pikeperch (Sander lucioperca). Aquaculture 404–405:65–70

Froese R (2006) Cube law, condition factor and weight–length relationships: history, meta-analysis and recommendations. J Appl Ichthyol 22:241–253

Giannetto A, Fernandes JMO, Nagasawa K, Mauceri A, Maisano M, De Domenico E, Cappello T, Oliva S, Fasulo S (2014) Influence of continuous light treatment on expression of stress biomarkers in Atlantic cod. Dev Comp Immunol 44:30–34

Hansen T, Stefansson S, Taranger G (1992) Growth and sexual maturation in Atlantic salmon, Salmo salar L., reared in sea cages at two different light regimes. Aquac Res 23:275–280

Henderson NE (1963) Influence of light and temperature on the reproductive cycle of the eastern brook trout, Salvelinus fontinalis (Mitchill). J Fisheries Board Can 20:859–897

Herbert NA, Kadri S, Huntingford FA (2011) A moving light stimulus elicits a sustained swimming response in farmed Atlantic salmon, Salmo salar L. Fish Physiol Biochem 37:317–325

Houlihan DF, Carter CG, McCarthy ID (1995) Protein synthesis in fish. In: Hochachka PW, Mommsen TP (eds) Biochemistry and molecular biology of fishes. Elsevier, London, pp 191–220

Jobling M (1983) Towards an explanation of specific dynamic action (SDA). J Fish Biol 23:549–555

Jobling M (1993) Bioenergetics: feed intake and energy partitioning. In: Rankin JC, Jensen FB (eds) Fish ecophysiology. Springer, London, pp 1–44

Jordan AD, Steffensen JF (2007) Effects of ration size and hypoxia on specific dynamic action in the cod. Physiol Biochem Zool 80:178–185

Khan JR, Pether S, Bruce M, Walker SP, Herbert NA (2014a) Optimum temperatures for growth and feed conversion in cultured hapuku (Polyprion oxygeneios)—is there a link to aerobic metabolic scope and final temperature preference? Aquaculture 430:107–113

Khan JR, Pether S, Bruce M, Walker SP, Herbert NA (2015) The effect of temperature and ration size on specific dynamic action and production performance in juvenile hapuku (Polyprion oxygeneios). Aquaculture 437:67–74

Khan JR, Trembath C, Pether S, Bruce M, Walker SP, Herbert NA (2014b) Accommodating the cost of growth and swimming in fish—the applicability of exercise-induced growth to juvenile hapuku (Polyprion oxygeneios). Front Physiol 5:1–9

Kiessling A, Johansson L, Kiessling K-H (1990) Effects of starvation on rainbow trout muscle: I. Histochemistry, metabolism and composition of white and red muscle in mature and immature fish. Acta Agric Scand 40:309–324

Kiron V, Puangkaew J, Ishizaka K, Satoh S, Watanabe T (2004) Antioxidant status and nonspecific immune responses in rainbow trout (Oncorhynchus mykiss) fed two levels of vitamin E along with three lipid sources. Aquaculture 234:361–379

Kissil GW, Lupatsch I, Elizur A, Zohar Y (2001) Long photoperiod delayed spawning and increased somatic growth in gilthead seabream (Sparus aurata). Aquaculture 200:363–379

Kolok AS (1991) Photoperiod alters the critical swimming speed of juvenile largemouth bass, Micropterus salmoides, acclimated to cold water. Copeia 1991:1085–1090

Korsmeyer KE, Steffensen JF, Herskin J (2002) Energetics of median and paired fin swimming, body and caudal fin swimming, and gait transition in parrotfish (Scarus schlegeli) and triggerfish (Rhinecanthus aculeatus). J Exp Biol 205:1253–1263

Lapointe D, Guderley H, Dutil JD (2006) Changes in the condition factor have an impact on metabolic rate and swimming performance relationships in Atlantic cod (Gadus morhua L.) Physiol Biochem Zool 79:109–119

Laurence GC (1972) Comparative swimming abilities of fed and starved larval largemouth bass (Micropterus salmoides). J Fish Biol 4:73–78

Lazado CC, Lund I, Pedersen PB, Nguyen HQ (2015) Humoral and mucosal defense molecules rhythmically oscillate during a light–dark cycle in permit, Trachinotus falcatus. Fish & Shellfish Immunol 47:902–912

Lazado CC, Skov PV, Pedersen PB (2016) Innate immune defenses exhibit circadian rhythmicity and differential temporal sensitivity to a bacterial endotoxin in Nile tilapia (Oreochromis niloticus). Fish & Shellfish Immunol 55:613–622

LeGrow SM, Beamish F (1986) Influence of dietary protein and lipid on apparent heat increment of rainbow trout, Salmo gairdneri. Can J Fish Aquat Sci 43:19–25

Leonardi M, Klempau A (2003) Artificial photoperiod influence on the immune system of juvenile rainbow trout (Oncorhynchus mykiss) in the Southern Hemisphere. Aquaculture 221:581–591

Li X-M, Yu L-J, Wang C, Zeng L-Q, Cao Z-D, Fu S-J, Zhang Y-G (2013) The effect of aerobic exercise training on growth performance, digestive enzyme activities and postprandial metabolic response in juvenile qingbo (Spinibarbus sinensis). Comp Biochem Physiol A 166:8–16

Loughna PT, Goldspink G (1984) The effects of starvation upon protein turnover in red and white myotomal muscle of rainbow trout, Salmo gairdneri Richardson. J Fish Biol 25:223–230

Love RM (1975) Variability in Atlantic cod (Gadus morhua) from the Northeast Atlantic: a review of seasonal and environmental influences on various attributes of the flesh. J Fisheries Board Can 32:2333–2342

Magnadóttir B (2006) Innate immunity of fish (overview). Fish & Shellfish Immunol 20:137–151

Martínez M, Bédard M, Dutil J-D, Guderley H (2004) Does condition of Atlantic cod (Gadus morhua) have a greater impact upon swimming performance at U crit or sprint speeds? J Exp Biol 207:2979–2990

Martínez M, Guderley H, Dutil J-D, Winger PD, He P, Walsh SJ (2003) Condition, prolonged swimming performance and muscle metabolic capacities of cod Gadus morhua. J Exp Biol 206:503–511

Molina R, Moreno I, Pichardo S, Jos A, Moyano R, Monterde JG, Cameán A (2005) Acid and alkaline phosphatase activities and pathological changes induced in tilapia fish (Oreochromis sp.) exposed subchronically to microcystins from toxic cyanobacterial blooms under laboratory conditions. Toxicon 46:725–735

Mommsen TP (2004) Salmon spawning migration and muscle protein metabolism: the August Krogh principle at work. Comp Biochem Physiol B 139:383–400

Oppedal F, Dempster T, Stien LH (2011) Environmental drivers of Atlantic salmon behaviour in sea-cages: a review. Aquaculture 311:1–18

Oppedal F, Juell JE, Tarranger G, Hansen T (2001) Artificial light and season affects vertical distribution and swimming behaviour of post-smolt Atlantic salmon in sea cages. J Fish Biol 58:1570–1584

Pandian TJ, Vivekanandan E (1976) Effects of feeding and starvation on growth and swimming activity in an obligatory air-breathing fish. Hydrobiologia 49:33–39

Patterson S, Goldspink G (1973) The effect of starvation on the ultrastructure of the red and white myotomal muscles of the crucian carp (Carassius carassius). Z Zellforsch Mikrosk Anat 146:375–384

Pettersson LB, Hedenström A (2000) Energetics, cost reduction and functional consequences of fish morphology. Proc R Soc Lond B 267:759–764

Pickering AD, Pottinger TG (1989) Stress responses and disease resistance in salmonid fish: effects of chronic elevation of plasma cortisol. Fish Physiol Biochem 7:253–258

Plaut I (2001) Critical swimming speed: its ecological relevance. Comp Biochem Physiol A 131:41–50

Ross NW, Firth KJ, Wang A, Burka JF, Johnson SC (2000) Changes in hydrolytic enzyme activities of naive Atlantic salmon Salmo salar skin mucus due to infection with the salmon louse Lepeophtheirus salmonis and cortisol implantation. Dis Aquat Org 41:43–51

Secor SM (2009) Specific dynamic action: a review of the postprandial metabolic response. J Comp Physiol B 179:1–56

Sitjà-Bobadilla A, Palenzuela O, Alvarez-Pellitero P (2008) Immune response of turbot, Psetta maxima (L.) (Pisces: Teleostei), to formalin-killed scuticociliates (Ciliophora) and adjuvanted formulations. Fish & Shellfish Immunol 24:1–10

Smiley PC, Parsons GR (1997) Effects of photoperiod and temperature on swimming performance of white crappie. Trans Am Fish Soc 126:495–499

Smith RW, Houlihan DF (1995) Protein synthesis and oxygen consumption in fish cells. J Comp Physiol B 165:93–101

Solbakken VA, Hansen T, Stefansson SO (1994) Effects of photoperiod and temperature on growth and parr-smolt transformation in Atlantic salmon (Salmo salar L.) and subsequent performance in seawater. Aquaculture 121:13–27

Steffensen JF (1989) Some errors in respirometry of aquatic breathers: how to avoid and correct for them. Fish Physiol Biochem 6:49–59

Uribe C, Folch H, Enriquez R, Moran G (2011) Innate and adaptive immunity in teleost fish: a review. Veterinarni Medicina 56:486–503

Valdimarsson SK, Metcalfe NB (2001) Is the level of aggression and dispersion in territorial fish dependent on light intensity? Anim Behav 61:1143–1149

van Dijk P, Staaks G, Hardewig I (2002) The effect of fasting and refeeding on temperature preference, activity and growth of roach, Rutilus rutilus. Oecologia 130:496–504

Wang T, Hung CC, Randall DJ (2006) The comparative physiology of food deprivation: from feast to famine. Ann Rev Physiol 68:223–251

Xu L, Lam P, Chen J, Zhang Y, Harada K (2000) Comparative study on in vitro inhibition of grass carp (Ctenopharyngodon idellus) and mouse protein phosphatases by microcystins. Environ Toxicol 15:71–75

Yanase K, Herbert NA, Montgomery JC (2012) Disrupted flow sensing impairs hydrodynamic performance and increases the metabolic cost of swimming in the yellowtail kingfish, Seriola lalandi. J Exp Biol 215:3944–3954

Zapata AG, Varas A, Torroba M (1992) Seasonal variations in the immune system of lower vertebrates. Immunol Today 13:142–147
Acknowledgements
The present research was conducted as part of the project "Offshore Aquaculture" funded by the Danish Agrifish Agency through the Green Development and Demonstration Programme (Grant no. 3405-11-0293). The authors are grateful to the technical staff at the DTU Aqua, Section for Aquaculture, for the practical assistance with fish husbandry and laboratory analysis.
About this article
Cite this article
Khan, J.R., Lazado, C.C., Methling, C. et al. Short-term feed and light deprivation reduces voluntary activity but improves swimming performance in rainbow trout Oncorhynchus mykiss . Fish Physiol Biochem 44, 329–341 (2018). https://doi.org/10.1007/s10695-017-0438-0
Received:

Accepted:

Published:

Issue Date:

DOI: https://doi.org/10.1007/s10695-017-0438-0
Keywords
Salmonids

Metabolic rate

Oxygen consumption

Spontaneous activity

Aerobic scope