Abstract
The present study was conducted to investigate the effects of astaxanthin on growth performance, biochemical parameters, ROS production, and immune-related gene expressions of the pufferfish (Takifugu obscurus) under high temperature stress. The experimental basal diets supplemented with astaxanthin at the rates of 0 (control), 20, 40, 80, 160, and 320 mg kg−1 were fed to fish for 8 weeks. The results showed that the fish fed diet with 80, 160, and 320 mg kg−1 astaxanthin significantly improved weight gain and specific growth rate. Furthermore, fish fed the moderate dietary astaxanthin increased plasma alkaline phosphatase activities, and decrease plasma aspartate aminotransferase and alanine aminotransferase activities. After the feeding trial, the fish were exposed to high temperature stress for 48 h. The results shown that astaxanthin could suppress ROS production induced by high temperature stress. Meanwhile, compared with the control group, the astaxanthin groups increased SOD, CAT, and HSP70 mRNA levels under high temperature stress. These results showed that the basal diet supplemented with 80–320 mg kg−1 astaxanthin could enhance growth, nonspecific immune responses, and antioxidant defense system and improve resistance against high temperature stress in pufferfish.
Access options
Buy single article
Instant access to the full article PDF.
USD 39.95
Price excludes VAT (USA)
Tax calculation will be finalised during checkout.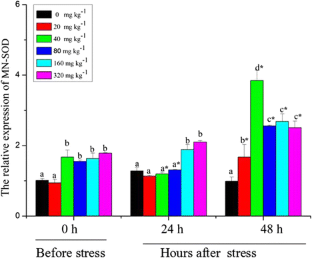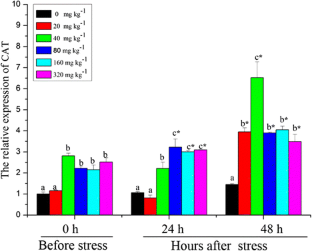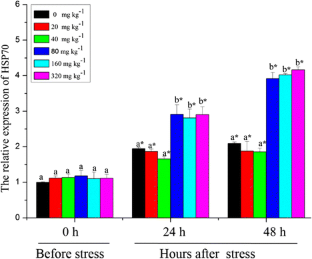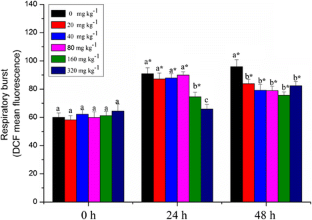 References
Barton BA (2002) Stress in fishes: a diversity of responses with particular reference to changes in circulating corticosteroids. Integr Comp Biol 42:517–525

Bowden TJ (2008) Modulation of the immune system of fish by their environment. Fish Shellfish Immunol 25:373–383

Bricknell I, Dalmo RA (2005) The use of immunostimulants in fish larval aquaculture. Aquaculture 19:457–472

Cheng CH, Yang FF, Liao SA, Miao YT, Ye CX, Wang AL, Tan JW, Chen XY (2015) High temperature induces apoptosis and oxidative stress in pufferfish (Takifugu obscurus) blood cells. J Therm Biol 2015(53):172–179

Chew BP, Mathison BD, Hayek MG, Massimino S, Reinhart GA, Park JS (2011) Dietary astaxanthin enhances immune response in dogs. Vet Immunol Immunopathol 140:199–206

Jagruthi C, Yogeshwari G, Anbazahan SM, Mari LS, Arockiaraj J, Mariappan P, Sudhakar GR, Balasundaram C, Harikrishnan R (2014) Effect of dietary astaxanthin against Aeromonas hydrophila infection in common carp, Cyprinus carpio. Fish Shellfish Immunol 41(2):674–680

Kikuchi K, Furuta T, Honda H (1994) Utilization of soybean meal as a protein source in the diet of juvenile Japanese flounder, Paralichthys olivaceus. Aquaculture 42:601–604

Lee S, Ji K, Choi K (2014) Effects of water temperature on perchlorate toxicity to the thyroid and reproductive system of Oryzias latipes. Ecotoxicol Environ Saf 108:311–317

Li M, Wu WJ, Zhou PP, Xie FJ, Zhou QC, Mai K (2014) Comparison effect of dietary astaxanthin and Haematococcus pluvialis on growth performance, antioxidant status and immune response of large yellow croaker Pseudosciaena crocea. Aquaculture 434:227–232

Liu F, Shi HZ, Guo QS, Yu YB, Wang AM, Lv F, Shen WB (2016) Effects of astaxanthin and emodin on the growth, stress resistance and disease resistance of yellow catfish (Pelteobagrus fulvidraco). Fish Shellfish Immunol 51:125–135

Liu MP, Li J, Gao BQ, Chen P (2014) Physiological responses of swimming crab Portunus trituberculatus under cold acclimation: antioxidant defense and heat shock proteins. Aquaculture 434:11–17

Livak KJ, Schmittgen TD (2001) Analysis of relative gene expression data using real time quantitative PCR and the 2−ΔΔCT method. Methods 25:402–408

Lortz S, Tiedge M, Nachtwey T, Karlsen AE, Nerup J, Lenzen S (2000) Protection of insulin-producing RINm5F cells against cytokine-mediated toxicity through over expression of antioxidant enzymes. Diabetes 49:1123–1130

Luo SW, Cai L, Liu Y, Wang WN (2014) Functional analysis of a dietary recombinant fatty acid binding protein 10 (FABP10) on the Epinephelus coioides in response to acute low temperature challenge. Fish Shellfish Immunol 36:475–484

Mansour N, McNiven MA, Richardson GF (2006) The effect of dietary supplementation with blueberry, alpha-tocopherol or astaxanthin on oxidative stability of Arctic char (Salvelinus alpinus) semen. Theriogenology 66(2):373–382

Martin H, Ager C, Ruck JC, Schmidt M, Walsh R, Paust J (1999) Anti- and prooxidant properties of carotenoids. J Prakt Chem 341:302–308

Ming J, Xie J, Xu P, Ge X, Liu W, Ye J (2012) Effects of emodin and vitamin C on growth performance, biochemical parameters and two HSP70s mRNA expression of Wuchang bream (Megalobrama amblycephala Yih) under high temperature stress. Fish Shellfish Immunol 32:651–661

Naguib YM (2000) Antioxidant activities of astaxanthin and related carotenoids. J Agric Food Chem 48:1150–1154

Nayak SK (2010) Probiotics and immunity: a fish perspective. Fish Shellfish Immunol 29:2–14

Ozaki H (1978) Diagnosis of fish health by blood analysis. In: Itazawa Y, Hanyu I, Hibiya K (eds) Respiration and circulation of fish, Fisheries Series, vol 24. Tokyo, Koseisya Koseikaku, pp 63–80

Park JS, Mathison BD, Hayek MG, Massimino S, Reinhart GA, Chew BP (2011) Astaxanthin stimulates cell-mediated and humoral immune responses in cats. Vet Immunol Immunopathol 144:455–461

Pelham HRB (1986) Speculations on the functions of the major heat shock and glucose regulated proteins. Cell 46:959–961

Pörtner HO (2002) Climate variations and the physiological basis of temperature dependent biogeography: systemic to molecular hierarchy of thermal tolerance in animals. Comp Biochem Physiol (Part A) 132:739–761

Rehulka J (2000) Influence of astaxanthin on growth rate, condition, and some blood indices of rainbow trout, Oncorhynchus mykiss. Aquaculture 190:27–47

Sawanboonchun J, Roy WJ, Robertson DA, Bell JG (2008) The impact of dietary supplementation with astaxanthin on egg quality in Atlantic cod broodstock (Gadus morhua, L.) Aquaculture 283:97–101

Verma AK, Pal AK, Manush SM, Das T, Dalvi RS, Chandrachoodan PP (2007) Persistent sub-lethal chlorine exposure augments temperature induced immunosuppression in Cyprinus carpio advanced fingerlings. Fish Shellfish Immunol 22:547–555

Zhou CP, Ge XP, Lin HZ, Niu J (2014) Effect of dietary carbohydrate on non-specific immune response, hepatic antioxidative abilities and disease resistance of juvenile golden pompano (Trachinotus ovatus). Fish Shellfish Immunol 41:183–190
Acknowledgements
This research was supported by Special Funds for Fish Diseases of Guangdong Province (2015-352 and 2016-302), Marine Fisheries Technology and Industry Development Special Projects of Guangdong Province (A201501B14), Marine Fisheries Science and Technology Extension Projects of Guangdong Province (B201601-11), Science and Technology Projects of Guangdong Province (2014B040404057), and Hainan Applied Technology Research and Development and Demonstration Projects (ZDXM2015025).
About this article
Cite this article
Cheng, CH., Guo, ZX., Ye, CX. et al. Effect of dietary astaxanthin on the growth performance, non-specific immunity, and antioxidant capacity of pufferfish (Takifugu obscurus) under high temperature stress. Fish Physiol Biochem 44, 209–218 (2018). https://doi.org/10.1007/s10695-017-0425-5
Received:

Accepted:

Published:

Issue Date:

DOI: https://doi.org/10.1007/s10695-017-0425-5
Keywords