Abstract
Levels of oxidative stress can be affected by a range of compounds including toxins and pharmaceuticals. Antioxidants are important protective compounds which counteract the damaging effects of oxidative stress. Glutathione (GSH) is one of the main antioxidants for many organisms and can be synthesized from administered N-acetylcysteine (NAC). NAC has therefore often been used in a wide range of taxa to manipulate levels of GSH. Our objective was to validate this approach in a wild temperate teleost fish model, the brown trout (Salmo trutta). We used intracoelomic injections of NAC in saline and vegetable shortening, at two different concentrations (100 and 400 mg/kg), with the appropriate controls and shams, under controlled laboratory settings. We found that NAC failed to elicit an increase in GSH over three time periods and concluded that NAC is not an effective method to enhance GSH levels in teleost fish using the concentrations and vehicles tested here. We emphasize the importance of validation studies across all new species/taxa when possible and suggest that more investigation is required with regard to NAC manipulation in fish if this approach is to be used.
Access options
Buy single article
Instant access to the full article PDF.
USD 39.95
Price excludes VAT (USA)
Tax calculation will be finalised during checkout.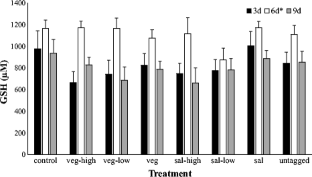 References
Aruoma OI, Halliwell B, Hoey BM, Butler J (1989) The antioxidant action of N-acetylcysteine: its reaction with hydrogen peroxide, hydroxyl radical, superoxide, and hypochlorous acid. Free Rad Biol Med 6:593–597

Beaulieu M, Thierry AM, González-Acuña D, Polito MJ (2013) Integrating oxidative ecology into conservation ecology. Cons Physiol 1:cot004

Birnie-Gauvin K, Peiman KS, Larsen MH, Baktoft H, Aarestrup K, Willmore WG, Cooke SJ (2017) Short-term and long-term effects of exogenous cortisol manipulation on oxidative stress in juvenile brown trout. J Exp Biol 220:1693–1700

Cooke SJ, Birnie-Gauvin K, Lennox RJ, Taylor JJ, Rytwinski T, Rummer JL, Franklin CE, Bennett JR, Haddaway NR (2017) How experimental biology and ecology can support evidence-based decision-making in conservation: avoiding pitfalls and enabling application. Cons Physiol 5:cox043

Finkel T (1998) Oxygen radicals and signaling. Curr Opinion Cell Biol 10:248–253

Giniatullin AR, Giniatullin RA (2003) Dual action of hydrogen peroxide on synaptic transmission at the frog neuromuscular junction. J Physiol 552:283–293

Gutiérrez-Praena D, Puerto M, Prieto AI, Jos Á, Pichardo S, Vasconcelos V, Cameán AM (2012) Protective role of dietary N-acetylcysteine on the oxidative stress induced by cylindrospermopsin in tilapia (Oreochromis niloticus). Environ Toxicol Chem 31:1548–1555

Halliwell B, Gutteridge JMC (2015) Free radicals in biology and medicine. Oxford University Press, Oxford

Horowitz JD, Henry CA, Syrjanen ML, Louis WJ, Fish RD, Antman EM, Smith TW (1988) Combined use of nitroglycerine and N-acetylcysteine in the management of unstable angina pectoris. European Heart J 9:95–100

Kehrer J (1993) Free radicals as mediators of tissue injury and disease. Critical Rev Toxicol 23:21–48

Kress M, Riedl B, Reeh PW (1995) Effect of oxygen radicals on nociceptive afferents in the rat skin in vitro. Pain 62:87–94

Larsen MH, Thorn AN, Skov C, Aarestrup K (2013) Effects of passive integrated transponder tags on survival and growth of juvenile Atlantic salmon Salmo salar. Anim Biotelem 1:19–26

Lepage O, Øverli Ø, Petersson E, Järvi T, Winberg S (2000) Differential stress coping in wild and domesticated sea trout. Brain Behav Evol 56:259–268

Moussawi K, Pacchioni A, Moran M, Foster Olive M, Gass JT, Lavin A, Kalivas PW (2009) N-acetylcysteine reverses cocaine-induced mataplasticity. Nature Neurosci 12:182–189

Patterson AD, Macdonald JS, Hinch SG, Healey MC, Farrell AP (2004) The effect of exercise and captivity on energy partitioning, reproductive maturation and fertilization success in adult sockeye salmon. J Fish Biol 64:1039–1059

Pena-Llopis S, Ferrando MD, Peña JB (2003) Fish tolerance to organophosphate-induced oxidative stress is dependent on the glutathione metabolism and enhanced N-acetylcysteine. Aquatic Toxicol 65:337–360

Portz DE, Woodley CM, Cech JJ (2006) Stress-associated impacts of short-term holding on fishes. Rev Fish Biol Fish 16:125–170

Prescott LF, Donovan JW, Jarvie DR, Proudfoot AT (1989) The disposition and kinetics of intravenous N-acetylcysteine in patients with paracetamol overdosage. European J Clin Pharmacol 37:501–506

Puerto M, Prieto AI, Pichardo S, Moreno I, Jos Á, Moyano R, Cameán AM (2009) Effects of dietary N-acetylcysteine on the oxidative stress induced in tilapia (Oreochromis niloticus) exposed to a microcystin-producing cyanobacterial water blood. Environ Toxicol Chem 28:1679–1686

Reid MB, Stokić DS, Koch SM, Khawli FA, Leis AA (1994) N-acetylcysteine inhibits muscle fatigue in humans. J Clin Investigat 94:2468–2474

Sevgiler Y, Piner P, Durman H, Üner N (2007) Effects of acetylcysteine on oxidative responses in the liver of fenthion exposed Cyprinus carpio. Pesticide Biochem Physiol 87:248–254

Speakman JR, Blount JD, Bronikowski AM, Biffenstein R, Isaksson C, Kirkwood TBL, Monaghan P, Ozanne SE, Beaulieu M, Briga M, Carr SK, Christensen LL, Cocheme HM, Cram DL, Dantzer B, Harper JM, Jurk D, King A, Noguera JC, Salin K, Sild E, Simons MJP, Smith S, Stier A, Tobler M, Vitikainen E, Peaker M, Selman C (2015) Oxidative stress and life histories: unresolved issues and current needs. Ecol Evol 5:5745–5757

Sprong RC, Winkelhuyzen-Janssen AML, Aarsman CJM, van Oirschot FMLM, van der Bruggen T, van Asbeck BS (1998) Low-dose N-acetylcysteine protects rats against endotoxin-mediated oxidative stress, but high-dose increases mortality. Am J Resp Critical Care Med 157:1283–1293

Tomkiewicz RP, App EM, Coffiner M, Fossion J, Maes P, King M (1994) Mucolytic treatment with N-acetylcysteine L-lysinate metered dose inhaler in dogs: airway epithelial function changes. European Resp J 7:81–87

Üner N, Sevgiler Y, Durmaz H, Piner P, Çinkiloglu E (2009) N-acetylcysteine provides dose-dependent protection against fenthion toxicity in the brain of Cyprinus carpio L. Comp Biochem Physiol C 150:33–38

Valvidia AG, Martinez A, Damian FJ, Quezada T, Ortiz R, Martinez C, Llamas J, Rodriguez ML, Yamamoto L, Jaramillo F, Loarca-Piña MJ, Reyes JL (2001) Efficacy of N-acetylcysteine to reduce the effects of aflatoxin B1 intoxication in broiler chickens. Poultry Sci 80:727–734
Acknowledgments
W.G.W. and S.J.C. are supported by NSERC Discovery Grants. S.J.C. is supported by the Canada Research Chairs Program. We would like to thank Andreas Svarer for his help in the field, as well as Anders Koed and Henrik Baktoft for their help in setting up the laboratory experiments.
About this article
Cite this article
Birnie-Gauvin, K., Larsen, M.H., Aarestrup, K. et al. N-acetylcysteine manipulation fails to elicit an increase in glutathione in a teleost model. Fish Physiol Biochem 44, 137–142 (2018). https://doi.org/10.1007/s10695-017-0419-3
Received:

Accepted:

Published:

Issue Date:

DOI: https://doi.org/10.1007/s10695-017-0419-3
Keywords
Glutathione

N-acetylcysteine

Teleost fish

Saline

Validation studies

Vegetable shortening