Abstract
Samples for the analysis of stable isotopes, genetics and other tissue sampling methods of small fish are often taken via lethal techniques. The aim of this study was to determine the suitability of a non-lethal sampling method for removing muscle tissue from fish under 30 cm total length (TL). A 4-mm biopsy punch was used to remove muscle tissue from two different species, Lutjanus russelli (Lutjanidae) and Lethrinus laticaudis (Lethrinidae). Several scales were removed from the sampling location, and then the biopsy punch was inserted to remove the muscle tissue. Immediately following this, a mixture of Fish Bandage™ and three drops of Betadine™ antiseptic solution was applied to the wound to reduce the chance of infection. The biopsy punch removes an average of 8 mg of muscle tissue from the fish, more than is required for stable isotope and genetic analyses (1 mg). The condition of fish subjected to our three treatments, biopsied fish, a handling controls and a tank control, was compared via gill beat counts at the time of biopsy and 3, 6, 9, 12 and 24 h after treatment. Overall, no instances of mortality were recorded across the study for all species and all treatments. This method has been found to be a suitable non-lethal method in the removal of muscle tissue from these two fish species, potentially also other species under 30 cm TL, by eliminating mortality and minimising stress responses in sampled fishes.
Access options
Buy single article
Instant access to the full article PDF.
US$ 39.95
Tax calculation will be finalised during checkout.
Subscribe to journal
Immediate online access to all issues from 2019. Subscription will auto renew annually.
US$ 79
Tax calculation will be finalised during checkout.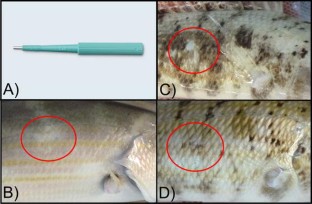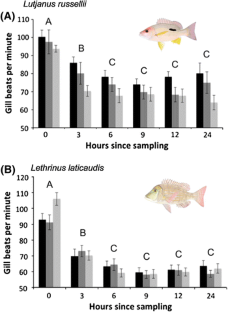 References
Baker R, Blanchfield P, Paterson M, Flett R, Wesson L (2004) Evaluation of nonlethal methods for the analysis of mercury in fish tissue. Trans Am Fish Soc 133(3):568–576

Barreto RE, Volpato GL (2004) Caution for using ventilatory frequency as an indicator of stress in fish. Behav Process 66(1):43–51

Barreto RE, Volpato GL (2011) Ventilation rates indicate stress-coping styles in Nile tilapia. J Biosci 36(5):851–855

Bell AM, Henderson L, Huntingford FA (2010) Behavioral and respiratory responses to stressors in multiple populations of three-spined sticklebacks that differ in predation pressure. J Comp Physiol B 180(2):211–220

Boecklen WJ, Yarnes CT, Cook BA, James AC (2011) On the use of stable isotopes in trophic ecology. Annu Rev Ecol Evol Syst 42:411–440

Bonga SW (1997) The stress response in fish. Physiol Rev 77(3):591–625

Busst GMA, Basic T, Britton JR (2015) Stable isotope signatures and trophic-step fractionation factors of fish tissues collected as non-lethal surrogates of dorsal muscle. Rapid Commun Mass Spectrom: RCM 29(16):1535–1544

Cabana G, Rasmussen JB (1996) Comparison of aquatic food chains using nitrogen isotopes. Proc Natl Acad Sci 93(20):10844–10847

Cano-Rocabayera O, Maceda-Veiga A, de Sostoa A (2015) Fish fins and scales as non-lethally sampled tissues for stable isotope analysis in five fish species of north-eastern Spain. Environ Biol Fishes 98(3):925–932

Daly R, Smale M (2013) Evaluation of an underwater biopsy probe for collecting tissue samples from bull sharks Carcharhinus leucas. Afr J Mar Sci 35(1):129–132

Davis MW (2010) Fish stress and mortality can be predicted using reflex impairment. Fish Fish 11(1):1–11

Davis JP, Pitt KA, Fry B, Olds AD, Connolly RM (2014) Seascape-scale trophic links for fish on inshore coral reefs. Coral Reefs 33(4):897–907

Evans R (2008) Assessment of an underwater biopsy probe for collecting teleost fish tissue samples. Mar Ecol Prog Ser 368:305–308

Hammerschlag N, Sulikowski J (2011) Killing for conservation: the need for alternatives to lethal sampling of apex predatory sharks. Endanger Species Res 14:135–140

Hannan KD, Zuckerman ZC, Haak CR, Shultz AD (2015) Impacts of sun protection on feeding behavior and mucus removal of bonefish, Albula vulpes. Environ Biol Fishes 98(11):2297–2304

Hussey NE, MacNeil MA, Olin JA, McMeans BC, Kinney MJ, Chapman DD, Fisk AT (2012) Stable isotopes and elasmobranchs: tissue types, methods, applications and assumptions. J Fish Biol 80(5):1449–1484

Jardine TD, Hunt RJ, Pusey BJ, Bunn SE (2011) A non-lethal sampling method for stable carbon and nitrogen isotope studies of tropical fishes. Mar Freshw Res 62(1):83–90

Noren DP, Mocklin JA (2012) Review of cetacean biopsy techniques: factors contributing to successful sample collection and physiological and behavioral impacts. Mar Mamm Sci 28(1):154–199

Robbins WD (2006) Evaluation of two underwater biopsy probes for in situ collection of shark tissue samples. Mar Ecol Prog Ser 310:213–217

Smith A, Marty J, Power M (2015) Non-lethal sampling of lake sturgeon for stable isotope analysis: comparing pectoral fin-clip and dorsal muscle for use in trophic studies. J Great Lakes Res 41(1):292–297

SPSS (2013) IBM SPSS statistics for windows. Version 22.0. IBM Corp., Armonk

Valladares S, Planas M (2012) Non-lethal dorsal fin sampling for stable isotope analysis in seahorses. Aquat Ecol 46(3):363–370

Williams SM, Holmes BJ, Pepperell JG (2015) The novel application of non-lethal citizen science tissue sampling in recreational fisheries. PLoS One 10(9):e0135743

Willis TJ, Sweeting CJ, Bury SJ, Handley SJ, Brown JCS, Freeman DJ, Cairney DG, Page MJ (2013) Matching and mismatching stable isotope (delta C-13 and delta N-15) ratios in fin and muscle tissue among fish species: a critical review. Mar Biol 160(7):1633–1644
Acknowledgments
The authors thank M. Arthur for assistance with data analysis. The authors would like to thank two anonymous reviewers for their comments, which greatly improved the manuscript. The Australian Rivers Institute and the School of Environment at Griffith University supported this project. All procedures performed involving animals were in accordance with the ethical standards of the Animal Ethic Committee of Griffith University (ENV/08/13/AEC).
About this article
Cite this article
Henderson, C.J., Stevens, T.F. & Lee, S.Y. Assessing the suitability of a non-lethal biopsy punch for sampling fish muscle tissue. Fish Physiol Biochem 42, 1521–1526 (2016). https://doi.org/10.1007/s10695-016-0237-z
Received:

Accepted:

Published:

Issue Date:
Keywords
Biopsy

Fish

Non-lethal tissue sampling

Stable isotope analysis

Genetic analysis