Abstract
In mammals, proteases are present in sperm acrosome and play key role in fertilization. Sturgeon sperm has an acrosome, but its physiology, biochemistry, and potential role in fertilization are unknown. In the present study, we have observed high protease activity in acidic extract of intact sperm compared to that of seminal plasma in sterlet (Acipenser ruthenus). The protease activity was decreased and increased in acidic extract of motility-activated sperm and in the activation medium, respectively. Molecular analysis revealed total protease and serine (acrosin) protease activities in sperm acidic extract which was accumulated in a protein band with relative molecular mass of 35 kDa. Immunoelectron microscopy using an affinity-purified polyclonal antibody for boar acrosin localized the protease at the acrosome region. Moreover, initiation of sperm motility was inhibited after activation in the presence of inhibitors for both trypsin-like and chymotrypsin-like proteases, while the effects of protease inhibitors on sperm velocity were uncertain. Our results indicate similarities in physiology and biochemistry of acrosome between sturgeon and mammals and suggest potential role of protease in the initiation of sperm motility in sturgeon.
This is a preview of subscription content,
to check access.
Access this article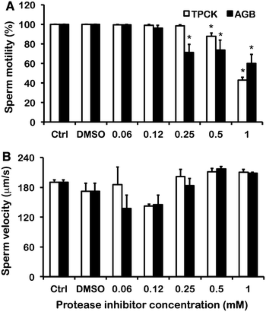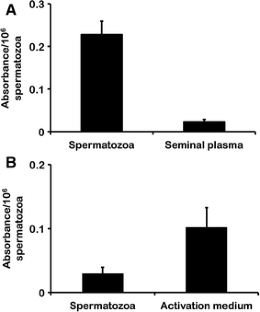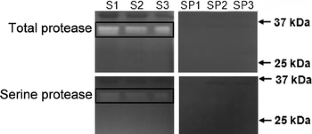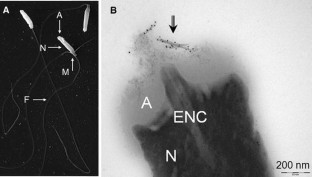 References
Alavi SMH, Rodina M, Cosson J, Psenicka M, Linhart O (2008) Roles of extracellular Ca2+ and pH on motility and flagellar waveform parameters in sturgeon spermatozoa. Cybium 32:124–126

Alavi SMH, Hatef A, Pšenička M, Kašpar V, Boryshpolets S, Dzyuba B, Cosson J, Bondarenko V, Rodina M, Gela D, Linhart O (2012) Sperm biology and control of reproduction in sturgeon: (II) sperm morphology, acrosome reaction, motility and cryopreservation. Rev Fish Biol Fish 22:861–886

Cechová D, Töpfer-Petersen E, Henschen A (1988) Boar proacrosin is a single-chain molecule which has the N-terminus of the acrosin A-chain (light chain). FEBS Lett 241:136–140

Cechová D, Jonáková V, Veselský L, Töpfer-Petersen E (1994) Serine protease activity in boar seminal vesicles and its immunological similarity to sperm acrosin. J Reprod Fertil 100:461–467

Cherr GN, Clark WH Jr (1984) An acrosome reaction in sperm from the white sturgeon, Acipenser transmontanus. J Exp Zool 232:129–139

Ciereszko A, Dabrowski K, Lin F, Doroshov SI (1994) Identification of trypsin-like activity in sturgeon spermatozoa. J Exp Zool 268:486–491

Ciereszko A, Dabrowski K, Ochkur SI (1996) Characterization of acrosin-like activity of lake sturgeon (Acipenser fulvescens) spermatozoa. Mol Reprod Dev 45:72–77

Ciereszko A, Dabrowski K, Mims SD, Glogowski J (2000) Characteristics of sperm acrosin-like activity of paddlefish (Polyodon spathula Walbaum). Comp Biochem Physiol B 125:197–203

Cosson MP, Gagnon C (1988) Protease inhibitor and substrates block motility and microtubule sliding of sea urchin and carp spermatozoa. Cell Motil Cytoskelet 10:518–527

de Lamirande E, Gagnon C (1986) Effects of protease inhibitors and substrates on motility of mammalian spermatozoa. J Cell Biol 102:1378–1383

Hatef A, Alavi SMH, Linhartova Z, Rodina M, Policar T, Linhart O (2010) In vitro effects of Bisphenol A on sperm motility characteristics in Perca fluviatilis L. (Percidae; Teleostei). J Appl Ichthyol 26:696–701

Howes L, Jones R (2002) Interactions between zona pellucida glycoproteins and sperm proacrosin/acrosin during fertilization. J Reprod Immunol 53:181–192

Ikawa M, Inoue N, Benham AM, Okabe M (2010) Fertilization: a sperm's journey to and interaction with the oocyte. J Clin Invest 120:984–994

Inaba K, Morisawa M (1992) Chymotrypsin-like protease activity associated with demembranated sperm of chum salmon. Biol Cell 76:329–333

Inaba K, Akazome Y, Morisawa M (1993) Purification of proteasomes from salmonid fish sperm and their localization along sperm flagella. J Cell Sci 104:907–915

Jamieson BGM (1991) Fish evolution and systematics: evidence from spermatozoa. Cambridge University Press, Cambridge

Koch RA, Lambert CC (1990) Ultrastructure of sperm, spermiogenesis, and sperm-egg interactions in selected invertebrates and lower vertebrates which use external fertilization. J Electron Microsc Tech 16:115–154

Linhart O, Alavi SMH, Rodina M, Gela D, Cosson J (2008) Comparison of sperm velocity, motility and fertilizing ability between firstly and secondly activated spermatozoa of common carp (Cyprinus carpio). J Appl Ichthyol 24:386–392

Peknicova J, Moos J (1990) Monoclonal antibodies against boar acrosomal antigens labeling undamaged acrosomes of spermatozoa in immunofluorescence test. Andrologia 22:427–435

Peknicova J, Capkova J, Geussova G, Ivanova M, Mollova M (2001) Monoclonal antibodies to intra-acrosomal proteins inhibit gamete binding in vitro. Theriogenology 56:211–223

Polakoski KL, McRorie RA, Williams WL (1973) Boar acrosin 1. Purification and preliminary characterization of a proteinase from boar sperm acrosome. J Biol Chem 248:8178–8182

Psenicka M, Kaspar V, Alavi SMH, Rodina M, Gela D, Li P, Borishpolets S, Cosson J, Linhart O, Ciereszko A (2011) Potential role of the acrosome of sturgeon spermatozoa in the fertilization process. J Appl Ichthyol 27:678–682

Pyoung I, Yi LSH (2004) Molecular characterization of the 32 kDa boar sperm protease. Mol Reprod Dev 68:354–358

Siegel MS, Polakoski KL (1985) Evaluation of the human sperm proacrosin–acrosin system using gelatin–sodium dodecyl sulfate–polyacrylamide gel electrophesis. Biol Reprod 32:713–720

Yamagata K, Murayama K, Okabe M, Toshimori K, Nakanishi T, Kashiwabara S, Baba T (1998) Acrosin accelerates the dispersal of sperm acrosomal proteins during acrosome reaction. J Biol Chem 273:10470–10474
Acknowledgments
This work was supported by GACR P503/12/1834 (to J.P. and S.M.H.A.), AVOZ 50520701 (to P.P.-M), CENAKVA CZ.1.05/2.1.00/01.0024 (to O.L.), GACR P503/13/34049P (to A.H.), BIOCEVCZ.1.05/1.1.00/02.0109 (to J.P. and P.P.-M.), and UNCE204025/2012 (to J.P. and P.P.-M.). S.M.H. Alavi wrote the article during stay at the Tohoku University, supported by the Japan Society for the Promotion of Science. We warmly appreciate the Polish Institute of Animal Reproduction and Food Research, Tsukuba University and Japanese Association for Marine Biology, for supporting A. Ciereszko and K. Inaba.
About this article
Cite this article
Alavi, S.M.H., Postlerová-Maňásková, P., Hatef, A. et al. Protease in sturgeon sperm and the effects of protease inhibitors on sperm motility and velocity. Fish Physiol Biochem 40, 1393–1398 (2014). https://doi.org/10.1007/s10695-014-9933-8
Received:

Accepted:

Published:

Issue Date:

DOI: https://doi.org/10.1007/s10695-014-9933-8
Keywords