Abstract
This study investigated the effects of prolonged exposure of silver catfish (Rhamdia quelen) to the essential oil (EO) of Hesperozygis ringens. Ventilatory rate (VR), stress and metabolic indicators, energy enzyme activities, and mRNA expression of adenohypophyseal hormones were examined in specimens that were exposed for 6 h to 0 (control), 30 or 50 µL L−1 EO of H. ringens in water. Reduction in VR was observed in response to each treatment, but no differences were found between treatments. Plasma glucose, protein, and osmolality increased in fish exposed to 50 µL L−1. Moreover, lactate levels increased after exposure to both EO concentrations. Plasma cortisol levels were not changed by EO exposure. Fish exposed to 30 µL L−1 EO exhibited higher glycerol-3-phosphate dehydrogenase (G3PDH) activity, while exposure to 50 µL L−1 EO elicited an increase in glucose-6-phosphate dehydrogenase (G6PDH), fructose-biphosphatase (FBP), and 3-hydroxyacyl-CoA-dehydrogenase (HOAD) activities compared with the control group. Expression of growth hormone (GH) only decreased in fish exposed to 50 µL L−1 EO, while somatolactin (SL) expression decreased in fish exposed to both concentrations of EO. Exposure to EO did not change prolactin expression. The results indicate that GH and SL are associated with energy reorganization in silver catfish. Fish were only slightly affected by 30 µL L−1 EO of H. ringens, suggesting that it could be used in practices where a reduction in the movement of fish for prolonged periods is beneficial, i.e., such as during fish transportation.
This is a preview of subscription content,
to check access.
Access this article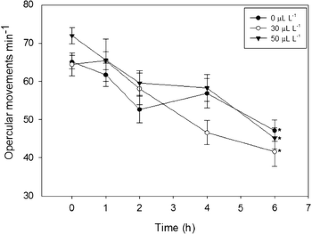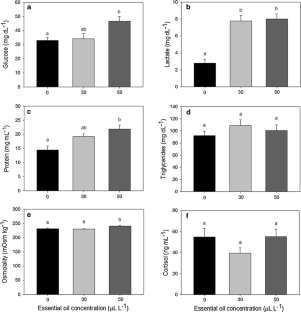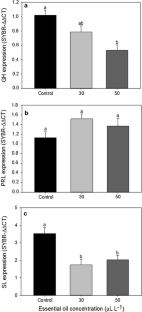 References
Adams RP (2001) Identification of essential oil components by gas chromatography/quadrupole mass spectroscopy. Allured Publishing Corporation, Illinois

Alvarenga CMD, Volpato GL (1995) Agonistic profile and metabolism in alevins of the Nile tilapia. Physiol Behav 57:75–80

Azambuja CR, Mattiazzi J, Riffel APK, Finamor IA, Garcia LO, Heldwein CG, Heinzmann BM, Baldisserotto B, Pavanato MA, Llesuy SF (2011) Effect of the essential oil of Lippia alba on oxidative stress parameters in silver catfish (Rhamdia quelen) subjected to transport. Aquaculture 319:156–161

Baldisserotto B (2009) Piscicultura continental no Rio Grande do Sul: situação atual, problemas e perspectivas para o futuro. Cienc Rural 332(39):291–299

Baldisserotto B, Martos-Sitcha JA, Menezes CC, Toni C, Prati RL, Garcia LO, Salbego J, Mancera JM, Martínez-Rodríguez G (2014) The effects of ammonia and water hardness on the hormonal, osmoregulatory and metabolic responses of the freshwater silver catfish Rhamdia quelen. Aquat Toxicol 152:341–352

Barcellos LJG, Kreutz LC, Koakoski G, Oliveira TA, Rosa JGS, Fagundes M (2012) Fish age, instead of weight and size, as a determining factor for time course differences in cortisol response to stress. Physiol Behav 107:397–400

Barton BA (2002) Stress in fishes: a diversity of responses with particular reference to changes in circulating corticosteroids. Integr Comp Biol 42:517–525

Becker AG, Parodi TV, Heldwein CG, Zeppenfeld C, Heinzmann BM, Baldisserotto B (2012) Transportation of silver catfish, Rhamdia quelen, in water with eugenol and the essential oil of Lippia alba. Fish Physiol Biochem 38:789–796

Becker AG, Cunha MA, Garcia LO, Zeppenfeld CC, Parodi TV, Maldaner G, Morel AF, Baldisserotto B (2013) Efficacy of eugenol and the methanolic extract of Condalia buxifolia during the transport of the silver catfish Rhamdia quelen. Neotrop Ichthiol 11(3):675–681

Bickler PE, Buck LT (2007) Hypoxia tolerance in reptiles, amphibians, and fishes: life with variable oxygen availability. Annu Rev Physiol 69:145–170

Cotter PA, Rodnick KJ (2006) Differential effects of anesthetics on electrical properties of the rainbow trout (Oncorhynchus mykiss) heart. Comp Biochem Physiol Part A 145:158–165

European Pharmacopoeia (2007) European directorate for the quality of medicines, 6th edn. Strassbourg

Inoue LAKA, Afonso LOB, Iwama GK, Moraes G (2005) Effects of clove oil on the stress response of matrinxã (Brycon cephalus) subjected to transport. Acta Amazon 35:289–295

Khalil NA, Hashem AM, Ibrahim AAE, Mousa MA (2012) Effect of stress during handling, seawater acclimation, confinement, and induced spawning on plasma ion levels and somatolactin-expressing cells in mature female Liza ramada. J Exp Zool 317:410–424

Laiz-Carrión R, Sangiao-Alvarellos S, Guzmán JM, Martín del Río MP, Soengas JL, Mancera JM (2005) Growth performance of gilthead sea bream Sparus aurata in different osmotic conditions: implications for osmoregulation and energy metabolism. Aquaculture 250:849–861

Laiz-Carrión R, Fuentes J, Redruello B, Guzmán JM, Martín del Río MP, Power D, Mancera JM (2009) Expression of pituitary prolactin, growth hormone and somatolactin is modified in response to different stressors (salinity, crowding and food-deprivation) in gilthead sea bream Sparus auratus. Gen Comp Endocrinol 162:293–300

Mommsen TP, Vijayan MM, Moon TW (1999) Cortisol in teleosts: dynamics, mechanisms of action, and metabolic regulation. Rev Fish Biol Fish 9:211–268

NIST/EPA/NIH mass spectral library and search/analysis programs (2002) Wiley, Hoboken

Pankhurst NW (2011) The endocrinology of stress in fish: an environmental perspective. Gen Comp Endocrinol 170:265–275

Park MO, Hur WJ, Im SY, Seol DW, Lee J, Park IS (2008) Anaesthetic efficacy and physiological responses to clove oil-anaesthetized kelp grouper Epinephelus bruneus. Aquac Res 39:877–884

Polakof S, Arjona FJ, Sangiao-Alvarellos S, Martín del Río MP, Mancera JM, Soengas JL (2006) Food deprivation alters osmoregulatory and metabolic responses to salinity acclimation in gilthead sea bream Sparus auratus. J Comp Physiol B 176:441–452

Rodríguez L, Begtashi I, Zanuy S, Carrillo M (2000) Development and validation of an enzyme immunoassay for testosterone: effects of photoperiod on plasma testosterone levels and gonadal development in male sea bass (Dicentrarchus labrax, L.) at puberty. Fish Physiol Biochem 23:141–150

Rotllant J, Balm PHM, Pérez-Sánchez J, Wendelaar-Bonga SE, Tort L (2001) Pituitary and interrenal function in gilthead sea bream (Sparus aurata L., Teleostei) after handling and confinement stress. Gen Comp Endocrinol 121:333–342

Sangiao-Alvarellos S, Arjona FJ, Martín del Río MP, Míguez JM, Mancera JM, Soengas JL (2005) Time course of osmoregulatory and metabolic changes during osmotic acclimation in Sparus auratus. J Exp Biol 208:4291–4304

Schreck CB (2010) Stress and fish reproduction: the roles of allostasis and hormesis. Gen Comp Endocrinol 165:549–556

Silva LL, Silva DT, Garlet QI, Cunha MA, Mallmann CA, Baldisserotto B, Longhi SJ, Pereira AMS, Heinzmann BM (2013) Anesthetic activity of Brazilian native plants in silver catfish (Rhamdia quelen). Neotrop Ichthyol 11:443–451

Small BC (2003) Anesthetic efficacy of metomidate and comparison of plasma cortisol responses to tricaine methanesulfonate, quinaldine and clove oil anesthetized channel catfish Ictalurus punctatus. Aquaculture 218:177–185

Sudo R, Suetake H, Suzuki Y, Aoyama J, Tsukamoto K (2013) Profiles of mRNA expression for prolactin, growth hormone, and somatolactin in Japanese eels, Anguilla japonica: the effect of salinity, silvering and seasonal change. Comp Biochem Physiol Part A 164:10–16

Svobodova Z, Kalab P, Dusek L, Vykusova B, Kolarova J, Janouskova D (1999) The effect of handling and transport on the concentration of glucose and cortisol in blood plasma of common carp. Acta Vet Brno 68:265–274

Thomas PM, Pankhurst NW, Bremner HA (1999) The effect of stress and exercise on post-mortem biochemistry of Atlantic salmon (Salmo salar) and rainbow trout (Oncorhynchus mykiss). J Fish Biol 54:1177–1196

Tong F, Coats JR (2010) Effects of monoterpenoid insecticides on [3H]-TBOB binding in house fly GABA receptor and 36 Cl− uptake in American cockroach ventral nerve cord. Pestic Biochem Phys 98:317–324

Toni C, Becker AG, Simões LN, Pinheiro CG, Silva LL, Heinzmann BM, Caron BO, Baldisserotto B (2014) Fish anesthesia: effects of the essential oils of Hesperozygis ringens and Lippia alba on the biochemistry and physiology of silver catfish (Rhamdia quelen). Fish Physiol Biochem 40:701–714

Uchida K, Moriyama S, Breves JP, Fox BK, Pierce AL, Borski RJ, Hirano T, Grau EG (2009) cDNA cloning and isolation of somatolactin in Mozambique tilapia and effects of seawater acclimation, confinement stress, and fasting on its pituitary expression. Gen Comp Endocrinol 161:162–170

Vega-Rubín de Celis S, Rojas P, Gómez-Requeni P, Albalat A, Gutiérrez J, Médale F, Kaushik SJ, Navarro I, Pérez-Sánchez P (2004) Nutritional assessment of somatolactin function in gilthead sea bream (Sparus aurata): concurrent changes in somatotropic axis and pancreatic hormones. Comp Biochem Physiol Part A 138:533–542

Vijayan MM, Ballantyne JS, Leatherland JF (1991) Cortisol-induced changes in some aspects of the intermediary metabolism of Salvelinus fontinalis. Gen Comp Endocrinol 82:476–486

Weber ES (2011) Fish analgesia: pain, stress, fear aversion, or nociception? Vet Clin Exot Anim 14:21–32

Wendelaar-Bonga SE (1997) The stress response in fish. Physiol Rev 77:591–625

Wong AOL, Zhou H, Jiang Y, Ko WKW (2006) Feedback regulation of growth hormone synthesis and secretion in fish and the emerging concept of intrapituitary feedback loop. Comp Biochem Physiol Part A 144:284–305
Acknowledgments
This study was supported by research funds from the Fundação de Amparo à Pesquisa do Estado do Rio Grande do Sul (FAPERGS/PRONEX), Ministério da Pesca/Ministério da Ciência e Tecnologia/FINEP, Conselho Nacional de Pesquisa e Desenvolvimento Científico (CNPq) and by project AGL2013-48835-C2-1-R (Ministerio de Economía y Competividad) to J.M. Mancera (Spain). B. Baldisserotto received a research fellowship from CNPq. C. Toni and C.G. Pinheiro received PhD fellowships from Coordenação de Aperfeiçoamento de Pessoal de Nível Superior (CAPES), and J.A. Martos-Sitcha is supported by a PhD fellowship (FPU, Reference AP2008-01194) from Ministerio de Educación (Spain).
About this article
Cite this article
Toni, C., Martos-Sitcha, J.A., Ruiz-Jarabo, I. et al. Stress response in silver catfish (Rhamdia quelen) exposed to the essential oil of Hesperozygis ringens . Fish Physiol Biochem 41, 129–138 (2015). https://doi.org/10.1007/s10695-014-0011-z
Received:

Accepted:

Published:

Issue Date:

DOI: https://doi.org/10.1007/s10695-014-0011-z
Keywords