Abstract
The anesthetic activities of the essential oils (EOs) of Hesperozygis ringens (EOHR) and Lippia alba (EOLA) and their effects in silver catfish (Rhamdia quelen) after anesthesia and recovery were investigated. Fish (32.19 ± 1.24 g) were submitted to one of the following treatments for each EO: basal group, control, or anesthesia (150, 300, or 450 μL L−1 EO). After that the anesthesia was induced or simulated and the biometric measurements were completed, fish were transferred to anesthetic-free aquaria to allow for recovery. Fish were sampled at 0, 15, 30, 60, and 240 min after recovery. At time 0 of recovery, the ventilatory rate was lower in the groups anesthetized with either EO. In comparison with the basal group, control fish showed an increase in plasma glucose, aspartate aminotransferase (AST), and Na+ levels and a reduction in Na+/K+-ATPase activity at 0 min of recovery. Plasma levels of ammonia and Na+ were lower in the fish anesthetized with EOLA (450 μL L−1) and EOHR (all concentrations), respectively, than in the control fish. Additionally, lactate, AST, alanine aminotransferase, K+ plasma levels, and gill Na+/K+-ATPase and H+-ATPase activities were higher in the fish anesthetized with either EOHR or EOLA than in the control fish. The EOs promoted slight changes in silver catfish that enabled both an adaptive response and the recovery of most of the measured parameters after 240 min regardless of concentration or EO that was used. These findings support the use of EOHR and EOLA as anesthetics for fish.
Access options
Buy single article
Instant access to the full article PDF.
USD 39.95
Price excludes VAT (USA)
Tax calculation will be finalised during checkout.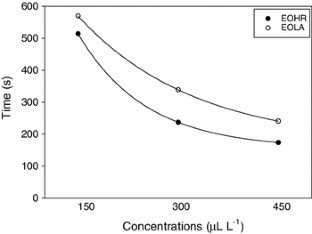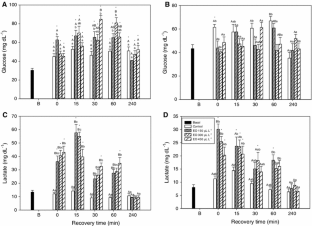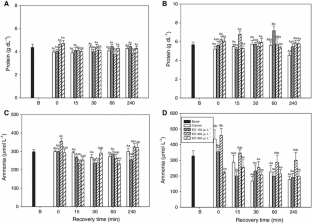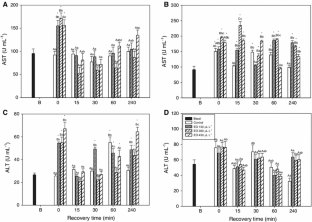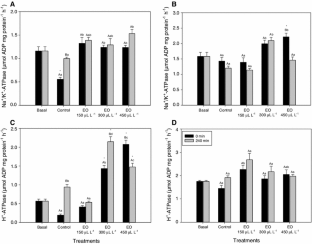 References
Acerete L, Balasch JC, Espinosa E, Josa A, Tort L (2004) Physiological responses in Eurasian perch (Perca fluviatilis L.) subjected to stress by transport and handling. Aquaculture 237:167–178

Adams RP (2001) Identification of essential oil components by gas chromatography/quadrupole mass spectroscopy. Allured Publishing Corporation, Illinois

Agostini F, Santos ACA, Rossato M, Pansera MR, Santos PL, Serafini LA, Molon L, Moyna P (2009) Essential oil yield and composition of Lamiaceae species growing in Southern Brazil. Braz Arch Biol Techn 52:473–478

Alvarenga CMD, Volpato GL (1995) Agonistic profile and metabolism in alevins of the Nile tilapia. Physiol Behav 57:75–80

Ashley PJ (2007) Fish welfare: current issues in aquaculture. Appl Anim Behav Sci 104:199–235

Barcellos LJG, Kreutz LC, Quevedo RM (2006) Previous chronic stress does not alter the cortisol response to an additional acute stressor in jundiá (Rhamdia quelen, Quoy & Gaimard) fingerlings. Aquaculture 253:317–321

Becker AG, Parodi TV, Heldwein CG, Zeppenfeld C, Heinzmann BM, Baldisserotto B (2012) Transportation of silver catfish, Rhamdia quelen, in water with eugenol and the essential oil of Lippia alba. Fish Physiol Biochem 38:789–796

Biasi LA, Costa G (2003) Propagação vegetativa de Lippia alba. Cienc Rural 33:455–459

Boyd CE, Tucker CS (1992) Water quality and pond soil analyses for aquaculture. Auburn University, Auburn 183

Bradford MM (1976) A rapid and sensitive method for the quantification of microgram quantities of protein utilizing the principle of protein-dye binding. Anal Biochem 72:248–254

Cho GK, Heath DD (2000) Comparison of tricaine methanesulphonate (MS 222) and oil clove anaesthesia effects on the physiology of juvenile Chinook salmon (Oncorhynchus tshawytscha) (Walbaum). Aquacult Res 31:537–546

Cunha MA, Barros FMC, Garcia LO, Veeck APL, Heinzmann BM, Loro VL, Emanuelli T, Baldisserotto B (2010) Essential oil of Lippia alba: a new anesthetic for silver catfish, Rhamdia quelen. Aquaculture 306:403–406

Cunha MA, Silva BF, Delunardo FAC, Benovit SC, Gomes LC, Heinzmann BM, Baldisserotto B (2011) Anesthetic induction and recovery of Hippocampus reidi exposed to the essential oil of Lippia alba. Neotrop Ichthyol 9(3):683–688

Dixon RN, Milton P (1978) The effects of the anaesthetic quinaldine on oxygen consumption in an intertidal teleost Blennius pholis (L.). J Fish BioI 12:359–369

Eaton AD, Clesceri LS, Rice EW, Greenberg AE (2005) Standard methods for the examination of water and wastewater, 21st edn. American Public Health Association, Springfield

European Pharmacopoeia (2007) European Directorate for the Quality of Medicines, 6th (ed). Strassbourg

Fenwick JC, Wendelaar Bonga SE, Flik G (1999) In Vivo Bafilomycin-sensitive Na+ uptake in young freshwater fish. J Exp Biol 202:3659–3666

Gibbs A, Somero GN (1989) Pressure adaptation of Na+-K+-ATPase in gills of marine teleosts. J Exp Biol 143:475–492

Gomes DP, Chaves BW, Becker AG, Baldisserotto B (2011) Water parameters affect anaesthesia induced by eugenol in silver catfish. Rhamdia quelen Aquacult Res 42:878–886

Gressler LT, Riffel APK, Parodi TV, Saccol EMH, Koakoski G, Costa ST, Pavanato MA, Heinzmann BM, Caron B, Schmidt D, Llesuy SF, Barcellos LJG, Baldisserotto B (2012) Silver catfish Rhamdia quelen immersion anaesthesia with essential oil of Aloysia triphylla (L'Hérit) Britton or tricaine methanesulfonate: effect on stress response and antioxidant status. Aquacult Res. doi:10.1111/are.12043

Heldwein CG, Silva LL, Reckziegel P, Barros FMC, Bürger ME, Baldisserotto B, Malmann CA, Schmidt D, Caron BO, Heinzmann BM (2012) Participation of GABAergic system in the anesthetic effect of the essential oil of Lippia alba (Mill.) N.E. Brown. Braz J Med Biol Res 45(5):436–443

Houston AH, Madden JA, Woods RJ, Miles HM (1971) Some physiological effects of handling and tricaine methanesulphonate anesthetization upon the brook trout, Salvelinus fontinalis. J Fish Res Bd Canada 28:625–633

Huang CY, Chao PL, Lin HC (2010) Na+/K+/ATPase and vacuolar-type H+-ATPase in the gills of the aquatic air-breathing fish Trichogaster microlepis in response to salinity variation. Comp Biochem Physiol Part A 155:309–318

Hwang PP, Lee TH, Lin LY (2011) Ion regulation in fish gills: recent progress in the cellular and molecular mechanisms. Am J Physiol Regul Integr Comp Physiol 301:R28–R47

Inoue LAKA, Boijink CL, Ribeiro PT, Silva AMD, Affonso EG (2011) Avaliação de respostas metabólicas do tambaqui exposto ao eugenol em banhos anestésicos. Acta Amaz 41(2):327–332

Iversen M, Finstad B, Mckinley D, Eliassen R (2003) The efficacy of metomidate, clove oil, aqui-s and benzoak as anesthetics in atlantic salmon (Salmo salar L.) smolts, and their potential stress reducing capacity. Aquaculture 221:549–566

Iwama G, Afonso L, Todgham A, Ackerman P, Nakano K (2004) Are hsps suitable for indicating stressed states in fish? J Exp Biol 204:15–19

Keene JL, Noakes DL, Moccia RD, Soto CG (1998) The efficacy of clove oil as an anaesthetic for rainbow trout, Oncorhynchus mykiss (Walbaum). Aquat Res 29:89–101

Kiessling A, Johansson D, Zahl IH, Samuelsen OB (2009) Pharmacokinetics, plasma cortisol and effectiveness of benzocaine, MS-222 and isoeugenol measured in individual dorsal aorta-cannulated Atlantic salmon (Salmo salar) following bath administration. Aquaculture 286:301–308

Marchioro MI, Baldisserotto B (1999) Survival of fingerlings of the jundiá (Rhamdia quelen Quoy & Gaimard, 1824) to changes on water salinity. Cienc Rural 29:315–318

Maricchiolo G, Genovese L (2011) Some contributions to knowledge of stress response in innovative species with particular focus on the use of the anaesthetics. Open Mar Biol J 5:24–33

McFarland WN (1959) A study of the effects of anesthetics on the behaviour and physiology of fishes. Publ Inst Mar Sci Univ Texas 6:23–55

Mommsen TP, Vijayan MM, Moon TW (1999) Cortisol in teleosts: dynamics, mechanisms of action, and metabolic regulation. Rev Fish Biol Fisher 9:211–268

NIST/EPA/NIH mass spectral library and search/analysis programs (2002) Hoboken: J. Wiley and Sons

Pankhurst NW (2011) The endocrinology of stress in fish: an environmental perspective. Gen Comp Endocrinol 170:265–275

Ribeiro VLS, Santos JC, Bordignon SAL, Apel MA, Henriques AT, Von Poser G (2010) Acaricidal properties of the essential oil Hesperozygis ringens (Lamiaceae) on the cattle tick Riphicephalus (Boophilus) microplus. Bioresour Technol 101:2506–2509

Silva LL, Parodi TV, Reckziegel P, Garcia VO, Bürger ME, Baldisserotto B, Malmann CA, Pereira AMS, Heinzmann BM (2012) Essential oil of Ocimum gratissimum L.: anesthetic effect, mechanism of action and tolerance in silver catfish. Rhamdia quelen Aquaculture 350–353:91–97

Silva LL, Silva DT, Garlet QI, Cunha MA, Mallmann CA, Baldisserotto B, Longhi SJ, Pereira AMS, Heinzmann BM (2013) Anesthetic activity of Brazilian native plants in silver catfish (Rhamdia quelen). Neotrop Ichthyol 11(2):443–451

Small BC (2003) Anesthetic efficacy of metomidate and comparison of plasma cortisol responses to tricaine methanesulfonate, quinaldine and clove oil anesthetized channel catfish Ictalurus punctatus. Aquaculture 218:177–185

Summerfelt RC, Smith LS (1990) Anesthesia, surgery, and related techniques In: Schreck CB and Moyle PB (eds) Methods for fish biology American Fish Society, Bethseda, pp. 213-272

Velisek J, Svobodova Z, Piackova V, Groch L, Nepejchalova L (2005) Effects of clove oil anaesthesia on common carp (Cyprinus carpio L.). Vet Med Czech 50:269–275

Velisek J, Stara A, Li Z, Silovska S, Turek J (2011) Comparison of the effects of four anaesthetics on blood biochemical profiles and oxidative stress biomarkers in rainbow trout. Aquaculture 310:369–375

Verdouw H, Van Echteld CJA, Dekkers EMJ (1978) Ammonia determination based on indophenols formation with sodium salicylate. Water Res 12:399–402

von Poser GL, Menut C, Toffoli ME, Verin P, Sobral M, Bessiere JM, Lamaty G, Henriques AT (1996) Essential oil composition and allelopathic effect of the Brazilian Lamiaceae Hesperozygis ringens (Benth.) Epling and Hesperozygis rhododon Epling. J Agric Food Chem 44:1829–1832

Wagner GN, Singer TD, McKinley RS (2003) The ability of clove oil and MS-222 to minimize handling stress in rainbow trout (Oncorhynchus mykiss Walbaum). Aquacult Res 34:1139–1146

Zahl IH, Samuelsen O, Kiessling A (2012) Anaesthesia of farmed fish: implications for welfare. Fish Physiol Biochem 38:201–218

Zall DM, Fisher MD, Garner QM (1956) Photometric determination of chlorides in water. Anal Chem 28:1665–1678
Acknowledgments
This study was supported by research funds from the Fundação de Amparo à Pesquisa do Estado do Rio Grande do Sul (FAPERGS/PRONEX), Ministério da Pesca/Ministério da Ciência e Tecnologia/FINEP and Conselho Nacional de Pesquisa e Desenvolvimento Científico (CNPq). B. Baldisserotto and A.G. Becker received research and Ph.D. fellowships from CNPq. C. Toni, L.L. Silva, C.G. Pinheiro, and L.N. Simões received Ph.D. fellowships from Coordenação de Aperfeiçoamento de Pessoal de Nível Superior (CAPES).
About this article
Cite this article
Toni, C., Becker, A.G., Simões, L.N. et al. Fish anesthesia: effects of the essential oils of Hesperozygis ringens and Lippia alba on the biochemistry and physiology of silver catfish (Rhamdia quelen). Fish Physiol Biochem 40, 701–714 (2014). https://doi.org/10.1007/s10695-013-9877-4
Received:

Accepted:

Published:

Issue Date:

DOI: https://doi.org/10.1007/s10695-013-9877-4
Keywords