Abstract
The present study has investigated the effects of domperidone (DOM), a dopamine 2 receptor antagonist, on plasma steroid hormone levels and reproductive performances of a female tropical marine finfish, Waigieu seaperch (Psammoperca waigiensis), with potential for cultivation in Vietnam. We showed that oral treatment of DOM during early stage of the reproductive cycle had no significant effects on the maturation and reproductive performances of the female fish, while plasma steroid hormone (testosterone (T), 11-ketotestosterone (11-KT), 17β-estradiol (E2) and progesterone (P)) levels were modulated based on month, DOM dose and the individual hormones measured. Overall, these findings suggest that DOM may not be needed for the induction of maturation and spawning of this species under aquaculture conditions. The data in the present study are significant in highlighting practical efforts for reducing drug use, production costs and for a sustainable aquaculture in a developing country such as Vietnam.
Access options
Buy single article
Instant access to the full article PDF.
US$ 39.95
Tax calculation will be finalised during checkout.
Subscribe to journal
Immediate online access to all issues from 2019. Subscription will auto renew annually.
US$ 79
Tax calculation will be finalised during checkout.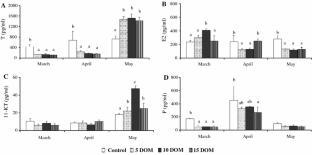 References
Aizen J, Meiri I, Tzchori I, Levavi-Sivan B, Rosenfeld H (2005) Enhancing spawning in the grey mullet (Mugil cephalus) by removal of dopaminergic inhibition. Gen Comp Endocrinol 142:212–221

Arukwe A, Goksoyr A (2003) Eggshell and egg yolk proteins in fish: hepatic proteins for the next generation: oogenetic, population, and evolutionary implications of endocrine disruption. Comp Hepatol 2:4

Barannikova IA, Dyubin VP, Bayunova LV, Semenkova TB (2002) Steroids in the control of reproductive function in fish. Neurosci Behav Physiol 32:141–148

Bromage N, Jones J, Randall C, Thrush M, Davies B, Springate J, Duston J, Barker G (1992) Broodstock management, fecundity, egg quality and the timing of egg production in the rainbow trout (Oncorhynchus mykiss). Aquaculture 100:141–146

Brooks S, Tyler CR, Sumpter JP (1997) Egg quality in fish: what makes a good egg? Rev Fish Biol Fisher 7:387–416

Chang JP, Wildman B, Van Goor F (1991) Lack of involvement of arachidonic acid metabolism in chicken gonadotropin-releasing hormone II (cGnRH-II) stimulation of gonadotropin secretion in dispersed pituitary cells of goldfish, Carassius auratus. Identification of a major difference in salmon GnRH and chicken GnRH-II mechanisms of action. Mol Cell Endocrinol 79:75–83

Copeland PA, Thomas P (1989) Control of gonadotropin release in the Atlantic croaker (Micropogonias undulatus): evidence for lack of dopaminergic inhibition. Gen Comp Endocrinol 74:474–483

Dahle R, Taranger GL, Karlsen O, Kjesbu OS, Norberg B (2003) Gonadal development and associated changes in liver size and sexual steroids during the reproductive cycle of captive male and female Atlantic cod (Gadus morhua L.). Comp Biochem Physiol A 136:641–653

Dufour S, Lopez E, Le Menn F, Le Belle N, Baloche S, Fontaine YA (1988) Stimulation of gonadotropin release and of ovarian development, by the administration of a gonadoliberin agonist and of dopamine antagonists, in female silver eel pretreated with estradiol. Gen Comp Endocrinol 70:20–30

Gissis A, Levavi-Sivan B, Rubin-Kedem H, Ofir M, Yaron Z (1991) The effect of gonadotropin releasing hormone superactive analog and dopamine antagonists on gonadotropin level and ovulation in tilapia hybrids. Israeli J Aquacult Bamidgeh 43:123–136

Kjørsvik E, Magnor-Jensen A, Holmefjord I (1990) Egg quality in fishes. Adv Mar Biol 26:71–113

Kumakura N, Okuzawa K, Gen K, Kagawa H (2003) Effects of gonadotropin-releasing hormone agonist and dopamine antagonist on hypothalamus-pituitary-gonadal axis of pre-pubertal female red seabream (Pagrus major). Gen Comp Endocrinol 131:264–273

Nagahama Y, Yamashita M (2008) Regulation of oocyte maturation in fish. Dev Growth Differ 50(Suppl 1):S195–S219

Nagahama Y, Yoshikuni M, Yamashita M, Tokumoto T, Katsu Y (1995) Regulation of oocyte growth and maturation in fish. Curr Top Dev Biol 30:103–145

Nguyen TA (1999) Applied endocrinology in fish reproduction. Agriculture publishing house of Vietnam, Ho Chi Minh City (in Vietnamese)

Nguyen TN, Luc MD, Nguyen DT (2003) Study on seed production of Sand bass Psammoperca waigiensis (Cuvier & Valenciennes, 1828). In: A research report under contract between the University of Fisheries and SUMA, Ministry of Fisheries, Vietnam 2003 (in Vietnamese)

Omeljaniuk RJ, Shih SH, Peter RE (1987) In vivo evaluation of dopamine receptor-mediated inhibition of gonadotrophin secretion from the pituitary gland of the goldfish, Carassius auratus. J Endocrinol 114:449–458

Omeljaniuk RJ, Tonon MC, Peter RE (1989) Dopamine inhibition of gonadotropin and alpha-melanocyte-stimulating hormone release in vitro from the pituitary of the goldfish (Carassius auratus). Gen Comp Endocrinol 74:451–467

Pham HQ, Nguyen AT, Kjørsvik E, Nguyen MD, Arukwe A (2010a) Reproductive cycle in female Waigieu seaperch (Psammoperca waigiensis) reared under different salinity levels and the effects of dopamine antagonist on steroid hormone levels. J Exp Mar Biol Ecol 383:137–145

Pham HQ, Nguyen AT, Nguyen MD, Arukwe A (2010b) Sex steroid levels, oocyte maturation and spawning performance in Waigieu seaperch (Psammoperca waigiensis) exposed to thyroxin, human chorionic gonadotropin, luteinizing hormone releasing hormone and carp pituitary extract. Comp Biochem Physiol A 155:223–230

Pham HQ, Nguyen AT, Kjørsvik E, Nguyen MD, Arukwe A (2011) Seasonal reproductive cycle in Waigieu seaperch (Psammoperca waigiensis). Aquacult Res 43:815–830

Shimose T, Tachihara K (2006) Age, growth, and reproductive biology of the Waigieu seaperch Psammoperca waigiensis (Perciformes: Latidae) around Okinawa Island. Jap Ichthyol Res 53:166–171

Sloley BD, Trudeau VL, Dulka JG, Peter RE (1991) Selective depletion of dopamine in the goldfish pituitary caused by domperidone. Can J Physiol Pharmacol 69:776–781

Sukumasavin N, Sakulthong S, Sangthong R (2000) A comparison of the potency of dopamine antagonists on spawning induction in thai carp (Puntius gonionotus Bleeker). Kasetsart J (Nat Sci) 34:240–247

Swanson P, Suzuki K, Kawauchi H, Dickhoff WW (1991) Isolation and characterization of two coho salmon gonadotropins, GTH I and GTH II. Biol Reprod 44:29–38

Taranger GL, Carrillo M, Schulz RW, Fontaine P, Zanuy S, Felip A, Weltzien FA, Dufour S, Karlsen O, Norberg B, Andersson E, Hansen T (2009) Control of puberty in farmed fish. Gen Comp Endocrinol

Vacher C, Mananos EL, Breton B, Marmignon MH, Saligaut C (2000) Modulation of pituitary dopamine D1 or D2 receptors and secretion of follicle stimulating hormone and luteinizing hormone during the annual reproductive cycle of female rainbow trout. J Neuroendocrinol 12:1219–1226

Vidal B, Pasqualini C, Le Belle N, Holland MC, Sbaihi M, Vernier P, Zohar Y, Dufour S (2004) Dopamine inhibits luteinizing hormone synthesis and release in the juvenile European eel: a neuroendocrine lock for the onset of puberty. Biol Reprod 71:1491–1500

Weltzien FA, Taranger GL, Karlsen O, Norberg B (2002) Spermatogenesis and related plasma androgen levels in Atlantic halibut (Hippoglossus hippoglossus L.). Comp Biochem Physiol A: Mol Integr Physiol 132:567–575

Yaron Z, Gur G, Melamed P, Rosenfeld H, Elizur A, Levavi-Sivan B (2003) Regulation of fish gonadotropins. Int Rev Cytol 225:131–185

Yu KL, Peter RE (1992) Adrenergic and dopaminergic regulation of gonadotropin-releasing hormone release from goldfish preoptic-anterior hypothalamus and pituitary in vitro. Gen Comp Endocrinol 85:138–146

Zhao E, Basak A, Trudeau VL (2006) Secretoneurin stimulates goldfish pituitary luteinizing hormone production. Neuropeptides 40:275–282

Zohar Y, Munoz-Cueto JA, Elizur A, Kah O (2009) Neuroendocrinology of reproduction in teleost fish. Gen Comp Endocrinol
Acknowledgments
The Norwegian Embassy in Vietnam funded this study via the SRV 2701 project at Nha Trang University, Vietnam. We thank Prof. Helge Reinertsen (NTNU, Norway) for his overall support during the study periods. Finally, this study might not have been successful without the help of Ms. Le Hoang My Dung, Mr. Doan Xuan Nam and Mr. Le Thanh Sang, the students in our research group, for their contribution to feeding fish, sampling and data handling.
About this article
Cite this article
Pham, H.Q., Arukwe, A. Effects of dopamine 2 receptor antagonist on sex steroid levels, oocyte maturation and spawning performances in Waigieu seaperch (Psammoperca waigiensis). Fish Physiol Biochem 39, 403–411 (2013). https://doi.org/10.1007/s10695-012-9708-z
Received:

Accepted:

Published:

Issue Date:
Keywords
Psammoperca waigiensis

Domperidone

Tropical fish

Dopamine

Sex steroid hormone