Abstract
The effects of dimethoate on hematological, biochemical parameters, and behavior were investigated in Oncorhynchus mykiss exposed to sublethal concentrations of 0.0735, 0.3675, and 0.7350 mg/l for 5, 15, and 30 days. Significant decrease was determined in erythrocyte and leukocyte counts, hemoglobin, hematocrit, MCV, and MCH, which was pronounced after prolonged exposure indicating the appearance of microcytic hypochromic anemia. There were no prominent changes in thrombocyte and MCHC. The glucose concentration showed an ascending pattern that proved to be positively correlated with duration. The protein concentration declined in higher dimethoate concentrations following 15 and 30 days. Negative and significant correlation was detected between glucose and protein concentrations. The fish showed remarkable behavioral abnormality such as loss of balance, erratic swimming, and convulsion. Present findings revealed that dimethoate exerts its toxic action even in sublethal concentrations and hematological parameters and abnormal behavior may be sensitive indicators to evaluate pesticide intoxication.
Access options
Buy single article
Instant access to the full article PDF.
USD 39.95
Price excludes VAT (USA)
Tax calculation will be finalised during checkout.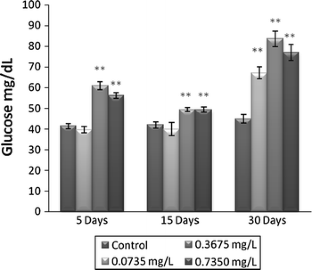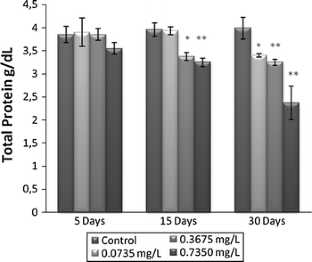 References
Adhikari S, Sarkar B, Chatterjee A, Mahapatra CT, Ayyappan S (2004) Effects of cypermethrin and carbofuran on certain hematological parameters and prediction of their recovery in a freshwater teleost, Labeo rohita (Hamilton). Ecotoxicol Environ Safe 58:220–226

Ali D, Nagpure NS, Kumar S, Kumar R, Kushwaha B, Lakra WS (2009) Assessment of genotoxic and mutagenic effects of chlorpyrifos in freshwater fish Channa punctatus (Bloch) using micronucleus assay and alkaline single-cell gel electrophoresis. Food Chem Toxicol 47:650–656

Alkahem HF (1996) Effects of lethal and sublethal concentrations of lindane on the behavior and energy reserves of the freshwater fish, Oreochromis niloticus. J King Saud Univ 8:153–164

Ansari BA, Kumar K (1988) Cypermethrin toxicity: effect on the carbohydrate metabolism of the indian catfish, Heteropneustes fossilis. Sci Total Environ 72:161–166

APHA, AWWA, WPCF (1981) Standard methods for the examination of water and wastewater. American Public Health Association, Washington, DC

Ballesteros ML, Wunderlin DA, Biston MA (2009) Oxidative stress responses in different organs of Jenynsia multidentata exposed to endosulfan. Ecotox Environ Safe 72:199–205

Borges A, Scotti LV, Siqueira DR, Zanini R, do Amaral F, Jurinitz DF, Wassermann GF (2007) Changes in hematological and serum biochemical values in jundia′ rhamdia quelen due to sub-lethal toxicity of cypermethrin. Chemosphere 69:920–926

Campbell HA, Handy RD, Sims DW (2005) Shifts in a fish's resource holding power during a contact paired interaction: the influence of a copper contaminated diet in rainbow trout. Physiol Biochem Zool 78:706–714

Chandrasekar S, Jayabalan N (1993) Hematological responses of the common carp, Cyprinus carpio L. exposed to the pesticide endosulfan. Asian Fish Sci 6:331–340

Das BK, Mukherjee SC (2003) Toxicity of cypermethrin in Labeo rohita fingerlings: biochemical, enzymatic and haematological consequences. Comp Biochem Phys C 134:109–121

El-Sayed YS, Saad TT, El-Bahr SM (2007) Acute intoxication of deltamethrin in monosex Nile tilapia, Oreochromis niloticus with special reference to the clinical, biochemical and haematological effects. Environ Toxicol Pharmacol 24:212–217

Frasco MF, Guilhermino L (2002) Effects of dimethoate and beta-naphthoflavone on selected biomarkers of Poecilia reticulata. Fish Physiol Biochem 26:149–156

Gautam RK, Kaplana G (2002) Biological and haematological alterations in Channa punctatus. Aquaculture 3:33–36

Gill TS, Pande J, Tewari H (1991) Effects of endosulfan and phosphamidon poisoning on the peripheral blood of fish (Barbus conchonius Hamilton). J Environ Sci Heal A 26:249–255

Gimeno L, Ferrando MD, Sanchez S, Gimeno LO, Andreu E (1995) Pesticide effects on eel metabolism. Ecotoxicol Environ Safe 31:153–157

Grimaldi E, Scopacasa F (1998) Evaluation of the Beckman-Coulter® GEN-S™ hematology analyzer. Lab Hematol 4:264–268

Hahn ME, Hestermann EV (2008) Receptor-mediated mechanisms of toxicity. In: Di Giulio RT, Hinton DE (eds) The toxicology of fishes. CRC Press, Boca Raton, FL, pp 235–259

Hai DQ, Varga SI, Matkovics B (2007) Organophosphate effects of antioxidant system of carp (Cyprinus carpio) and catfish (Ictalurus nebulosus). Comp Biochem Physiol 1:83–88

IPCS (1980) dimethoate. Geneva, World Health Organization, International programme on chemical safety (Environmental Health Criteria 90)

John PJ (2007) Alteration of certain blood parameters of freshwater teleost Mystus vittatus after chronic exposure to Metasystox and Sevin. Fish Physiol Biochem 33:15–20

Johnson WW, Finley MT (1980) Handbook of acute toxicity of chemicals to fish and aquatic invertebrates. US Department of the Interior, Fish and Wildlife Service Resource Publication 137, Washington, DC

Kane AS, Salierno JD, Brewer SK (2005) Fish models in behavioral toxicology: automated techniques, updates and perspectives. In: Ostrander GK (ed) Techniques in aquatic toxicology. Lewis Publishers, Boca Raton, FL, pp 559–590

Klaassen CD (2001) Casarett and doull's toxicology: the basic science of poisons. International Edition, New York

Köprücü SŞ, Köprücü K, Ural MŞ, İspir Ü, Pala M (2006) Acute toxicity of organophosphorous pesticide diazinon and its effects on behavior and some hematological parameters of fingerling european catfish (Silurus glanis L.). Pestic Biochem Phys 86:99–105

Leanos-Castaneda O, Van Der Kraak G, Rodriguez-Canul R, Gold G (2007) Endocrine disruption mechanism of o, p'-DDT in mature male tilapia (Oreochromis niloticus). Toxicol Appl Pharmacol 221:158–167

Lundebye AK, Curtis TM, Braven J, Depledge MH (1997) Effects of the organophosphorous pesticide, dimethoate, on cardiac and acetylcholinesterase (AChE) activity in the shore crab Curcinus maenas. Aquat Toxicol 40:23–36

Luskova V, Svoboda M, Kolarova J (2002) The effects of diazinon on blood plasma biochemistry in carp (Cyprinus carpio). Acta Vet Brno 71:117–125

Mileson BR, Chambers JE, Chen WL, Dettbarn W, Enrich M, Eldefrawi AT, Gaylor DW, Hamernik K, Hodgson E, Karczmar AG, Padilla S, Pope CN, Richardson RJ, Saunders DR, Sheets LP, Sultatos LG, Wallace KB (1998) Common mechanism of toxicity: a case study of organophosphorus pesticides. Toxicol Sci 41:8–20

Neff JM (1985) Use of biochemical measurements to detect pollutant-mediated damage to fish. In: Cardwel RD, Purdy R, Bahner RC (eds) Aquatic toxicology and hazard assessment. American Society for Testing Materials, Philadelphia, pp 155–181

Ogueji EO, Auta J (2007) Investigations of biochemical effects of acute concentrations of lambdacyhalothrin on african catfish Clarias gariepinus-Teugels. J Fish Int 2:86–90

Petri D, Glover CN, Ylving S, Kolas K, Fremmersvik G, Waagbø R, Berntssen MHG (2006) Sensitivity of Atlantic salmon (Salmo salar) to dietary endosulfan as assessed by haematology, blood biochemistry, and growth parameters. Aquat Toxicol 80:207–216

Ramesh M, Saravanan M (2008) Haematological and biochemical responses in a freshwater fish Cyprinus carpio exposed to chlorpyrifos. Int J Integr Biol 3:80–83

Roast SD, Thompson RS, Donkin P, Widdows J, Jones MB (1999) Toxicity of the organophosphate pesticides chlorpyrifos and dimethoate to Neomysis integer (Crustacea: Mysidacea). Water Res 33:319–326

Saha S, Kaviraj A (1993) Acute toxicity of synthetic pyrethroid cypermethrin to freshwater catfish Heteropneustes fossilis (Bloch). Int J Toxicol 22:325–328

Sambasiva Rao KRS (1999) Pesticide impact on fish metabolism. Discovery Publishing House, New Delhi, India

Sancho E, Ceron JJ, Ferrando MD (2000) Cholinesterase activity and hematological parameters as biomarkers of sublethal molinate exposure in Anguilla anguilla. Ecotoxicol Environ Safe 46:81–86

Sharma S, Nagpure NS, Kumar R, Pandey S, Srivastava SK, Singh PJ, Mathur PK (2007) Studies on the genotoxicity of endosulfan in different tissues of fresh water fish Mystus vittatus using the comet assay. Food Chem Toxicol 53:617–623

Spanò L, Tyler CR, Aerle R, Devos P, Mandiki SNM, Silvestre F, Thomé JP, Kestemont P (2004) Effects of atrazine on sex steroid dynamics, plasma vitellogenin concentration and gonad development in adult goldfish (Carassius auratus). Aquat Toxicol 6:369–379

Svoboda M, Luskova V, Drastichova J, Ilebek V (2001) The effect of diazinon on haematological indices of common carp (Cyprinus carpio L.). Acta Vet Brno 70:457–465

Tripathi PK, Srivastava VK, Singh A (2003) Toxic effects of dimethoate (organophosphate) on metabolism and enzyme system of freshwater teleost fish Channa punctatus. Asian Fish Sci 16:349–359

Van der Oost R, Beyer J, Vermeulen NPE (2003) Fish bioaccumulation and biomarkers in environmental risk assessment: a review. Environ Toxicol Pharmcol 13:57–149

Velisek J, Svobodova Z, Piackova V, Sudova E (2009) Effects of acute exposure to metribuzin on some hematological biochemical and histopathological parameters of common carp (Cyprinus carpio L.). Bull Environ Contam Toxicol 82:492–495

Wedemeyer GA, Mcleay DJ, Goodyear CP (1976) Assessing the tolerance of fish and fish populations to environmental stress: the problems and methods of monitoring. In: Cairns VW, Hodson PV, Nriagu JO (eds) Contaminant effects on fisheries. Wiley, New York, pp 163–195
Acknowledgments
This project is supported by Scientific Research Projects Governing Unit of Gaziantep University (FEF.09.08).
About this article
Cite this article
Dogan, D., Can, C. Hematological, biochemical, and behavioral responses of Oncorhynchus mykiss to dimethoate. Fish Physiol Biochem 37, 951–958 (2011). https://doi.org/10.1007/s10695-011-9492-1
Received:

Accepted:

Published:

Issue Date:

DOI: https://doi.org/10.1007/s10695-011-9492-1
Keywords
Dimethoate

Oncorhynchus mykiss

Hematological parameters

Behavior