Abstract
The present study develops an experimental procedure aimed to estimate the efficiency of protein digestion in fish by measuring both gut transit rate and total amount of the main intestinal proteases (trypsin and chymotrypsin). The selected species was the Nile tilapia (Oreochromis niloticus). Total time for digestion, calculated through the estimation of gut transit rate using differently colored feeds, was 7.15 h. Mean production of trypsin and chymotrypsin was 15.94 and 24.11 mU in the proximal intestine and much lower (2,39, 4.90 mU) in the distal intestine. The enzyme efficiency, calculated from the average enzyme activity and time of residence of the digesta in each intestinal section, points to the major role of proximal intestine in protein digestion for this species. Results are discussed in relation to the main features characterizing digestion in stomachless fish.
Access options
Buy single article
Instant access to the full article PDF.
USD 39.95
Price includes VAT (USA)
Tax calculation will be finalised during checkout.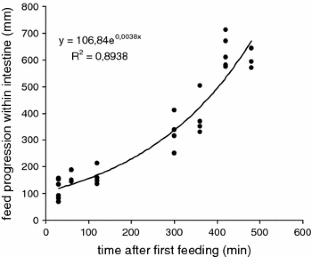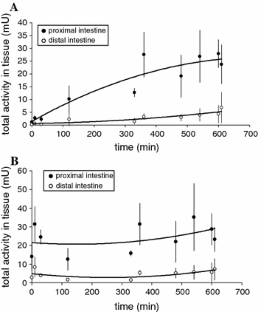 References
Andersen NG (1998) The effect of meal size on gastric evacuation in whiting. J Fish Biol 52:743–755

Andersen NG (1999) The effects of predator size, temperature, and prey characteristics on gastric evacuation in whiting. J Fish Biol 54:287–301

Andersen NG (2001) A gastric evacuation model for three predatory gadoids and implications of using pooled field data of stomach contents to estimate food rations. J Fish Biol 59:1198–1217

Andersen NG, Beyer JE (2005) Mechanistic modelling of gastric evacuation in predatory gadoids applying the square root model to describe surface-dependent evacuation. J Fish Biol 67:1392–1412

Andersen NG, Beyer JE (2007) How are prey fishes of multiple meals evacuated from the stomach of a piscivorous fish? J Fish Biol 71:219–234

Anderson TA (1991) Mechanisms of digestion in the marine hervivore, the luderick, Girella tricuspidata (Quoy & Gaimard). J Fish Biol 39:535–547

Applebaum SL, Holt AJ (2003) The digestive protease, chymotrypsin, as an indicator of nutritional condition in larval red drum (Sciaenops ocellatus). Mar Biol 42:1159–1167

Bagge O (1977) Meal size and digestion in cod (Gadus morhua L.) and sea scorpion (Myoxocephalus scorpius L.). Meddelelser fra Danmarks Fiskeri-og Havundersøgelser 7:437–446

Bitterlich G (1985) Digestive enzyme pattern of two stomachless filter feeders, silver carp. Hypophthalmichthys molitrix Val., and bighead carp, Aristichthys nobilis Rich. J Fish Biol 27:103–112

Blier PU, Lemieux H, Devlin RH (2002) Is the growth rate of fish set by digestive enzymes or metabolic capacity of the tissues? insight from transgenic coho salmon. Aquaculture 209:379–384

Bradford M (1976) A rapid and sensitive method for the quantitation of microgram quantities of protein utilizing the principle of protein—dye binding. AnalBiochem 72:248–254

Cara B, Moyano FJ, Zambonino JL, Fauvel C (2007) Trypsin and chymotrypsin as indicators of nutritional status of post-weaned sea bass larvae. J Fish Biol 70:1798–1808

Chakrabarti I, Gani A, Chaki KK, Sur R, Misra KK (1995) Digestive enzymes in 11 freshwater teleost fish species in relation to food habit and niche segregation. Com Biochem Physiol 112A:167–177

Chakrabarti I, Rathore RM, Kumar S (2006) Study of digestive enzyme activities and partial characterization of digestive proteases in a freshwater teleost, Labeo rohita, during early ontogeny. Aquacul Nutr 12:35–43

Chan AS, Horn MH, Dickson KA, Gawlicka A (2004) Digestive enzyme activities in carnivores and herbivores: comparisons among four closely related prickleback fishes (Teleostei: Stichaeidae) from a California rocky intertidal habitat. J Fish Biol 65:848–858

Clements KD, Rees D (1998) Preservation of inherent contractility in isolated gut segments from herbivorous and carnivorous marine fish. J Comp Physiol 168B:61–72

Daan N (1973) A quantitative analysis of the food intake of the North Sea cod, Gadus morhua. Neth J Sea Res 8:27–48

Drewe KE, Horn MH, Dickson KA, Gawlicka A (2004) Insectivore to frugivore: ontogenetic changes in gut morphology and digestive enzyme activity in the characid fish Brycon guatemalensis from Costa Rican rainforest streams. J Fish Biol 64:890–902

Einarsson S, Davies PS, Talbot C (1996) The effect of feeding on the secretion of pepsin, trypsin and chymotrypsin in the Atlantic salmon, Salmo salar L. Fish Physiol Biochem 15:439–446

Erlanger BF, Kokorsky N, Cohen W (1961) The Preparation and Properties of Two New Chromogenic Substrates of Trypsin. Arch Biochem Biophys 96:271–278

Fris MB, Horn MH (1993) Effects of diet of different protein content on food consumption, gut retention, protein conversion, and growth of Cebidichthys violaceus (Girard), an herbivorous fish of temperate zone marine waters. J Exp Mar Biol Ecol 166:183–202

Hjelmeland K, Huse I, Jorgensen T, Molvik G, Raa J (1983) Trypsin and trypsinogen as indices of growth and survival potential of cod (Gadus morhua L.) larvae. Flodevigen Rapportser 3:1–17

Hofer R, Schiemer F (1981) Proteolytic activity in the digestive tract of several species of fish with different feeding habits. Oecologia 48:342–345

Horn MH, Gibson RN (1990) Effects of temperature on the food processing of three species of seaweed-eating fishes from European coastal waters. J Fish Biol 37:237–247

Horn MH, Messer KS (1992) Fish guts as chemical reactors: a model of the alimentary canals of marine herbivorous fishes. Mar Biol 113:527–535

Hurst TP (2004) Temperature and state-dependence of feeding and gastric evacuation in juvenile Pacific halibut. J Fish Biol 65:157–169

Jun-sheng L, Jian-lin L, Ting-ting W (2006) Ontogeny of protease, amylase and lipase in the alimentary tract of hybrid Juvenile tilapia (Oreochromis niloticus × Oreochromis aureus). Fish Physiol Biochem 32:295–303

Klumpp DW, Nichols PD (1983) Nutrition of the southern sea garfish Hyporhamphus melanochir: gut passage rate and daily consumption of two food types and assimilation of seagrass components. Mar Ecol Prog Ser 12:207–216

Kuz'mina VV (1996) Influence of age on digestive enzyme activity in some freshwater teleosts. Aquaculture 148:25–37

Liu ZY, Wang Z, Xu SY, Xu LN (2008) Partial characterization and activity distribution of proteases along the intestine of grass carp. Ctenopharyngodon idella (Val.). Aquacul Nutr 14:31–39

Logothetis EA, Horn MH, Dickson KA (2001) Gut morphology and function in Atherinops affinis (Teleostei: Atherinopsidae), a stomachless omnivore feeding on macroalgae. J Fish Biol 59:1298–1312

Lundstedt LM, Bibiano MJF, Moraes G (2004) Digestive enzymes and metabolic profile of Pseudoplatystoma corruscans (Teleostei: Siluriformes) in response to diet composition. Com Biochem Physiol 137B:331–339

Moyano FJ, Díaz M, Alarcón FJ, Sarasquete MC (1996) Characterization of digestive enzyme activity during larval development of gilthead seabream (Sparus aurata). Fish Physiol Biochem 15:121–130

Nilsson PA, Brönmark CB (2000) The role of gastric evacuation rate in handling time of equal-mass rations of different prey sizes in northern. J Fish Biol 57:516–524

Olsson C, Holmgren S (2001) The control of gut motility. Com Biochem Physiol 128A:481–503

Pääkkönen J-PJ, Marjomäki TJ (1997) Gastric evacuation rate of burbot fed single-fish meals at different temperatures. J Fish Biol 50:555–563

Pääkkönen J-PJ, Myyä R, Marjomäki TJ (1999) The effect of meal size on the rate of gastric evacuation of burbot. Lota lota (L.). Ecol Fresh Fish 8:19–54

Papoutsoglou ES, Lyndon AR (2005) Effect of incubation temperature on carbohydrate digestion in important teleosts for aquaculture. Aquacult Res 36:1252–1264

Papoutsoglou ES, Lyndon AR (2006a) Digestive enzymes of Anarhichas minor and the effect of diet composition on their performance. J Fish Biol 69:446–460

Papoutsoglou ES, Lyndon AR (2006b) Digestive enzymes along the alimentary tract of the parrotfish Sparisoma cretense. J Fish Biol 69:130–140

Pedersen BH, Nilssen EM, Hjelmeland K (1987) Variation in the content of trypsin and trypsinogen in larval herring Clupea harengus digesting copepod nauplii. Mar Biol 94:171–181

Polunin NVC, Harmelin-Vivien M, Galzin R (1995) Contrasts in algal food processing among five herbivorous coral-reef fishes. J Fish Biol 47:455–465

Scocco P, Menghi G, Ceccarelli P (1997) Histochemical differentiation of glycoconjugantes occurring in the tilapia intestine. J Fish Biol 51:848–857

Singh-Renton S, Bromley PJ (1996) Effects of temperature, prey type and prey size on gastric evacuation in small cod and whiting. J Fish Biol 49:702–713

Smith RL, Paulson AC (1974) Food transit times and gut pH in two Pacific parrotfishes. Copeia 1974:796–799

Storebakken T, Kvien IS, Shearer KD, Grisdale-Helland B, Helland SJ (1999) Estimation of gastrointestinal evacuation rate in Atlantic salmon (Salmo salar) using inert markers and collection of faeces by sieving: evacuation of diets with fish meal, soybean meal or bacterial meal. Aquaculture 172:291–299

Targett TE, Targett NM (1990) Energetics of food selection by the herbivorous parrotfish Sparisoma radians: roles of assimilation efficiency, gut evacuation rate, and algal secondary metabolites. Mar Ecol Prog Ser 66:13–21

Ueberschär B (1995) The use of tryptic enzyme activity measurement as a nutritional condition index: laboratory calibration data and field application. ICES- J Mar Sci 201:119–129

Zar JH (1996) Biostatistical analysis, 3rd edn. Prentice Hall, NJ, p 718
Acknowledgments
A. Uscanga received a grant (N 177284) from the CONACYT to develop this work. The experiments were partially funded by Project AGL2007-64450-C02-02 from the Spanish Ministry of Science and Innovation.
About this article
Cite this article
Uscanga, A., Moyano, F.J. & Alvarez, C.A. Assessment of enzymatic efficiency on protein digestion in the tilapia Oreochromis niloticus . Fish Physiol Biochem 36, 1079–1085 (2010). https://doi.org/10.1007/s10695-010-9385-8
Received:

Accepted:

Published:

Issue Date:
Keywords
Gut transit

Proteases

Enzyme efficiency

Nile tilapia