Abstract
In vitro cultures of native fish cell lines are of great importance, both for basic research and applied science. In particular, there is strong demand for long-term growable cell lines from breeding fish, like sturgeon. Here, we describe the culture of cells from Siberian sturgeon (Acipenser baerii) head kidney. The cells have so far been cultured over a period of 12 months (24 passages). Cytochemical and immunocytochemical examination suggests that, in vitro, the cells exhibit markers that are indicative for different cell types. In particular, fat storing cells (adipocytes) were observed, and the expression of cytokeratins and glial fibrilar acidic protein (GFAP) can be concluded on the basis of immuncytochemical analysis. The observation of different morphologies additionally underlines the heterogeneity of the cell population and matches the typical behaviour of in vitro cultures of stem/progenitor cells. Different applications can be imagined.
This is a preview of subscription content, log in to check access.
Access options
Buy single article
Instant access to the full article PDF.
US$ 39.95
Price includes VAT for USA
Subscribe to journal
Immediate online access to all issues from 2019. Subscription will auto renew annually.
US$ 99
This is the net price. Taxes to be calculated in checkout.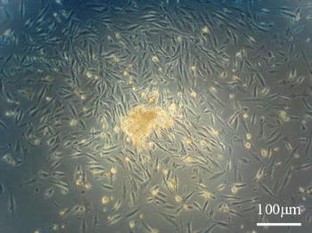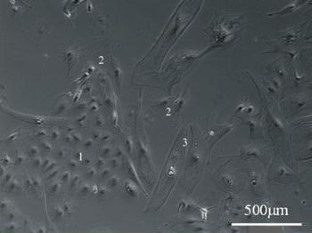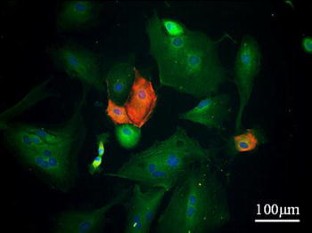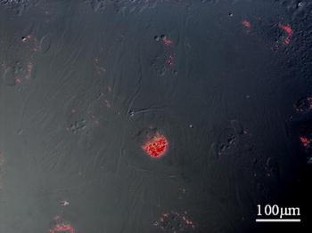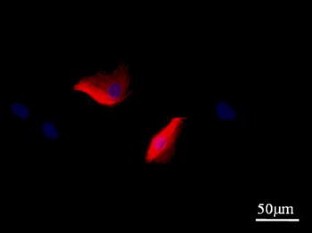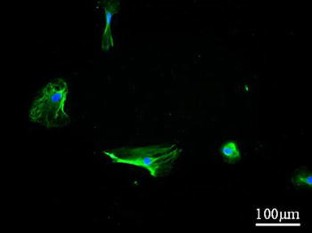 References
Braun-Nesje R, Kapplan G, Seljelid R (1982) Rainbow trout macrophages in vitro: Morphology and phagocytic activity. Dev Comp Immunol 6:281–291

Catton WT (1951) Blood cell formation in certain teleost fishes. Blood 6: 39–60

Dishon A, Perelberg A, Bisharan-Shieban J, Ilouze M, Davidovich M, Werker S, Kotler M (2005) Detection of carp interstitial nephritis and gill necrosis virus in fish droppings. Appl Environ Microbiol 71:7285–7291

Fänge R (1986) Lymphoid organs in sturgeons (Acipenseridae). Vet Immunol Immunopathol 12:153–161

Friedenstein AJ (1991) Osteogenic stem cells in the bone marrow. Bone Miner 7:243–272

Holen E, Hamre K (2004) Towards obtaining long term embryonic stem cell like cultures from a marine flatfish, Scophtalmus maximus. Fish Physiol Biochem 29:245–252

Jiang Y, Jahagirdar BN, Reinhardt RL, Schwartz RE, Keene CD, Ortiz-Gonzalez XR, Reyes M, Lenvik T, Lund T, Blackstad M, Du J, Aldrich S, Lisberg A, Low WC, Largaespada DA, Verfaillie CM (2007) Pluripotency of mesenchymal stem cells derived from adult marrow. Nature 447(7146):880–881

Joerink M, Ribeiro CMS, Stet RJM, Hermsen T, Savelkoul HFJ, Wiegertjes GF (2006) Head kidney-derived macrophages of common carp (Cyprinus carpio L.) show plasticity and functional polarization upon differential stimulation. J Immunol 177(1):61

Kruse C, Grunweller A, Notbohm H, Kugler S, Purschke WG, Muller PK (1996) Evidence for a novel cytoplasmatic tRNA-protein complex containing the KH-multidomain protein vigilin. Biochem J 320:247–252

Kruse C, Birth M, Rohwedel J, Assmuth K, Goepel A, Wedel T (2004) Pluripotency of adult stem cells derived from human and rat pancreas. Appl Phys A 79:1617–1624

Lemischka IR, Raulet DH, Mulligan RC (1986) Developmental potential and dynamic behaviour of haematopoietic stem cells. Cell 45(6):917–927

Raymond PA, Barthel LK, Bernardos RL, Perkowski JJ (2006) Molecular characterization of retinal stem cells and their niches in adult zebrafish. BMC Dev Biol 6:36

Serafini M, Verfaillie CM (2006) Pluripotency in adult stem cells: state of the art. Semin Reprod Med 24(5):379–388, Review

Siegl E, Albrecht S, Lüdtke B (1993) Long-term liquid culture of haematopoietic precursor cells from the head kidney and spleen of the rainbow trout (oncorhynchus mykiss). Comp Haematol Int 3:168–173

Zapata A, Amemiya CT (2000) Phylogeny of lower vertebrates and their immunological structures. Curr Top Microbiol Immunol 248:67–107

Zapata AG, Chiba A, Varos A (1997) Cells and tissues of the immune system of fish. In: Iwama G, Nakanishi T (eds) The fish immune system organism, pathogen and environment. Academic Press, San Diego, pp 1–61

Zuasti A, Ferrer C (1989) Haematopoiesis in the head kidney of Sparus auratus. Arch Histol Cytol 52:249–255
Acknowledgments
This work was supported by grants of WTSH (Wirtschaftsförderung und Technologietransfer Schleswig-Holstein). The authors would like to thank Dr. Daniel Rapoport and Mrs. Jennifer Kajahn for the revision of the manuscript.
About this article
Cite this article
Ciba, P., Schicktanz, S., Anders, E. et al. Long-term culture of a cell population from Siberian sturgeon (Acipenser baerii) head kidney. Fish Physiol Biochem 34, 367–372 (2008). https://doi.org/10.1007/s10695-007-9196-8
Received:

Accepted:

Published:

Issue Date:
Keywords
Aquaculture

Cell culture

Fish

In vitro

Progenitor cells

Pronephros

Stem cells

Test system