Abstract
After over 30 years of fast economic development and massive construction of infrastructures, China now owns the largest total length of tunnels in the world. However, many tunnels are overloaded with a large traffic volume and vulnerable to fire accidents in operation. Once a fire occurs in the tunnel, the occupants face a dangerous and confined environment and need to evacuate before reaching untenable conditions. Failure in fire evacuation will cause severe injuries and casualties under high-temperature and toxic fire smoke, and many past fire accidents have taught us lessons. Driven by the need for tunnel fire safety in China, many new researches are conducted related to fire evacuation in tunnel environments including full-scale experiments, and new evacuation strategies are carried out with sophisticated tunnel designs and regulations. Hence, this work aims to review these latest developments and studies in China towards better and safer evacuation in tunnel fires. In specific, the paper summarized the evacuation issues in tunnel fires generally and pointed out the unique issues in China. Aiming these issues, the paper then introduced recent evacuation strategies and evacuation research in China respectively. Typical tunnel fire accidents and full-scale tunnel fire evacuation tests in China were discussed in detail as case studies. Detailed evacuation strategies and the exposed issues were analyzed in those tunnel fire accidents emphatically, while evacuation findings of human behavior such as evacuation choices and trajectories were presented according to several field tunnel fire evacuations conducted by the authors. Finally, we highlight the research advances and challenges of fire evacuation in tunnels, as well as the need and directions for future research.
Access options
Buy single article
Instant access to the full article PDF.
USD 39.95
Price excludes VAT (USA)
Tax calculation will be finalised during checkout.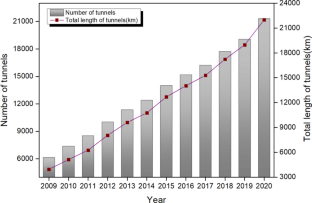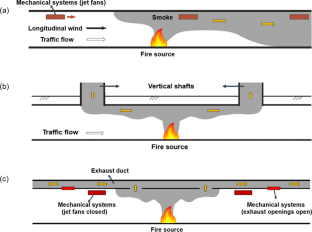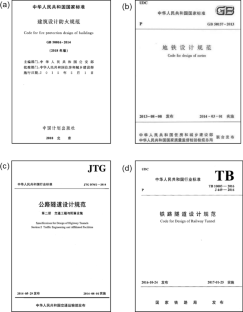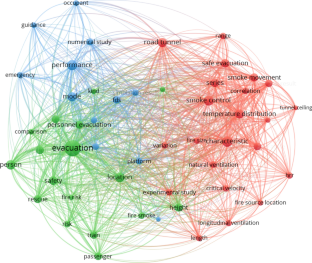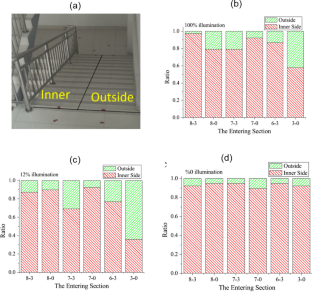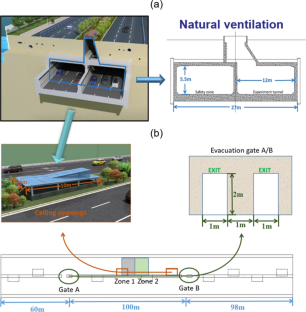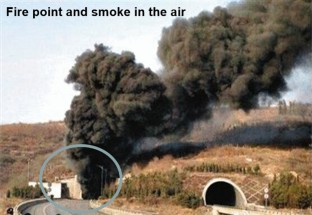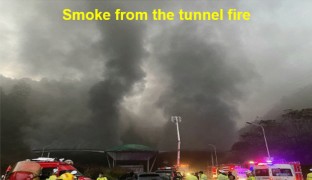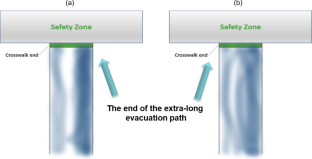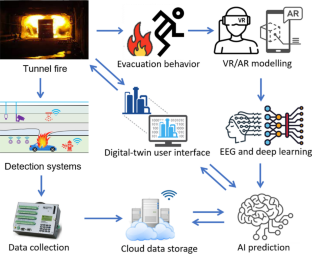 References
Hong K (2017) Typical underwater tunnels in the mainland of China and related tunneling technologies. Eng 3:871–879

Hong KR, Feng HH (2020) Development trends and views of highway tunnels in China over the past decade. China J Hignway Transport 12:62–76

Takeuchi S, Tanaka F, Yoshida K, Moinuddin KAM (2018) Effects of scale ratio and aspect ratio in predicting the longitudinal smoke- temperature distribution during a fire in a road tunnel with vertical shafts. Tunn Undergr Sp Technol 80:78–91

Yi L, Wei R, Peng J, Ni T, Xu Z, Wu D (2015) Experimental study on heat exhaust coefficient of transversal smoke extraction system in tunnel under fire. Tunn Undergr Sp Technol 49:268–278

Cui (2017) Authorities: 31 killed on Mar.1 Shanxi road accident, from the Word Wide Web: https://english.cri.cn/6909/2014/03/13/2701s817236.htm. Accessed 16 Dec 2017

Sogou Baike (2022) August 27 Truck fire Incident in Taizhou Cat Cat Ridge Tunnel [EB/OL]. https://BaikeSogou.Com/V183348412Htm?FromTitle=8%C2%B727%E5%8F%B0%E5%B7%9E%E7%8C%AB%E7%8B%B8%E5%B2%AD%E9%9A%A7%E9%81%93%E8%B4%A7%E8%BD%A6%E8%B5%B7%E7%81%AB%E4%BA%8B%E4%BB%B6

General Administration of Safety Supervision website (2014) Jinji high-speed jincheng section tunnel after the March 1 "accident investigation report [EB/OL]. http://www.GovCn/Xinwen/2014-06/10/Content_2698194.htm

Barbato L, Cascetta F, Musto M, Rotondo G (2014) Fire safety investigation for road tunnel ventilation systems – an overview. Tunn Undergr Sp Technol Inc Trenchless Technol Res 43:253–265

Cong HY, Wang XS, Zhu P, Jiang TH, Shi XJ (2017) Improvement in smoke extraction efficiency by natural ventilation through a board-coupled shaft during tunnel fires. Appl Therm Eng 118:127–137

Wang F, Wang M (2016) A computational study on effects of fire location on smoke movement in a road tunnel. Tunn Undergr Sp Technol 51:405–413

Seike M, Kawabata N, Hasegawa M (2016) Experiments of evacuation speed in smoke-filled tunnel. Tunn Undergr Sp Technol 53:61–67

Santos-Reyes J, Beard AN (2017) An analysis of the emergency response system of the 1996 Channel tunnel fire. Tunn Undergr Sp Technol 65:121–139

Caliendo C, Ciambelli P, De GML, Meo MG, Russo P (2012) Simulation of people evacuation in the event of a road tunnel fire. Proc Soc Behav Sci 53:178–188

Zhang Y, Yan Z, Zhu H, Shen Y, Guo Q, Guo Q (2019) Experimental investigation of pedestrian evacuation using an extra-long steep-slope evacuation path in a high altitude tunnel fire. Sustain Cities Soc 46:101423

Guo Q, Zhu H, Yan Z, Zhang Y, Zhang Y, Huang T (2019) Experimental studies on the gas temperature and smoke back-layering length of fires in a shallow urban road tunnel with large cross-sectional vertical shafts. Tunn Undergr Sp Technol 83:565–576

Ji J, Bi Y, Venkatasubbaiah K, Li K (2016) Influence of aspect ratio of tunnel on smoke temperature distribution under ceiling in near field of fire source. Appl Therm Eng 106:1094–1102

Hu LH, Huo R, Wang HB, Yang RX (2007) Experimental and numerical studies on longitudinal smoke temperature distribution upstream and downstream from the fire in a road tunnel. J Fire Sci 25:23–43

Yuan Z, Lei B, Bi H (2015) The effect of fire location on smoke temperature in tunnel fires with natural ventilation. Proc Eng 121:2119–2124

Nilsson D, Johansson M, Frantzich H (2009) Evacuation experiment in a road tunnel: A study of human behaviour and technical installations. Fire Saf J 44:458–468

Zhang Y, Zhu H, Guo Q, Carvel R, Yan Z (2021) The effect of technical installations on evacuation performance in urban road tunnel fires. Tunn Undergr Sp Technol 1:107

Yamamoto K, Sawaguchi Y, Nishiki S (2018) Simulation of tunnel fire for evacuation safety assessment. Safety 4:12

Zhang X, Wu X, Park Y, Huang X, Zhang T, Xiao F, Usmani A (2021) Perspectives of big experimental database and artificial intelligence in tunnel fire research, Tunn Undergr Sp Tech. 108:103691

Seike M, Kawabata N, Hasegawa M (2017) Evacuation speed in full-scale darkened tunnel filled with smoke. Fire Saf J 91:901–907

Zhang Y, Shen Y, Carvel R, Zhu H, Zhang Y, Yan Z (2021) Experimental investigation on the evacuation performance of pedestrians in a three-lane urban tunnel with natural ventilation in a fire scenario. Tunn Undergr Sp Technol 108:103634

Xie W, Lee EWM, Li T, Shi M, Cao R, Zhang Y (2021) A study of group effects in pedestrian crowd evacuation: experiments, modelling and simulation. Saf Sci 1:133

Zeng G, Cao S, Liu C, Song W (2018) Experimental and modeling study on relation of pedestrian step length and frequency under different headways. Phys A Stat Mech Its Appl 500:237–248

Zhang Y, Li W, Rui Y, Wang S, Zhu H, Yan Z (2022) A modified cellular automaton model of pedestrian evacuation in a tunnel fire. Tunn Undergr Sp Technol 130:104673

Tang F, Cao Z, He Z, Ling X, Wang Q (2018) Thermal plume temperature profile of buoyancy-driven ceiling jet in a channel fire using ceiling smoke extraction. Tunn Undergr Sp Technol 78:215–221

Purser DA, McAllister JL (2016) Assessment of hazards to occupants from smoke, toxic gases, and heat. SFPE handbook of fire protection engineering. New York, Springer, 2308–2428

Underground CA, Space P (2019) Cracow's tunnels of fear? IOP Conf Ser Mater Sci Eng 471:92017

Lee EH, Luo C, Sam YL, Roberts AC, Kwok KW, Car J et al (2019) The underground workspaces questionnaire (UWSQ): investigating public attitudes toward working in underground spaces. Build Environ 153:28–34

Dong JT, Yan ZG, Zhang YX, Zhu HH (2018) Research methods in tunnel fire distinguishing from buildings in evacuation. Proceedings of GeoShanghai 2018 international cConference: tunnelling and underground construction

CSP Eagle (2018) Westbound I-70 at eisenhower tunnel closed due to massive semi-truck fire. https://www.koaa.com/news/2018/09/16/westbound-i-70-at-eisenhower-tunnel-closed-due-to-massive-semitruck-fire/

Byggvarlden (2018) Rekordbrons tunnel får pris [EB/OL]. https://www.byggvarlden.se/rekordbrons-tunnel-far-pris/

Bryce B (2020) Car fire causes peak-hour traffic jam in Sydney Harbour Tunnel.https://www.abc.net.au/news/2020-08-25/sydney-harbour-tunnel-traffic-chaos-after-car-fire/12592812

Zhang J, Wang Q, Hu Y, Cao S, Xia L, Song W (2018) The effect of a directional split flow ratio on bidirectional pedestrian streams at signalized crosswalks. J Stat Mech Theory Exp 2018:73408

Ren R, Zhou H, Hu Z, He S, Wang X (2019) Statistical analysis of fire accidents in Chinese highway tunnels 2000–2016. Tunn Undergr Sp Technol 83:452–460

Zhang N, Tan Z, Jin M (2015) Research on the technology of disaster prevention and rescue in high-altitude super-long railway tunnel. KSCE J Civ Eng 19:756–764

Liu Y, Yang D, Xiao Y, Mao S, Yang M (2018) Combining diverse driving forces for smoke control in complex urban traffic link tunnels (UTLTs) using one-dimensional flow modelling. Sustain Cities Soc 43:265–274

Du T, Yang D, Peng S, Liu Y, Xiao Y (2016) Performance evaluation of longitudinal and transverse ventilation for thermal and smoke control in a looped urban traffic link tunnel. Appl Therm Eng 96:490–500

Du T, Yang D, Peng S, Xiao Y (2015) A method for design of smoke control of urban traffic link tunnel (UTLT) using longitudinal ventilation. Tunn Undergr Sp Technol 48:35–42

Kuligowski ED, Gwynne SMV, Kinsey MJ, Hulse L (2017) Guidance for the model user on representing human behavior in egress models. Fire Technol 53:649–672

Fleischmann CM (2011) Is prescription the future of performance-based design? Fire Saf Sci 1:77–94

Luo M, Sun X, Li S (2022) A historical review of fire engineering practice and development in China. Fire Technol

Handbook on Building Fire Codes and SFPE Handbook of Fire Protection Engineering. Springer (2015)

Handbook of tunnel fire safety. ICE (2012)

Specifications for Design of Highway Tunnels. Section 2 Traffic Engineering and Affiliated facilities. JTG D70/2—2014 (2014)

Code for fire protection design of buildings. GB 50016-2014 (2014)

Code for design of metro.GB 50517-2013- (2013)

Code for Design of Railway Tunnel.TB 10003-2016 (2016)

Lee S, Jain S, Ginsbach K, Son Y-J (2021) Dynamic-data-driven agent-based modeling for the prediction of evacuation behavior during hurricanes. Simul Model Pract Theory 106:102193

Minimum safety requirements for tunnels in the Trans-European road network, Directive 2004/54/EC (2004)

Guidelines for the equipment and operation of road tunnels, RABT-2003 (2003)

Zhang JH et al (2009) Study on disaster prevention technology of Xuefengshan Tunnel

Yan Z, Zhang Y, Guo Q, Zhu H, Shen Y, Guo Q (2018) Numerical study on the smoke control using point extraction strategy in a large cross-section tunnel in fire. Tunn Undergr Sp Technol 82:455–467

Liang Q, Li Y, Li J, Xu H, Li K (2017) Numerical studies on the smoke control by water mist screens with transverse ventilation in tunnel fires. Tunn Undergr Sp Technol 64:177–183

Gubbi J, Marusic S, Palaniswami M (2009) Smoke detection in video using wavelets and support vector machines. Fire Saf J 44:1110–1115

Ko BC, Cheong KH, Nam JY (2009) Fire detection based on vision sensor and support vector machines. Fire Saf J 44:322–329

Cosma G, Ronchi E, Nilsson D (2016) Way-finding lighting systems for rail tunnel evacuation: a virtual reality experiment with Oculus Rift®. J Transp Saf Secur 8:101–117

Han T, Zhao J, Li W (2020) Smart-guided pedestrian emergency evacuation in slender-shape infrastructure with digital twin simulations. Sustain 12:1–18

Fu L, Cao S, Shi Y, Chen S, Yang P, Fang J (2019) Walking behavior of pedestrian social groups on stairs: a field study. Saf Sci 117:447–457

Kobes M, Helsloot I, de Vries B, Post JG (2010) Building safety and human behaviour in fire: a literature review. Fire Saf J 45:1–11

Mossberg A, Nilsson D, Andrée K (2021) Unannounced evacuation experiment in a high-rise hotel building with evacuation elevators: a study of evacuation behaviour using eye-tracking. Fire Technol 57:1259–1281

Zeng Y, Song W, Jin S, Ye R, Liu X (2017) Experimental study on walking preference during high-rise stair evacuation under different ground illuminations. Phys A Stat Mech Its Appl 479:26–37

Haghani M, Sarvi M, Shahhoseini Z (2020) Evacuation behaviour of crowds under high and low levels of urgency: experiments of reaction time, exit choice and exit-choice adaptation. Saf Sci 1:126

Nilsson D (2009) Exit choice in fire emergencies - Influencing choice of exit with flashing lights. Lund University, p 185

von Sivers I, Templeton A, Künzner F, Köster G, Drury J, Philippides A et al (2016) Modelling social identification and helping in evacuation simulation. Saf Sci 89:288–300

Calvi A, De Blasiis MR, Guattari C (2012) An empirical study of the effects of road tunnel on driving performance. Proc Soc Behav Sci 53:1098–1108

Bassan S (2016) Overview of traffic safety aspects and design in road tunnels. IATSS Res 40:35–46

Caroly S, Kouabenan DR, Gandit M (2013) Analysis of danger management by highway users confronted with a tunnel fire. Saf Sci 60:35–46

Chen P, Chen F, Zhang L, Ma X, Pan X (2020) Examining the influence of decorated sidewaall in road tunnels using fMRI technology. Tunn Undergr Sp Technol 99:103362

Porzycki J, Schmidt-Polończyk N, Wąs J (2018) Pedestrian behavior during evacuation from road tunnel in smoke condition—empirical results. PLoS ONE 13:e0201732

Zhao X, Ju Y, Li H, Zhang C, Ma J (2020) Safety of raised pavement markers in freeway tunnels based on driving behavior. Accid Anal Prev 145:105708

Kinateder M, Ronchi E, Gromer D, Müller M, Jost M, Nehfischer M et al (2014) Social influence on route choice in a virtual reality tunnel fire. Transp Res Part F Traffic Psychol Behav 26:116–125

Drury J, Cocking C, Reicher S, Burton A, Schofield D, Hardwick A et al (2009) Cooperation versus competition in a mass emergency evacuation: a new laboratory simulation and a new theoretical model. Behav Res Methods 41:957–970

Molleman L, Kölle F, Starmer C, Gächter S (2019) People prefer coordinated punishment in cooperative interactions. Nat Hum Behav 3:1145–1153

Kinateder M, Warren WH, Schloss KB (2019) What color are emergency exit signs? Egress behavior differs from verbal report. Appl Ergon 75:155–160

Kinateder M, Müller M, Jost M, Mühlberger A, Pauli P (2014) Social influence in a virtual tunnel fire - Influence of conflicting information on evacuation behavior. Appl Ergon 45:1649–1659

Li L, Cheng X, Cui Y, Dong W, Mei Z (2013) Effect of blockage ratio on the maximum temperature under the ceiling in tunnel fires. J Fire Sci 31:245–257

Li P, Zheng Y, Li M, Fan W, Shi T, Wang Y et al (2016) Enhanced flame-retardant property of epoxy composites filled with solvent-free and liquid-like graphene organic hybrid material decorated by zinc hydroxystannate boxes. Compos Part A Appl Sci Manuf 81:172–181

Guo Q, Li YZ, Ingason H, Yan Z, Zhu H (2022) Study on spilled liquid from a continuous leakage in sloped tunnels. Tunn Undergr Sp Technol 120:104290

Yan M, Zhang Z, Liu W, Jiang Y, Li P, Yang M (2019) Tunnel fire suppression tests with water mist fire extinguishing system containing an additive. In: 2019 9th international conference on fire science fire protection engineering ICFSFPE 2019, pp 20–23

Zhu H, Chi Q, Sun H, Zhao X (2019) Study on temperature field of cable tunnel fire. In: 2019 9th international conference fire science and fire protection engineering, ICFSFPE 2019, pp 1–5

Yang L, Yang L, Wang X, Wang X, Zhang JJ, Zhang JJ et al (2020) Pedestrian choice modeling and simulation of staged evacuation strategies in daya bay nuclear power plant. IEEE Trans Comput Soc Syst 7:686–695

Zhang Y, Xie W, Chen S, Li T (2018) Experimental Study on Descent Speed on Stairs of Individuals and Small Groups Under Different Visibility Conditions. Fire Technol 54:781–796

Zhang YC, Zhou A, Xiang Y, He C, Jiao Q, Wan B et al (2018) Evacuation experiments in vertical exit passages in an underwater road shield tunnel. Phys A Stat Mech Its Appl 512:1140–1151

Zeng G, Schadschneider A, Zhang J, Wei S, Song W, Ba R (2019) Experimental study on the effect of background music on pedestrian movement at high density. Phys Lett Sect A Gen At Solid State Phys 383:1011–1018

Mu H, Lo S, Song W, Wang J, Sun J (2016) An experimental and numerical study of imbalanced door choice during an announced evacuation drill. Fire Technol 52:801–815

Cao S, Wang P, Yao M, Song W (2019) Dynamic analysis of pedestrian movement in single-file experiment under limited visibility. Commun Nonlinear Sci Numer Simul 69:329–342

Cao S, Fu L, Wang P, Zeng G, Song W (2018) Experimental and modeling study on evacuation under good and limited visibility in a supermarket. Fire Saf J 102:27–36

Xu X, Song W (2009) Staircase evacuation modeling and its comparison with an egress drill. Build Environ 44:1039–1046

Lian L, Mai X, Song W, Richard YKK, Rui Y, Jin S (2017) Pedestrian merging behavior analysis: an experimental study. Fire Saf J 91:918–925

Cao S, Zhang J, Song W, Shi C, Zhang R (2018) The stepping behavior analysis of pedestrians from different age groups via a single-file experiment. J Stat Mech Theory Exp 2018:33402

Huo F, Song W, Chen L, Liu C, Liew KM (2016) Experimental study on characteristics of pedestrian evacuation on stairs in a high-rise building. Saf Sci 86:165–173

Li H, Zhang J, Xia L, Song W, Bode NWF (2019) Comparing the route-choice behavior of pedestrians around obstacles in a virtual experiment and a field study. Transp Res Part C Emerg Technol 107:120–136

Ren X, Zhang J, Song W, Cao S (2019) The fundamental diagrams of elderly pedestrian flow in straight corridors under different densities. J Stat Mech Theory Exp 2019:23403

Tan T, Yu L, Ding L, Gao Z, Ji J (2021) Numerical investigation on the effect of ambient pressure on mechanical smoke extraction efficiency in tunnel fires. Fire Saf J 120:103136

Sabrina Mansion. International transport of dangerous goods by road [EB/OL] (2018). https://Unece.Org/DAM/Trans/Doc/2018/UNDA/II_International_transport_of_dangerous_goods_2.Pdf

Zhejiang Emergency Management Department. 5 dead 31 wounded! The investigation into the truck fire in the tunnel released a number of penalties [EB/OL] (2020). https://Baijiahao.Baidu.com/s?Id=1654454231927759731&wfr=spider&for=pc

Wu X, Zhang X, Jiang Y, Huang X, Huang GGQ, Usmani A (2022) An intelligent tunnel firefighting system and small-scale demonstration. Tunn Undergr Sp Technol 120:104301

Huang X, Wu X, Zhang X, Usmani A (2022) Smart tunnel fire safety management by sensor network and artificial intelligence. In: Naser MZ, ed Leveraging artifical intelligence into engineering management safety and infrastructure, New York

Wu X, Park Y, Li A, Huang X, Usmani A (2021) Smart detection of fire Source in tunnel based on the numerical database and artificial intelligence. Fire Technol 57(2):657–682. https://doi.org/10.1007/s10694-020-00985-z

Zhang Y, Zhang X, Huang X (2023) Design a safe firefighting time (SFT) for major fire disaster emergency response, International Journal of Disaster Risk Reduction (under review).
Acknowledgements
This work is funded by the Hong Kong Research Grants Council Theme-based Research Scheme (T22-505/19-N), the National Natural Science Foundation of China (52204232), and Shanghai Post-doctoral Excellence Program (No. 2021362). The authors thank Wei Li from Tongji University for helping the literature search.
Additional information
Publisher's Note
Springer Nature remains neutral with regard to jurisdictional claims in published maps and institutional affiliations.
Rights and permissions
Springer Nature or its licensor (e.g. a society or other partner) holds exclusive rights to this article under a publishing agreement with the author(s) or other rightsholder(s); author self-archiving of the accepted manuscript version of this article is solely governed by the terms of such publishing agreement and applicable law.
About this article
Cite this article
Zhang, Y., Huang, X. A Review of Tunnel Fire Evacuation Strategies and State-of-the-Art Research in China. Fire Technol (2022). https://doi.org/10.1007/s10694-022-01357-5
Received:

Accepted:

Published:

DOI: https://doi.org/10.1007/s10694-022-01357-5
Keywords
Tunnel fire safety

Evacuation

Case study

Full-scale experiments

Human behavior