Abstract
Fire risk was evaluated by cone calorimeter, thermogravimetric analysis and vertical combustion tests for four common interior wallpaper species including PVC, non-woven, pure paper and silicone wallpapers. This paper compared the time to ignition, heat release rate, smoke production rate, and mass loss parameters, analyzed burning process, pyrolysis and flame propagation properties of four kinds of wallpaper. Based on observations for wallpapers, it is found that the silicone wallpaper had the longest time to ignition and was not lighted under the 15, 20 kW/m2 heat fluxes. This means that the silicone wallpaper can be ignited at a higher heat flux and will have a greater safety than other kinds of wallpaper. Under 30 kW/m2 heat flux, the smoke production of pure paper wallpaper was the lowest, the silicone wallpaper had the lower heat release rate, no smoke released and stable pyrolysis property in the first 40 s. This mean that the first 40 s of the fire of the silicone wallpaper can be used as a prime time for evacuation of people under 30 kW/m2 heat flux. The pyrolysis property and flame propagation of each wallpaper are related to its component. In addition, it is found that the "empty drum" phenomenon of the wallpapers is a prerequisite for the wallpaper used to burn, and only the silicone wallpaper among the four wallpapers has almost no flame propagation due to the thermal shrinkage phenomenon. It is concluded that the wallpaper coated with silicone rubber has a higher safety compared with the wallpapers containing PVC and synthetic fibers.
Access options
Buy single article
Instant access to the full article PDF.
USD 39.95
Price includes VAT (USA)
Tax calculation will be finalised during checkout.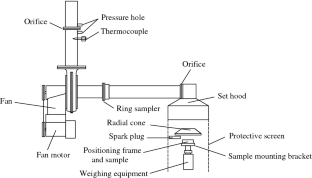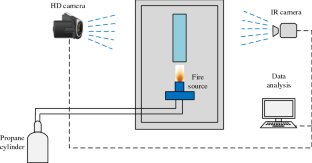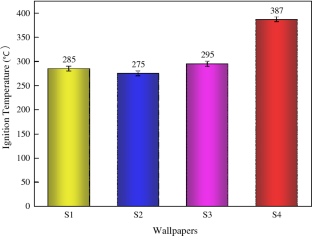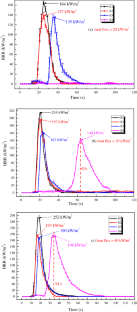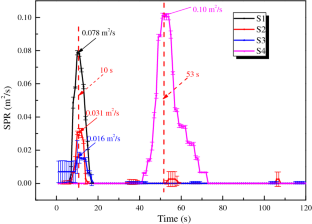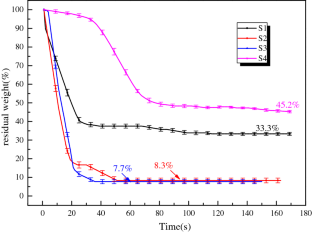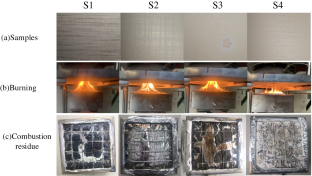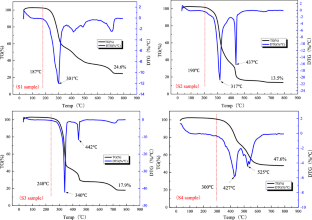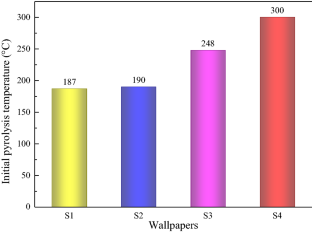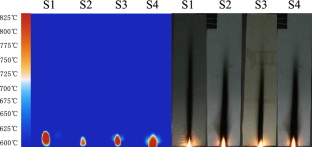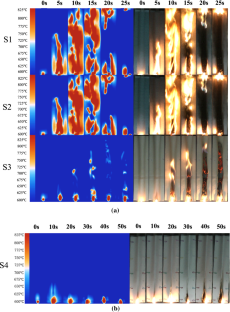 References
1.

Choi Y et al (2009) An experimental study on the ignition and emissions characteristics of wallpapers. J Mech Sci Technol 23(10):2839–2847. https://doi.org/10.1007/s12206-009-0811-8

2.

Yang Z et al (2016) Study of fire hazard of flooring materials on data of cone calorimeter. Procedia Eng 135:584–587. https://doi.org/10.1016/j.proeng.2016.01.113

3.

Sun XD et al (2019) Study on pyrolysis characteristics and kinetics of typical household wallpapers. Fire Sci Technol 38(01):11–14

4.

Gao YP et al (2017) Experimental study on pyrolysis and combustion of typical wallpaper. J Arm Police Acad 33(10):9–13

5.

Chen F et al (2018) Heat insulating, fire retardant and flexible inorganic nanocomposite paper. Mater Des 144:281–289. https://doi.org/10.1016/j.matdes.2018.02.039

6.

Li W et al (2016) Flame retardance and antibacterial performance of wooden wallpaper treated with composite modifying agent. Wood Res 61(3):423–432

7.

Liu KP et al (2017) Experimental study of polymer cement flame retardant wallpaper. New Build Mater 07:32–36

8.

Walton WD et al (2016) Estimating temperatures in compartment fires. In: Hurley MJ et al (eds) SFPE handbook of fire protection engineering. Springer, New York, NY

9.

Huang S et al (2016) An environment-friendly and weather-resistant wallpaper and production method, China Patent, NO.CN105619968A

10.

Xu QF et al (2015) Combustion and charring properties of five common constructional wood species from cone calorimeter tests. Constr Build Mater 96:416–427. https://doi.org/10.1016/j.conbuildmat.2015.08.062

11.

Schartel B et al (2010) Development of fire-retarded materials-interpretation of cone calorimeter data. Fire Mater 31(5):327–354. https://doi.org/10.1002/fam.949

12.

International Standards Organization (2015) ISO 5660–1 Fire tests-reaction to fire-rate of heat release from building products. International Organization for Standardization, Geneva

13.

American Society for Testing and Materials (1993) ASTME1354–92 standard test method for heat and visible smoke release rates for materials and products using an oxygen consumption calorimeter. ASTM International, West Conchohocken

14.

Wang M et al (2004) Technical progress of flame retardant rubber. China Rubber Ind 51(5):309–312

15.

Nodera A et al (2006) Flame retardancy of a polycarbonate-polydimethylsioxane block copolymer: the effect of the dimethylsiloxane block size. J Appl Polym Sci 100(1):565–575

16.

Bejan A, Kraus AD (2003) Heat transfer handbook. Wiley-Interscience, New York

17.

Delichatsios MA (2000) Ignition times for thermally thick and intermediate conditions in flat and cylindrical geometries. Fire Saf Sci 6:233–244. https://doi.org/10.3801/IAFSS.FSS.6-233

18.

Spearpoint MJ et al (2001) Predicting the piloted ignition of wood in the cone calorimeter using an integral model-effect of species, grain orientation and heat flux. Fire Saf J 36(4):391–415. https://doi.org/10.1016/S0379-7112(00)00055-2

19.

Lv Q et al (2013) An effective flame retardant and smoke suppression oligomer for epoxy resin. Ind Eng Chem Res 52(27):9397–9404. https://doi.org/10.1021/ie400911r

20.

Yang AH et al (2017) A novel schiff-base polyphosphate ester: highly-efficient flame retardant for polyurethane elastomer. Polym Degrad Stab 144:70–82. https://doi.org/10.1016/j.polymdegradstab.2017.08.007

21.

Sung KH et al (2017) The effect of damper leakage and fire size on the performance of smoke control system in high-rise building. J Mech Sci Technol 31(8):4029–4034. https://doi.org/10.1007/s12206-017-0750-8
Acknowledgements
This research was supported by the National Natural Science Foundation of China (No. 51604215), China Postdoctoral Science Foundation (2016M590962), and the Natural Science Basic Research Plan in Shaanxi Province of China (2018JM5078).
Additional information
Publisher's Note
Springer Nature remains neutral with regard to jurisdictional claims in published maps and institutional affiliations.
About this article
Cite this article
Liu, C., Deng, T., Zhou, S. et al. Experimental Investigation on Fire Risk Assessment for Typical Interior Wallpapers. Fire Technol (2021). https://doi.org/10.1007/s10694-021-01178-y
Received:

Accepted:

Published:
Keywords
Combustion properties

Pyrolysis properties

Flame propagation

Silicone

Wallpapers