Abstract
Fire investigators are trained to apply the scientific method to determine the origin and cause of a fire. They look for patterns that indicate the sequence of involvement of available fuel loads, including considering whether a given fuel load contains enough energy to ignite other fuels. It is common knowledge that cylindrical 18650 lithium-ion (Li-ion) battery cells contain significant electrochemical energy and that they have the potential to fail and cause fires, so they are often considered a potential ignition source. The presence of a damaged 18650 cell at a fire scene poses a challenge to fire investigators because regardless of whether the cell is the cause or a victim of the fire, its stored energy can be released energetically, leaving a burn pattern and rapidly involving other fuel loads. It is therefore desirable to identify post-fire physical features on 18650 Li-ion cells that indicate whether they were the cause or a victim of a fire. This work shows that several features have been incorrectly identified in previous investigations. Expulsion of cell contents, crimp deformation, a flat negative terminal, localized damage in the electrode windings, and a hole in the metal casing have been cited as indications that the cell failed and caused a fire. To test these hypotheses, 18650 Li-ion cells at various states of charge (SOC) were burned in a controlled and repeatable manner. Temperatures were recorded and the experiments were documented with still-photography and video. The post-fire condition of each cell was then characterized with radiography (X-ray), computed tomography, and optical imaging. Each of the post-fire physical features in question occurred in non-defective cells that were victims of controlled fires, thereby demonstrating that these features are not valid indicators of fire causation.
Access options
Buy single article
Instant access to the full article PDF.
USD 39.95
Price excludes VAT (USA)
Tax calculation will be finalised during checkout.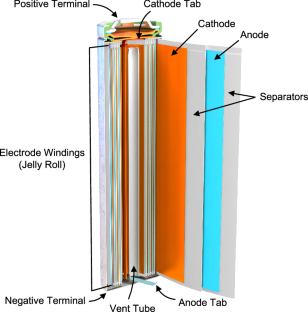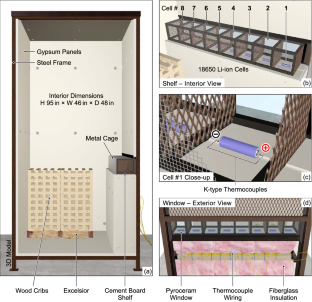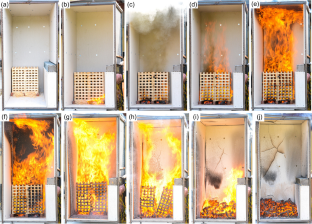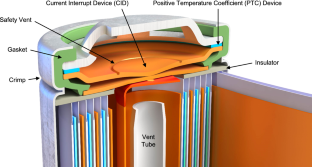 References
Tarascon JM, Armand M (2001) Issues and challenges facing rechargeable lithium batteries. Nature 414(6861):359–367. https://doi.org/10.1038/35104644

Whittingham MS (2012) History, evolution, and future status of energy storage. In: Proceedings of the IEEE, vol 100, no Special Centennial Issue, pp 1518–1534. https://doi.org/10.1109/JPROC.2012.2190170

Armand M, Tarascon J (2008) Building better batteries. Nature 451(7179):652–657. https://doi.org/10.1038/451652a

Linden D (2011) Linden's handbook of batteries, 4th edn. McGraw Hill, New York

Whittingham MS (2004) Lithium batteries and cathode materials. Chem Rev 104(10): 4271–4302. https://doi.org/10.1021/cr020731c

Bard A, Faulkner L (2001) Electrochemical methods fundamentals and applications, 2nd edn. Wiley, New York

Bandhauer TM, Garimella S, Fuller TF (2011) A critical review of thermal issues in lithium-ion batteries. J Electrochem Soc 158(3):R1. https://doi.org/10.1149/1.3515880

Crabtree G, Kócs E, Trahey L (2015) The energy-storage frontier: lithium-ion batteries and beyond. MRS Bull 40(12):1067–1076. https://doi.org/10.1557/mrs.2015.259

Wang Q, Ping P, Zhao X, Chu G, Sun J, Chen C (2012) Thermal runaway caused fire and explosion of lithium ion battery. J Power Sources 208:210–224. https://doi.org/10.1016/j.jpowsour.2012.02.038

Jordan J (2012) Batteries under fire. Fire Arson Investig 63(2):12–21

United States Consumer Product Safety Commission (2016a) Hoverboard LLC recalls self-balancing scooters/hoverboards due to fire hazard. https://www.cpsc.gov/recalls/2016/hoverboard-llc-recalls-self-balancing-scooters-hoverboards/

United States Consumer Product Safety Commission (2016b) Samsung recalls Galaxy Note7 smartphones due to serious fire and burn hazards. https://www.cpsc.gov/Recalls/2016/samsung-recalls-galaxy-note7-smartphones

United States Consumer Product Safety Commission (2017a) HP expands recall of batteries for HP and compaq notebook computers due to fire and burn hazards. https://cpsc.gov/Recalls/2017/HP-Expands-Recall-of-Batteries-for-HP-and-Compaq-Notebook-Computers

United States Consumer Product Safety Commission (2017b) Lithium-ion battery safety standards for consumer product import into the United States. https://www.cpsc.gov/s3fs-public/3LeeCPSC.En_.pdf?QMvz78vcq0web.KaXE_TJD.dpk7DbADF

Fowler S, Mozur P (2016) Samsung's recall: the problem with lithium-ion batteries. https://www.nytimes.com/2016/09/03/technology/samsungs-recall-the-problem-with-lithium-ion-batteries.html

Technical Committee on Fire Investigations (2017) NFPA 921. Guide for fire and explosion investigations

Feng X, Zheng S, Ren D, He X, Wang L, Cui H, Liu X, Jin C, Zhang F, Xu C, Hsu H, Gao S, Chen T, Li Y, Wang T, Wang H, Li M, Ouyang M (2019) Investigating the thermal runaway mechanisms of lithium-ion batteries based on thermal analysis database. Appl Energy 246:53–64. https://doi.org/10.1016/j.apenergy.2019.04.009
Acknowledgements
The authors would like to thank the following Engineering Systems Inc. (ESi) personnel for their contributions to the experiments and analysis that are the subject of this paper: Aaron Zeamer and Norman Bonnette for test setup and fixturing, Matt Mulherin for radiography and computed tomography scanning (CT), the ESi Visualizations team (Lance Rewerts, Joel Lueck, and Marla Bauer) for graphics and figures, and Joe Mohorovic, former United States Consumer Product Safety Commissioner for discussions regarding U.S. CPSC recalls of Li-ion battery-containing products.
Additional information
Publisher's Note
Springer Nature remains neutral with regard to jurisdictional claims in published maps and institutional affiliations.
About this article
Cite this article
Nagourney, T., Jordan, J., Marsh, L. et al. The Implications of Post-Fire Physical Features of Cylindrical 18650 Lithium-Ion Battery Cells. Fire Technol 57, 1707–1722 (2021). https://doi.org/10.1007/s10694-020-01077-8
Received:

Accepted:

Published:

Issue Date:

DOI: https://doi.org/10.1007/s10694-020-01077-8
Keywords
Lithium ion

Battery

Fire

Failure

18650

Fire investigation