Abstract
The existing extinguishment device used in spacecraft is an inert gas (CO2) extinguisher or water mist which is a promising technique to suppress flames, however, the remained production of fume (harmful) gas in the enclosed space was paid little attention, although its removal from the cabin is not an easy task. We propose novel methodology, which can completely resolve this problem; namely, flame is extinguished by "a vacuuming operation" driven by the pressure difference between the suction box and the cabin, whereby toxic gases and even the fire source is drawn into the box, where an effective extinguishment procedure can be separately operated. To convince the effectiveness of this methodology and investigate its performance, a specially-designed test device is developed and an extinction test is examined in this paper. The main experimental parameters are the suction flow rate and the distance between the end of the suction pipe and the burning specimen. The burning specimen used in this study is a small scale electric wire with a polymer sheath. The extinction process via suction operation has been observed carefully. In addition to the direct observation, velocity measurement induced by suction operation as well as the use of the Schlieren imaging technique are introduced. It is found that the vacuuming extinction can be categorized into three types based on the mechanism leading to the extinction. The model of the extinction procedure is proposed and corresponding three non-dimensional numbers as a function of vacuuming volume flow rate (Q) are developed to predict the mode on vacuuming extinction. Afterall, this paper successfully show the concept of a vacuum extinction and how it works.
This is a preview of subscription content, log in to check access.
Access options
Buy single article
Instant access to the full article PDF.
US$ 39.95
Price includes VAT for USA
Subscribe to journal
Immediate online access to all issues from 2019. Subscription will auto renew annually.
US$ 99
This is the net price. Taxes to be calculated in checkout.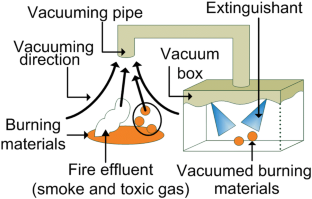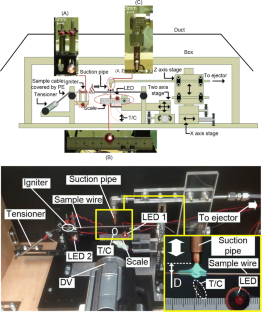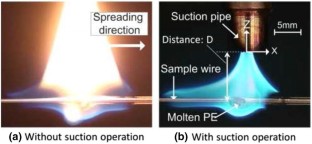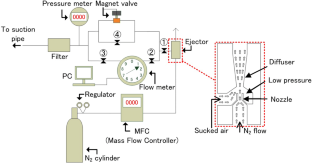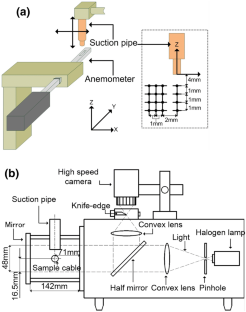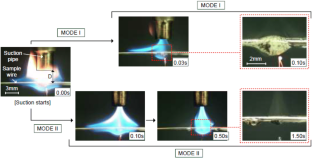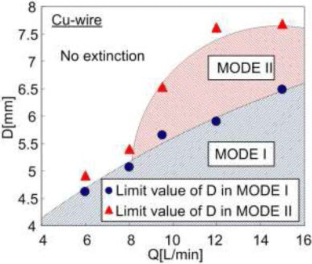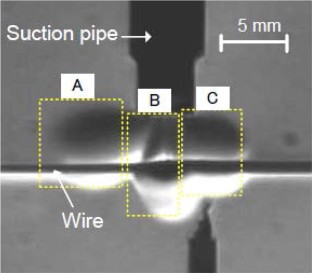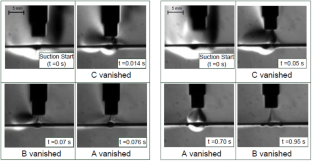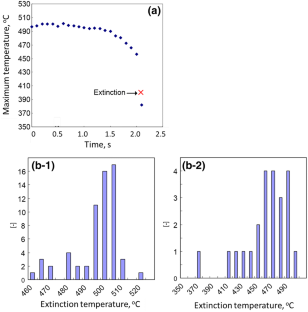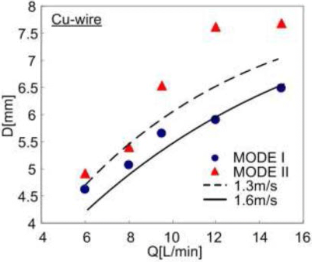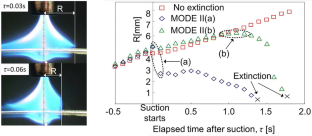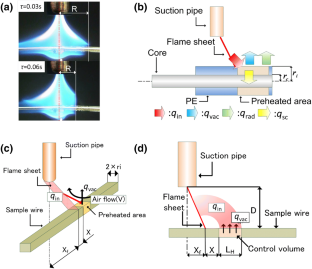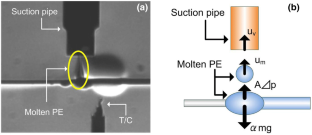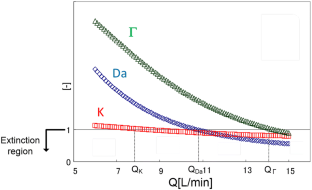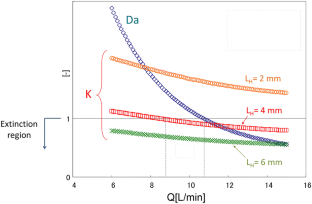 References
1.

NASA-STD-6001B (2011) Flammability, offgassing, and compatibility requirements and test procedures. NASA 2011

2.

Takahashi F, Lintris GT, Katta VR (2003) Experimental and numerical evaluation of gaseous agents suppressing cup-burner flames in low-gravity. In: Seventh internal workshop on microgravity combustion and chemically reacting systems. NASA CP 2003-212376

3.

Freidman R, Urban D (2000) Progress in fire detection and suppression technology for future space missions. In: Space 2000 conference and exposition, AIAA SPACE forum, AIAA-2000-5251

4.

McKinnie J (1997) Fire response aboard the International Space Station, SAE technical paper 972334

5.

Rodriguez BR, Young G (2013) Development of the International Space Station (ISS) fine water mist (FWM) portable fire extinguisher. In: 43rd international conference on environmental systems, international conference on environmental systems (ICES), (AIAA 2013-3413)

6.

Son Y, Ronney PD (2002) Radiation-driven flame spread over thermally thick fuels in quiescent microgravity environments. In: Proceedings of the combustion institute, 29, 2587–2594

7.

Burrough B (1998) Dragonfly: NASA and the crisis on mir. Harper Collins, New York

8.

Vander Wal RL, Fujiyama-Novak JH (2011) Leading fire signatures of spacecraft materials: light gases, condensables, and particulates. Fire Saf J 46:506–519

9.

Friedman R (1999) Fire safety in the low-gravity spacecraft environment. WU-962-22-00-00

10.

Abbud-Madrid A, McKinnon JT, Amon F, Gokogle S (2003) The water-mist fire suppression experiment(mist): preliminary results from the STS-107 mission. In: Seventh international workshop on microgravity combustion and chemically reacting systems. NASA CP 2003-2122376, pp 281–284

11.

Abbud-Madrid A, Watson JD, Whittington JG, McKinnon JT (2006) Study of an ultra-fine water mist suppression system for spacecraft fires. Colorado School of Mines, Golden, CO, p 80401

12.

Usuki T, Nakamura Y, Wakatsuki K (2013) A novel extinction strategy for space fire; vacuum extinction method. In: Proceedings of 29th international symposium on space technology and science, Nagoya, Japan (2013.6), 2013-o-4-09 (on USB)

13.

Usuki T, Nakamura Y, Wakatsuki K (2013) The novel extinction method in spacecraft: evaluation for the vacuum extinction method, JASMAC-27, poster session, #P-18 (2013.11)

14.

Nakamura Y, Usuki T, Wakatsuki K (2014) Fire extinguishing apparatus and fire extinguishing method, WO/2014/192900 (Pub date: Dec 04,2014) PCT/JP2014/064350 (Intl Filing date: May 29, 2014)

15.

Fire extinguisher of spacecraft, JP patent #07-10093 (1995). http://www.patentjp.com/07/I/I100007/DA10011.html. Accessed 6 April 2019

16.

Nakamura Y, Yoshimura N, Matsumura T, Ito H, Fujita O (2008) Opposed-wind effect on flame spread of electric wire in sub-atmospheric pressure. J Therm Sci Technol 3(3):430–441

17.

Nakamura Y, Yoshimura N, Ito H, Azumaya K, Fujita O (2009) Flame spread over electric wire in sub-atmospheric pressure. Proc Combust Inst 32:2559–2566

18.

Tsuji H, Yamaoka I (1967) The counterflow diffusion flame in the forward stagnation region of a porous cylinder. Combust Inst 11:979–984

19.

Krishnamurthy L (1975) Diffusion-flame extinction in the stagnation-point boundary layer of PMMA in O2/N2 mixtures. Combust Sci Technol 10:21–25

20.

Olson SL, Ferkul PV, Tien JS (1989) Near-limit flame spread over a thin solid fuel in microgravity. Combust Inst 22:1213–1222
Acknowledgements
This research is supported by Grant-in-Aid for Challenging Exploratory Research, The Ministry of Education, Science, Sports and Culture (# 25560160, PI: Y. Nakamura). Fruitful discussions with Prof. Bhattacharjee from San Diego State University is greatly stimulated.
Additional information
Publisher's Note
Springer Nature remains neutral with regard to jurisdictional claims in published maps and institutional affiliations.
About this article
Cite this article
Nakamura, Y., Usuki, T. & Wakatsuki, K. Novel Fire Extinguisher Method Using Vacuuming Force Applicable to Space Habitats. Fire Technol 56, 361–384 (2020). https://doi.org/10.1007/s10694-019-00854-4
Received:

Accepted:

Published:

Issue Date:
Keywords
Vacuuming

Extinction

Space fire

Fire safety

Fume