Abstract
A virtual reality (VR) experiment with 96 participants was carried out to provide recommendations on the design of flashing lights at emergency exit portals for road tunnel emergency evacuation. The experiment was carried out in a Cave Automatic Virtual Environment laboratory. A set of variables was investigated, namely (1) colour of flashing lights, (2) flashing rate, (3) type of light source, (4) number and layout of the lights on the portal. Participants were immersed in a VR road tunnel emergency evacuation scenario and they were then asked to rank different portal designs using a questionnaire based on the Theory of Affordances. Results show that green or white flashing lights perform better than blue lights. A flashing rate of 1 and 4 Hz performed better than a flashing rate of 0.25 Hz. A light emitting diode light source performed better than single and double strobe lights. The three layouts of the lights under consideration performed similarly.
This is a preview of subscription content, log in to check access.
Access options
Buy single article
Instant access to the full article PDF.
US$ 39.95
Price includes VAT for USA
Subscribe to journal
Immediate online access to all issues from 2019. Subscription will auto renew annually.
US$ 99
This is the net price. Taxes to be calculated in checkout.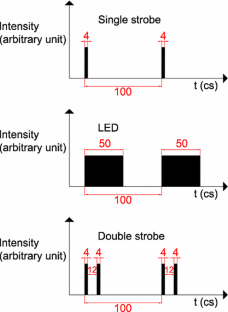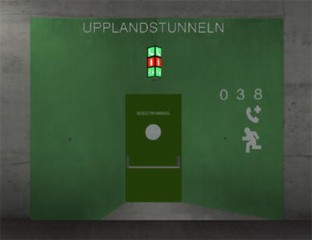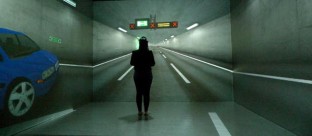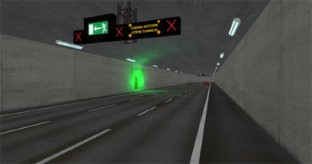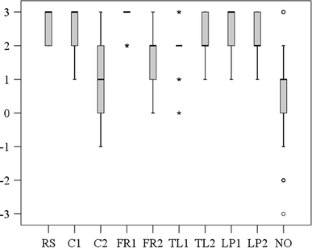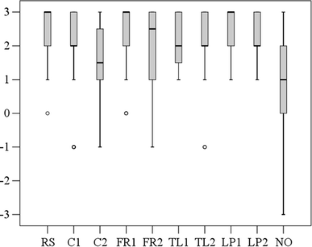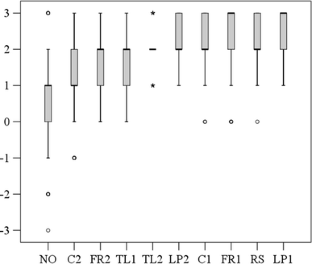 References
1.

Allen MJ, Strickland J, Adams AJ (1967) Visibility of red, green, amber and white signal lights in a highway scene. Clin Exp Optom 50(5):130–134. doi:10.1111/j.1444-0938.1967.tb03622.x.

2.

Andrée K, Kinateder M, Nilsson D (2013) Immersive virtual environment as a method to experimentally study human behaviour in fire. Presented at the 13th International Conference and Exhibition on Fire Science and Engineering Interflam 2013, Royal Holloway College,Nr Windsor, UK.

3.

Boer LC, van Wijngaarden SJ (2004) Directional sound evacuation from smoke-filled tunnels. Presented at the Safe & Reliable Tunnels. Innovative European Achievements, Prague, Czech Republic.

4.

Caroly S, Kouabenan DR, Gandit M (2013) Analysis of danger management by highway users confronted with a tunnel fire. Saf Sci 60:35–46. doi:10.1016/j.ssci.2013.06.006.

5.

Carvel R, Beard A (2005) The handbook of tunnel fire safety. London: Thomas Telford.

6.

Cosma G (2014) Virtual reality experiments on the impact of way-finding lighting systems on egress from smoke-filled railway tunnel (Report No. 5455). Lund: Lund University.

7.

Crawford A (1963) The perception of light signals: the effect of mixing flashing and steady irrelevant lights. Ergonomics 6(3):287–294. doi:10.1080/00140136308930708.

8.

De Lorenzo RA, Eilers MA (1991) Lights and siren: a review of emergency vehicle warning systems. Ann Emerg Med 20(12):1331–1335. doi:10.1016/S0196-0644(05)81076-5.

9.

Duarte E, Rebelo F, Teles J, Wogalter MS (2014) Behavioral compliance for dynamic versus static signs in an immersive virtual environment. Appl Ergon 45(5):1367–1375. doi:10.1016/j.apergo.2013.10.004.

10.

Duffé P, Marec M (1999) Task Force for Technical Investigation of the 24 March 1999 Fire in the Mont Blanc Vehicular Tunnel. Minister of the Interior - Ministry of Equipment, Transportation and Housing.

11.

European Commission (2004) Directive 2004/54/CE on minimum safety requirements for tunnels in the Trans-European Road Network (29/04/2004).

12.

Fridolf K, Ronchi E, Nilsson D, Frantzich H (2013) Movement speed and exit choice in smoke-filled rail tunnels. Fire Saf J 59:8–21. doi:10.1016/j.firesaf.2013.03.007.

13.

Galea ER, Deere S, Sharp G, Filippidis L, Hulse LM (2010). Investigating the impact of culture on Evacuation behaviour. In 12th International Fire Science & Engineering Conference, vol. 1. Nottigham (UK), pp. 879–892.

14.

Gandit M, Kouabenan DR, Caroly S (2009) Road-tunnel fires: risk perception and management strategies among users. Saf Sci 47(1):105–114. doi:10.1016/j.ssci.2008.01.001.

15.

Gerathewohl SJ (1953) Conspicuity of steady and flashing light signals: variation of contrast. J Opt Soc Am 43(7):567. doi:10.1364/JOSA.43.000567.

16.

Gibson JJ (1977) In: R. Shaw, J. Bransford (eds), Perceiving, acting, and knowing toward an ecological psychology. Hillsdale: Lawrence Erlbaum Associates. distributed by the Halsted Press Division, Wiley.

17.

Gibson JJ (1986) The ecological approach to visual perception. Hillsdale: Lawrence Erlbaum Associates.

18.

Greene WH, Hensher DA (2010) Modeling ordered choices: a primer. Cambridge: Cambridge University Press, p. 382.

19.

Hartson HR (2003) Cognitive, physical, sensory, and functional affordances in interaction design. Behav Inf Technol 22:315–338.

20.

Hensher DA, Rose JM, Greene WH (2005) Applied choice analysis: a primer. Cambridge: Cambridge University Press, p. 717.

21.

Heskestad AW (1999) Performance in smoke of wayguidance systems. Fire Mater 23(6):375–381. doi:10.1002/(SICI)1099-1018(199911/12)23:6<375::AID-FAM714>3.0.CO;2-0.

22.

International Standards Organization (2011) ISO 3864-1:2011 Graphical symbols—safety colours and safety signs.

23.

Jin T, Yamada T (1994) Experimental study on effect of escape guidance in fire smoke by travelling flashing of light sources. Fire Saf Sci 4:705–714. doi:10.3801/IAFSS.FSS.4-705.

24.

Joo J, Kim N, Wysk RA, Rothrock L, Son Y-J, Oh Y, Lee S (2013) Agent-based simulation of affordance-based human behaviors in emergency evacuation. Simul Model Pract Theory 32:99–115. doi:10.1016/j.simpat.2012.12.007.

25.

Kim N, Joo J, Rothrock L, Wysk R, Son Y-J (2011) Human behavioral simulation using affordance-based agent model. In: J. A. Jacko (ed), Human-computer interaction. Design and development approaches, vol. 6761. Berlin: Springer, pp. 368–377. Retrieved from http://www.springerlink.com/index/10.1007/978-3-642-21602-2_40.

26.

Kinateder M (2013) Social influence in emergency situations—studies in virtual reality. Phd Dissertation. University of Würzburg.

27.

Kinateder M, Müller M, Jost M, Mühlberger A, Pauli P (2014) Social influence in a virtual tunnel fire—influence of conflicting information on evacuation behavior. Appl Ergon 45(6):1649–1659. doi:10.1016/j.apergo.2014.05.014.

28.

Kinateder M, Pauli P, Müller M, Krieger J, Heimbecher F, Rönnau I et al (2013) Human behaviour in severe tunnel accidents: Effects of information and behavioural training. Transp Res F 17:20–32. doi:10.1016/j.trf.2012.09.001.

29.

Kinateder M, Ronchi E, Gromer D, Müller M, Jost M, Nehfischer M et al (2014) Social influence on route choice in a virtual reality tunnel fire. Transp Res F 26:116–125. doi:10.1016/j.trf.2014.06.003.

30.

Kinateder M, Ronchi E, Nilsson D, Kobes M, Müller M, Pauli P, Mühlberger A (2014) Virtual reality for fire evacuation research. In 1st Workshop Complex Events and Information Modelling. Warsow, pp. 319–327.

31.

Kobes M, Helsloot I, de Vries B, Post JG, Oberijé N, Groenewegen K (2010) Way finding during fire evacuation; an analysis of unannounced fire drills in a hotel at night. Build Environ 45(3):537–548. doi:10.1016/j.buildenv.2009.07.004.

32.

Lai CJ (2010) Effects of color scheme and message lines of variable message signs on driver performance. Accid Anal Prev 42(4):1003–1008. doi:10.1016/j.aap.2009.12.002.

33.

Lin F (2002) Developing virtual environments for industrial training. Inf Sci 140(1–2), 153–170. doi:10.1016/S0020-0255(01)00185-2.

34.

McClintock T, Shields TJ, Reinhardt-Rutland A, Leslie J (2001) A behavioural solution to the learned irrelevance of emergency exit signage. In Second International Symposium on Human Behaviour in Fire. Massachusetts Institute of Technology, Cambridge (USA), pp. 23–33.

35.

McClintock T, Shields TJ, Rutland R, Leslie J (2000) Dishabituation and stimulus equivalence could make all emergency fire exits familiar. J Appl Fire Sci 9(2):125–134. doi:10.2190/VYX5-0HDX-NT7H-L39D.

36.

Modig H, Pryke A, Lindgren Walter A, Patterson S, Ronchi E, Nilsson D (2014) Human behaviour studies to improve evacuations in road tunnels. 6th International Symposium on Tunnel Safety and Security ISTSS2014. Marseille (France).

37.

Mühlberger A, Bülthoff HH, Wiedemann G, Pauli P (2007) Virtual reality for the psychophysiological assessment of phobic fear: responses during virtual tunnel driving. Psychol Assess 19(3):340–346. doi:10.1037/1040-3590.19.3.340.

38.

Nilsson D (2009) Exit choice in fire emergencies: influencing choice of exit with flashing lights. Lund: Dept. of Fire Safety Engineering and Systems Safety, Lund University.

39.

Nilsson D, Frantzich H, Saunders W (2005) Coloured flashing lights to mark emergency exits—experiences from evacuation experiments. Fire Saf Sci 8:569–579. doi:10.3801/IAFSS.FSS.8-569.

40.

Nilsson D, Johansson A (2009) Social influence during the initial phase of a fire evacuation—analysis of evacuation experiments in a cinema theatre. Fire Saf J 44(1):71–79. doi:10.1016/j.firesaf.2008.03.008.

41.

Nilsson D, Johansson M, Frantzich H (2009) Evacuation experiment in a road tunnel: a study of human behaviour and technical installations. Fire Saf J 44(4):458–468. doi:10.1016/j.firesaf.2008.09.009.

42.

Ortúzar S, de Dios J (2011) Modelling transport 4th ed. Chichester: Wiley.

43.

Ronchi E, Kinateder M, Müller M, Jost M, Nehfischer M, Pauli P, Muhlberger A (2014) Evacuation travel paths in virtual reality experiments for tunnel safety analysis. Fire Saf J 71:257–267. doi:10.1016/j.firesaf.2014.11.005.

44.

Ronchi E, Nilsson D, Gwynne SMV (2012) Modelling the impact of emergency exit signs in tunnels. Fire Technol 48(4):961–988. doi:10.1007/s10694-012-0256-y.

45.

Ronchi E (2013) Testing the predictive capabilities of evacuation models for tunnel fire safety analysis. Saf Sci 59, 141–153. doi:10.1016/j.ssci.2013.05.008.

46.

Ronchi E, Gwynne SMV, Purser DA, Colonna P (2013) Representation of the impact of smoke on agent walking speeds in evacuation models. Fire Technol 49:411–431. doi:10.1007/s10694-012-0280-y.

47.

Sixsmith A, Sixsmith J, Canter DV (1988) When is a door not a door? A study of evacuation route identification in a large shopping mall. Safety in the built environment. In: J. D. Sime (ed). London: E. & F.N. Spon.

48.

Steuer J (1992) Defining virtual reality: dimensions determining telepresence. J Commun 42(4):73–93. doi:10.1111/j.1460-2466.1992.tb00812.x.

49.

Tang C-H, Wu W-T, Lin C-Y (2009) Using virtual reality to determine how emergency signs facilitate way-finding. Appl Ergon 40:722–730. doi:10.1016/j.apergo.2008.06.009.

50.

Train KE (2009). Discrete choice methods with simulation. Cambridge: Cambridge University Press. doi:10.1017/CBO9780511805271.

51.

Vos JJ, Van Meeteren A (1971) Visual processes involved in seeing flashes. In the perception and application of flashing lights. London: Adam Hilger Ltd, pp. 3–16.

52.

Wallergård M, Eriksson J, Johansson G (2008) A suggested Virtual Reality methodology allowing people with cognitive disabilities to communicate their knowledge and experiences of public transport systems. Technol Disabil 20(1):9–24.

53.

Wickens CD (2013). Engineering psychology and human performance, 4th edn. Boston: Pearson.

54.

Williams-Bell FM, Kapralos B, Hogue A, Murphy BM, Weckman EJ (2014) Using serious games and virtual simulation for training in the fire service: a review. Fire Technol. doi:10.1007/s10694-014-0398-1.
Acknowledgments
This work is part of the "Stockholm Bypass, tunnel safety studies", co-funded by Trafikverket and the EU Trans-European transport network (TEN-T). The work presented in this report is a sub-part of "Stockholm Bypass, tunnel safety studies" and it is called "Evacuation route design" (Utformning av utrymningsväg). The authors also wish to acknowledge Sara Petterson (MTO Säkerhet) and Andrew Pryke (Faveo Projektledning) for their support. The sole responsibility of this publication lies with the authors. The European Union is not responsible for any use that may be made of the information contained herein. Ruggiero Lovreglio thanks the Lerici Foundation for the financial support for his guest researcher appointment at Lund University.
Appendix
Appendix
The affordance-based questionnaire administered to test participants is presented here.
"You are now standing in front of an evacuation portal in a road tunnel. Answer the following questions about the current design. You will use a 7-point scale where −3 is the worst and +3 is the best. For example, a scale can be −3—extremely difficult, −2—very difficult, −1—difficult, 0 is neither difficult nor easy, +1—easy, +2—very easy, +3—extremely easy. Try to imagine the scenario that you just experienced, i.e., an evacuation in a road tunnel, when you answer the questions.
Question A1 State on a scale from −3 to +3 how easy the design is to discover
In the scale −3 is extremely difficult, and +3 is extremely easy
Question A2 State on a scale from −3 to +3 how easy it is to understand that the design is an exit that you should use
In the scale −3 is extremely difficult, and +3 is extremely easy
Question A3 State on a scale from −3 to +3 how good support the design offers for your evacuation
In the scale −3 is extremely bad, and +3 is extremely good"
About this article
Cite this article
Ronchi, E., Nilsson, D., Kojić, S. et al. A Virtual Reality Experiment on Flashing Lights at Emergency Exit Portals for Road Tunnel Evacuation. Fire Technol 52, 623–647 (2016). https://doi.org/10.1007/s10694-015-0462-5
Received:

Accepted:

Published:

Issue Date:
Keywords
Virtual reality

Emergency evacuation

Tunnel evacuation

Flashing lights

Theory of affordances

Emergency exit