Abstract
Fire investigators regularly evaluate available fuels and potential ignition sources to determine the cause of a fire. This work examined the propensity of lit cigarettes to ignite gasoline vapors, expanding on previous work to include a large number of trials and a wide range of test conditions. Experiments were conducted exposing lit cigarettes, both at idle and under draw, to gasoline vapors in various configurations including pools/pans of gasoline, gasoline on textile substrates (clothing), and sprays of gasoline. Five major brands of commercially-manufactured tobacco cigarettes were tested. The experiments conducted for this study consisted of 70 distinct tests involving a total of 723 cigarettes and over 4,500 instances of exposure of a lit cigarette to ignitable concentrations of gasoline vapor in air. There were no instances of the ignition of gasoline vapors from the exposure of those vapors to a lit tobacco cigarette during any of the experiments.
Access options
Buy single article
Instant access to the full article PDF.
US$ 39.95
Tax calculation will be finalised during checkout.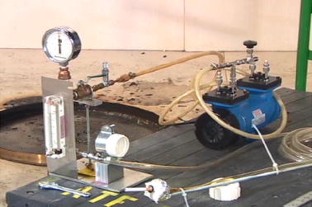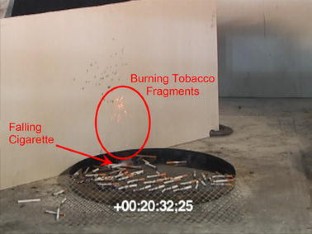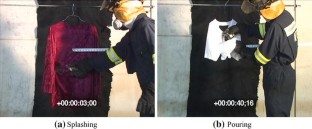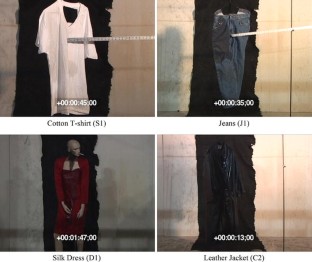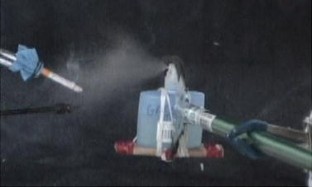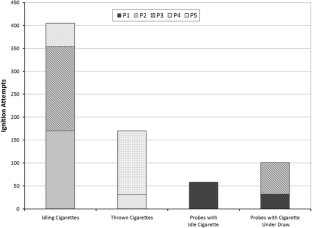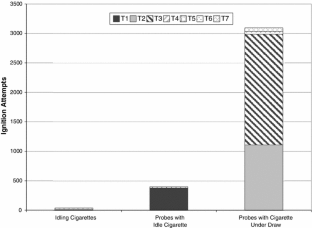 References
1.

NFPA 921 (2011) Guide for fire and explosion investigations, 2011 edn. National Fire Protection Association (NFPA), Quincy

2.

Hall JR Jr (2012) The smoking-material fire problem. National Fire Protection Association (NFPA), Quincy

3.

Greene MA, Andres C (2009) 2004–2005 National sample survey of unreported residential fires. Table 6-6. U.S. Consumer Product Safety Commission

4.

Slye OM Jr (2008) Flammable and combustible liquids. In: Fire protection handbook, 20th edn, Section 6, Chapter 12. National Fire Protection Association (NFPA), Quincy, pp 6–198

5.

Babrauskas V (2003) Ignition handbook. Fire Science Publishers, Issaquah

6.

DeHaan JD (2007) Kirk's fire investigation, 6th edn. Pearson Education, Inc., Upper Saddle River

7.

NFPA (2011) Gasoline at home fact sheet. National Fire Protection Association (NFPA). http://www.nfpa.org/categoryList.asp?categoryID=302. Accessed 4 April 2011

8.

Yockers JR, Segal LS (1956) Cigarette fire mechanisms. NFPA Q 49:213–222

9.

Stresse G (1970) Zundmoglichkeit von brennbaren Gasen und Dampfen durch glimmenden Tabak, Sonderdruck aus Bundesarbeitsblatt—Fachteil Arbeitsschutz 3:66–70

10.

Hagimoto Y, Kinoshita K (1981) Ignition possibility of inflammable mixtures with burning cigarettes. J Jpn Soc Saf Eng 20:197–202

11.

Hards DL (1983) Examination of the effect of lighted cigarettes on flammable vapour–air mixtures. Section Paper: IR/L/IN/83/1. Health and Safety Executive, Harpur Hill

12.

Holleyhead R (1996) Ignition of flammable gases and liquids by cigarettes : a review. Sci Justice 36:257–266

13.

Schuh DA, Sanderson JL (2008) Gasoline vapor testing: what makes a competent ignition source? Fire Find 16(1):1–3

14.

Jewell RS, Thomas JD, Docids RA (2011) Attempted ignition of petrol vapour by lit cigarettes and lit cannabis resin joints. Sci Justice 51:72–76

15.

Geiman JA, Fuss SP (2013) Investigation of cigarettes as an ignition source for Coleman fuel. In: Proceedings of the fire and materials 2013 conference. Interscience Communications Ltd., London, pp 759–768

16.

Colonna GR (2010) Fire protection guide to hazardous materials, 14th edn. National Fire Protection Association (NFPA), Quincy

17.

Colwell JD, Reza A (2005) Hot surface ignition of automotive and aviation fluids. Fire Technol 41(2):105–123. doi:10.1007/s10694-005-6388-6

18.

Davis S, Kelly S, Somandepalli V (2010) Hot surface ignition of performance fuels. Fire Technol 46(2):363–374. doi:10.1007/s10694-009-0082-z

19.

Shaw A, Epling W, McKenna C, Weckman B (2010) Evaluation of the ignition of diesel fuels on hot surfaces. Fire Technol 46(2):407–423. doi:10.1007/s10694-009-0098-4

20.

Drysdale D (2011) An introduction to fire dynamics, 3rd edn. Wiley, West Sussex

21.

Glassman I (1997) Combustion, 3rd edn. Academic Press, San Diego, p 345

22.

Maxwell JC (2010) The Maxwell report: year end and fourth quarter 2009 sales estimates for the cigarette industry. John C. Maxwell, Jr., Richmond

23.

Ohlemiller TJ, Villa KM, Braun E, Eberhardt KR, Harris RH, Lawson JR, Gann RG (1995) Quantifying the ignition propensity of cigarettes. Fire Mater 19:155–169

24.

Ohlemiller TJ, Villa KM, Braun E, Eberhardt KR, Harris RH Jr, Lawson JR, Gann RG (1993) Test methods for quantifying the propensity of cigarettes to ignite soft furnishings, NIST Special Publication 851. National Institute of Standards and Technology, Gaithersburg

25.

Friedman R (1998) Principles of fire protection and chemistry, 3rd edn. National Fire Protection Association (NFPA), Quincy

26.

Crowl DA (2003) Understanding explosions. Center for Chemical Process Safety of the American Institute of Chemical Engineers, New York

27.

Popper K (2010) The logic of scientific discovery. Routledge Classics, New York, pp 266, 375
About this article
Cite this article
Marcus, H.A., Geiman, J.A. The Propensity of Lit Cigarettes to Ignite Gasoline Vapors. Fire Technol 50, 1391–1412 (2014). https://doi.org/10.1007/s10694-013-0380-3
Received:

Accepted:

Published:

Issue Date:
Keywords
Fire investigation

Ignition

Cigarettes

Gasoline