Abstract
During fire service interventions, positive pressure ventilation (PPV) systems with mobile fans are often used to try and make (or keep) a staircase smoke free and to remove smoke from the fire rooms. The positioning (distance from the door opening) and inclination angle of the fan determine the effect of the PPV fans in the staircase. In the present paper results are discussed of an experimental study, performed at full-scale. Based on different sets of cold experiments, the impact is quantified of: the distance between the fan and the door; the inclination angle of a single fan; and the use of multiple fans. The closer the single fan is put to the door opening, the more effective the PPV becomes. Obviously, there is a trade-off with effectiveness of the fire service intervention, since the fan must not block the door opening. With respect to inclination, it is best to apply an inclination angle of 75° (i.e., an upward tilting of the fan axis by 15°, which is the maximum value tested) for ventilation at ground level with the fan tested. This ensures safety in the case of fire at ground level due to full coverage of the entry door opening, while only a relatively limited loss in PPV effectiveness is observed compared to a horizontal fan (in some cases, the PPV effectiveness is even higher with inclined fan). When the fire room is at a higher floor, an inclination angle of 90° (i.e. horizontal fan axis) can generate a higher average flow velocity, depending on the staircase configuration inside the building. If two fans are used, V-shape positioning is shown to be more effective than a set-up in series or in parallel. A V-shape with inner angle of 60° between the fan axes is more effective than an angle of 90°. If three fans are available, still higher average flow velocities are measured. Positioning two fans outside in V-shape and one fan inside at the bottom of the staircase is more effective than putting the three fans outside, On the other hand, the latter set-up may be required for firefighting tactics.
Access options
Buy single article
Instant access to the full article PDF.
US$ 39.95
Tax calculation will be finalised during checkout.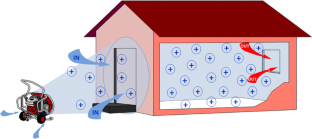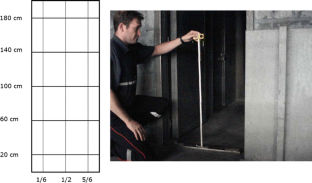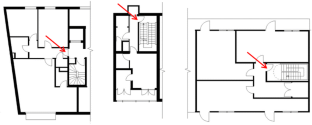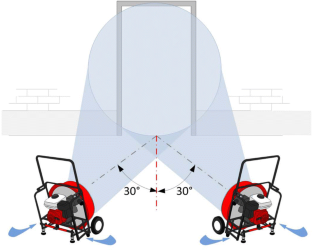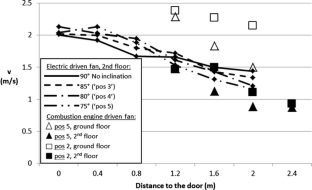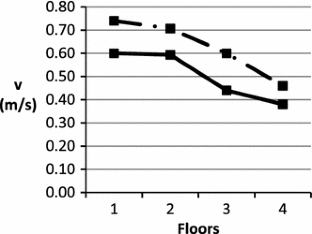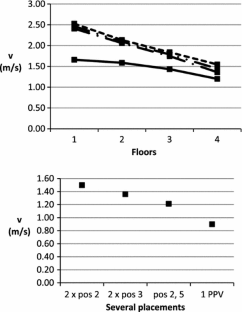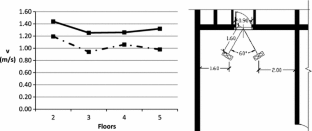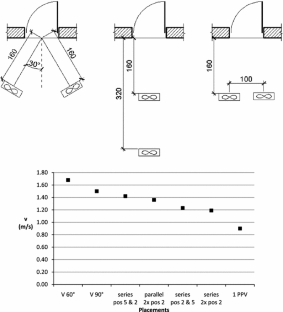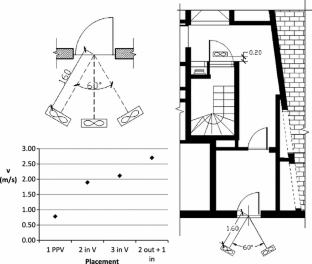 References
1.

Garcia K, Kauffmann R, Schelbe R (2006) Positive pressure attack for ventilation & firefighting. Pennwell, Tulsa

2.

Ziesler PS, Gunnerson FS, Williams SK (1994), Advances in positive pressure ventilation: live fire tests and laboratory simulation. Fire Technol 30:269–277

3.

Svensson S (2001) Experimental study of fire ventilation during fire fighting operations. Fire Technol 37: 69–85

4.

Kerber S, Walton W (2005) Effect of positive pressure ventilation on a room fire. NISTIR 7213, Gaithersburg, MD, USA: National Institute of Standards and Technology

5.

Ezekoye et al. (2005) Effects of PPV attack on thermal conditions in a compartment downstream of a fire. Fire Technol 41: 193–208

6.

Ezekoye OA, Hal CH, Nicks R (2003) Positive pressure ventilation attack for heat transport in a house fire. In: The 6th ASME-JSME thermal engineering joint conference, March 16–20

7.

Ezekoye OA, Svensson S, Nicks R (2007) Investigating positive pressure ventilation. In: Proceedings of 11th international fire science & engineering conference (Interflam'07), 3rd–5th September, interscience communications, London, 2007

8.

Kerber S, Madrzykowski D, Stroup D (2007) Evaluating positive pressure ventilation in large structures: high-rise pressure experiments NISTIR 7412. USA National Institute of Standards and Technology, Gaithersburg

9.

Tuomisaari M (1997) Smoke ventilation in operational fire fighting. VTT publications 326, Technical research centre of Finland

10.

Vaari J, Hietaniemi J (2000) Smoke ventilation in operational fire fighting. Part 2: multi-story buildings. VTT publications 419, Technical research centre of Finland

11.

www.tempest-edge.com. Accessed 24 Apr 2012

12.

www.lacrossetechnology.com. Accessed 24 Apr 2012

13.

Svensson S (2000) Fire ventilation. Swedish Rescue Services Agency, Karlstad, Sweden. https://msb.se/RibData/Filer/pdf/20879.pdf. Accessed 16 Feb 2013

14.

Lougheed GD, Mcbride PJ, Carpenter DW (2002) Positive pressure ventilation for high-rise buildings. National Research Council Canada

15.

Lebey, MM, Vidor R (2002) Development of a free jet generated by an axial turbine in an open space application to ventilation in fire fighting (VFF). In: Proceedings of 11th international symposium on applications of laser techniques to fluid mechanics. Lisbon, Portugal. July 2002

16.

Lambert K (2012) Experimentele studie van het gebruik van overdrukventilatie in een traphal bij een brandweerinterventie (Experimental study into the usage of positive pressure ventilation in a staircase during a fire service intervention). Dissertation, Ghent University. In Dutch
Acknowledgments
This paper is a summary of the thesis of Lambert [16], performed in the context of the Postgraduate Studies in Fire Safety Engineering at Ghent University. The first author greatly acknowledges the financial support from KCCE, the Belgian center of expertise for the fire service, the material support of the Brussels fire department and the campus VESTA. The authors also acknowledge Associate Professor Stefan Svensson (Lund University) for his valuable comments during the research. Finally, the authors thank Bart Noyens and Ruxandra Darmon for the illustrations in this paper.
About this article
Cite this article
Lambert, K., Merci, B. Experimental Study on the Use of Positive Pressure Ventilation for Fire Service Interventions in Buildings with Staircases. Fire Technol 50, 1517–1534 (2014). https://doi.org/10.1007/s10694-013-0359-0
Received:

Accepted:

Published:

Issue Date:
Keywords
Positive pressure ventilation

PPV

Fire service intervention

Full-scale experiments