Abstract
Subsurface fires are a common threat for coal mining, since spontaneous coal combustion can easily result in gas combustion and explosion. In this paper, aiming to solve problems of the low efficiency, the line clogging, and some other related field issues in liquid nitrogen perfusion, a fire extinguishing application by using immediate liquid nitrogen infusion was presented. The presented technique is efficient in absorbing heat, and consequently, displacing oxygen and combustible gases. Field tests justified the efficiency of the technique. Only 12 days were taken to unseal the coal mine, which provides a quick and efficient management of the fire zone. Furthermore, by using the presented technique, there was no waste left behind which may impede the subsequent production. The presented technique is of great benefit from the social, economic, and environmental aspects, which indicates its broad application in fire prevention for large-scale coal mines.
Access options
Buy single article
Instant access to the full article PDF.
USD 39.95
Price includes VAT (USA)
Tax calculation will be finalised during checkout.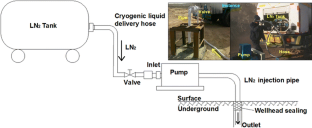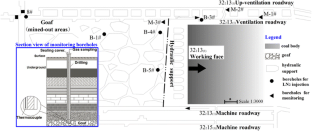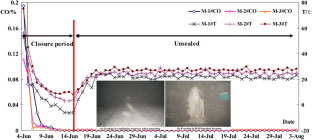 References
1.

Colaizzi GJ (2004) Prevention, control and/or extinguishment of coal seam fires using cellular grout. Int J Coal Geol 59:75–81

2.

Liu L, Zhou FB (2010) A comprehensive hazard evaluation system for spontaneous combustion of coal in underground mining. Int J Coal Geol 82:27–36.

3.

Zhou FB, Ren WX, Wang DM, Song TL, Li X, and Zhang YL (2006) Application of three-phase foam to fight an extraordinarily serious coal mine fire. Int J Coal Geol 67:95–100

4.

Zhou FB, Wang DM (2004) Directory of recent testing methods for the propensity of coal to spontaneous combustion. J Fire Sci 22: 91–96.

5.

Ray SK, Singh RP (2007) Recent developments and practices to control fire in underground coal mines. Fire Technol 43:285–300.

6.

Tripathi DD (2008) New approaches for increasing the incubation period of spontaneous combustion of coal in an underground mine panel. Fire Technol 44:185–198

7.

Mawhinney JR, Richardson JK (1996) A review of water mist fire suppression research and development. Fire Technol 33:54–90

8.

Singh RVK, Singh VK (2004) Mechanised spraying device—a novel technology for spraying fire protective coating material in the benches of opencast coal mines for preventing spontaneous combustion. Fire Technol 40:355–365

9.

Adamus A (2001) Review of nitrogen as an inert gas in underground mines. J Mine Vent Soc S Afr 54:60–61.

10.

Moriss RE (1987) A review of experiences on the use of inert gases in mine fires. Min Sci Technol 6:37–69

11.

Kim AG (2004) Cryogenic injection to control a coal waste bank fire. Int J Coal Geol 59:63–73

12.

Kim AG, Kociban AM (1994) Cryogenic slurry method to extinguish waste bank fires. Proc US Bureau Mines 4:129–138

13.

Mohalik NK, Singh RVK, Pandey J, Singh VK (2005) Application of nitrogen as preventive and controlling subsurface fire—Indian context. J Sci Ind Res India 64:273–280

14.

Vaughan-Thomas T (1964) The use of nitrogen in controlling an underground fire at fernhill colliery. Min Eng 123:311–336

15.

Bacharach JPL, Craven AL, Stewart DB (1986) Underground mine fire control with inerting systems. CIM Bull 79:67–72

16.

Banerjee SP (1987) Nitrogen flushing in coal mines as a measure against mine fires, Trans Min Geol Metall 84:1–9

17.

Wastell ER, Walker G (1983) The use of nitrogen in fryston colliery. Trans Inst Min Eng 142:27–36

18.

Fauconnier CJ, Meyer MJR (1986) Conceptual mathematical models for the injection injection of nitrogen into sealed colliery fires. J S Afr Inst Min Metall 86:81–88

19.

Williams FA (1982) Urban and wildland fire phenomenology. Prog Energy Combust Sci 8:317–354.

20.

Sperling T, Henderson JP (2001) Understanding and controlling landfill fires. In Annual landfill symposium, SWANA, pp 367–380
Acknowledgments
Financial supports for this work, which are provided by the Outstanding Youth Fund by Jiangsu Province (BK2012003) and the Fundamental Research Funds for the Central Universities (2012LWBZ09) are gratefully acknowledged.
About this article
Cite this article
Fu-bao, Z., Bo-bo, S., Jian-wei, C. et al. A New Approach to Control a Serious Mine Fire with Using Liquid Nitrogen as Extinguishing Media. Fire Technol 51, 325–334 (2015). https://doi.org/10.1007/s10694-013-0351-8
Received:

Accepted:

Published:

Issue Date:
Keywords
Subsurface fire

Liquid nitrogen

Immediate infusion

Fire extinguishing

Inerting