Abstract
The determination of explosibility is critical for mine rescues or controlling the severity of a mine accident, especially for the gas explosion event. After a severe coal mine fire or an explosion event, a common practice for minimizing the risk is to seal the related area, and then to inject the inert gas (N2 and/or CO2) into the sealed area to extinguish the fire and prevent potential explosions. At the same time, rescue works will be immediately planned. In order to avoid the risk associated with a potential secondary explosion, the rescue workers are not allowed to go underground until the atmosphere of the sealed area no longer has the possible explosibility. Therefore, mining engineers must precisely know how dangerous the current situation is and what is the risk degree. One explosibility method, the Coward explosibility diagram, can clearly identify the explosive status of a mine atmosphere and track its explosibility trend as the compositions of mine atmosphere change. However, the Coward diagram can only identify the mine gas explosibility, but it lacks the ability showing the safety margin. In this paper, a new concept, explosibility safety factor (SF), is introduced and defined to improve the safety for the rescue works when using the Coward method. It can clearly show how dangerous the current atmospheric status is if the state point locates in any not-explosive zones and also provide a measurement method to scale the safety margin when dealing with the explosibility of a sealed mine atmosphere. Application of this factor is also demonstrated at the end of the paper.
Access options
Buy single article
Instant access to the full article PDF.
US$ 39.95
Tax calculation will be finalised during checkout.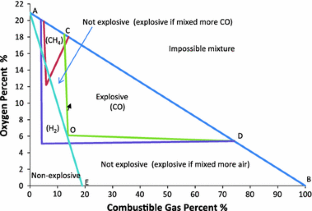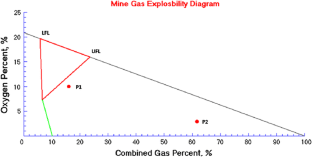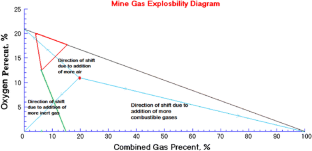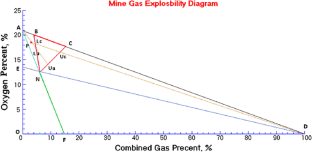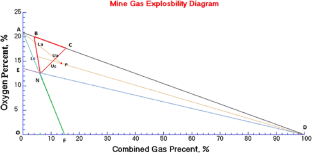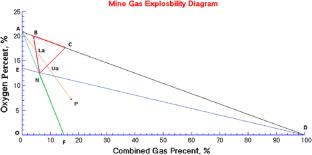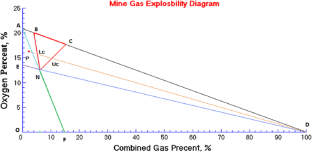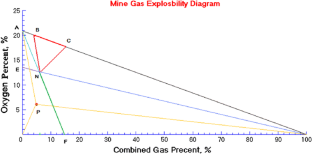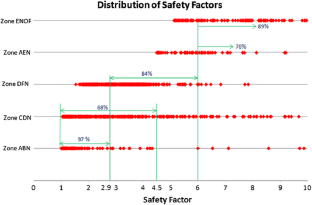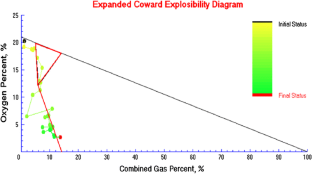 Notes
1.

According to WebPages of the United States Mine Rescue Association, the term "mine disaster" historically has been applied to mine accidents claiming five or more lives.
References
1.

Bjerketvedt D, Bakke JR, Wingerden KV (1997) Gas explosion handbook. J Hazard Mater 52(1):1–150

2.

CDC (2009) Underground coal mining disasters and fatalities—United States, 1900–2006. Morb Mortal Wkly Rep 57(51):1379–1383

3.

Coward HF, Jones GW (1952) Limits of flammability of gases and vapors. U.S. Bureau of Mines, bulletin 503, 121 pp

4.

Dwyer J, Hansel JG, Pilips T (2003) Temperature influence on the flammability limits of heat treating atmospheres. In: Dahotre N, Gaste R, Hill R, Popoola O (eds) Proceedings of the 22nd heat treating society conference and the 2nd international surface engineering congress. Indianapolis, pp 24–28

5.

Greuer R (1974) Study of mine fire fighting using inert gases. U.S. Bureau of mines contract report no. S0231075, 135 pp

6.

Holding W (1992) A re-look at explosibility diagrams. In: Hemp R (ed) Proceedings of the 5th international mine ventilation congress. Johannesburg, pp 171–181

7.

Huang S (2010) China coal outlook 2010. China Coal Industry Publishing House, Berijing

8.

Hirano T (2008) Modeling of gas explosion phenomena. In: Saito K (ed) Progress in scale modeling. Springer Press, pp 61–73

9.

Ito A, Konishi T, Saito K (2008) Scale effects of flame structure in medium-size pool fire. In: Saito K (ed) Progress in scale modeling. Springer Press, pp 99–107

10.

Kukuczka M (1982) A new method for determining explosibility of complex gas mixtures. Mechanizacja I Automatuzacja Gornictwa 164(11):36–39

11.

McPherson MJ (1993) Subsurface ventilation and environmental engineering. Chapman & Hall, London

12.

Williams FA (2008) Mechanistic aspects of the scaling of fires and explosions. In: Saito K (ed) Progress in scale modeling. Springer press, pp 29–37

13.

Zabetakis MG, Stahl RW, Watson HA (1959) Determining the explosibilty of mine atmospheres. U.S. Bureau of Mines, IC7901, 83 pp
Acknowledgments
The partial financial supports by "Fundamental Research Funds for the Central Universities; National Natural Sciences Foundation of China (Grant No. 51134023) and Jiangsu Province Outstanding Youth Scientific Fund (BK2012003)" are deeply appreciated.
About this article
Cite this article
Cheng, J., Luo, Y. & Zhou, F. Explosibility Safety Factor: An Approach to Assess Mine Gas Explosion Risk. Fire Technol 51, 309–323 (2015). https://doi.org/10.1007/s10694-013-0324-y
Received:

Accepted:

Published:

Issue Date:
Keywords
Mine gas explosibility

Explosibility diagram method

Explosibility safety factor

Mine rescue