Abstract
This paper empirically examines the determinants of margins for a unique dataset of 1,190,811 mortgage loans with fixed interest rates of eight Swiss banks over the period from 2001 to 2011. Our margin determinants include loan-specific factors as well as external and bank-specific characteristics, some of which have not been considered in previous studies. Our results reveal that loan-specific factors such as repricing, representing the credit period until the interest rate is newly set, and loan volume explain a substantial part of our dependent variable. Furthermore, external factors also significantly affect mortgage loan margins. Mortgages granted in cities have lower interest rates than those allocated in rural areas. The role of competition is also considered and the findings show that margins are higher in less concentrated and thus less competitive markets. Declining mortgage loan margins can be further explained by means of increasing operational efficiency and the mortgage growth strategy of a bank.
Access options
Buy single article
Instant access to the full article PDF.
US$ 39.95
Tax calculation will be finalised during checkout.
Subscribe to journal
Immediate online access to all issues from 2019. Subscription will auto renew annually.
US$ 79
Tax calculation will be finalised during checkout.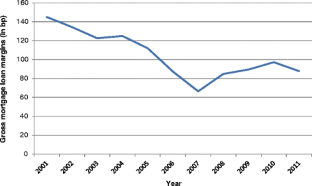 Notes
1.

In order to check for multicollinearity, we computed the VIFs of all independent variables based on our OLS regression. VIFs are obtained by regressing an explanatory variable i on all other independent variables.
References
Afanasieff T, Lhacer P, Nakane M (2002) The Determinants of Bank Interest Spread in Brasil. Banco Central do Brasil, Working Paper Series No. 46, São Paulo

Altunbas Y, Evans L, Molyneux P (2001) Bank ownership and efficiency. J Money, Credit, Bank 33(4):925–954

Angbazo L (1997) Commercial bank Net interest margins, default risk, interest-rate risk and Off-balance sheet banking. J Bank Financ 21(1):55–87

Berger AN, Udell GF (1995) Relationship lending and lines of credit in small firm finance. J Bus 68(3):351–381

Bernanke B, Gertler M (1989) Agency costs, Net worth, and business fluctuations. Am Econ Rev 79(1):14–31

Bossone B, Honohan P, Long M (2002) Policy for small financial systems. In: Caprio G, Honohan P, Vittas D (eds) Financial sector policy for developing countries: a reader. Worldbank, Washington

Bourassa S, Hoesli M, Scognamiglio D (2010) Housing finance, prices, and tenure in Switzerland. J Real Estate Lit 18(2):263–282

Claeys S, Vander Vennet R (2008) Determinants of bank interest margins in central and eastern Europe: a comparison with the west. Econ Syst 32(2):197–216

Cole RA (1998) The importance of relationships to the availability of credit. J Bank Financ 22(6–8):959–977

Demirguc-Kunt A, Huizinga H (1999) Determinants of commercial bank interest margins and profitability: some international evidence. World Bank Econ Rev 13(2):379–408

Demirguc-Kunt A, Laeven L, Levine R (2003) The Impact of Bank Regulations, Concentration, and Institutions on Bank Margins. World Bank Policy Research Working Paper

Dietrich A (2012) Explaining loan rate differentials between small and large companies: evidence from Switzerland. Small Bus Econ 38(4):481–494

Dietrich A, Wanzenried G (2012) Determinants of bank profitability before and during the crisis: evidence from Switzerland. J Int Financ Mark Inst Money 21(3):307–327

Dietsch M, Petey J (2004) Should SME exposures be treated as retail or corporate exposures? a comparative analysis of default probabilities and asset correlations in French and German SMEs. J Bank Financ 28(4):773–788

Elsas R, Krahnen JP (1998) Is relationship lending special? evidence from credit-file data in Germany. J Bank Financ 22(10–11):1283–1316

Gambacorta L (2008) How Do banks Set interest rates? Eur Econ Rev 52(5):792–819

Gilbert RA (1984) Bank Market Structure and Competition: A Survey. Journal of Money, Credit and Banking 16 (4, Part 2: Bank Market Studies), 617–645

Gischer H, Juttner D (2003) Global competition, Fee income and interest rate margins of banks. Kredit and Kapital 36(3):368–394

Gujarati DN (1995) Basic econometrics. McGraw Hill, New York

Hawtrey K, Liang H (2008) Bank interest margins in OECD countries. North Am J Econ Financ 19(3):249–260

Ho T, Saunders A (1981) The determinants of banks interest margins: theory and empirical evidence. J Financ Quant Anal 16(4):581–600

Huybens E, Smith BD (1999) Inflation, financial markets and long-Run real activity. J Monet Econ 43(2):283–315

Keeton W, Morris C (1988) Equilibrium Credit Rationing, 1. Edition, New York

Kennedy P (2008) A guide to econometrics. Blackwell Publishing, Malden

Kiyotaki N, Moore J (1997) Credit cycles. J Polit Econ 105(2):211–248

Laeven L, Majnoni G (2005) Does judicial efficiency lower the cost of credit? J Bank Financ 29(7):1791–1812

Lea M (2010) International Comparison of Mortgage Product Offerings. Research Institute for Housing America

Lopez JA (2004) The empirical relationship between average asset correlation, firm probability of default, and asset size. J Financ Intermed 13(2):265–283

Machauer A, Weber M (1998) Bank behaviour based on internal credit ratings of borrowers. J Bank Financ 22(10–11):1355–1383

Maudos J, de Guevara J (2004) Factors explaining the interest margin in the banking sectors of the European Union. J Bank Financ 28(9):2259–2281

Mulder M (2014) The impact of concentration and regulation on competition in the Dutch mortgage market. J Compet Law & Econ 10(4):795–817

Samuelson PA (1945) The effect of interest rate increases on the banking system. Am Econ Rev 35(1):16–27

Saunders A, Schumacher L (2000) The determinants of bank interest rate margins: an international study. J Int Money Financ 19(6):813–832

Sinkey J, Greenawalt M (1991) Loan-loss experience and risk-taking behaviour at large commercial banks. J Financ Serv Res 5(1):43–59

SNB FSR (2010) Bericht zur Finanzmarktstabilität. Nationalbank, Schweizerische

State Secretariat for Economic Affairs (2014) Quartalsaggregate des Bruttoinlandprodukts. Verwendungsansatz (SECO/DPKJ), Bern

Swiss Bankers Association (2014) 2014 Banking Barometer: Economic trends in the Swiss banking industry. Basel, September 2014

Swiss National Bank (2012) Financial Stability Report Zurich, June 2012

Swiss National Bank (2013a) Zinssätze für Hypotheken

Swiss National Bank (2013b) Bankenstatistisches Monatsheft

Swiss National Bank (2014) Bankenstatistisches Monatsheft Juni 2014. Zürich, Switzerland

Titman S, Tompaidis S, Tsyplakov S (2005) Determinants of credit spreads in commercial mortgages. Real Estate Econ 33(4):711–738

Valverde S, Rodriguez Fernandez F (2007) The determinants of bank margins in European banking. J Bank Financ 31(7):2043–2063

Van den Heuvel S (2002) Does bank capital matter for monetary transmission? Economic Policy Review, Federal Reserve Bank of New York, May, 259–265

Vander Vennet R (2002) Cost and profit efficiency of financial conglomerates and universal banks in Europe. J Money, Credit, Bank 34(1):254–282
Acknowledgments
We would like to thank the participants of the 2014 World Finance Conference, the participants of the 2013 Midwest Finance Association Conference in Chicago, the participants of the 2011 Southwestern Finance Association Annual Meeting in Houston TX and Rebel Cole, Horst Bienert and Christian Wunderlin for their valuable comments.
About this article
Cite this article
Dietrich, A. What Drives the Gross Margins of Mortgage Loans? Evidence from Switzerland. J Financ Serv Res 50, 341–362 (2016). https://doi.org/10.1007/s10693-015-0229-7
Received:

Revised:

Accepted:

Published:

Issue Date:
Keywords
Commercial bank

Net interest margin

Mortgage loans
JEL Classification