Abstract
Genetic testing has been implemented in clinical practice. However, data on physician's practices and education related to cancer genetics, risk assessment and clinical management in Greece, is limited. In Greece, genetic counseling is performed by treating physicians in collaboration with clinical laboratory geneticists due to the absence of medical geneticists and genetic counsellors. We evaluated treating physicians' experience on genetic testing for hereditary cancer and counseling practices in Greece, thus providing critical areas for improvement of genetic counseling processes. A 28-question survey was used to assess physicians' experience with genetic testing practices, factors that affect their clinical management and decision making and limitations in their education. Of 250 physicians, 208 (83%) completed the survey; of whom 89 (42.8%) were medical oncologists, 88 general surgeons (42.3%), 26 gynecologists (12.5%) and 5 (2.4%) of other specialties. Overall, 91.8% of participants referred patients for genetic testing, with 51.8% recommending multigene panel testing. While most clinicians (84%) reported lack of a clinical genetics department at their institution, 75.7% referred patients for genetic counseling at available departments or healthcare professionals with expertise in genetic counseling. Overall, 68.8% of respondents reported no training or moderate training on cancer genetics. A higher proportion of medical oncologists reported sufficient/very satisfactory training (40.9%) compared to general surgeons (27.3%) or gynecologists (11.5%) (p = 0.012). Time spent on pre- and post-testing sessions varied significantly among respondents. Of 199 physicians, 70% would manage patients with BRCA1 VUS as patients with pathogenic variants, mainly surgeons (83.1%) and gynecologists (80%), compared to oncologists (52.3%) (p < 0.001). Additionally, 64% of physicians treating patients with breast and ovarian cancer would recommend an intervention based on the presence of a BRCA1 VUS. Most respondents (87%) were interested in receiving additional education on cancer risk assessment. Limited consensus was observed during physicians' genetic testing, counseling practices and clinical management of patients with increased predisposition to cancer. Our findings highlight the need for improvement in physician education on cancer risk assessment and increase of genetic counseling resources and services.
Access options
Buy single article
Instant access to the full article PDF.
USD 39.95
Price excludes VAT (USA)
Tax calculation will be finalised during checkout.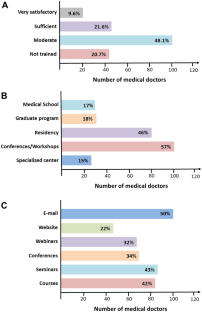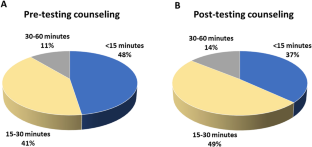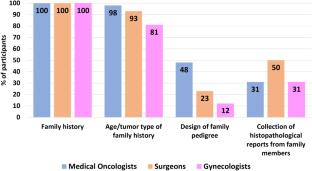 Data availability
The data that support the findings of this study are available on reasonable request from the corresponding author. The data are not publicly available due to privacy or ethical restrictions.
Materials availability
The data that support the findings of this study are available on reasonable request from the corresponding author. The data are not publicly available due to privacy or ethical restrictions.
References
Walsh T, Lee MK, Casadei S et al (2010) Detection of inherited mutations for breast and ovarian cancer using genomic capture and massively parallel sequencing. Proc Natl Acad Sci U S A 107:12629–12633

Couch FJ, Shimelis H, Hu C et al (2017) Associations between cancer predisposition testing panel genes and breast cancer. JAMA Oncol 3:1190–1196

Kurian AW, Hare EE, Mills MA et al (2014) Clinical evaluation of a multiple-gene sequencing panel for hereditary cancer risk assessment. J Clin Oncol 32:2001–2009

Samadder NJ, Riegert-Johnson D, Boardman L et al (2021) Comparison of universal genetic testing vs guideline-directed targeted testing for patients with hereditary cancer syndrome. JAMA Oncol 7:230–237

Gray SW, Hicks-Courant K, Cronin A, Rollins BJ, Weeks JC (2014) Physicians' attitudes about multiplex tumor genomic testing. J Clin Oncol 32:1317–1323

Freedman AN, Klabunde CN, Wiant K, Enewold L, Gray SW, Filipski KK, Keating NL, Leonard D, Lively T, McNeel TS, Minasian L, Potosky AL, Rivera DR, Schilsky RL, Schrag D, Simonds NI, Sineshaw HM, Struewing JP (2018) Use of Next-generation sequencing tests to guide cancer treatment: results from a nationally representative survey of oncologists in the United States. JCO Precis Oncol 2018:1–13

Wicklund CAL, Duquette DA, Swanson AL (2018) Clinical genetic counselors: An asset in the era of precision medicine. Am J Med Genet 178:63–67

Boothe E, Greenberg S, Delaney CL, Cohen SA (2021) Genetic counseling service delivery models: a study of genetic counselors' interests, needs, and barriers to implementation. J Genet Couns 30:283–292

Kurian AW, Li Y, Hamilton AS et al (2017) Gaps in incorporating germline genetic testing into treatment decision-making for early-stage breast cancer. J Clin Oncol 35:2232–2239

Abacan M, Alsubaie L, Barlow-Stewart K et al (2019) The global state of the genetic counseling profession. Eur J Hum Genet 27:183–197

Cordier C, McAllister M, Serra-Juhe C et al (2018) The recognition of the profession of genetic counsellors in Europe. Eur J Hum Genet 26:1719–1720

Wideroff L, Vadaparampil ST, Greene MH, Taplin S, Olson L, Freedman AN (2005) Hereditary breast/ovarian and colorectal cancer genetics knowledge in a national sample of US physicians. J Med Genet 42:749–755

Vig HS, Armstrong J, Egleston BL et al (2009) Cancer genetic risk assessment and referral patterns in primary care. Genet Test Mol Biomarkers 13:735–741

Plon SE, Cooper HP, Parks B et al (2011) Genetic testing and cancer risk management recommendations by physicians for at-risk relatives. Genet Med 13:148–154

Heo Y, Kim MH, Kim DW et al (2020) Extent of pedigree required to screen for and diagnose hereditary nonpolyposis colorectal cancer: comparison of simplified and extended pedigrees. Dis Colon Rectum 63:152–159

National Comphrehensive Cancer Network (NCCN). Genetic/familial high risk assessment: breast, ovarian, and pancreatic version 1.2021. NCCN practice guidelines website. https://www.nccn.org/professionals/physician_gls/pdf/genetics_screening.pdf. Accessed 8 Sept 8 2020

Pal T, Cragun D, Lewis C et al (2013) A statewide survey of practitioners to assess knowledge and clinical practices regarding hereditary breast and ovarian cancer. Genet Test Mol Biomarkers 17:367–375

Petrucelli N, Lazebnik N, Huelsman KM, Lazebnik RS (2002) Clinical interpretation and recommendations for patients with a variant of uncertain significance in BRCA1 or BRCA2: a survey of genetic counseling practice. Genet Test 6:107–113

Vos J, Otten W, van Asperen C, Jansen A, Menko F, Tibben A (2008) The counsellees' view of an unclassified variant in BRCA1/2: recall, interpretation, and impact on life. Psychooncology 17:822–830

Richter S, Haroun I, Graham TC, Eisen A, Kiss A, Warner E (2013) Variants of unknown significance in BRCA testing: impact on risk perception, worry, prevention and counseling. Ann Oncol 24(Suppl 8):viii69–viii74

Douma KF, Smets EM, Allain DC (2016) Non-genetic health professionals' attitude towards, knowledge of and skills in discussing and ordering genetic testing for hereditary cancer. Fam Cancer 15:341–350

Dekanek EW, Thull DL, Massart M, Grubs RE, Rajkovic A, Mai PL (2020) Knowledge and opinions regarding BRCA1 and BRCA2 genetic testing among primary care physicians. J Genet Couns 29:122–130

Cragun D, Besharat AD, Lewis C, Vadaparampil ST, Pal T (2013) Educational needs and preferred methods of learning among Florida practitioners who order genetic testing for hereditary breast and ovarian cancer. J Cancer Educ 28:690–697
Acknowledgements
We thank all the respondents for completing the survey.
Funding
No funding was received for conducting this study.
Ethics declarations
Conflict of interest
EF: advisory role: LEO pharma. Speaker fees: Roche, Pfizer, AstraZeneca. Stock ownership: GENPREX INC, Deciphera Pharmaceuticals, Inc. Travel grant: Merck, Pfizer, and K.A.M Oncolo-gy/Hematology and DEMO. The rest of the authors declare they have no conflict of interest and have no substantial or indirect commercial finance incentive associated with publishing this article.
Ethical approval
The questionnaire and methodology for this study was approved by the bioethics committee of Euromedica General Clinic (CLI00489/16.3.2021).
Research involving animal participants
No non-human animal studies were carried out by the authors for this article.
Additional information
Publisher's Note
Springer Nature remains neutral with regard to jurisdictional claims in published maps and institutional affiliations.
Supplementary Information
Below is the link to the electronic supplementary material.
About this article
Cite this article
Fountzilas, E., Apostolou, P., Vasiliadis, A.V. et al. Physicians' experience, practice and education, on genetic testing and genetic counseling: a nationwide survey study in Greece. Familial Cancer 21, 479–487 (2022). https://doi.org/10.1007/s10689-022-00290-4
Received:

Accepted:

Published:

Issue Date:

DOI: https://doi.org/10.1007/s10689-022-00290-4
Keywords
Mainstreaming attitudes

Education

Genetic counseling

Genetic testing

Genetic services

Cancer genetics