Abstract
Neurofibromatosis type 1 (NF1) is a multisystem disorder caused by germline heterozygous NF1 loss-of-function variants. The NF1 gene encodes neurofibromin, a RAS GTPase-activating protein, which functions by down-regulating RAS/RAF/MAPK-signalling pathways. Somatic NF1 aberrations frequently occur in sporadic ovarian cancer (OC), but the incidence of OC in NF1 patients is rare. Here we report the germline and somatic findings for two unrelated patients with NF1 and high-grade serous OC. Germline testing revealed a heterozygous NF1 pathogenic variant in each patient, c.7096_7101del (p.Asn2366_Phe2367del) and c.964delA (p.Ile322Leufs*54), respectively. No germline variants in well-established OC predisposition genes were detected, including BRCA1 and BRCA2. Tumor loss-of-heterozygosity analysis demonstrated loss of the wild type NF1 allele for both patients. Biallelic NF1 inactivation occurs as part of OC pathogenesis in NF1 patients. Although the penetrance of NF1-associated OC is insufficient to warrant risk-reducing interventions, our findings highlight the potential for therapies targeting the RAS/RAF/MAPK-signalling pathway for these cases.
Access options
Buy single article
Instant access to the full article PDF.
USD 39.95
Price includes VAT (USA)
Tax calculation will be finalised during checkout.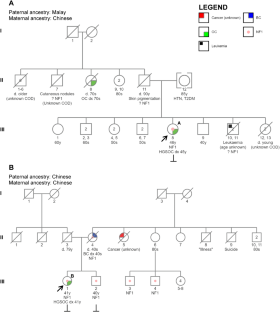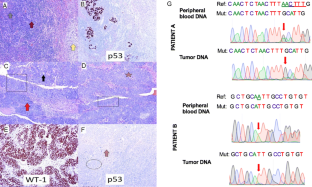 References
1.

Evans DG, Howard E, Giblin C et al (2010) Birth incidence and prevalence of tumor-prone syndromes: estimates from a UK family genetic register service. Am J Med Genet Part A 152A:327–332. https://doi.org/10.1002/ajmg.a.33139

2.

Uusitalo E, Leppävirta J, Koffert A et al (2015) Incidence and mortality of neurofibromatosis: a total population study in Finland. J Invest Dermatol 135:904–906. https://doi.org/10.1038/jid.2014.465

3.

Ferner RE, Gutmann DH (2013) Neurofibromatosis type 1 (NF1): a diagnosis and management. Handb Clin Neurol 115:939–955. https://doi.org/10.1016/B978-0-444-52902-2.00053-9

4.

Huson SM, Harper PS, Compston DAS (1988) Von recklinghausen neurofibromatosis: a clinical and population study in south-east Wales. Brain 111:1355–1381. https://doi.org/10.1093/brain/111.6.1355

5.

Ferner RE (2007) Neurofibromatosis 1 and neurofibromatosis 2: a twenty first century perspective. Lancet Neurol 6:340–351. https://doi.org/10.1016/S1474-4422(07)70075-3

6.

Prada CE, Rangwala FA, Martin LJ et al (2012) Pediatric plexiform neurofibromas: impact on morbidity and mortality in neurofibromatosis type 1. J Pediatr 160:461–467. https://doi.org/10.1016/j.jpeds.2011.08.051

7.

Darrigo LG, Geller M, Bonalumi Filho A, Azulay DR (2007) Prevalência de neurofibromas plexiformes em crianças e adolescentes com neurofibromatose tipo 1. J Pediatr (Rio J) 83:571–573. https://doi.org/10.2223/JPED.1718

8.

Friedman JM, Birch PH (1997) Type 1 neurofibromatosis: a descriptive analysis of the disorder in 1728 patients. Am J Med Genet 70:138–143

9.

North K (1993) Neurofibromatosis type 1: Review of the first 200 patients in an Australian clinic. J Child Neurol 8:395–402. https://doi.org/10.1177/088307389300800421

10.

Plotkin SR, Bredella MA, Cai W et al (2012) Quantitative assessment of whole-body tumor burden in adult patients with neurofibromatosis. PLoS One 7:e35711. https://doi.org/10.1371/journal.pone.0035711

11.

Nguyen R, Kluwe L, Fuensterer C et al (2011) Plexiform neurofibromas in children with neurofibromatosis type 1: frequency and associated clinical deficits. J Pediatr 159:652–655. https://doi.org/10.1016/j.jpeds.2011.04.008

12.

Mautner V-F, Asuagbor FA, Dombi E et al (2008) Assessment of benign tumor burden by whole-body MRI in patients with neurofibromatosis 1. Neuro Oncol 10:593–598. https://doi.org/10.1215/15228517-2008-011

13.

Tonsgard JH, Kwak SM, Short MP, Dachman AH (1998) CT imaging in adults with neurofibromatosis-1: frequent asymptomatic plexiform lesions. Neurology 50:1755–1760. https://doi.org/10.1212/wnl.50.6.1755

14.

Evans DGR, Baser ME, McGaughran J et al (2002) Malignant peripheral nerve sheath tumours in neurofibromatosis 1. J Med Genet 39:311–314. https://doi.org/10.1136/jmg.39.5.311

15.

Uusitalo E, Rantanen M, Kallionpää RA et al (2016) Distinctive cancer associations in patients with neurofibromatosis type 1. J Clin Oncol 34:1978–1986. https://doi.org/10.1200/JCO.2015.65.3576

16.

Evans DGR, Huson SM, Birch JM (2012) Malignant peripheral nerve sheath tumours in inherited disease. Clin Sarcoma Res 2:17. https://doi.org/10.1186/2045-3329-2-17

17.

Rosenfeld A, Listernick R, Charrow J, Goldman S (2010) Neurofibromatosis type 1 and high-grade tumors of the central nervous system. Child's Nerv Syst 26:663–667. https://doi.org/10.1007/s00381-009-1024-2

18.

Listernick R, Charrow J, Greenwald M, Mets M (1994) Natural history of optic pathway tumors in children with neurofibromatosis type 1: a longitudinal study. J Pediatr 125:63–66. https://doi.org/10.1016/S0022-3476(94)70122-9

19.

Rodriguez FJ, Perry A, Gutmann DH et al (2008) Gliomas in neurofibromatosis type 1: a clinicopathologic study of 100 patients. J Neuropathol Exp Neurol 67:240–249. https://doi.org/10.1097/NEN.0b013e318165eb75

20.

Xu G, O'Connell P, Viskochil D et al (1990) The neurofibromatosis type 1 gene encodes a protein related to GAP. Cell 62:599–608. https://doi.org/10.1016/0092-8674(90)90024-9

21.

Philpott C, Tovell H, Frayling IM et al (2017) The NF1 somatic mutational landscape in sporadic human cancers. Hum Genomics 11:13. https://doi.org/10.1186/s40246-017-0109-3

22.

Norris EJ, Jones WD, Surleac MD et al (2018) Clonal lineage of high grade serous ovarian cancer in a patient with neurofibromatosis type 1. Gynecol Oncol Reports 23:41–44. https://doi.org/10.1016/j.gore.2018.01.005

23.

Walker L, Thompson D, Easton D et al (2006) A prospective study of neurofibromatosis type 1 cancer incidence in the UK. Br J Cancer 95:233–238. https://doi.org/10.1038/sj.bjc.6603227

24.

Richards S, Aziz N, Bale S et al (2015) Standards and guidelines for the interpretation of sequence variants: a joint consensus recommendation of the American College of Medical Genetics and Genomics and the Association for Molecular Pathology. Genet Med Off J Am Coll Med Genet 17:405–424. https://doi.org/10.1038/gim.2015.30

25.

Evans DGR, O'Hara C, Wilding A et al (2011) Mortality in neurofibromatosis 1: In North West England: An assessment of actuarial survival in a region of the UK since 1989. Eur J Hum Genet 19:1187–1191. https://doi.org/10.1038/ejhg.2011.113

26.

Kanchi KL, Johnson KJ, Lu C et al (2014) Integrated analysis of germline and somatic variants in ovarian cancer. Nat Commun 5:3156. https://doi.org/10.1038/ncomms4156

27.

Salud A, Porcel J, Capdevila F et al (1991) [Ovarian cancer in a female patient with von Recklinghausen's disease]. - PubMed - NCBI. Med Clin (Barc) 96:138–140

28.

Ceccaroni M, Genuardi M, Legge F et al (2002) BRCA1-related malignancies in a family presenting with von Recklinghausen's Disease. Gynecol Oncol 86:375–378. https://doi.org/10.1006/gyno.2002.6757

29.

Brosseau J-P, Liao C-P, Wang Y et al (2018) NF1 heterozygosity fosters de novo tumorigenesis but impairs malignant transformation. Nat Commun 9:5014. https://doi.org/10.1038/s41467-018-07452-y

30.

Sangha N, Wu R, Kuick R et al (2008) Neurofibromin 1 (NF1) defects are common in human ovarian Serous Carcinomas and co-occur with TP53 mutations. Neoplasia 10:1362–1372. https://doi.org/10.1593/neo.08784
Acknowledgements
The authors would like to thank Ms Xinyi Loh, Medical Technologist of the Department of Pathology and Laboratory Medicine, KK Women's and Children's Hospital, for extracting the tumor DNA samples. We express our gratitude to the Lee foundation for their generous donations to the Lee Kong Chian NCCS Cancer Genetics Service fund that help subsidize the cost of testing for our patients in need. We thank the doctors for referring their patients and collaborating with us. Most importantly, we would like to thank the patients involved for their willingness to partake in research.
Funding
J.N is funded by the National Research Council Singapore Clinician-Scientist Award (NMRC/CSAINV/0017/2017). Additional funding was provided by the National Research Foundation Singapore under its NMRC Centre Grant Programme (NMRC-CG-RIE 2020 - Project No. NMRC/CG/M003/2017). AstraZeneca provided funding for ovarian cancer research.
Ethics declarations
Conflict of Interest
J.N. received funding from AstraZeneca for breast and ovarian cancer research. The remaining authors have no conflict of interest to declare.
Informed consent
The research was approved by the SingHealth Centralised Institutional Review Board (CIRB number is 2011/826/B) and was performed in accordance with the Helsinki Declaration of 1975, as revised in 2000. Written informed consent for research was obtained from both patients.
Additional information
Publisher's Note
Springer Nature remains neutral with regard to jurisdictional claims in published maps and institutional affiliations.
Electronic supplementary material
Below is the link to the electronic supplementary material.
About this article
Cite this article
Courtney, E., Chan, S.H., Li, S.T. et al. Biallelic NF1 inactivation in high grade serous ovarian cancers from patients with neurofibromatosis type 1. Familial Cancer 19, 353–358 (2020). https://doi.org/10.1007/s10689-020-00184-3
Keywords
Neurofibromatosis

NF1

Neurofibromin

Ovarian

Cancer