Abstract
Li-Fraumeni Syndrome (LFS) is characterized by risk of multiple primary malignancies in diverse sites, pediatric onset, near complete penetrance by age 70 years, limited options for prevention, and substantial uncertainty regarding disease manifestation and prognosis. Forty-five families, including 117 individuals aged 13–81 years, enrolled in the US National Cancer Institute's Li-Fraumeni Syndrome Study completed 66 interviews regarding their LFS experiences. An interdisciplinary team used modified grounded theory to examine family distress regarding expectations of loss and change due to likely cancer diagnoses, and the consequences of this likelihood across physical, social, and emotional domains. Disease-free periods were characterized by fearful anticipation of diagnosis or recurrence, uncertainty regarding post-treatment quality of life, and planning for shifts in family dynamics to enable caregiving. The chronicity of waiting for these changes incited dread and inhibited effective coping with the pragmatic, emotional, and existential challenges of the syndrome. Consequently, families reported high burden on roles and resources and limited guidance to prepare for, or achieve resolution with, grief. Anticipatory loss, the experience of bereavement prior to an expected change, distinguishes hereditary cancer risk from a sporadic diagnosis. Such grief is often incomplete in impact or meaning, subjected to rapid or profound change as conditions worsen, and poorly understood. In this study, losses were compounded by profound uncertainty, a chronic feature of LFS, which compromised mourning. Long-term engagement of mental health providers with bereavement training, in partnership with genetics providers, can provide invaluable educational and psychological support to families as they navigate these implacable challenges.
Access options
Buy single article
Instant access to the full article PDF.
US$ 39.95
Tax calculation will be finalised during checkout.
Subscribe to journal
Immediate online access to all issues from 2019. Subscription will auto renew annually.
US$ 79
Tax calculation will be finalised during checkout.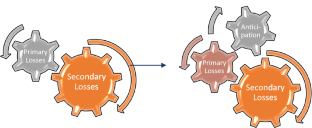 References
1.

Mai PL, Best AF, Peters JA, DeCastro RM, Khincha PP, Loud JT, Bremer RC, Rosenberg PS, Savage SA (2016) Risks of first and subsequent cancers among TP53 mutation carriers in the National Cancer Institute Li-Fraumeni syndrome cohort. Cancer 122(23):3673–3681. https://doi.org/10.1002/cncr.30248

2.

Ballinger ML, Best A, Mai PL, Khincha PP, Loud JT, Peters JA, Achatz MI, Chojniak R, da Costa AB, Santiago KM, Garber J (2017) Baseline surveillance in Li-Fraumeni syndrome using whole-body magnetic resonance imaging: a meta-analysis. JAMA Oncol 3(12):1634–1639. https://doi.org/10.1001/jamaoncol.2017.1968

3.

Peterson SK, Pentz RD, Marani SK, Ward PA, Blanco AM, LaRue D, Vogel K, Solomon T, Strong LC (2008) Psychological functioning in persons considering genetic counseling and testing for Li–Fraumeni syndrome. Psycho-Oncology 17(8):783–789. https://doi.org/10.1002/pon.1352

4.

Corr C (2002) Revisiting the concept of disenfranchised grief. In: Doka KJ (ed) Disenfranchised grief: new directions, challenges, strategies for practice. Research Press, Champaign, pp 39–60

5.

Zebrack B, Jones BL, Smolinski KM (2015) Oncology social work interventions throughout the continuum of cancer care. In: Christ G, Messner C, Behar L (eds) Handbook of oncology social work: psychosocial care for people with cancer. Oxford University Press, New York, pp 35–42

6.

Doka KJ (ed) (2002) Disenfranchised grief: New directions, challenges, and strategies for practice. Research Press, Champaign

7.

Coelho A, Barbosa A (2017) Family anticipatory grief: an integrative literature review. Am J Hosp Palliat Med 34(8):774–785. https://doi.org/10.1177/1049909116647960

8.

Esplen MJ, Urquhart C, Butler K, Gallinger S, Aronson M, Wong J (2003) The experience of loss and anticipation of distress in colorectal cancer patients undergoing genetic testing. J Psychosom Res 55(5):427–435. https://doi.org/10.1016/S0022-3999(03)00511-7

9.

Forbes Shepherd R, Lewis A, Keogh LA, Werner-Lin A, Delatycki MB, Forrest LE (2018) A systematic review of how young people live with inherited disease: what can we learn for Li-Fraumeni Syndrome? J Adolesc Young Adult Oncol 7(5):525–545. https://doi.org/10.1089/jayao.2018.0028

10.

Werner-Lin AV (2007) Danger zones: Risk perceptions of young women from families with hereditary breast and ovarian cancer. Fam Process 46(3):335–349. https://doi.org/10.1111/j.1545-5300.2007.00215.x

11.

Fulton R, Fulton J (1971) A psychosocial aspect of terminal care: anticipatory grief. OMEGA J Death Dying 2(2):91–100. https://doi.org/10.2190/WE4J-9CJG-GJH5-R3VA

12.

Chan D, Livingston G, Jones L, Sampson EL (2013) Grief reactions in dementia carers: a systematic review. Int J Geriatr Psychiatry 28(1):1–7. https://doi.org/10.1002/gps.3795

13.

Large S, Slinger R (2015) Grief in caregivers of persons with Alzheimer's disease and related dementia: a qualitative synthesis. Dementia 14(2):164–183. https://doi.org/10.1177/1471301213494511

14.

Domaradzki J (2015) The impact of Huntington disease on family carers: a literature overview. Psychiatr Pol 49(5):931–944. https://doi.org/10.12740/PP/34496

15.

Hoskins LM, Greene MH (2012) Anticipatory loss and early mastectomy for young female BRCA1/2 mutation carriers. Qual Health Res 22(12):1633–1646. https://doi.org/10.1177/1049732312458182

16.

Williams E (2014) Death of a Child to Tay-Sachs and other progressive neurological disorders: long-term impact on parents' emotional and personal lives. Dissertation, Brandeis University.

17.

Peters JA, Kenen R, Bremer R, Givens S, Savage SA, Mai PL (2016) Easing the burden: describing the role of social, emotional and spiritual support in research families with Li-Fraumeni syndrome. J Genet Couns 25(3):529–542. https://doi.org/10.1007/s10897-015-9905-x

18.

Charmaz K (2006) Constructing grounded theory: a practical guide through qualitative analysis. Sage, Thousand Oaks

19.

LaRossa R (2005) Grounded theory methods and qualitative family research. J Marriage Fam 67(4):837–857. https://doi.org/10.1111/j.1741-3737.2005.00179.x

20.

Thorne S (2016) Interpretive description: qualitative research for applied practice. Routledge, New York

21.

Denzin NK, Lincoln YS (2008) Collecting and interpreting qualitative materials. Sage, Thousand Oaks, CA

22.

Patton MQ (2005) Qualitative research. Encyclopedia of statistics in behavioral science. Wiley, Hoboken

23.

Roy K, Zvonkovic A, Goldberg A, Sharp E, LaRossa R (2015) Sampling richness and qualitative integrity: challenges for research with families. J Marriage Fam 77(1):243–260. https://doi.org/10.1111/jomf.12147

24.

Beder J (2005) Loss of the assumptive world—how we deal with death and loss. OMEGA J Death Dying 50(4):255–265. https://doi.org/10.2190/GXH6-8VY6-BQ0R-GC04

25.

Boss P (2007) Ambiguous loss theory: challenges for scholars and practitioners. Fam Relat 56(2):105–111. https://doi.org/10.1111/j.1741-3729.2007.00444.x

26.

Kübler-Ross E, Wessler S, Avioli LV (1972) On death and dying. JAMA 221(2):174–179

27.

Lichtenthal WG, Catarozoli C, Masterson M, Slivjak E, Schofield E, Roberts KE et al (2019) An open trial of meaning-centered grief therapy: rationale and preliminary evaluation. Pall Support Care 17(1):2–12

28.

Mendes Á, Chiquelho R, Santos TA, Sousa L (2010) Family matters: examining a multi-family group intervention for women with BRCA mutations in the scope of genetic counselling. J Community Genet 1(4):161–168

29.

Esplen MJ, Leszcz M, Hunter J, Wong J, Leung YW, Toner B et al (2018) A randomized controlled trial of a supportive expressive group intervention for women with a family history of breast cancer. Psycho-Oncology 27(11):2645–2653

30.

Baumann SL (2006) Family systems genetic illness model-breast cancer. Clin J Oncol Nurs 10(3):377

31.

Sobel S, Cowan CB (2003) Ambiguous loss and disenfranchised grief: the impact of DNA predictive testing on the family as a system. Fam Process 42(1):47–57

32.

Werner-Lin A (2007) Danger zones: risk perceptions of young women from families with hereditary breast and ovarian cancer. Fam Process 46(3):335–349

33.

Anderson CM, Hogarty GE, Reiss DJ (1980) Family treatment of adult schizophrenic patients: a psycho-educational approach. Schizophrenia Bull 6(3):490. https://doi.org/10.1093/schbul/6.3.490

34.

Sin J, Gillard S, Spain D, Cornelius V, Chen T, Henderson C (2017) Effectiveness of psychoeducational interventions for family carers of people with psychosis: a systematic review and meta-analysis. Clin Psychol Rev 56:13–24. https://doi.org/10.1016/j.cpr.2017.05.002

35.

Faller H, Schuler M, Richard M, Heckl U, Weis J, Küffner R (2013) Effects of psycho-oncologic interventions on emotional distress and quality of life in adult patients with cancer: systematic review and meta-analysis. J Clin Oncol 31(6):782–793. https://doi.org/10.1200/JCO.2011.40.8922

36.

Jordan C, Lewellen A, Vandiver V (1994) Psychoeducation for minority families: a social work perspective. Int J Ment Health 23(4):27–43. https://doi.org/10.1080/00207411.1994.11449291

37.

Lukens EP, McFarlane WR (2006) Psychoeducation as evidence-based practice: Considerations for practice, research, and policy. In: Roberts AR, Yaeger KR (eds) Foundations of evidence-based social work practice. Oxford University Press, New York, pp 291–313

38.

Langer SL, Brown JD, Syrjala KL (2009) Intrapersonal and interpersonal consequences of protective buffering among cancer patients and caregivers. Cancer 115(S18):4311–4325
Ethics declarations
Conflict of interest
The authors declare that they have no conflict of interest.
Ethical approval
All procedures performed in studies involving human participants were in accordance with the ethical standards of the institutional and/or national research committee of The National Cancer Institute, NIH Protocol 11-C-0255, and with the 1964 Helsinki declaration and its later amendments or comparable ethical standards.
Additional information
Publisher's Note
Springer Nature remains neutral with regard to jurisdictional claims in published maps and institutional affiliations.
About this article
Cite this article
Werner-Lin, A., Young, J.L., Wilsnack, C. et al. Waiting and "weighted down": the challenge of anticipatory loss for individuals and families with Li-Fraumeni Syndrome. Familial Cancer 19, 259–268 (2020). https://doi.org/10.1007/s10689-020-00173-6
Keywords
Li-fraumeni syndrome

Hereditary cancer

Family

Bereavement

Family therapy

Anticipatory loss