Abstract
Precise genetic counseling and prenatal diagnosis are often hindered by incomplete penetrance of risk variance and complex patterns of inheritance. Here, we performed a clinical and genetic study of a five-generation Pakistani family with a history of multiple cases of childhood brain tumors. Six affected individuals died of brain tumors at very early ages and three were confirmed as having a homozygous mutation in exon 6 of the PMS2 gene (c.543delT). Fifteen members of the family were identified as heterozygous carriers of this mutation with a lack of cancer incidence. Both clinical manifestations and genetic test results of brain tumor patients in the family support the diagnosis of constitutional mismatch repair deficiency (CMMRD) syndrome, a condition in which individuals carry homozygous germline mutations in mismatch repair machinery genes with an early onset of malignancies such as glioma. This information was used to guide prenatal diagnosis with genetic testing on chorionic villus samples for the family. This is the first report of prenatal genetic diagnosis of hereditary brain tumor.
This is a preview of subscription content, log in to check access.
Access options
Buy single article
Instant access to the full article PDF.
US$ 39.95
Price includes VAT for USA
Subscribe to journal
Immediate online access to all issues from 2019. Subscription will auto renew annually.
US$ 99
This is the net price. Taxes to be calculated in checkout.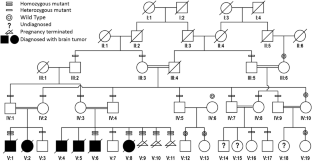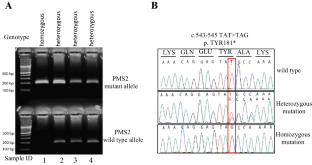 References
1.

Mobarak AM et al (2018) Estimating the health and socioeconomic effects of cousin marriage in South Asia. J Biosoc Sci. https://doi.org/10.1017/S0021932018000275

2.

Ullah MA, Husseni AM, Mahmood SU (2017) Consanguineous marriages and their detrimental outcomes in Pakistan:an urgent need for appropriate measures. Int J Community Med Public Health 5(1):1–3

3.

Krepischi AC, Pearson PL, Rosenberg C (2012) Germline copy number variations and cancer predisposition. Future Oncol 8(4):441–450

4.

Vasen HF et al (2014) Guidelines for surveillance of individuals with constitutional mismatch repair-deficiency proposed by the European Consortium "Care for CMMR-D" (C4CMMR-D). J Med Genet 51(5):283–293

5.

Wimmer K et al (2014) Diagnostic criteria for constitutional mismatch repair deficiency syndrome: suggestions of the European consortium 'care for CMMRD' (C4CMMRD). J Med Genet 51(6):355–365

6.

De Vos M et al (2004) Novel PMS2 pseudogenes can conceal recessive mutations causing a distinctive childhood cancer syndrome. Am J Hum Genet 74(5):954–964

7.

Clendenning M et al (2006) Long-range PCR facilitates the identification of PMS2-specific mutations. Hum Mutat 27(5):490–495

8.

Gururangan S et al (2008) Multifocal anaplastic astrocytoma in a patient with hereditary colorectal cancer, transcobalamin II deficiency, agenesis of the corpus callosum, mental retardation, and inherited PMS2 mutation. Neuro Oncology 10(1):93–97

9.

Sjoblom T et al (2006) The consensus coding sequences of human breast and colorectal cancers. Science 314(5797):268–274

10.

Keravnou A et al (2016) Whole-genome fetal and maternal DNA methylation analysis using MeDIP-NGS for the identification of differentially methylated regions. Genet Res (Camb) 98:e15

11.

Amayiri N et al (2016) High frequency of mismatch repair deficiency among pediatric high grade gliomas in Jordan. Int J Cancer 138(2):380–385

12.

De Vos M et al (2006) PMS2 mutations in childhood cancer. J Natl Cancer Inst 98(5):358–361

13.

Bittles A (2001) Consanguinity and its relevance to clinical genetics. Clin Genet 60(2):89–98

14.

Modell B, Darr A (2002) Science and society: genetic counselling and customary consanguineous marriage. Nat Rev Genet 3(3):225–229

15.

Ramchander NC et al (2017) Homozygous germ-line mutation of the PMS2 mismatch repair gene: a unique case report of constitutional mismatch repair deficiency (CMMRD). BMC Med Genet 18(1):40

16.

Castellsague E et al (2015) Characterization of a novel founder MSH6 mutation causing Lynch syndrome in the French Canadian population. Clin Genet 87(6):536–542

17.

Carethers JM, Stoffel EM (2015) Lynch syndrome and Lynch syndrome mimics: The growing complex landscape of hereditary colon cancer. World J Gastroenterol 21(31):9253–9261

18.

Lavoine N et al (2015) Constitutional mismatch repair deficiency syndrome: clinical description in a French cohort. J Med Genet 52(11):770–778

19.

Deschenes SM et al (2007) The E705K mutation in hPMS2 exerts recessive, not dominant, effects on mismatch repair. Cancer Lett 249(2):148–156

20.

Andrianova MA et al (2017) Germline PMS2 and somatic POLE exonuclease mutations cause hypermutability of the leading DNA strand in biallelic mismatch repair deficiency syndrome brain tumours. J Pathol 243(3):331–341

21.

Tabori U et al (2017) Clinical management and tumor surveillance recommendations of inherited mismatch repair deficiency in childhood. Clin Cancer Res 23(11):e32–e37

22.

Goodenberger ML et al (2016) PMS2 monoallelic mutation carriers: the known unknown. Genet Med 18(1):13–19

23.

Blount J, Prakash A (2018) The changing landscape of Lynch syndrome due to PMS2 mutations. Clin Genet 94(1):61–69
Acknowledgements
We would like to thank Uzma Abdullah (HMGL/NIBGE of Pakistan) for her coordination of communication with the patient family and Maggie McIntyre (Genetron Health Technologies Inc of USA) for editing the manuscript. This study was supported by Higher Education Commission (HEC) of Pakistan Projects No. 1461 and 4865 (S.M.B).
Ethics declarations
Conflict of interest
H.Y. receives royalties from Agios Pharmaceuticals and Personal Genome Diagnostics. H.Y. and S.W are co-founders of Genetron Health (Beijing) Co. Ltd.
Electronic supplementary material
Below is the link to the electronic supplementary material.
About this article
Cite this article
Baig, S.M., Fatima, A., Tariq, M. et al. Hereditary brain tumor with a homozygous germline mutation in PMS2: pedigree analysis and prenatal screening in a family with constitutional mismatch repair deficiency (CMMRD) syndrome. Familial Cancer 18, 261–265 (2019). https://doi.org/10.1007/s10689-018-0112-4
Keywords
Constitutional mismatch repair deficiency (CMMRD) syndrome

Hereditary brain tumor

Prenatal diagnosis

Genetic counseling

PMS2