Abstract
One of a pair of monozygous twins was diagnosed and died of small cell carcinoma of the ovary of hypercalcemic type (SCCOHT) at the age of 30 years. Her sister remained unaffected and was very concerned about her risk for developing SCCOHT. By performing comprehensive molecular analysis using whole exome sequencing (WES) approach, we showed that the deceased twin's tumour has bi-allelic somatic genetic defects (a pathogenic frameshift deletion in SMARCA4 and LOH on chr19p). Results of WES of constitutional DNA from her unaffected sister were confirmatory. Based on our findings, we concluded that the living twin is not at risk for SCCOHT and does not need to consider preventive oophorectomy.
This is a preview of subscription content, log in to check access.
Access options
Buy single article
Instant access to the full article PDF.
US$ 39.95
Price includes VAT for USA
Subscribe to journal
Immediate online access to all issues from 2019. Subscription will auto renew annually.
US$ 99
This is the net price. Taxes to be calculated in checkout.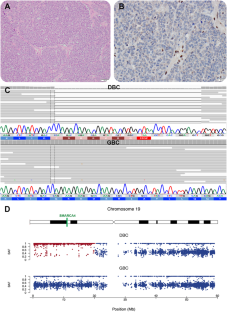 References
1.

Witkowski L et al (2016) The influence of clinical and genetic factors on patient outcome in small cell carcinoma of the ovary, hypercalcemic type. Gynecol Oncol 141(3):454–460

2.

Witkowski L et al (2014) Germline and somatic SMARCA4 mutations characterize small cell carcinoma of the ovary, hypercalcemic type. Nat Genet 46(5):438–443

3.

Hu GQ et al (2011) Regulation of nucleosome landscape and transcription factor targeting at tissue-specific enhancers by BRG1. Genome Res 21(10):1650–1658

4.

Tolstorukov MY et al (2013) Swi/Snf chromatin remodeling/tumor suppressor complex establishes nucleosome occupancy at target promoters. Proc Natl Acad Sci USA 110(25):10165–10170

5.

Witkowski L et al (2013) Familial rhabdoid tumour 'avant la lettre'from pathology review to exome sequencing and back again. J Pathol 231(1):35–43

6.

de Kock L et al (2018) Infantile pulmonary teratoid tumor. N Engl J Med 378(23):2238–2240

7.

Berchuck A et al (2015) Prophylactic oophorectomy for hereditary small-cell carcinoma of the ovary, hypercalcemic type. Gynecol Oncol Rep 12:20–22
Acknowledgments
This study was funded by Canadian Institutes of Health Research (FDN-148390, W.D.F.). We thank the family for their involvement with this study.
Electronic supplementary material
Below is the link to the electronic supplementary material.
About this article
Cite this article
Fahiminiya, S., Sabbaghian, N., Albrecht, S. et al. Ovarian small cell carcinoma in one of a pair of monozygous twins. Familial Cancer 18, 161–163 (2019). https://doi.org/10.1007/s10689-018-0108-0
Keywords
SCCOHT

Whole exome sequencing

Monozygous twins

Rhabdoid tumor of the ovary

SMARCA4