Abstract
Despite some populations show a wide spectrum of different BRCA pathogenic variants (PVs), particular ethnic groups carry at high frequency a single or a few recurrent PVs, usually due to a founder effect. The identification of these founder PVs, with simple molecular methods, improves BRCA1/2 testing and cancer risk assessment. In this study, we developed a rapid and reliable PCR method, coupled with capillary electrophoresis (CE) for genotyping the Italian founder BRCA1 c.4964_4982del19 (rs80359876) variant. In addition, we compared the performance of two CE platforms: (Agilent 2100 Bioanalyzer and the Experion Automated Electrophoresis system) to identify this variant. Our findings suggest that CE represents a simple and standardized diagnostic strategy for the unambiguously identification of the BRCA1 c.4964_4982del19 variant, on both germline and somatic DNA samples. The results and performance obtained by two platforms are absolutely superimposable in terms of specificity and sensitivity, as well as for their feasibility, time of analysis and costs.
This is a preview of subscription content, log in to check access.
Access options
Buy single article
Instant access to the full article PDF.
US$ 39.95
Price includes VAT for USA
Subscribe to journal
Immediate online access to all issues from 2019. Subscription will auto renew annually.
US$ 99
This is the net price. Taxes to be calculated in checkout.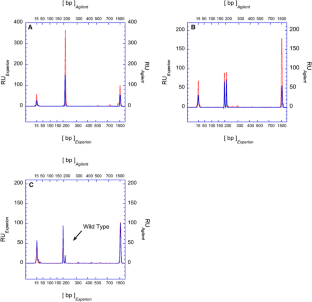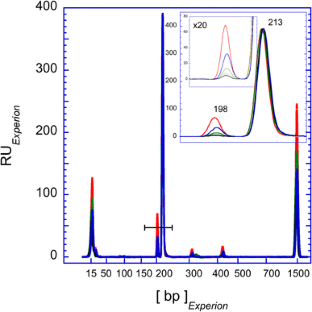 Abbreviations
HBOCS:

Hereditary breast and ovarian carcinoma syndrome

PVs:

Pathogenic variants

iPARP-1:

Poly(ADP-ribose) polymerase 1-inhibitors

HGSC:

High-grade serous carcinoma

NGS:

Next generation sequencing

CE:

Capillary electrophoresis

FFPE:

Formalin fixed paraffin embedded

LOH:

Loss of heterozygosis

MPS:

Massively parallel sequencing
References
1.

Miki Y, Swensen J, Shattuck-Eidens D et al (1994) A strong candidate breast and ovarian cancer susceptibility gene BRCA1. Science 266:66–71

2.

Wooster R, Bignell G, Lancaster J et al (1995) Identification of the breast cancer susceptibility gene BRCA2. Nature 378:789–792

3.

Pennington KP, Walsh T, Harrell MI et al (2014) Germline and somatic mutations in homologous recombination genes predict platinum response and survival in ovarian, fallopian tube, and peritoneal carcinomas. Clin Cancer Res 20:764–775

4.

Audeh MW, Carmichael J, Penson RT et al (2010) Oral poly(ADP-ribose) polymerase inhibitor olaparib in patients with BRCA1 or BRCA2 mutations and recurrent ovarian cancer: a proof-of-concept trial. Lancet 376:245–251

5.

Minucci A, Scambia G, Santonocito C et al (2015) Clinical impact on ovarian cancer patients of massive parallel sequencing for BRCA mutation detection: the experience at Gemelli hospital and a literature review. Expert Rev Mol Diagn 15:1383–1403

6.

Koczkowska M, Zuk M, Gorczynski A et al (2016) Detection of somatic BRCA1/2 mutations in ovarian cancer next-generation sequencing analysis of 100 cases. Cancer Med 5:1640–1646

7.

Janavičius R (2010) Founder BRCA1/2 mutations in the Europe: implications for hereditary breast-ovarian cancer prevention and control. EPMA J 1(3):397–412

8.

ten Bosch JR, Grody WW (2008) Keeping up with the next generation: massively parallel sequencing in clinical diagnostics. J Mol Diagn 10:484–492

9.

Fackenthal JD, Olopade OI (2007) Breast cancer risk associated with BRCA1 and BRCA2 in diverse populations. Nat Rev Cancer 7:937–948

10.

Cini G, Mezzavilla M, Della Puppa L et al (2016) Tracking of the origin of recurrent mutations of the BRCA1 and BRCA2 genes in the North-East of Italy and improved mutation analysis strategy. BMC Med Genet 17:11–24

11.

Caligo MA, Ghimenti C, Cipollini G et al (1996) BRCA1 germline mutational spectrum in Italian families from Tuscany: a high frequency of novel mutations. Oncogene 13:1483–1488

12.

Papi L, Putignano AL, Congregati C et al (2009) Founder mutations account for the majority of BRCA1-attributable hereditary breast/ovarian cancer cases in a population from Tuscany, Central Italy. Breast Cancer Res Treat 117:497–504

13.

Baudi F, Quaresima B, Grandinetti C et al (2001) Evidence of a founder mutation of BRCA1 in a highly homogeneous population from southern Italy with breast/ovarian cancer. Hum Mutat 18:163–164

14.

Malacrida S, Agata S, Callegaro M et al (2008) BRCA1 pVal1688del is a deleterious mutation that recurs in breast and ovarian cancer families from Northeast Italy. J Clin Oncol 26(1):26–31

15.

Palmieri G, Palomba G, Cossu A, M et al (2002) BRCA1 and BRCA2 germline mutations in Sardinian breast cancer families and their implications for genetic counseling. Ann Oncol 13:1899–1907

16.

Monne M, Piras G, Fancello P et al (2007) Identification of a founder BRCA2 mutation in Sardinian breast cancer families. Fam Cancer 6:73–79

17.

Caleca L, Putignano AL, Colombo M et al (2014) Characterization of an Italian founder mutation in the RING-finger domain of BRCA1. PLoS ONE. https://doi.org/10.1371/journal.pone.0086924

18.

Kwong A, Ng EK, Wong CL et al (2012) Identification of BRCA1/2 founder mutations in Southern Chinese breast cancer patients using gene sequencing and high resolution DNA melting analysis. PLoS ONE. https://doi.org/10.1371/journal.pone.0043994

19.

Bu R, Siraj AK, Al-Obaisi KA et al (2016) Identification of novel BRCA founder mutations in Middle Eastern breast cancer patients using capture and Sanger sequencing analysis. Int J Cancer 139:1091–1097

20.

Minucci A, Canu G, De Bonis M et al (2014) Is capillary electrophoresis on microchip devices able to genotype uridine diphosphate glucuronosyltransferase 1A1 TATA-box polymorphisms? J Sep Sci 37:1521–1523

21.

Minucci A, Delibato E, Castagnola M et al (2008) Identification of RFLP G6PD mutations by using microcapillary electrophoretic chips (Experion). J Sep Sci 31(14):2694–2700

22.

Capoluongo E, Scambia G, Nabholtz JM (2018) Main implications related to the switch to BRCA1/2 tumor testing in ovarian cancer patients: a proposal of a consensus. Oncotarget 9:19463–19468

23.

Concolino P, Mello E, Minucci A et al (2014) Advanced tools for BRCA1/2 mutational screening: comparison between two methods for large genomic rearrangements (LGRs) detection. Clin Chem Lab Med 52(8):1119–1127

24.

Concolino P, Rizza R, Hackmann K et al (2017) Identification and characterization of a new BRCA2 rearrangement in an Italian family with hereditary breast and ovarian cancer syndrome. Mol Diagn Ther 21(5):539–545

25.

Ossa CA, Torres D (2016) Founder and recurrent mutations in BRCA1 and BRCA2 genes in Latin American countries: state of the art and literature review. Oncologist 21:832–839

26.

Minucci A, De Bonis M, De Paolis E et al (2017) High resolution melting analysis is very useful to identify breast cancer type 1 susceptibility protein (BRCA1) c.4964_4982del19 (rs80359876) founder calabrian pathogenic variant on peripheral blood and buccal swab DNA. Mol Diagn Ther 21:217–223

27.

Jiang Y, Turinsky AL, Brudno M (2015) The missing indels: an estimate of indel variation in a human genome and analysis of factors that impede detection. Nucleic Acids Res 43(15):7217–7228

28.

Capoluongo E, Ellison G, López-Guerrero JA et al (2017) Guidance statement on BRCA1/2 tumor testing in ovarian cancer patients. Semin Oncol 44(3):187–197

29.

Osorio A, de la Hoya M, Rodríguez-López R et al (2002) Loss of heterozygosity analysis at the BRCA loci in tumor samples from patients with familial breast cancer. Int J Cancer 10:305–309

30.

Capoluongo E (2016) BRCA to the future: towards best testing practice in the era of personalised healthcare. Eur J Hum Genet 24(Suppl 1):S1–S2
Ethics declarations
Conflict of interest
The authors declare that they have no conflict of interest.
Ethical approval
All procedures performed in studies involving human participants were in accordance with the ethical standards of the institutional and/or national research committee and with the 1964 Helsinki declaration and its later amendments or comparable ethical standards.
About this article
Cite this article
De Bonis, M., Minucci, A., Scaglione, G.L. et al. Capillary electrophoresis as alternative method to detect tumor genetic mutations: the model built on the founder BRCA1 c.4964_4982del19 variant. Familial Cancer 18, 29–35 (2019). https://doi.org/10.1007/s10689-018-0094-2
Keywords
BRCA1/2 genes

Capillary electrophoresis

Italian founder BRCA1/2 mutations