Abstract
We report the case of a female found to have mosaicism for mutation in the STK11 gene, with the mutant allele expressed in her gametes, evident by her affected offspring, and in her gastrointestinal tract demonstrated on an excised polyp analysed for diagnosis. Mosaicism for Peutz–Jeghers syndrome (PJS) has been reported in a small number of cases previously but a clinical presentation such as this has not previously been described. This finding of mosaicism was several years after initial investigations failed to identify the same STK11 mutation in this woman whose son was diagnosed with PJS at a young age. This case highlights the importance of considering mosaicism as an explanation for apparent de novo cases of PJS syndrome. It also has implications for genetic counselling, predictive testing and cancer screening.
This is a preview of subscription content, log in to check access.
Access options
Buy single article
Instant access to the full article PDF.
US$ 39.95
Price includes VAT for USA
Subscribe to journal
Immediate online access to all issues from 2019. Subscription will auto renew annually.
US$ 99
This is the net price. Taxes to be calculated in checkout.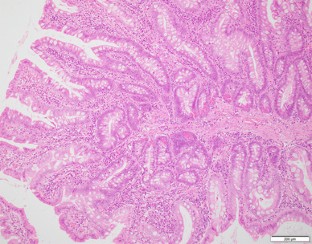 References
1.

Peutz JL (1921) On a very remarkable case of familial polyposis of the mucous membranes of the intestinal tract and nasopharynx accompanied by peculiar pigmentation of the skin and mucous membranes. Ned Tijdschr Geneeskd 10:134–146

2.

Jeghers H, McKusick VA, Katz KH (1949) Generalized intestinal polyposis and melanin spots of the oral mucosa, lips and digits; a syndrome of diagnostic significance. N Engl J Med 241(26):993–1005 & 1031–1036

3.

Spigelman AD, Murday V, Phillips RK (1989) Cancer and the Peutz-Jeghers syndrome. Gut 30(11):1588–1590

4.

Hearle N, Schumacher V, Menko FH, Olschwang S, Boardman LA, Gille JJP, Keller JJ, Westerman AM, Scott RJ, Lim W, Trimbath JD, Giardello FM, Gruber SB, Offerhaus GJA, de Rooji FWM, Paul Wilson JH, Hansmann A, Möslein G, Royer-Pokora B, Vogel T, Philips RKS, Spigelman AD, Houlston RS (2006) Frequency and spectrum of cancers in the Peutz-Jeghers syndrome. Clin Cancer Res 12(10):3209–3215

5.

van Lier MGF, Wagner A, Mathus-Vliegen EMH, Kuipers EJ, Steyerberg EW, van Leerdam ME (2010) High cancer risk in Peutz-Jeghers syndrome: a systematic review and surveillance recommendations. Am J Gastroenterol 105(6):1258–1264

6.

Amos CI, Keitheri-Cheteri MB, Sabripour M, Wei C, McGarrity TJ, Seldin MF, Nations L, Lynch PM, Fidder HH, Friedman E, Frazier ML (2004) Genotype–phenotype correlations in Peutz–Jeghers syndrome. J Med Genet 41(5):327–333

7.

Launonen V (2005) Mutations in the human LKB1/STK11 gene. Hum Mutat 36(4):291–297

8.

Olschwang S, Markie D, Seal S, Neale K, Phillips R, Cottrell S, Ellis I, Hodgson S, Zauber P, Spigelman A, Iwama T, Loff S, McKeown C, Marchese C, Sampson J, Davies S, Talbot I, Wyke J, Thomas G, Bodmer W, Hemminki A, Avizienyte E, de la Chapelle A, Aaltonen L, Stratton M, Houlston R, Tomlinson I (1998) Peutz-Jeghers disease: most, but not all, families are compatible with linkage to 19p13.3. J Med Genet 35:42–44

9.

Jenne DE, Reimann H, Nezu J, Friedel W, Loff S, Jeschke R, Müller O, Back W, Zimmer M (1998) Peutz-Jeghers syndrome is caused by mutations in a novel serine threonine kinase. Nat Genet 18(1):38–43

10.

Hearle N, Lucassen A, Wang R, Lim W, Ross F, Wheeler R, Moore I, Shipley J, Houlston R (2004) Mapping of a translocation breakpoint in a Peutz-Jeghers hamartoma to the putative PJS locus at 19q13.4 and mutation analysis of candidate genes in polyp and STK11-negative PJS cases. Genes Chromosomes Cancer 41:163–169

11.

Alessi DR, Sakamoto K, Bayascas JR (2006) LKB1-dependent signaling pathways. Annu Rev Biochem 75(1):137–163

12.

Aretz S, Stienen D, Uhlhaas S, Loff S, Back W, Pagenstecher C, McLeod DR, Graham GE, Mangold E, Santer R, Propping P, Friedl W (2005) High proportion of large genomic STK11 deletions in Peutz-Jeghers syndrome. Hum Mutat 26(6):513–519

13.

Papp J, Kovacs ME, Solyom S, Kasler M, Børresen-Dale A, Olah E (2010) High prevalence of germline STK11 mutations in Hungarian Peutz-Jeghers syndrome patients. BMC Med Genet 11:169

14.

Beggs AD, Latchford AR, Vasen HF, Moslein G, Alonso A, Aretz S, Bertario L, Blanco I, Bülow S, Burn J, Capella G, Colas C, Friedl W, Møller P, Hes FJ, Järvinen H, Mecklin JP, Nagengast FM, Parc Y, Phillips RK, Hyer W, Ponz de Leon M, Renkonen-Sinisalo L, Sampson JR, Stormorken A, Tejpar S, Thomas HJ, Wijnen JT, Clark SK, Hodgson SV (2010) Peutz-Jeghers syndrome: a systematic review and recommendations for management. Gut 59(7):975–986

15.

McGarrity TJ, Kulin HE, Zaino RJ (2000) Peutz-Jeghers syndrome. Am J Gastroenterol 95(3):596–603

16.

Utsunomiya J, Gocho H, Miyanaga T, Hamaguchi E, Kashimure A (1975) Peutz-Jeghers syndrome: its natural course and management. Johns Hopkins Med J 136(2):71–82

17.

Lim W, Hearle N, Shah B, Murday V, Hodgson SV, Lucassen A, Eccles D, Talbot I, Neale K, Lim AG, O'Donohue J, Donaldson A, Macdonald RC, Young ID, Robinson MH, Lee PW, Stoodley BJ, Tomlinson I, Alderson D, Holbrook AG, Vyas S, Swarbrick ET, Lewis AA, Phillips RK, Houlston RS (2003) Further observations on LKB1/STK11 status and cancer risk in Peutz-Jeghers syndrome. Br J Cancer 89(2):308–313

18.

Scott RJ, Crooks R, Meldrum CJ, Thomas L, Smith CJ, Mowat D, McPhilips M, Spigelman AD (2002) Mutation analysis of the STK11/LKB1 gene and clinical characteristics of an Australian series of Peutz-Jeghers syndrome patients. Clin Genet 63(4):282–287

19.

McKay V, Cairns D, Gokhale D, Mountford R, Greenhalgh L (2016) First report of somatic mosaicism for mutations in STK11 in four patients with Peutz-Jeghers syndrome'. Fam Cancer 15(1):57–61

20.

den Dunnen JT, Dalgleish R, Maglott D, Hart R, Greenblatt MS, McGowan-Jordan J, Roix AF, Smith T, Atonarakis SE, Taschner PE (2016) HGVS recommendations for the description of sequence variants—2016 update. Hum Mutat 37:564–569

21.

Sgambati MT, Stolle C, Choyke PK, Walther MM, Zbar B, Linehan M, Glenn GM (2000) Mosaicism in von Hippel–Lindau disease: Lessons from kindreds with germline mutations identified in offspring with mosaic parents. Am J Hum Genet 66:84–91

22.

Santarpia L, Sarlis NJ, Santarpia M, Sherman SI, Trimarchi F, Benvenga S (2007) Mosaicism in von Hippel-Lindau disease: an event important to recognise. J Cell Mol Med 11(6):1408–1415

23.

Schwab AL, Tuohy TM, Condie M, Neklason DW, Burt RW (2008) Gonadal mosaicism and familial adenomatous polyposis. Fam Cancer 7(2):173–178

24.

Delon I, Taylor A, Molenda A, Drummond J, Oakhill K, Girling A, Liu H, Whittaker J, Treacy R, Tishckowitz M (2013) A germline mosaic BRCA1 exon deletion in a woman with bilateral basal-like breast cancer. Clin Genet 84(3):297–299

25.

Rushlow D, Piovesan B, Zhang K, Prigoda-Lee NM, Marchong MN, Clark RD, Gallie BL (2009) Detection of mosaic RB1 mutations in families with retinoblastoma. Hum Mutat 30(5):842–851

26.

Zlotogora J (1998) Germline mosaicism. Hum Genet 102(4):381–386
About this article
Cite this article
Butel-Simoes, G.I., Spigelman, A.D., Scott, R.J. et al. Low-level parental mosaicism in an apparent de novo case of Peutz–Jeghers syndrome. Familial Cancer 18, 109–112 (2019). https://doi.org/10.1007/s10689-018-0093-3
Keywords
Peutz–Jeghers syndrome (PJS)

STK11

Mosaic

Gonadal

Somatic

De novo